In Sept. 2010, Mark Hunt and Brock Lesnar were on separate career trajectories. "The Super Samoan" had just dropped his sixth straight fight – his latest an embarrassing submission loss to Sean McCorkle in just one minute. That, on the heels of a submission loss to Gegard Mousasi (official time: 1:20 in the very first round) and a crushing knockout loss to Melvin Manhoef in just 18 seconds.
Lesnar, on the other hand, was riding high on the hog. As the UFC Heavyweight Champion, the former WWE attraction was far and away the sport's biggest – and best-paid – fighter. Alas, in a month's time, the stars would reverse course: Lesnar would drop his championship strap to up-and-comer Cain Velasquez, take a year off to battle diverticulitis and "retire" from MMA after a savage mauling from Alistair Overeem – thus providing an easy segue back to the lucrative world of make-believe fisticuffs.
Since that lamentable loss to McCorkle, however, Hunt would go on to win seven of his next 11 bouts, dropping fights only to former heavyweight title-holders Junior dos Santos, Fabricio Werdum and current 220-plus champ Stipe Miocic. Once on the precipice of irrelevancy, the former K-1 star has become a perennial contender in the MMA world's biggest, and baddest, division.
At UFC 199 – one of the best cards in MMA history, albeit it one that is overshadowed by all of the Ariel Helwani "leak-gate" drama – it was announced that Lesnar would make a (for the time being) one-and-done appearance at UFC 200 (a star-studded show already sure to shatter MMA buyrate records) against an unnamed competitor. In an ESPN interview June 6, Lesnar dropped the identity of his "mystery opponent" – none other than Mark Hunt.
The sales pitch "immovable object meets irresistible force" gets tossed around a lot, but in the case of this prospective bout, hardly any other terminology seems apropos. I mean, how else are you supposed to describe a throwdown between two punching machines who, combined, weigh about as much as a full grown Canadian moose?
Forget Batman versus Superman and Iron Man vs. Captain America, or even that proposed mech battle between U.S. and Japanese researchers slated for later this summer – this fight is far and away THE heavyweight clash of 2016, and – apologies to Tyson Fury and whichever Klitschko he's fighting in July – nothing else comes close.
This isn't a fight designed to showcase technique and the wonders of the human cardiovascular system. This is the PPV equivalent of watching two meat trucks crashing into each at top speed, with the victor determined by the least amount of smoldering, sinewy wreckage left over. Hunt is known as "The King of the Walk-Off Knockout," and Lesnar is one of the most feared ground and pound "tacticians" in the sport's history. One dude makes a living punching people so hard they collapse and almost die after one blow and the other makes a living dragging people to the ground and punching them so many times liquefied grey matter pours out of their ears and onto the Bud Light-sponsored canvas.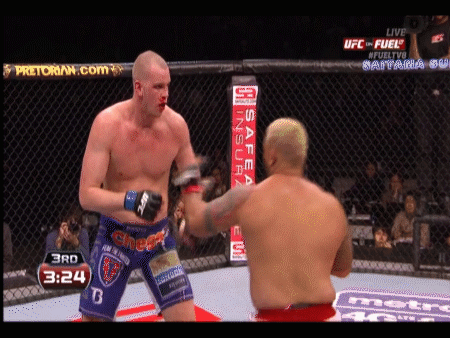 This is a brute force on brute force bonanza, the real life analogue to an all Donkey Kong Super Smash Bros. donnybrook. The equation in this fight couldn't be any simpler – these two guys are going to come out throwing meaty hand-burgers and fist fries at each other like orangutans on angel dust and the first one to swallow a knuckle sandwich loses the fight, their consciousness and maybe even their subsequent ability to do long division. Forget Must See TV, a fight like this is guaranteed Must C.T.E. TV.
The really interesting dynamic, however, is that this isn't some sort of Bellator or Rizin FC freak show fight. Considering the pell-mell heavyweight division, both of these guys could easily be considered top ten fighters heading into the bout, with the victor an easy candidate for top five status.
This is one of the fights with an outcome about as predictable as the flight pattern of a hijacked airliner. Considering Brock's fragile chin, one has to assume that Hunt would look for the home run shot early. However, Hunt has one of the worst takedown defenses in MMA, and seeing as how Lesnar is a legit NCAA wrestling champion, common sense dictates that if this becomes a ground war, the New Zealander is bound for a bruising.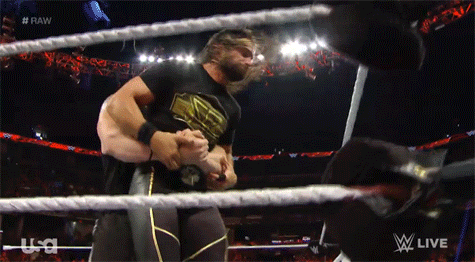 This won't be a three round war of attrition. Hunt is going to go in there doing his thing that wins fights and Lesnar is going to go in there doing his thing that wins fights. Ultimately, this fight will boil down to who makes that fatal first miscue. Will Brock drop his guard and leave himself wide open for an IQ reducing haymaker or will Hunt slip and let Lesnar yank him to the canvas and grind him up like deer sausage? In a world of infinite consumer choices, the most eagerly awaited brawl of the year leaves us with just two possible outcomes – and instead of detracting from the matchup, it actually makes the fight all the more exciting.
Sure, it's not exactly a bout that represents the athletic pinnacle of the sport. You're not going to see Dominick Cruz or Demetrious Johnson or Jon Jones levels of grace, form and style here. Indeed, if the fight lasts longer than three minutes, it has to be considered nothing less than miraculous. But what this fight does promise us, however, is a thrilling chemical reaction of muscle, blood, bone and excess adipose tissue (plus some really, really bad tattoos) flying by at insanely dangerous speeds. An explosion isn't just probable, the laws of thermodynamics guarantee us nothing short of a homo sapien mushroom cloud.
Fundamentals be damned, this thing ought to more closely resemble a territorial war between a silverback gorilla and a grizzly bear than any kind of mixed martial arts we're used to. The more civilized MMA purists out there may recoil in disgust, but human nature compels us to stare in awe at the supernova of mammalian mayhem before us.
And if the idea of Hunt vs. Lesnar going toe-to-toe doesn't have you antsy, buddy, somebody really ought to check you for a pulse.