Season 12 pitted Georges "Rush" St. Pierre vs. Josh "my eye hurts" Koscheck. Koscheck won the spot by defeating Paul Daley at UFC 113. You may recall that as the night Daley sucker punched Kos after the fight. That got him fired. Good call Daley.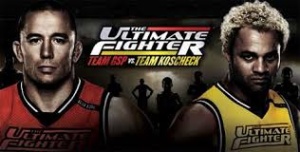 Airdate – September 15, 2010
Team Koscheck
Marc Stevens, Sevak Magakian, Sako Chivitchian, Andy Main, Nam Phan, Aaron Wilkinson, Jeff Lentz
Team GSP: Michael Johnson, Jonathan Brookins, Spencer Paige, Alex Caceres, Kyle Watson, Cody McKenzie, Dane Sayers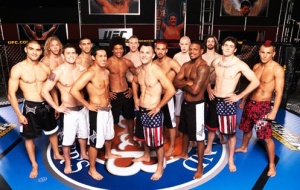 Hightlights
28 fighters were invited, and only 14 made it to the house.
The fighters moved into the new house and immediately, Lentz' smoking and drinking came into focus, with some fighters questioning his cardio as a result.
Former heavyweight boxing champion Mike Tyson visited The Ultimate Fighter gym, to see Team GSP.
Alex Caceres annoyed teammate Michael Johnson by putting bleach into Nam Phan's fabric conditioner – the very same used by Johnson.
Koscheck defeated St-Pierre in a baseball home run derby to win the Coaches' Challenge.
St-Pierre notes that Koscheck is blantantly and obnoxiously celebrating to get under his skin. He admits that Koscheck got under his skin and says it will motivate him that much more in preparing for the coaches' fight.
Brookins and Johnson, both of Team GSP, are announced as the season's finalists.
The Finale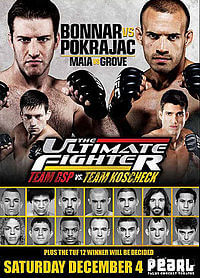 The Ultimate Fighter: Team GSP vs. Team Koscheck Finale (also known as The Ultimate Fighter 12 Finale) was held on December 4, 2010.
This was the first event in the UFC to integrate the featherweight & bantamweight classes from WEC which folded later that month.
Jonathan Brookins defeated Michael Johnson by unanimous decision and Stephen Bonnar defeated Igor Pokrajak by unanimous decision.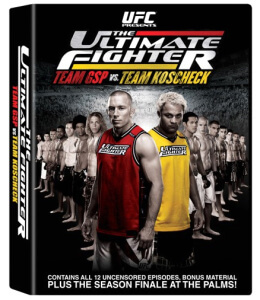 Fighters were awarded $30,000 bonuses.
Fight of the Night: Leonard Garcia vs. Nam Phan
Knockout of the Night: Pablo Garza
Submission of the Night: Cody McKenzie
Where are they now?
Jonathan Brookins: The 30 year old, 135 pounder is currently 15-7 and most recently defeated Shintaro Ishiwatari for Pancrase. His last UFC fight was a loss to Dustin Poirier in December 2012.
Summary: This was an uneventful season. The runner up is the most significant player still in the UFC game. GSP is gone (for now), Koscheck is gone (to Bellator), Brookins is gone (to Pancrase), and Mike Tyson is gone (to an insane asylum, hopefully).