Little Caesars Arena
Detroit, Michigan
Are you watching this show while eating Pizza, Pizza?  Eh?  EH?!  We are and so should you and then keep refreshing this page so we get to show the head honchos at Google: We Matter Too. #UsToo

Loading ...
---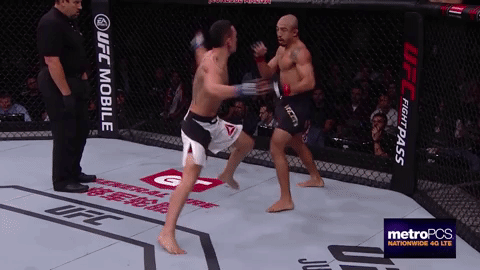 Max Holloway (c) vs. Jose Aldo
Featherweight
What Happened?
Well, this was going to be Max Holloway vs. Frank Edgar, but the best laid plans of mice and men oft go awry. As a plan B, we're getting a re-do of the UFC 212 main event, in which the defending champ seeks to extend his winning streak to 12 in a row. Conversely, Aldo – who is 1-2 in his last three bouts – would love to avenge his loss from July, and – much more importantly – put that belt snug around his waist once more. So what will it be, folks: second verse, same as the first, or will Jose flip the script and make Max's title reign a relatively short-lived one? Eh, that's why we fight fights in the cage, not on paper …
And the final score of the Big 10 game is in – Ohio State outlasted Wisconsin for the 27-21 victory. So, I assume that makes it Clemson vs. Alabama and Oklahoma vs. Georgia in the National Playoffs, right?
Aldo comes out to Mariachi music with what sounds like a banjo in it. Shit, now I want some corn chips and salsa. Oh, and Sadam Ali just outpointed Miguel Cotto in his final fight, so you don't have to worry about that trifling shit no more. An aside, but a lot of the UFC security staff are fat as fuck. I mean, you'd think the guys would be a little bit more built, but you'd be wrong.
Anybody else think Holloway looks like an anorexic version of the evil pimp in Pat Benatar's "Love is a Battlefield" music video? Holloway chasing Aldo down. Aldo connects with a good one-two combo. Then he lands a leg kick. Holloway literally bitch slaps Aldo, and Aldo fires back with a leg kick. Aldo swinging like crazy, but he just can't hit Holloway. Holloway lands a head kick, but he doesn't get all of it. Now the fans are chanting "Let's Go Red Wings," because Detroit fans really are the goddamn worst. And Aldo lands a HUGE uppercut right at the bell.
Round two. Aldo lands a hard leg kick. He follows suit with a good one-two combo. Some dude in the audience yells "kick his ass, Sea-bass." Holloway pushes forward with two quick jabs. Aldo with two more hard leg kicks. Aldo clinches and he tosses Holloway to the mat. Holloway catches Aldo's leg. There's a brief clinch against the cage and Holloway lands a spinning kick to the liver and two solid jabs. He ends the round with a quick flurry, including a nice knee to the skull at the bell.
Round three. Aldo hits a leg kick. Aldo with a quick jab, Holloway with a jumping knee to the sternum. We get a GLORIOUS striking exchange with each men eating a billion punches but neither of them selling the shots. Holloway connects with a head kick. We've got another AWESOME slug fest. Aldo is gassed as fuck and he's bleeding buckets. Aldo shoots for a takedown and Holloway gets in the full mount. He has Aldo's back and he's elbowing the fuck out of him. Holloway hops back in the full mount. He UNLOADS on Aldo's bloody face and the ref says "that's it, this fight is over."
The official time is 4:51 of round three. Man, Holloway had a brilliant strategy – he goaded Aldo into a brawl, let him tire himself out and swarmed his ass late in the round. In the post-fight, Holloway holds his son, who's carrying a can of Monster and doesn't look anything like his daddy. Holloway says something about Brazil and Hawaii having a surfing rivalry and refers to the rest of division as "cupcakes," which is pretty fortuitous because he truly "loves cupcakes."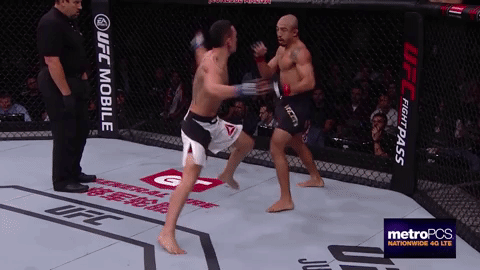 Should You Watch?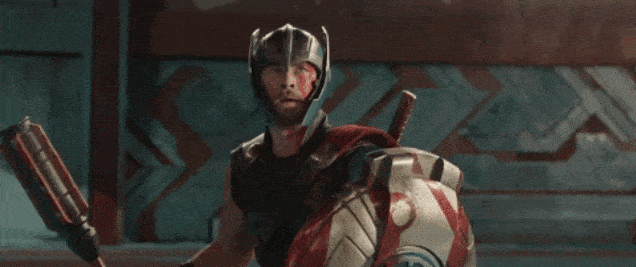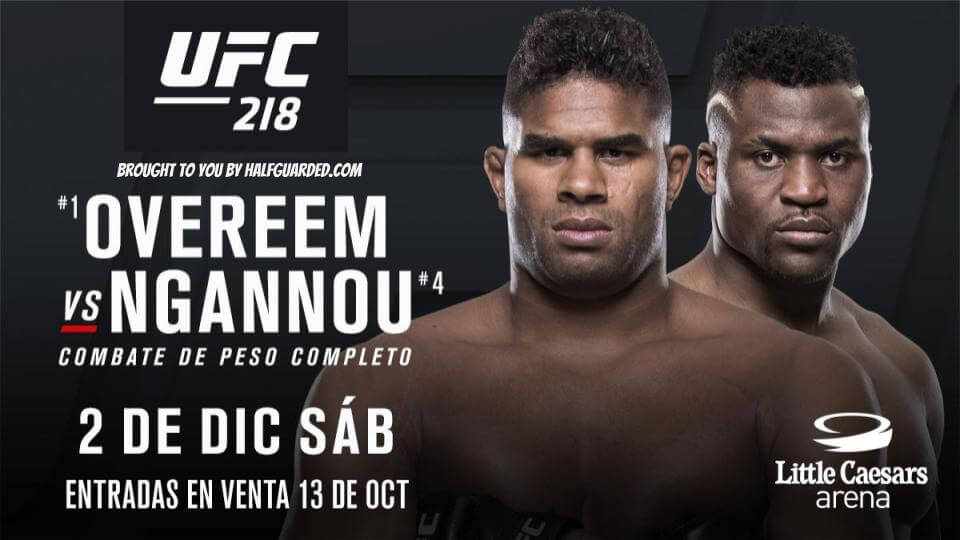 Alistair Overeem vs. Francis Ngannou
Heavyweight
What Happened?
With wins over Fabricio Werdum and Mark Hunt in his last two outings, reason would dictate that Overeem would be the presumptive no. 1 contender for Stipe Miocic's belt if defeats Francis Nagannou this evening. That's a pretty tall task, though, seeing as how the Cameroonian is 5-0 in the UFC (all finishes, no less) – not to mention the fact he LEGIT has the strongest punch in recorded human history. Either way, I seriously doubt we're gonna' end up with more than one person exiting this bout with their consciousness intact; don't blink, folks, something tells me some heads might figuratively and literally roll in this one.
And the final score in the ACC Championship is in – Clemson beat Miami 38-3. Joe Rogan calls Overeem a former K-1 "Grand Pwee" champion. Yep, that nigga' is high as hell right now. Overeem literally RUNS at Francis with a left hook to begin the fight. Overeem with a clinch early. Francis stomps Overeem's feet like he was Marcos Ruas or something. The ref pulls them apart. AND FRANCIS TURNS OVEREEM'S LIGHTS OUT WITH ONE PUNCH! Ngannou landed a left hook from hell and followed it up with one punch on the ground, but Overeem was already knocked the fuck out.
The official time is 1:42 of the very first round. Joe Rogan tells Francis he's getting a title shot next. Francis thanks Overeem for giving him the highlight reel knockout, his coaches, his family, and his brothers in Libya who are literally slaves. "Fuck slavery," he says. "Fuck racism."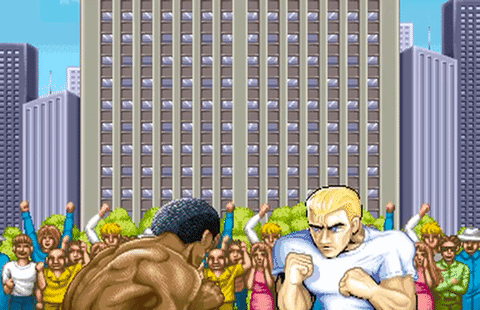 Should You Watch?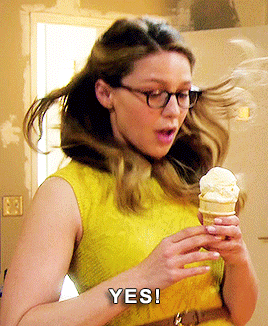 It's going down like James Brown at UFC218 in Detroit, Michigan December 2nd. #vamos #teamcejudo #listo #ufc218 pic.twitter.com/C9WyrdXDs8

— Henry Cejudo (@HenryCejudo) September 29, 2017
Henry Cejudo vs. Sergio Pettis
Flyweight
What Happened?
Henry Cejudo absolutely DESTROYED Wilson Reis at UFC 215, and if he musters a victory tonight, he's pretty much a lock for a rematch against Demetrious Johnson in early 2018. That said, the same holds true for his adversary, Sergio Pettis, who has an opportunity to extend his winning streak to five in a row – and, in the process, secure himself a title bout against Mighty Mouse over the next couple of months.
Cejudo using a wide-legged karate stance. Anik talks about Cejudo burning his foot and losing his Olympic gold medals in a wildfire earlier this year. Cejudo gets a takedown and he's in side control. Now he has his back. Cejudo throwing some knees. Sergio isn't letting him sneak those hooks in, though. Now Cejudo is almost in the full guard. Cejudo leads Pettis on strikes landed, 22-6. Cejudo hammer fists and knees the fuck out of Pettis as the bell sounds.
Round two. Pettis with a high kick. And another good body kick. Pettis slips and Cejudo hops on him. He's in the full guard. But he's not doing much. Pettis trying for a body triangle. Pettis slaps Cejudo with his heels. Cejudo spins out and grabs Pettis' back. Pettis is back to his feet, but Cejudo has him tied up with a waistlock. And we've got separation with thirty seconds left. Pettis whiffs on a roundhouse kick and that'll do it for the second.
Round three. Both men swinging for the fences early. Cejudo lands a single leg takedown – no, I mean he literally grabbed Pettis by the knee, yanked him five feet in the air and threw him to the canvas. Cejudo's in side control. Now he's going for a choke from the north-south position, it appears. Cejudo hops right back into the full guard. LOL at Joe Rogan doing play by play for a fight in the audience that sounds way more exciting than the fight in the Octagon. Alright, back in the cage, Pettis and Cejudo are circling one another. Pettis plays it absurdly safe – he rattles of no shots that connect and to add insult to injury, Cejudo punctuates the round by hitting him with a facile head kick.
It's 30-27 across the board to give Cejudo the unanimous decision win. But the fight was so boring they don't let him have a post-fight interview.
Should You Watch?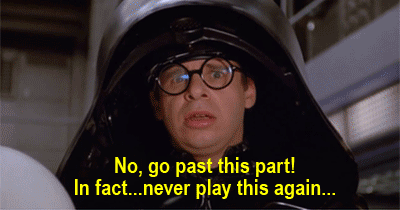 What the Fuckkkkkkkkkkk

— Eddie Alvarez (@Ealvarezfight) November 5, 2017
Eddie Alvarez vs. Justin Gaethje
Lightweight
What Happened?
Alvarez has one win, one loss and one NC in his last three outings – a knockout against Rafael dos Anjos, a knockout loss against Conor McGregor and a technical DQ for kneeing Dustin Poirier upside the head while he was on all fours. It won't be easy getting back in the win column, though, seeing as how his opponent tonight is the undefeated World Series of Fighting alum Justin Gathje, whose UFC debut win against Michael Johnson in July is pretty much the presumptive frontrunner for 2017's fight of the year. That said, considering the explosive pedigrees of both these competitors, we might just have ourselves a new FOTY candidate before the night is over with.
Joe Rogan is creaming his pants in anticipation of this fight. Justin with leg kicks early. Alvarez lands an uppercut. Justin with more leg kicks. Loud "Eddie" chants.  Justin slips and Eddie pantomimes kneeing him in the head. Alvarez with a flurry of body shots, but those kicks have his legs buckling already. Justin with another hard leg kick. Alvarez with a takedown, but Justin rolls right back up. Eddie working the body shots. Justin is bleeding from his nose. Alvarez tags him with a left hook. More body shots from Alvarez. Alvarez goes for a tumbleweed leg drop with just seconds left in the round. And Justin doesn't have enough time to land any free shots.
Round two. Eddie opens with some leg kicks. Alvarez landing a ton of body shots. Justin loads up on the leg kick. Eddie with a good right. Justin tags him with a one-two. Now these two are just wailing on each other with sledgehammer shots. Alvarez with a knee to the body. Eddie's chest is neon red from all those body shots. Alvarez pops him with a left hook. Alvarez's face is swollen as fuck. Justin slips at the end, does a full 360 flip and gets kneed right in the jaw as soon as he pops back up. And there's the bell.
Round three. Both guys look like somebody set their faces on fire and tried to put it out with a fork. Justin with vicious leg kicks and Eddie keeps spamming the body blows. Eddie tries to pull guard and Justin lets him get up. Justin whiffs on a head kick. Eddie with a knee to the body. Justin ducks the spinning elbow. We have a brief sprawl on the mat and both men are standing again. Justin carving Eddie alive with leg kicks. Justin with back to back uppercuts. AND ALVAREZ DROPS JUSTIN WITH JUST A MINUTE LEFT IN THE FIGHT! A standing knee put Gathje flat on his back. And two or three shots on the ground finished it.
The official time is 3:50 of the third round. In the post-fight, Alvarez sounds like he swallowed his top row of teeth. He also says he's proud to be the UFC's "king of violence," which is totally a career path my high school guidance counselor never told me about.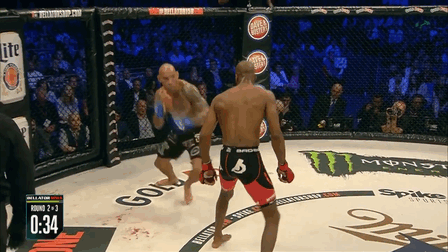 Should You Watch?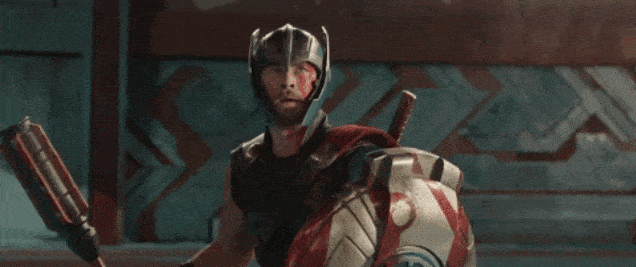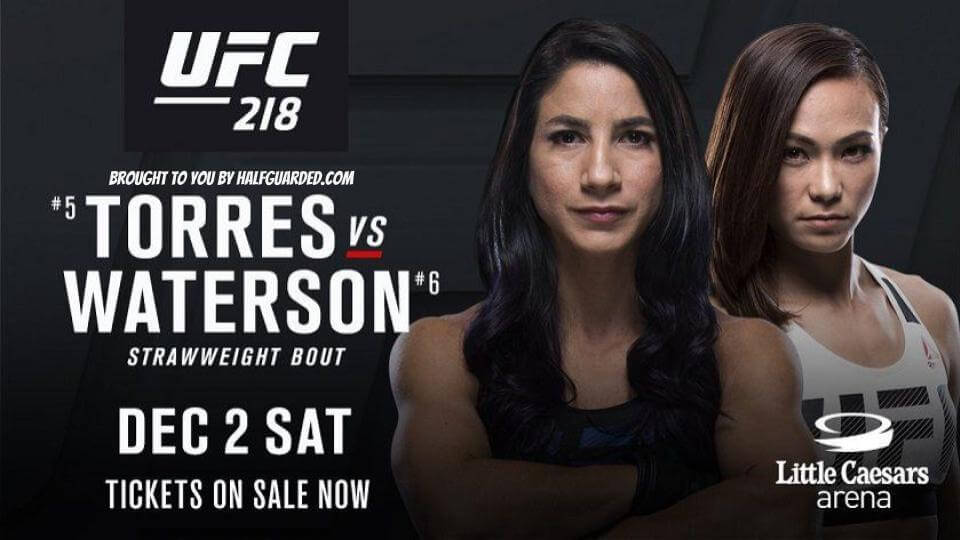 Tecia Torres vs. Michelle Waterson
Women's Strawweight
What Happened?
ajunas; considering how thinly spread all of the women's divisions are in the UFC at the moment, it's probably safe to assume the victor of this one will be well positioned for a title shot of some kind.
Round two. Torres with some good shots early. Joe Rogan keeps going on and on about how impressed he is she was able to fight professionally while studying for her master's. Waterson with a great takedown, and now Michelle is working for the full mount. Waterson is jockeying for position from the half guard. Torres trying for a kimura. She loses it. Now Waterson is taking a nap on Torres' titties. Torres going for a triangle. And she switches to an armbar. A really, really shitty armbar. Torres shoots for a takedown in the final seconds, but she can't stick it.
Round three. Torres with a head kick, but only like, one toe connected. Waterson with a big right hand. Torres fires back with a decent right of her own. Waterson's left eye is swollen. Waterson spamming the overhand rights now. Torres with a great one-two combo. Waterson flops down and lands an upkick. Torres has Waterson's back. Waterson is flattened out with about a minute left. Torres landing a ton of shots now. Waterson survives, and they exchange brief punches right at the bell. 30-27 and two 29-28s to give "The Tiny Tornado" Tecia Torres the unanimous decision victory.

Should You Watch?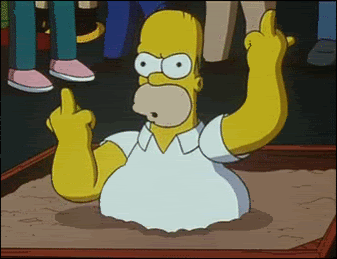 [WATCH] UFC 218 FREE LIVE STREAM (of consciousness) RESULTS & RECAP
Preliminary Card (Fox Sports 1)
https://twitter.com/felderpaul/status/927014482576101377
Charles Oliveira vs. Paul Felder
Lightweight
What Happened?
Should You Watch?
Alex Oliveira vs. Yancy Medeiros
Welterweight
What Happened?
https://twitter.com/michaelcoughlin/status/937143264163090432
Fight of the year. Fight of all time. A back and forth classic, one with waves of violence carryng entertainment to us all. Then Yancy won via KO in the third and this went from GOAT to legend.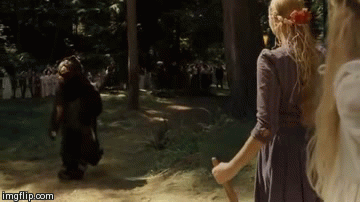 Should You Watch?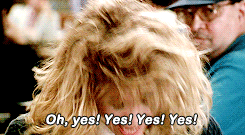 David Teymur vs. Drakkar Klose
Lightweight
What Happened?
Should You Watch?
Felice Herrig vs. Cortney Casey
Women's Strawweight
What Happened?
Should You Watch?

[WATCH] UFC 218 FREE LIVE STREAM (of consciousness) RESULTS & RECAP
Preliminary Card (UFC Fight Pass)
Abdul Razak Alhassan vs. Sabah Homasi
Welterweight
What Happened?
Should You Watch?
Jeremy Kimball vs. Dominick Reyes
Light Heavyweight
What Happened?
Should You Watch?
Amanda Cooper vs. Angela Magaña
Women's Strawweight
What Happened?
Should You Watch?
Justin Willis vs. Allen Crowder
Heavyweight
What Happened?
Should You Watch?
Courtesy of the mystery men at TIIIA.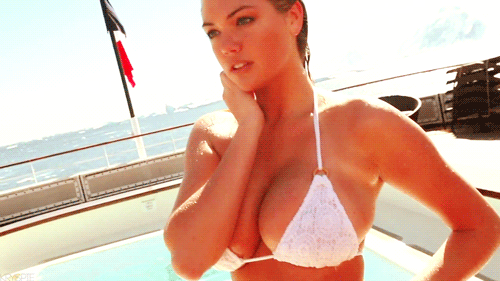 [WATCH] UFC 218 FREE LIVE STREAM (of consciousness) RESULTS & RECAP
Featherweight Max Holloway (c) vs. Jose Aldo
Heavyweight Alistair Overeem vs. Francis Ngannou
Flyweight Henry Cejudo vs. Sergio Pettis
Lightweight Eddie Alvarez vs. Justin Gaethje
Women's Strawweight Tecia Torres vs. Michelle Waterson
---
Lightweight Charles Oliveira vs. Paul Felder
Welterweight Alex Oliveira vs. Yancy Medeiros
Lightweight David Teymur vs. Drakkar Klose
Women's Strawweight Felice Herrig vs. Cortney Casey
---
Welterweight Abdul Razak Alhassan vs. Sabah Homasi
Light Heavyweight Jeremy Kimball vs. Dominick Reyes
Women's Strawweight Amanda Cooper vs. Angela Magaña
Heavyweight Justin Willis vs. Allen Crowder
BUY UFC 218 STUFF