Pretty much the best thing the WWE does all year is the Royal Rumble. Even in years I wasn't a regular rasslin' follower, I still went out of my way to take a gander at the highlights of the annual January PPV spectacular. There's just something so entrancing about watching a bunch of fat dudes and steroid freaks pretend to struggle to throw each other out of the ring like yesterday's garbage that it seems to almost transcend the pro wrestling medium. It might not be performance art in the classical sense of the term, but it's sure as hell more entertaining than interpretive dance, without question.
The format of the Royal Rumble is so great that, sometimes, I like to daydream about hypothetical Rumbles involving non-wrestling individuals. I can't tell you how many Royal Rumbles I had as a kid involving X-Men and RoboCop action figures, and even in college I would periodically daydream about fantastical battle royales involving my classmates. Which, naturally, got me thinking: if all 45 (technically 44, but I'm not spoiling that for you) U.S. presidents were involved in a Royal Rumble, who would emerge victorious?
Well, wonder no more. I literally wrote down the name of every president and put 'em in a candy dish, drawing them out randomly, just like they (kayfabe) do for the real Rumble. And, using my best fantasy booking skills, deduced what an all POTUS squared circle shindig might resemble.
Of course, you'd have to have the Rumble inside the congressional dome in D.C., and who better to call the action than Ben Franklin (perhaps America's foremost aphorism factory) and Thurgood Marshall (a.k.a., the guy who literally said his job was to make constitutional law contour to his own individual sense of right and wrong?).
Crank up "Hail to the Chief" at full volume, folks – it's time to get this executive branch mayhem underway!
Entrant no. 1 is Abraham "Da Rail Splitta" Lincoln. Can he prove himself to be a Rumble Iron Man and win the whole shebang a'la Shawn Michaels in 1995 and Chris Benoit in 2004?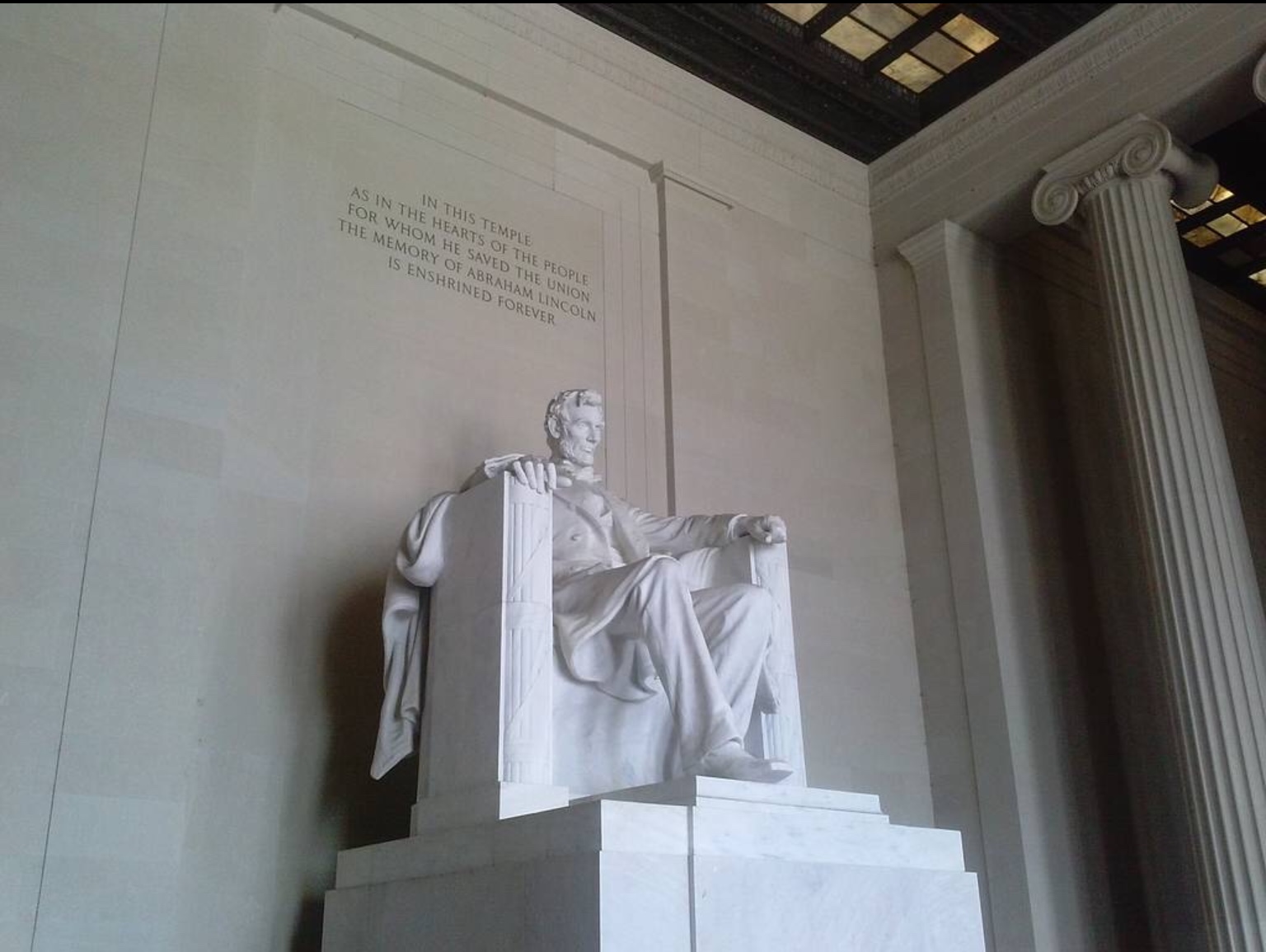 Entrant no. 2 is, rather ironically, Lincoln's ex-VP and post-mortem successor Andrew "Bigg Ol'" Johnson. As expected, they put on a torrid two minute tussle terminating with a stalemate right before the buzzer sounds.
Entrant no. 3 is "Mr. Interstate System" himself, Dwight D. Eisenhower. Naturally, Lincoln and Johnson double team him until entrant no. 4, Bill "Slick Willy 420" Clinton enters the fray.
Clinton and Eisenhower form an uneasy alliance to go toe-to-toe with the Lincoln and Johnson Express. It's short-lived, however, as entrant no. 5, Ronald "Trickle Down" Reagan immediately Pearl Harbors Clinton with ferocious ground and pound.
Entrant no. 6 is Grover "Nonconsecutive Sex" Cleveland, the largest man in the ring by a considerable margin. He almost eliminates Clinton, but is saved at the last second by Eisenhower. Hmm – is his allegiance with the Republican World Order or Degeneration-Left?
Entrant no. 7 is John "The Q is for Quarrelin'" Adams. He lasts about 20 seconds before Grover Cleveland picks him up like a rag doll and gorilla press slams him out of the ring for our first official elimination of the night.
Entrant no. 8 is J.F.K., which stands not only for John Fitzgerald Kennedy, but also Just F*ckin' Killin'. Despite getting a huge babyface pop, his tenure in the Rumble is short lived – about a minute in, he's blindsided by fellow assassination target Abraham Lincoln, thus completing his long (as in, 140 years and counting) rumored heel turn.
Rick Derringer's "Real American" blares throughout the rotunda, thus signalling the arrival of entrant no. 9, George "The Original Captain America" Washington. He makes an immediate beeline towards that rogue Abraham Lincoln and quickly dumps him over the top rope. For good measure, he then tosses Andrew Johnson out of the ring to become the evening's first multi-eliminator.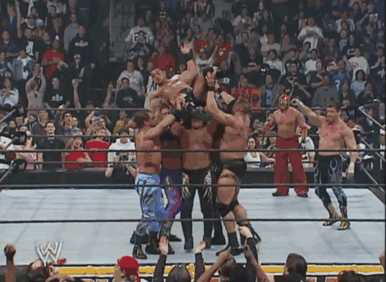 Entrant no. 10 is George "H.W. for HeavyWeight" Bush. Seeking vengeance for his upset loss at ElectoralSlam '92, he quickly goes to work on a fatigued Bill Clinton, but just can't seem to get him over the the top rope.
Entrant no. 11 is "The Barack" Obama, who gets the loudest ovation of the evening so far. He starts clotheslining his opponents in an Ultimate Warrior-like frenzy before eliminating George H.W. Bush. But in a shocking turn of events, he's quickly eliminated by an opportunistic George Washington to a chorus of boos. "Well, the fans might not like it, but at least it's fitting," remarks color commentator Benjamin "The Brain" Franklin. "I guess it would make sense that our country's first black president would get eliminated by our country's first white president."
Entrant no. 12 is Millard "Who?" Fillmore. Grover Cleveland eliminates him in about 20 seconds.
Entrant no. 13 is John "Classic" Adams. His attempts to exact revenge on Grover for eliminating his son earlier in the contest are for naught; Adams is befalled by the dreaded "Cleveland Steamer" finisher and eliminated from the Rumble in less than a minute.
Entrant mo. 14 is James "The First Gay Prez" Buchanan. He is immediately greeted by Washington, who quickly eliminates the flamboyant Democrat with his patented finisher, "The Potomac Punch."
Entrant no. 15 is Rutherford "B. Boy" Hayes. The spry Republican quickly pounces on some of the more fatigued combatants, eliminating Dwight Eisenhower in the process.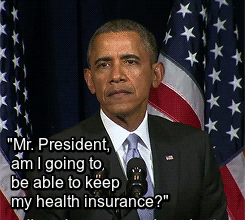 Entrant no. 16 is Thomas "Tha' Slave Drivah" Jefferson. He storms in after Washington, hits him with his "T.J. Maxx" finisher and quickly dumps his long-time ideological rival out of the Rumble. Play-by-play man Thurgood "Jive Soul Bro" Marshall suggests Jefferson's actions are possibly retaliation for Obama's elimination, but he's not entirely sure.
Business picks up with entrant no. 17 – none other that Rumble favorite Teddy "Big Van" Roosevelt. He immediately clashes with the Rumble's second largest grappler, Grover Cleveland, and promptly shucks him over the top rope. He then slams Reagan and Clinton's heads together, Three Stooges style, before eliminating them from the competition as well.
Entrant no. 18 is Harry "Atomic" Truman. He steers clear of a winded Roosevelt and works on Rutherford B. Hayes in the corner.
Entrant no. 19 is James Madison, who – naturally – goes straight for Thomas Jefferson. After a hellacious, Don Frye/Yoshihiro Takayama-like exchange, Madison finally manages to stagger T.J. with a thunderous right, sending his former Founding Fathers stablemate over the top rope and out of the competition. Meanwhile, Roosevelt gets a second wind and bounces Harry S. Truman out of the Rumble.
Entrant no. 20 is Franklin "No Gimmicks And Also No Blacks Needed" Pierce. He unwisely tries to jump on Roosevelt's back and gets tossed out of the ring in a matter of seconds.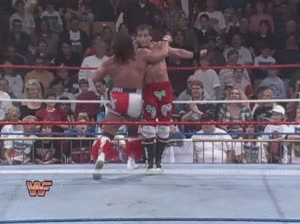 Entrant no. 21 is William Henry Harrison, a.k.a. "The 31-Day Man." Incidentally, he lasts all of 31 seconds before Roosevelt eliminates him. Meanwhile, a freak trip up results in James Madison and Rutherford B. Hayes eliminating one another, thus momentarily leaving Roosevelt as the lone man standing.
Of course, the doldrum is short-lived, as entrant no. 22, Andrew "Redman's Nightmare" Jackson enters the fray. He and Roosevelt engage in a tremendous brawl, with neither man getting a clear edge after almost two whole minutes of non-stop fisticuffs.
Entrant no. 23 is MVB – Martin Van Buren. Surprisingly, he holds his own against Jackson and Roosevelt, who appear to have gassed in the wake of their epic brawl a few moments ago.
Entrant no. 24 is … well, nobody. A confused crowd has to wait nearly a minute before the participant finally makes his way through the curtains. It's George W. Bush, who apparently took a wrong turn somewhere in the locker room.
Entrant no. 25 is "The Regulator," Warren G. Harding, who decides to blindside George W. before he can even get inside the ring. No one's really sure what hard feelings Harding has against George W., but Benjamin Franklin suggest it's because he vehemently abhors the mentally retarded.
Entrant no. 26 is Woodrow "Federally Reserved" Wilson, who comes to the ring carried on a gold throne a'la Macho Man Randy Savage. Neither Harding or George W. have officially entered the contest yet.
Entrant no. 27 is Herbert "Crash" Hoover. He brawls for a bit with Woodrow Wilson, but neither competitor gains a clear advantage.
Entrant no. 28 is Richard "Trick My Dick" Nixon. He gets booted off the apron by Roosevelt as soon as he steps over the top rope. Meanwhile, a crimson-mask sporting George W. finally crawls inside the ring, as Warren G. Harding and Martin Van Buren take turns whaling on Teddy.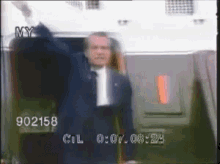 Entrant no. 29 is Franklin Delano Roosevelt – or, as his enemies call him, The One Man Internment Camp. Aided by a special mechanical body suit, he shocks the wrestling world by turning on Theodore Roosevelt and helping MVB and Warren G. Harding eliminate his own flesh and blood.
Entrant no. 30 is, much to the surprise of everyone in attendance, Grover Cleveland again. He cannonballs the "Three Horsemen" of MVB, Warren G. and FDR, eliminating Harding in the process.
Entrant no. 31 is James "Killer" Polk. He valiantly tries to take on the unlikely tandem of Wilson and FDR, but after a minute in the ring they double clothesline him out of the contest.
Entrant no. 32 is Chester Arthur "of Pain." He makes a beeline for Grover Cleveland and quickly gets flapjacked out of the ring. Meanwhile, a stumbling George W. manages to inadvertently eliminate Martin Van Buren after he trips over Teddy Roosevelt's literal big stick.
Entrant no. 33 is Ulysses "Rebel Slayer" Grant who, true to form, ambles down to the ring schlitzed out of his gourd on sour mash liquor. He stumbles through the ropes and is greeted by Grover, who promptly lawn darts his alcoholic ass over the adjacent top rope.
Entrant no. 34 is John "Don't Call Me" Tyler. He tries to engage in fisticuffs with Andrew Jackson and gets punched out of the ring with one blow.
Entrant no. 35 is Benjamin "No Relation to William Henry" Harrison. FDR and Wilson wear him down in the corner and quickly shuck him over the top rope in less than sixty seconds.
Entrant no. 36 is Zachary Taylor, or as his friends call him, "Z.T. The Supreme Cherry Picker," while entrant no. 37 is Lyndon "Bang-Bang" Johnson, who manages to audibly utter the "n-word" 15 times on his way to the ring.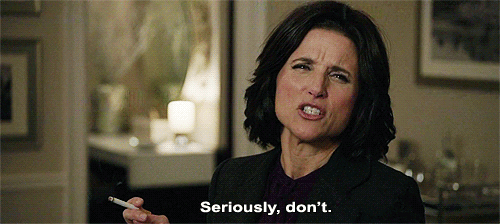 Entrant no. 38 is William Howard Taft – weighing in at almost 400 pounds, the largest man in the contest. George W. Bush immediately runs into his impressive girth and flops out of the excess adipose tissue like a cannonball. As a projectile, he manages to send FDR and Wilson sailing out of the ring with him.
Entrant no. 39 is Jimmy "Smarter and Harder" Carter. Meanwhile, Taft eliminates Taylor and LBJ in secession.
Entrant no. 40 is Gerald "The Ger" Ford, who, naturally, goes straight for Carter. Ford eliminates him after hitting J.C. with his trademark move, the Stagflation-inator.
Entrant no. 41 is William McKinley. Unfortunately, he isn't able to enter the contest due to a masked Antifa member shooting him as soon as he walked out onto the rampway.
Entrant no. 42 is "Double C" Calvin Coolidge. Andrew Jackson, who has been in the Rumble for more than an hour, chalks up another elimination by tossing Hoover out of the fray.
Entrant no. 43 is James "Why Do People Always Forget I Was Assassinated, Too?" Garfield. He doesn't last very long, getting dumped over the top rope by Taft in roughly 20 seconds.
Entrant no. 44, the penultimate entrant, is James Monroe. Surprisingly, he holds his own rather well against Taft, and almost manages to eliminate Andrew Jackson before getting bowled over the top rope himself by an opportunistic Grover Cleveland.
And entrant no. 45, of course, is the reigning, defending POTUS, "The Billion Dollar Man" Donald J. Trump, who is greeted with a very Roman Reigns like shower of boos from the audience. In a scene reminiscent of Muhammad Hassan's short-lived stint in the 2005 Royal Rumble, literally every contestant in the ring gangs up on him and tosses him over the top rope, to a thunderous ovation from the audience.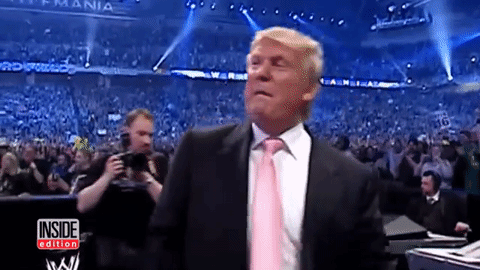 That leaves our final four as Andrew Jackson, Grover Cleveland, William Howard Taft and Gerald Ford. Jackson, Cleveland and Ford triple team Cleveland, and eventually manage to heave his carcass off the top rope. Jackson and Ford then form an uneasy alliance and manage to dump out Cleveland, thus making our final two a showdown between "Old Hickory" and, uh, "Jerry," I guess.
It's a slam-bang, drag-down brawl, with each men feigning their respective finishers. Alas, even after hitting Ford with the dreaded "Redskin Remover," Jackson is just too winded to eliminate his fallen foe. And that's when Ford, a'la the Immortal Hulk Hogan, manages to "Gerald Up" and pummel Jackson with a series of jabs, culminating with a big boot to the face, a textbook bodyslam and, eventually, the final elimination toss of the Rumble.
Ladies and gentlemen, YOUR all-time Presidential Royal Rumble Champion, Gerald freakin' Ford! As per tradition, Gerald celebrates the hard-fought win with a Stone Cold-esque beer bash on all four turnbuckles – alas, since this is Gerald Ford we're talking about here, I reckon you can figure out how this one turns out …