@MichaelCoughlin
You may be stuck at work but we here are ALSO doing work in the form of watching World's Best Football Club, Liverpool Football Club live and blogging about it. This will assuredly be a random collection of grunts and swears with no context at all. Liverpool blog live go fun happy times now DO NOT RUIN THIS DOR ME. (Without Johnson around, having an easy Hate Target is lacking – FUCK YOU, JOHNSON.)
***
As a rule, I tend to be a wine drinker but football always always makes me want cider. I have neither at the moment.
***
I'll bet You'll Never Walk Alone is the most commonly played song in funerals in the city of Liverpool.
***
Nice back and forth with the lads in the box.
***
SWEET FUCK WHAT WAS THAT?!
***
The fuck is all these corners for Bournemouth about?
***
Atrocious so far. I blame Henderson for the ball being in the wrong half so much. No reason but I wanna blame someone.
***
Coutinho seems sharp so far when he's had the ball. Oh, look, BACK IN THE WRONG HALF.
***
The offense seems sharp when they've got possession. WHAT THE FUCK IS SKRTEL DOING NEAR MIDFIELD?!? I'm positive at one point in his life he beat the shit out of black kid for purely racist reasons.
***
More people should be excited about Ibe.
***
Not sure why anyone is upset that Brazil was stupid and didn't call upon Coutinho. Long season. Lots of matches. I'd prefer be not be flying everywhere.
***
Benteke kicks it high and hard and misses.
***
BENTEKE WITH HIS FIRST!!!! That's how you do that, Mario.
***
Not just bc they just scored but this offense is a million times better than last year. It's barely recognizable. Milner is quite good.
***
OMG ANNOUNCERS. We get it, Gerrard isn't on the team anymore.
***
Damn right that's a yellow. Cheating scum.
***
I don't like Lallana. 1. His name reminds me of llama and I knew a girl who once said if it was legal she'd have sex with animals and so I dubbed her llama fucker. 2. I don't think he's good.
***
Gomez came out of nowhere. When I was 18 I was barely able to competently play FIFA on my PS1.
***
Moron announcer claiming Liverpool supporters were happy with the decision to stand by Rodgers. Fuck's sake.
***
That's half. Shaky early. Stronger as it played on.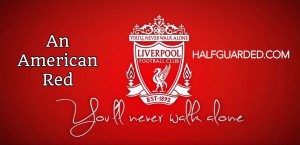 ***
Just showed Can on screen. Why wasn't he starting?
Oh yeah…
Anyways. He's replaced Henderson who must be injured or something.
***
Llama Fucker SLIPPED before taking a corner. Bring in Firmino already.
***
Benteke being clever. Milner almost with his first.
***
Fucking hell how is that not a foul? He ran into him at 100 mph from behind.
***
DON'T LET THEM SHOOT FROM THAT CLOSE, MORONS.
***
Stop being shite like this. Stop letting them get shots off.
***
Swear it looked like Cherries' supporters were screaming WHITE POWER.
***
Just blast it straight into the wall, that always works.
***
Ibe off for Firmino. Boooo. Get rid of llama.
***
Ah fuck. Score it in the net.
***
Can was lucky that foul happened. Pass it, twat.
***
Lads pulling away now. Fitter and sexier by far.
***
This half is boring me.
***
Countinho off but MR. SEX MORENO is on. Yes!!
***
Some chant ended with an audible "shit."
***
FUCK.
***
4 minutes? Bullshit.
***
Moreno clipped. RED CARD THE EVIL BASTARDS.
***
TOP OF THE TABLE!!!!