Get it? Fifth?  Like alcohol.
Fuck you, it's clever.
As always, I'm writing this shit well before the video has been posted just so I can slide it in real easy.  Like an experienced lover who knows what he's doing.  Cue porn music.  Cue hack joke.  Cue being cut down for the hack joke.  Show is in a few hours.  When most of you are reading this, I'll probably be driving the 5:30 to … Cleveland.  CLEVELAND!  America's forgotten taint.  Oh well.  It's free seats for me.  And we do do good coverage. Watch and waste 8 minutes of your life.
By the way, two of the five of these have a still shot of Punk on his phone: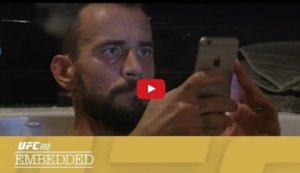 Weirdo.  And look how intense he is!  I used a cap of THE BEAN, a Chicago landmark that isn't that old but which highlights a very, very nice park known as Millennium Park.  It was the last thing Mayor Daley did and is kinda the crown jewel of his legacy.  In typical Chicago fashion, it took – and I'm not kidding – twice as long to complete and cost twice as much.  And NO ONE here was surprised.  Because this city is corrupt like I bet 90% of you truly cannot fathom.
Lightweight Damir Hadzovic vs. Yusuke Kasuya
Lightweight Drew Dober vs. Jason Gonzalez
Welterweight Yancy Medeiros vs. Sean Spencer
---
Flyweight Ian McCall vs. Ray Borg
Light Heavyweight CB Dollaway vs. Francimar Barroso
Middleweight Caio Magalhães vs. Brad Tavares
Lightweight Nik Lentz vs. Michael McBride
Women's Bantamweight Jessica Eye vs. Bethe Correia
---
Women's Strawweight Jéssica Andrade vs. Joanne Calderwood
Bantamweight Urijah Faber vs. Jimmie Rivera
Welterweight CM Punk vs. Mickey Gall
Heavyweight Fabrício Werdum vs. Travis Browne
Heavyweight Stipe Miocic (c) vs. Alistair Overeem