If you're not a Scouser, I hope you die.
And thus soccer football season has started.  For several years now (long enough that I don't remember how long ago – but not so long ago that I can pretend it was part of my childhood) Liverpool FC – the football team that plays in the English town that goes by the name of Liverpool and is known for being the home of some band – has been my team.
This is also, more or less, my website.  And it's an eclectic website, one where we break THE MOST IMPORTANT STORY IN MMA IN YEARS (in case you hadn't heard), but one where we also have thoughts on Raiders fans, early 20th Century racist propaganda documentaries, and editorials from God.
And so we have this: AN AMERICAN RED.
This is me (and maybe McGree, but he's not American – though he hates England so that kind of makes him half-American already) giving thoughts on Liverpool with some GROUND BREAKING Liverpool FC Analysis and all that.  Inevitably it'll happen during or after games.  But tomorrow is their first game and I thought, "Hey, I have a thought.  Let's talk a tiny bit about the squad before they play a game!"
This is where I also note that my analysis can be described as somewhere between that drunk guy at the end of the bar shouting stuff at the TV and the guy who is passed out in the corner, covered in his own piss, also shouting at the TV.  I try my best to kind of know what I'm getting at but I'm no expert: I'm a fan.  Only a fan.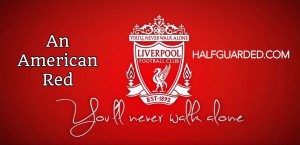 What's Gone
Hey, the guy who was considered the best player on the team is gone. Again. LFC is actually owned by Americans so maybe they got on a Bill Murray kick.  Beats me.  Raheem Sterling is gone.  This isn't a good thing because he was 12 years old and had a lot of talent and a lot of potential.  But he was sold for a buttass ton of money and whilst he has talent and potential: that's all he has right now.  He showed great creativity at times but a shocking knack for just not scoring.  And he never even seemed to set up goals.
This isn't all his fault.  NO ONE knew how to score last year.  This is normal when you lose one of the five greatest players on earth in Suarez and Daniel Sturridge is injured for 80% of the season.  When healthy, Sturridge is a fine, fine striker.  He has that knack for getting the ball in the net.  Which is the point of football.  But he's fragile and can probably be counted on to be fully fit (non-Americans say "fit" to describe "in game shape" or whatever – though the term is coming in usage here too) for about 10-15 games, if that.
Steven Gerrard, the legend, is gone.  Arguably the greatest player in Liverpool history (or one of like the top five or so)(I kind of have to go on faith for this one because it wasn't like I was watching when the team was more focused on creating riots at the same time they dominated English football).  This is a good thing.  He was just too old.  He couldn't do what he once did.  He couldn't run.  He had some intelligence out there, and there is value in his leadership (we saw what happened when Henderson got bullied around by Super Mario when it came to taking a PK) but there was also the pressure to simply play him: and he couldn't be counted on to play well enough.  He got his last season.   He got his swan song.  And whilst he plays for another team, no one sees playing in MLS as betraying your original club.
Sucks to be MLS.
Other guys are gone too but none of them are that important. (Fuck you, Johnson.)
WHAT'S NEW (aka – the rest of what we talk about)
James Milner was signed.  Roberto Firmino was signed. Nathaniel Clyne was signed.  Divock Origi will finally come to LFC after spending a year playing on loan in France.  Christian Benteke arrives, having scored a bunch for a lesser team – but also doing something unique to LFC: SCORING GOALS.
A lot of this is confusing to me.  Brendan Rodgers (more on him in a minute) signing players that I've heard of?  Not buying 19 year olds with "upside" that won't produce for 3 years?  Weird.  Milner is a bit older but should be find in the mid-field for at least this season and maybe the next.  He and Henderson, assuming they connect, should be good at policing the mid-field (fuck if I know if it should be hyphenated).
Firmino is someone for whom I'm hopefully optimistic.  I do think there's a slight learning curve for any player when they enter a new league.  If you're a bruising type who is used to running people over and go play in Spain you get confused when they call you for everything.  Whilst in England, they tend to let that more physical style fly.  This seems to bug non-Euro players more, as they're more accustomed to the "beautiful game" than they are a wimpy version of rugby.  Still, his talent and vision could help up front.  If he and Philippe Coutinho link up, they could scare the shit out of defenses around the Premiership.
And a lot of this depends on how well Benteke performs.  He went nuts last season when he got healthy, scoring approximately 5000 goals in 14 games to close out the season.  I am also a bit cautious on guys who have great spurts like that.  Yes, it shows they can do it but it also makes me ask: where were you for the rest of the season?  In Benteke's case, it might be as simple as he was recovering from injury and not fully fit (FIT!).  What he does bring is what 'Pool missed desperately: the ability to fucking score.
If he's healthy all season, 15 goals or so isn't unreasonable.  Same with Sturridge.
And then there's Jordan Ibe, who forced his way to first team action and at the tender age of 9 made an impact.  He might be legit.  Strong, fast, and just quick as shit with the ball.  Him on the wing, running past defenders, cutting in, setting up crosses or going right at the goal is the least talked about but maybe biggest breakthrough to come for the team last season.  I believe in Ibe.
If when Sturridge misses 20 games because part of his foot falls off, the team could still turn to Ibe.  He's similar to Sterling in that he isn't refined but he's right there.  You'd rather have both, but No Sterling + 800000 bajillion Euros whilst still having Ibe ain't half bad.
Defense?  We have to play defense?!?
The bane of all managers existence: defending.  Only Mou embraces it.  And people hate him for it.  Note: he also wins everything everywhere, so maybe – JUST FUCKING MAYBE – learn a lesson.  I'd rather win and be boring than lose and be exciting.  Skrtle is back after flirting with signing elsewhere.  He's solid.  He's good on set pieces because he's big and can jump high.  His natural instincts are OK.  But he'll make some major fuck ups.
Oh, GLEN JOHNSON IS GONE!  Fuck, that alone could add 10 points to the team.  Never have I see a defender who just said, "fuck it, I want to be a forward" like I have in Johnson. It's as if he saw the midfield line and was determined to stay on the wrong side of it.
I'm a believer in Alberto Moreno.  I thought he got shit on too much last year.  He's also cute.
Emre Can could be the most valuable player on the club and THANK FUCK no one talks about him.  He's ostensibly a defender but he should be mid-field and the front part of the mid-field that does attacking shit.  Great vision, tons of natural talent – probably the best signing Rodgers made last transfer period.  I think he could blossom into an elite elite player – maybe this year.
Mignolet figured it out in goal half way through the campaign – after he was "permanently benched."  That lasted about two games.  He might have actually lead the league in clean sheets.  Really.  He seemed a lot more confident in the 2nd half, making smart choices as far as when to come out and punch crosses away.  No, he isn't one of the elite of the elite but he's a fine keeper.  He isn't the reason the team will get scored upon.
Balotelli.  I list him on defense because there are keepers who scored more goals than him last year.  How a guy goes from scoring 20+ everywhere else to … 2 is a mystery.  Yeah, he's a headcase but Rodgers didn't help, messing with him, not giving him regular reps, talking shit about him in public, not helping make him part of the squad.  Speaking of …
THE MANAGER
Brendan Rodgers.  Oh, there's a "transfer committee" that makes group decisions on who to buy and sell.  Fine.  That doesn't excuse the weird shit he did with lineups.  I think he's the continual tinkerer.  Which makes sense because of his background.  It works for lower tier clubs where you have to be creative and give everyone lots of looks.  But the big boys?  C'mon, you think anyone expects Barcelona to not just plop Suarez, Messi, and Neymar up front for as long as possible and let them do what they do?
He has more depth to play around with up front, as in addition to the aforementioned forward minded players LFC still have Lallana – sigh, Mario, sigh – and, I guess, Ings and Borini.  The last two are squad players, there to spell folks, I imagine.  But the team isn't going to play with more than two pure goal scorers up front, and if fit, that'll be Benteke and Sturridge.  Ibe can fall back to a mid-field winger type deal but there's a limit to how much talent can be on the field at once before the squad is unbalanced.  I have faith that Milner and Henderson can do a decent job controlling the mid-field, with Can cheating up to help, but whilst a front five (FIVE?!??) of Coutinho, Ibe, Firmino, Sturridge, and Benteke could scare the shit out of even the biggest clubs, it leaves the rest of the team to play super disciplined.
To me, you line it up as: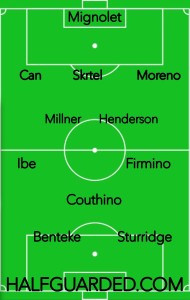 Coutinho seems to work best in the mid-range where he can take his long range shots that usually miss but hit often enough to be dangerous.  Ibe has the pace to track back and forward and shore up shit when needed.  Firmino can cheat forward when Ibe falls back, creating a 3-3-2-2.
And when one of Sturridge or Benteke (it'll be Sturridge) get injured, you bring in another midfielder (maybe Joe Allen) and play a bit more conservative, allowing the offensive talent to have more room and hopefully keep defenses honest.
EXPECTATIONS
A lot of ups and downs.  Losses to shitty teams.  Then a run where for 10 matches the team looks great.  Then some weird ass Rodgers move and it's back to maybe scratching top 4.
Who am I kidding: I'm going to break a TV when they lose to some club team in the FA Cup.
(I actually want that bag…)