@MichaelCoughlin
This better not suck.
Smells like balls is a good line.
Actors rehearing lines in a movie. Hollywood loves this shit. Movies about movies. If they could somehow add in the Holocaust it'd be a Big Hollywood orgasm.
"How about Jeremy Renner."
"Who?"
Michael Keaton has powers.
Now he's being interviewed by a reporter. Two of them. The meta commentary is thick.
I find Keaton likable. galfinakus or however you spell it annoys me. (I think it's him)
That other blonde Australian chick is in this. I know her from two things: vigorously masturbating in a david lynch movie and Eastern Promises. They are both awesome in their own way.
Edward Norton is coming across as gay or pretentious. They can be a bit mixed up bc Big Hollywood likes gay people but Big Hollywood is also not subtle.
The single camera thing is too gimmicky. Everything feels very fast. Maybe that's the point.
Emma Stone! (Is she supposed to be Asian in this one too?)
She just said Norton's dick is small.
NAOMI WATTS. That's her name.
Birdman is gonna be a dad. Again. Emma stone is his daughter I guess. Why would someone willingly have kids? Nature DEMANDS they be a mistake and something you regret – and the you see them and are all AWE!!!! BUT NOT ME. I'LL DIE ALONE.
The movie. Still doing its single camera continuous shot thing. Has moved forward in time. When does he become Birdman?!?
The play that Birman is in has fallen apart bc Hulk is drunk.
Has Emma Stone been naked in anything?
I think Birdman's ex wife is here now. I guess if ppl have kids together they see each other. My ex wife literally never spoke to me a single second after the day she left me. Band Aid principle, one supposes. That was a shitty day.
A reference to Michael Jackson. There's an entire segment of people that revere Jackson. This is awful. He literally raped children. Like, he was Bill Cosby – but with kids.
This voiceover that is omnipresent is Birdman personified I presume.
Norton as a pretentious dick is good stuff. He manages to make Big Hollywood blockbusters seem like they're noble. Because he's so far up his own ass.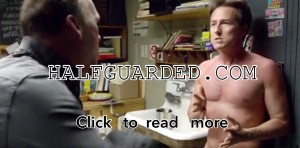 I feel like I'd hang out at bars more. Be more social. If I didn't live in the suburbs. You can't continually drink and be the aging loser when you know you need to later drive home. (Birdman is at a bar, btw.)
I wonder if my dogs know I give them scraps bc I secretly crave their affection?
Birdman is mad his daughter smokes weed.
"You're don't even have a Facebook page."
Stone just nailed a series of lines acting like a spoiled brat who gives her aging dad shit for his desire to be someone.
LOL. NORTON HAS AN ERECTION.
I could be an actor.
"Why don't I have any self respect?"
"You're an actress, honey."
Lesbian tension… No longer tension. Just kissing. DO NOT CUT AWAY FROM THE LESBIAN SEX!
Oh. Dammit, Norton. You ruined it.
Im half-curious if Norton is acting or if he's just being himself.
"Why do you act like a dick all the time? Do you just do it to antagonize people?"
"Maybe."
"You really don't give a shit if people like you or not?"
"Not really."
… I'm Edward Norton (and so is McGee). (Norton is making moves on Stone. I hope this is my future.)
Son of a bitch. This is getting better. The characterization is fantastic. High level shit. (I still want to hate this.)
My dogs go from dead sleeping to absolute 1000000% laser focus the moment I have food. Amazing.
On. Birdman isn't gonna be a dad (again).
"…massive hardon."
"Did you think it was massive?!"
I know that Keaton being cast in this is meta bc he was Batman but he's ducking outstanding as a man who desperately wants to leave a legacy. That I'm 32 and relate to that is stupid. (Unless I die at 35 – then I'm the right age to start thinking about my legacy.)
What did this best for best picture? I remember thinking whatever it was that the other movie was great. Nevermind. The others I didn't see or weren't balls out awesome.
Norton kinda hitting on Stone again. She kissed him. He has the yellow fever now…
I'm gonna go keep plugging the most important thing I've written in a while.
Plugged.
Birdman is now in NYC in his underwear. I'll be in NYC in two weeks. 50/50 chance this is me.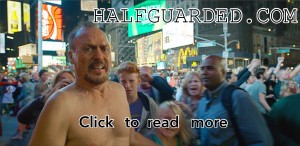 For two animals that do nothing but eat or shit my dogs sure do sleep a lot…
Birdman is gonna hit on the critic I think. This critic is a cunt. Yes, it's a female character but that's not the reason I use the word cunt. I use cunt bc I spend too much time talking to Brits.
The critic is also clearly written by an angry writer who hates critics. This is now the part of the movie where the writer and director (same person?) vent at previous critics of their work.
"You're no actor, you're a celebrity. I'm going to kill your play." And that sums up how soooooo much of the press acts. Not me! I hate the press more than anyone.
I also hate myself. Sniff.
Swear I smell the aftermath of fireworks in my basement. Which is impossible. Thus: I have a brain tumor.
I don't really like music in movies. Older movies didn't seem to use it as much. I think directors think they're being subtle by using the music to "assist" the mood but they usually don't: it generally just spoils what's coming and is heavy handed.
Hey, Birdman himself has shown up in costume as part of a hallucination. Keaton snapped jus finger and now the movie has turned into a Birdman movie. Which is just an excuse to mock superhero movies. I'm not defensive here bc I like superheroes but bc I hate those that hate on what regular people like. As if it's a crime to be Michael Bay. (Bad example.)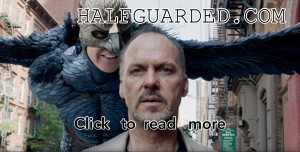 I've never seen a more pretentious movie that also is aware of others' pretentiousness.
Keaton is now flying around the city. Metaphor.
(an angry cabbie who wants to be paid confirms that Keaton was not actually flying)
Intermission of opening night of the play. People are positive. Beats starring in an NCIS knockoff.
I've only ever been to NYC as part of a layover to Europe. I'll be there for almost a week. Feels like I should see a play or do something cultural. Instead I'll probably drink a lot of McGee in the cheapest bar we can find. We legit could go on "holiday" in the middle of Nebraska and have 90% the same experience.
One of my dogs is licking my foot. Which means I've stepped in something delicious. (Which is upsetting bc I'd like to eat something delicious.)
20 mins or so to go. Is it a spoiler if I keep talking about it? I bet Keaton's character actually kills himself on stage…
The audience applauds the end of the play where he fake kills himself. Still saying it was real…
…
This whole thing just turned into david lynch at his worst – but no Watts masturbating.
Keaton is in the hospital. I'm thinking he failed in his suicide attempt.
YUP!!!
I say I get credit for calling it.
The country is praying for him. His agent loves it. His ex wife is upset. She seems to actually care.
Stone has showed up with flowers. She's posting a photo of him to his Twitter "page." All of this is meta as all get out.
Sad. He hates his life. Tries to kill himself and:
His daughter is concerned w the social media of it all (and not maliciously – that's her generation.)
His agent loves the publicity of it all.
Here comes the reveal of his new nose… I swear I thought it'd be a beak. Damn.
He's looking at birds flying around. Fin?
He's jumped out the window to "fly" with them. Stone shows up. Scared. Doesn't see him splattered on the ground so I guess he became a bird in the end.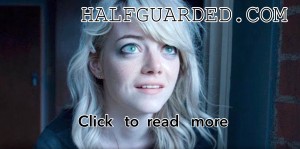 We should all be so lucky as to fly off into the sunrise.