Scottrade Center
St. Louis, Missouri
@HalfGuarded
Howdy, peoples of the world.  Guess what this is?  No, really, go ahead and guess.  I'll give you a hint: it's in the title.  Yup, it is your very own Bellator 145 FREE LIVE STREAM RESULTS & RECAP.  I lied about the naked women part.  The one below is semi-naked.
As we always do, the results themselves are at the bottom after our play by play.  And I'm sure you've all already checked out the free live streams of the undercard we have on the site.  If you didn't … I don't know if they replay or not.  Such is life.
Bellator 145 FREE LIVE STREAM RESULTS & RECAP MAIN CARD FROM SPIKE 10/9/8/7
Justin Lawrence vs. Emmanuel Sanchez
Note: As we have noted in the past, Sanchez is trained in BJJ by Daniel Wanderley, who is friends with Mike Coughlin, the idiot writing all of this.  No bias is intended but you should know either way.
ROUND ONE
Lawrence fighting like a karate man in the first minute.  Sanchez walking him down but not landing.  Lawrence continually on his bicycle but he's effective with it.  Sanchez is looking for one big punch butnot finding it.  Not a ton of action through four minutes.  Sanchez initiates a clinch against the cage with a minute remaining.  He has an underhook but isn't doing much besides leaning on Lawrence.  This is a close round in that neither guy really landed much but Lawrence may have landed slightly more.
ROUND TWO
Can't fault Lawrence for continuing with his strategy but it sure is boring.  And it is clearly him that is making this a Yawn because Sanchez is moving forward and looking to engage.  Sanchez with double underhooks, tries to go behind and get a TD but Lawrence stuffs well.  Sanchez has Lawrence against the cage as they fight in the clinch but neither guy is doing real damage, just landing isolated shots here and there.  DEEP double underhooks by Sanchez again but he isn't able to do anything with them.  Big John separates them so Lawrence can continue to dance.  BIG kick to the head by Sanchez rocks Lawrence just before the round ends and punctuates said round for the RoufuSport fighter.
ROUND THREE
This round could easily decide everything.  Sanchez in with a half hearted shot.  Clinched against the cage and if there's any positive it's that Sanchez is using his head well to control position.  But … no one is hurting the other, thus defeating the purpose of fighting.  Sanchez with a takedown and then jumps trying to take the back but he didn't have control of Lawrence.  Lawrence spins and is inside the guard of Sanchez with three minutes to go.  Sanchez hitting a number of elbows, looking for armbars and Kimuras, with Lawrence largely on defense.  But: it's MMA, dude on top is winning.  Sanchez rolls for a kneebar but no dice.  Lawrence passes for a moment off a failed triangle but they stand up and are on their feet for the final thirty.
OFFICIAL RESULT: Sanchez d. Lawrence, split dec
Oh, gah, they just "teased" that Kurt Angle is going to appear.  This will lead to endless fawning and stupidity.  Kurt said he might fight someday.  Spoiler: no, he won't.
Bobby Lashley vs. James Thompson
ROUND ONE
Wow.  Lashley with one helluva great shot from WAAAAY outside.  Would be more impressive if it wasn't against a Brit.  Now he's pounding Thompson who is just covering up from turtle position and the ref stops it. Looked early until Thompson couldn't stand up.  This was a fight that looks like a joke in hindsight.
OFFICIAL RESULT: Lashley d. Thompson, R1, TKO
Speculation is that Thompson hurt himself as a result of the shot, maybe hyperextending his knee, which confirms my theory that no one in Britain can wrestle. 
Michael Chandler vs. David Rickels
This feels like it's going three full rounds.
ROUND ONE
Rickels looks HUGE in comparison to Chandler.  Chandler is all "fuck this" and takes The Caveman to the mat immediately. Chandler has been inside the guard of Rickels, punching, for most of this round.  Rickels with heels on hips, pushes away, stands. A little action, but not much, the a TD by Chandler.  Oh, yeah, this fight is gonna be fun …
ROUND TWO
Chandler fighting like a guy who knows the TD is his whenever he wants it.  And, yup, at 50 seconds in he gets it with ease off an inside trip from the clinch.  Rickels Caveman's Up and stands.  GOOD left hook from Rickels lands.  And again.  But then BOOOOOOM!  Huge right from Chandler lands, drops Rickels.  Rickels shoots on instinct and is caught in a guillotine.  Rickels is forced to bail to his back to avoid tapping around (it aleviates pressure on the neck).  Chandler pounding big time and there's half a round left.  It's gonna be over and … IT IS!
OFFICIAL RESULT: Chandler d. Rickels, R2, TKO
The BIIIIIIIIG announcement?  World Champion BJJ dominant killer WOMAN, Gabi Garcia fighting … some big chick no one knows.  And King Mo will be fighting in the RIZIN tournament that gets him … who knows.  This is hilarious in how lame it is.
…. NO!  SHE WAS NOT THE PURE NUDE WOMAN!  NO. GAH!  NEVER!  NO!!!!!
Will Brooks vs. Marcin Held for the Lightweight title
Note: Held trained as RoufuSport in the past, with Daniel Wanderley, so the prior note about bias is in effect.  As a cool story (only told because I want to make myself feel better), there was a grappling tournament once that Mike competed in.  He took silver at 170 and 180 lbs (impressive) and at the Intermediate level, which is right below Expert.  Held?  He took double gold in the expert.  In theory, I – err, Mike – could've competed against Held.  He's sure he would've totes won and not been heel hooked in five seconds.
ROUND ONE
Briefly on the feet, then Held drags it down with a takedown off the clinch.  If Held can keep getting the TD with that much ease, Brooks is in trouble.  Funny that they mention Brooks's Carlson Gracie Sr. affiliation through ATT, while Held has the same through RoufuSport.  Oh, I'm also part of that crew.  Held has been focused on keep Brooks down more than anything else.  Brooks is sitting against the cage, very clam, like he's biding his time to stand.  Brooks half threatening a Kimura but really just uses it to stand – and does.  Brooks with double underhooks and IMMEDIATELY gets the TD.  This is still Held's world and he's diving on a kneebar right away.  This is super danger area for Brook.  Held is close on the kneebar here.  OMG!  JUST TAP ALREADY!!!!!!  NOOOOOO!  Brooks showing balls of steel and a knee of rubber.
ROUND TWO
Brooks took Held down in about five seconds to start things off.  That was surprising.  Held gains full guard with ease.  Held attacks with triangle to armbar to oma plata and now knee bar.  Exciting but Brooks recognizes them all and defends.  Brooks's defense has allowed him to get mount!  MOUNT, I SAY!  Brooks thinkin arm-triangle.  Held reads his mind and avoids it.  Held gets halfguard(ed.com).  Brooks now going for another arm-triangle and he's MUUUUUUUCH closer than people would think.  Brooks uses it to get to mount.  Brooks is beyond impressive here, going roll for roll with a guy who basically comes into the cage with  a total submission first mindset.  Brooks is on top, in mount, and just slowly chipping away for the last 30 seconds or so.
ROUND THREE
A shot so bad that a high school coach would make a freshman run laps from Held fails.  Brooks on top, inside the guard of Held.  If history is prologue than this fight is over.  Held is semi working a butterfly sweep but Brooks is heavy on his hips and punching away.  (That means, Brooks sat back, to put all his weight on the leg Held wanted to use to initiate the sweep.)  Crowd is booing and … OMG!  THIS IS FIVE ROUNDS!  OH SHIT.  Held looked for what was either a sweep or a leg lock from halfguard(ed.com) but no bueno.  Brooks then dived back into the guard.  Brooks, tbh, might be hurt.  He's WAAAAAAY more superior on the feet, so his willingness to engage on the mat seems needlessly foolish.  Still, he's absolutely winning on Held.
ROUND FOUR
Round four starts with Held grabbing a leg and going for broke.  He's transitioned to a hell hook. Aaaand?  Brooks stuff it all with ease and is on top and is punching a lot.  Well, not a lot, tbh, but some.  Enough to win.  You wouldn't know it, but those little shots?  They can hurt.  I (Mike) sometimes grapple "with slaps" and holy shit have I had my bell rung.  From slaps.  I'm also a pussy, so there's that.  Brooks is making Held feel what I feel.  Held grabbed a toe hold and it was tight enough you could see Brooks grimace.  Still, no go. Brooks ends the round punching.
ROUND FIVE
Held is gone.  He has no gas.  He took punches that were unanswered on the feet from Brooks but Brooks chose the TD.  Wait, did they just say Held is only 23?  Oh, FUCK OFF!  I hope he loses.  I hope everyone younger than me fails at life.  Shakes fist at cloud.  But, yeah, this fight is fucking TERRIBLE.  And not "hardcore fans get it so it's really kind of good in a way" no – IT SUCKS.  Brooks on top, in the guard, hitting punches here and there that do nothing but hurt and are like the hard slaps I referenced earlier.  Except I'm pretty sure I was hit harder.  Two minutes of this shitfest to go.  Held just telegraphed a knee bar so obviously  he might as well have been Alexander Graham Bell's great-great-grandfather.
OFFICIAL RESULT: Brooks d. Held, dec
BIG ANNOUNCEMENT: …………….. KIMBO VS. SOME GUY.  LOL! OMFG!  THIS IS BATHETPIC.  DADA5000. Now Kurt Angle vs. Ken Shamrock is announced?  NOPE!  Instead: Shamrock vs. Royce Gracie!  That… is a great main-event for Bellator.  Total old school.  It'll be suuuuuuuuuuuuuper suuuuuuuuuuuuuuuuuuuuuuuuper sad.  Where the fuck did they get that one from?  Fuck.  Most of the fighters on this card weren't more than 10 when those two last fought.  Stay tuned as MLB announced a matchup of Tom Seaver and Hank Aaron (who never held the HR record…)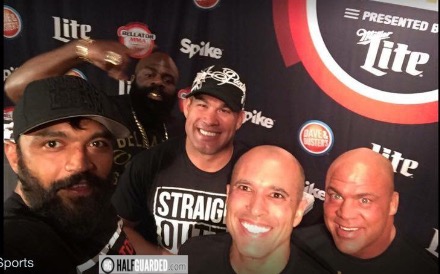 I just kinda noticed the setup they have.  I like it.  The Arch for STL is cool and the ramp and screen aren't bad.  Thumbs up.  1996 Thumbs Up!
Patricio Freire vs. Daniel Straus for the Featherweight title
ROUND ONE
It's immediately apparent the size advantage of Straus.  He id well last timeuntilhe got stupid.  Getting stupid is a problem in fighting.  Even though they're all probably stupid.  Pitbull presses against the cage after 90 seconds of nothing.  Oh, they did nothing there too.  Straus with a TD but Pitbull with an easy, easy, easy sprawl.  Pitbull does well in the clinch, landing a knee to the body and a sharp elbow to the face. Straus failed on a TD as Pitbull sprawled the F out of it.  Round one? eh.  Crap.
ROUND TWO
Will round two be better?  Meaning: will round two "not suck?"  We shall find out.  Pitbull stuffs the TD with ease.  He's in boxing range but does nothing, almost like he's confused.  He eventually clinches with the over/under.  HUGE double jab by Straus is followed by a straight right hand and Pitbull is down and dead.  Pounding.  NO!  Pitbull locks in an armbar!  It looks deeeeeeeep!.  NOOOOO!  Straus survives and pounds until Pitbull locks up a Kimura which looks to be more of a "WTF just happened" hold.  90 seconds to go.  Straus remaining patient.  They're up and … Pitbull fires off some elbows!   30 seconds in the round.  10 seconds.  Straus missed his chance for a finish.
ROUND THREE
uh, not much here. Talking Head Guys talking about Straus learning and not over extending himself.  Sure.  Let's go with that.  Just noting but pot shots from both guys throughout the round. Straus a bit more pressing but still … this became Le Suck.  Big John checking the eye of Pitbull.  Like a dog needs two eyes.  Mine only need their noses.  Straus hits a few punches.  Pitbull isn't doing well wih the distance and range and cliches like that.
ROUND FOUR
Yeah, so, this sucks.  Ass.  If you're watching and reading, you know what I'm talking about.  If you haven't watched and are reading to decide if you should watch: NOT SO FAR!  Sraus with a solid isolated left hand.  Straus is on his two wheeled machine but winning over the Brazilian.  Brazilians are known for their mental weakness.  Yes, all of them.  Pitbull throws a bunch of punches that do nothing at all.  Which circle is this?  It isn't 7, because that's violene.  8?  Fraud?  Semi appropriate.  Anger?  From me, sure.
ROUND FIVE
YOU BORING ASS HACKS!  This is terrible.  I fucking referenced classic poetry.  Why?  Becaused I was forced to, that's why.  I need to keep people engaged and you mother fuckers with your "pitter pat" and "grinding" style are making for on shit ass fight.  I curse you both.  Pitbull gets a takedown with 2.5 minutes to go.  He was losing before then got a late submission. I will laugh my ass off – OFF!!!!! – if he does it again.  He has the back of Straus.    Straus crawls to the cage and aaaaaaaaaalmost stands.  Oh, then he does.  We have a minuteto go. Let me watch, k?  They are slugging it out in the final 30.  A great finish to a fight that was … eh.
OFFICIAL RESULT: Straus d. Freire, dec.
Daniel Straus is your NEW Bellator Lighweight Champion.  Mark your calendar so you'll never forget where you were on this day.
BOOBS!!!! \/\/\/\/\/\/
QUICK AND DIRTY Bellator 145 FREE LIVE STREAM RESULTS & RECAP
Bellator 145 FREE LIVE STREAM RESULTS & RECAP MAIN CARD 9/8/7/6 – SPIKE TV
Daniel Straus d. Patricio Freire to WIN Bellator the Featherweight title
Will Brooks d. Marcin Held for the Lightweight title, dec
Emmanuel Sanchez d. Justin Lawrence, split dec
Michael Chandler d. David Rickels, R2, TKO
Bobby Lashley d. James Thompson, R1, TKO
Bellator 145 FREE LIVE STREAM RESULTS & RECAP PRELIM CARD, STREAMED RIGHT HERE ON HALFGUARDED.COM
Alex Huddleston vs. Augusto Sakai
Adam Cella vs. Cheljean Erwin-Davis
Garrett Gross vs. Luke Nelson
Steven Mann vs. Hugh Pulley
Vince Eazelle vs. Chris Heatherly
Kevin Engel vs. Kyle Kurtz
Clay Mitchell vs. Kain Royer
Jordan Dowdy vs. Adam Meredith
Scott Ettling vs. Garrett Mueller
Brandon Lowe vs. Rashard Lovelace