I almost forgot to write about this because I was just having so much fun enjoying it.  Ben Rothwell has been notified by USADA that he's a big, fat, loser, cheater.  (Note: those words may not be 100% accurate.)
The man who was once paid two hundred and fifty thousand FUCKING FUCKING DOLLARS by Affliction has been notified that he failed a drug test.  Blah, blah, let's wait and see, sure.  Whatever.  He's my white whale and he's coming for the chum.  Oh, right, I don't know jack shit about whaling and never actually read Moby Dick … go with it.
The UFC issued their standard crap statement:
"USADA, the independent administrator of the UFC Anti-Doping Policy, will handle the results management and appropriate adjudication of this case. It is important to note that, under the UFC Anti-Doping Policy, there is a full fair legal review process that is afforded to all athletes before any sanctions are imposed."
Rothwell released HIS standard crap statement as well:
"WITH THE RECENT NEWS RECEIVED FROM USADA, I WOULD LIKE TO TAKE THIS TIME TO LET EVERYONE KNOW I HAVE BEEN UNDER THE CARE OF A PHYSICIAN AND TRYING TO OVERCOME A MEDICAL ILLNESS. I WOULD APPRECIATE THE CHANCE TO SHOW THAT I HAVE NOT CHEATED NOR DID I INTEND TO CHEAT. PLEASE HOLD YOUR OPINIONS OF ME UNTIL ALL THE FACTS ARE OUT. I APPRECIATE EVERYONE'S SUPPORT AS I GO THROUGH THE PROCESS WITH USADA."
Please note: this is the second time BIG FAT BEN ROTHWELL has failed a drug test.  He failed once before, when he fought Brandon Vera in Milwaukee.  In an awesome twist, the amazing folks at the Wisconsin athletic commission did NOT suspend him for being a cheater.  Thankfully, the UFC did suspend him, for a whopping 9 months.
Ben was scheduled to fight Fabricio Werdum at UFC 211.  That fight is now "in jeopardy" as the kids say.  Matt and I will have more on the next episode of MMA & STUFF.  For now, I'll just sit back and enjoy my greatest foe being felled.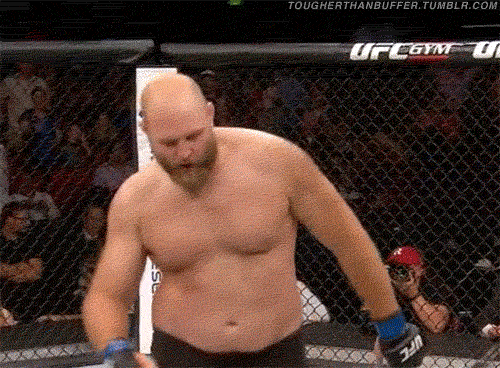 Fatso.