Hey, it's time for news!  First, make sure to check out our AWESOME UFC Gifts idea list that we made just for your mom.  No, really.  That's not a "yo mama" joke (I don't make those … ever).  It's a good list!  Now then, on to the random MMA news of the day.
Ken Shamrock: MORON
Ken Shamrock is upset that people don't want to see a man on the wrong side of 50 get punched in the face. He's claiming it is age discrimination. Ken Shamrock age discrimination claim – 2015.  Yes, you're reading that correctly.
"It's sad that we're at this point. After we've gone through so much in our world to get it across to people that you can do things, whatever you want to do, just as long as you're able to stay within the rules and the guidelines and be able to do the things you need to do. That you just should never quit, should always move forward and try to do the things that you want to do, accomplish the goals that you want to accomplish.

"And yet we're standing here in 2015 and we are discriminating against age. I mean, when does it stop? I mean, we go in the ring and we fight just the same as anybody else does. And we passed the physicals, and we do the things that we need to do to be able to get in the ring and fight.

"And yet we're standing here today, after we've gone through the racism of black people and we've gone through the women's rights and the Japanese, you know, with the world war and putting them in the work camps because they look Japanese. I mean, I thought we had gotten past all this?"
That's right! You don't like to see old people get beat up then you're a fucking RACIST! Fuck, this Bellator show in February is so awesome already.
Jose Aldo pees in cup; is also smart
Jose Aldo may keep using an IV but he was tested by USADA recently. Not sure if he was tested or if Brazil deported a tester and sent along piss saying, "We promise this is really his."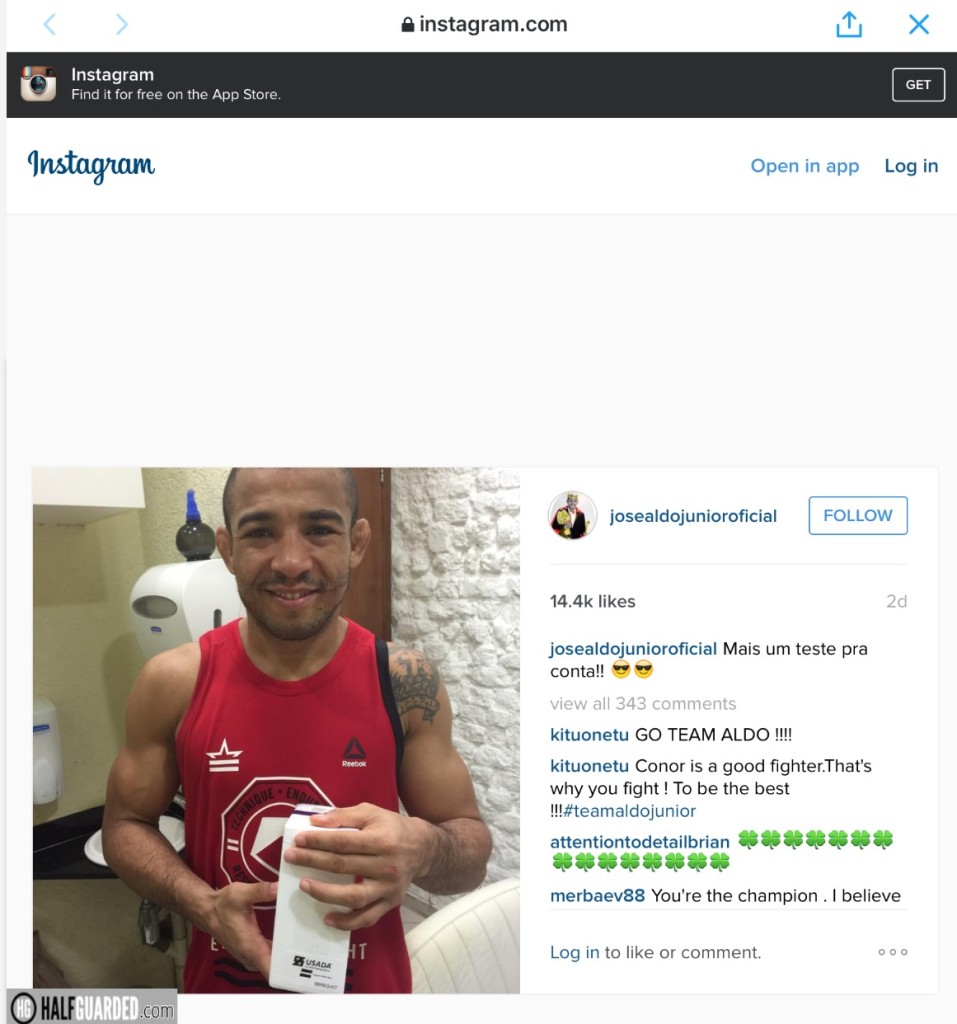 But, he DID say something smart about women's MMA:
"First of all, what I think, women's MMA is too new," he said during a recent media scrum in Rio de Janeiro. "I don't want to compare, I think Royce [Gracie] was a legend. In his old days he was the best with his jiu-jitsu, so, for me, women's MMA is that."
I mean, he's right. He's so right we've kinda already written about it a while ago.
Cathal Pendred ducks CM Punk
Cathal Pendred has retired. He tweeted: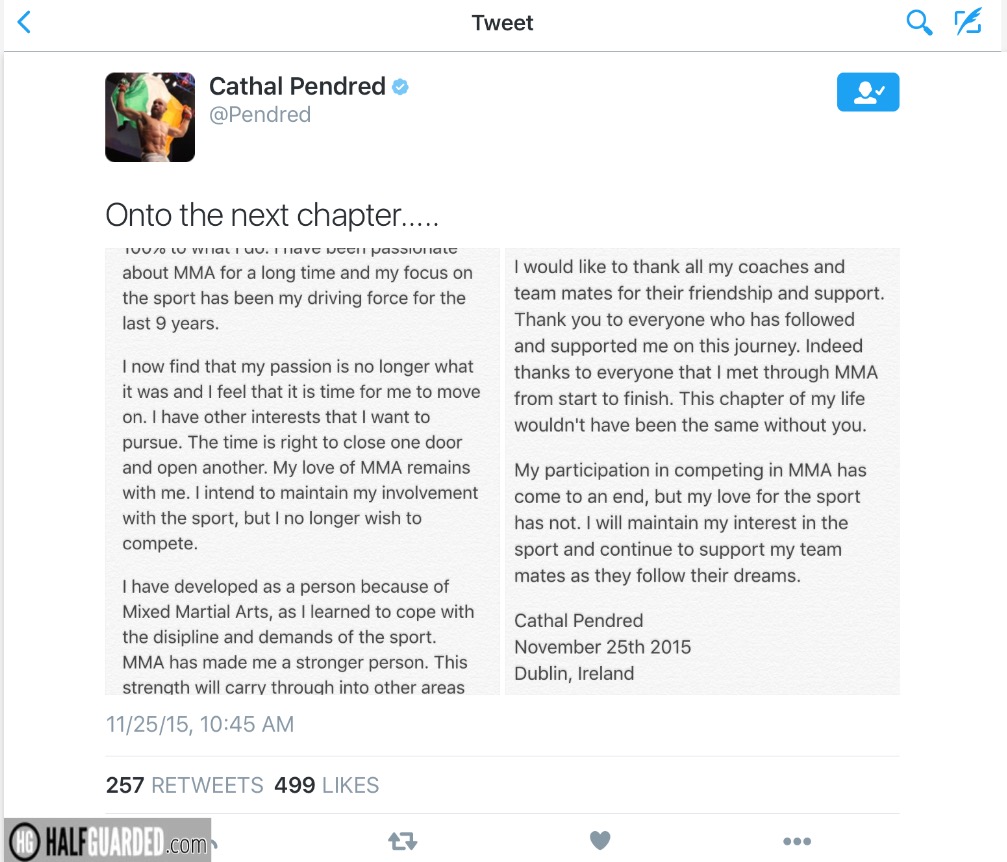 And thus his legendary twitter feud with CM Punk concludes with Punk winning as Punk at least still has a UFC career.
Fattest Fight in the UFC to take place
Ben fucking Rothwell – who was once paid $250,000 to fight – has a "top" opponent. After all his bitching, Rothwell will get Josh Barnett. The two will fight as part of the UFC on FOX card, January 30, 2016. The full card is:
Anthony Johnson vs. Ryan Bader
Josh Barnett vs. Ben Rothwell
Jake Ellenberger vs. Tarec Saffiedine
Olivier Aubin-Mercier vs. Joaquim Silva
George Sullivan vs. Alexander Yakovlev
Tony Martin vs. Felipe Olivieri
Alex Caceres vs. Masio Fullen
What a blubbery mess of flesh that fight will be.
Most likeable champion is A-OK!
Joanna Jedrzejczyk has surgery on her hand. She's ok! My new favorite fighter (for today) broke her hand during her title defense the other week. She got it fixed and is now good to go… well, maybe not yet. You know what I mean.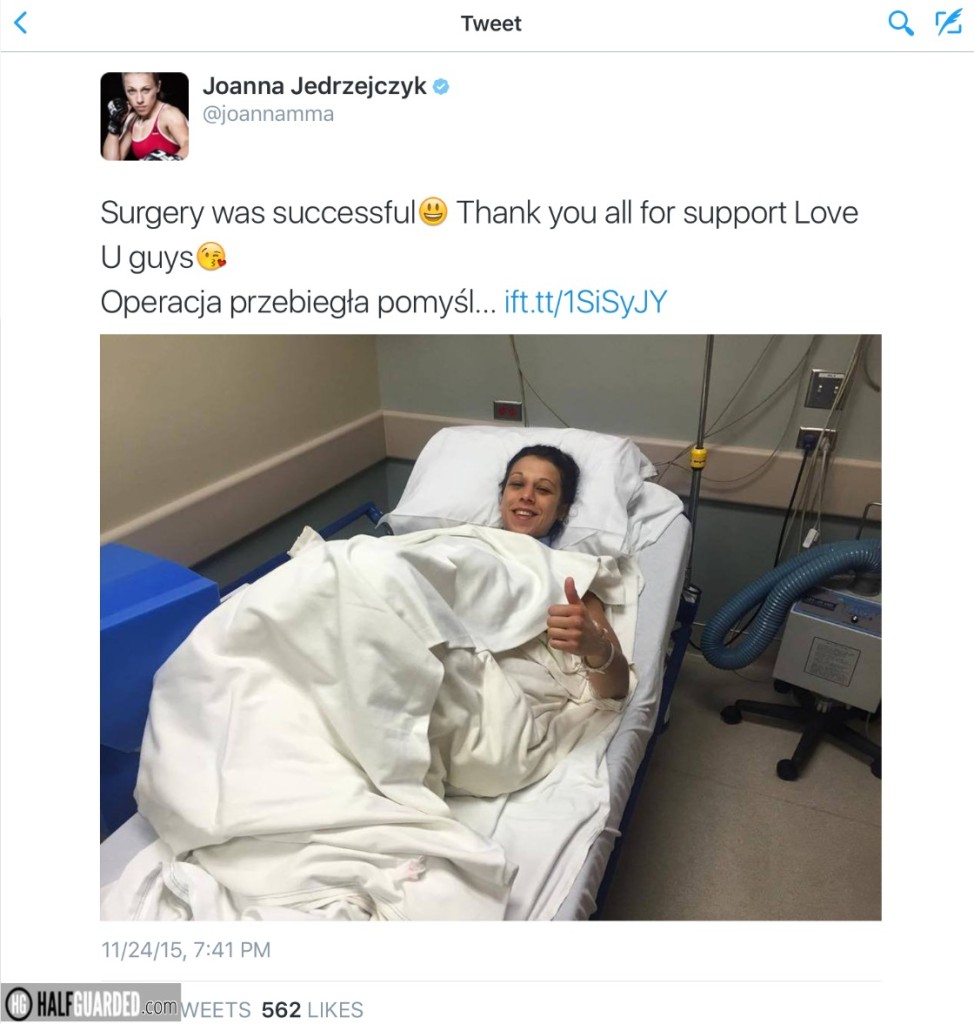 YAY!
Wrong holiday, JJ.  But we still like you.