Several years ago, I was working a lunch shift at an upscale restaurant in a resort town in Massachusetts, when an older, white-haired man walked into our still-sunlit lobby and mumbled something to me that I could not quite understand.
I was thinking he was looking for the bathroom, or perhaps the bar. I apologized to the gentleman, saying "I'm sorry, I didn't catch that."
He came a little closer and spoke a little louder, "That flag outside is disgrace. You need to take it down right away. It's embarrassing."
I initially was taken aback, but as a knee jerk reaction, I immediately apologized and promised that I would dispose of the flag immediately. Inside my head, though, I thought, "what is this guy talking about?"
Back then, I did not really understand why the man was upset. After walking outside to the front of the building, sure enough the flag was faded and a little bit frayed, but I had not noticed and no other customers or staff had mentioned it. Was it really a big deal?
Well, to this man and many Americans the flag symbolizes what American is all about; unity, freedom, democracy, and the hope for a better tomorrow. It's poignant stuff that many people legitimately hold dear to them.
I am not a military guy and did not know any better, but I read up and learned about the proper disposal of flags and other flag etiquette, after being shamed by the man who walked into our lobby that afternoon. Although I was unaware of the issue, I could appreciate the man's point of view and his strong feelings about what flag meant. To this very day, I always make sure our flag is cared for and replaced when necessary.
When researching the American flag, I discovered that there is legitimate "flag etiquette" and an actual U.S. flag code.  This code is the guide for all handling and display of the Stars and Stripes. It does not impose penalties for misuse of the United States Flag. That is left to the states and to the federal government for the District of Columbia. I had a vague knowledge of some of the laws; like never letting the flag touch the ground and keeping it lit at night. But there was a lot I was completely oblivious to.
Within the code, there is an entire section entitled, "Respect for Flag." I think many Americans, including UFC Middleweight Champ Chris Weidman, may be unaware of these rules. Weidman, an American, who often drapes himself in the American flag after his fights, recently started peddling these Reebok sneakers.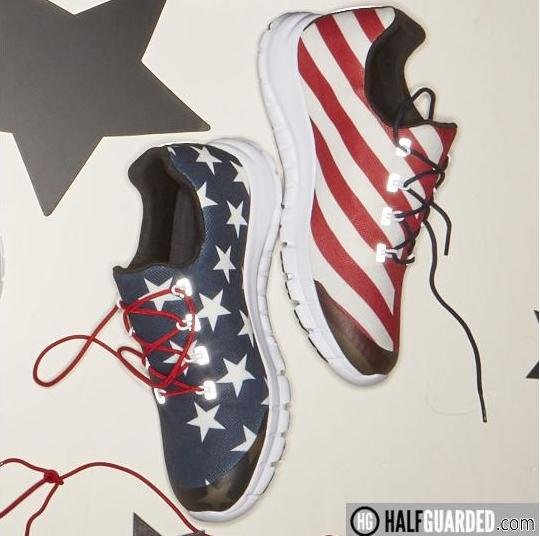 After reading the flag code, these kicks are clearly in violation. Two rules in the "Respect for Flag" section immediately jump out.
(i) The flag should never be used for advertising purposes in any manner whatsoever. It should not be embroidered on such articles as cushions or handkerchiefs and the like, printed or otherwise impressed on paper napkins or boxes or anything that is designed for temporary use and discard.
(j) No part of the flag should ever be used as a costume or athletic uniform. However, a flag patch may be affixed to the uniform of military personnel, firemen, policemen, and members of patriotic organizations. The flag represents a living country and is itself considered a living thing.
It's pretty clear cut. Weidman and Reebok are using the American flag for advertising purposes and as a costume/athletic uniform. They are in violation of flag etiquette, pure and simple. To some people, especially veterans and currently enlisted military personnel, Weidman's sneakers are an abomination.
Again, many Americans, and most likely Weidman, are unaware of the flag code. It's probable that some just do not care about respecting the flag as well. For the sake of Weidman's career, I hope it's the former; or that older white-haired man, who came into the restaurant and chewed me out, and many other proud Americans, will never buy another one of his fights.
​
Note: Feel free to buy any of the below though, as they are not shoes: