Not a ton of news today, other than me seeing some folks bitching about Saturday's UFC card not being fun.  Fuck off.  Why must everything be one extreme or the other?  The show as fine and (plug alert) I discussed it as such HERE.  Yes, things fell apart but from an actual viewing standpoint, it was an easy five hours.  I hate people.  All of you.
Askren discredits Bambi's role in Hendricks's Failure
Ben Askren doesn't like Johny Hendricks.  This isn't new either, as the two didn't like each other in collegiate wrestling.  Hendricks, as we all know, is fat and didn't make weight because Bambi made him fat.  This caused Tyron Woodley to lose a fight.  That's extra shitty to Askren because he and Woodley were teammates in college.  Askren also is not one to be quiet:
"You were 26 frickin' pounds over on (the) Monday (before the fight)," Askren said. "What in the world does deer meat have to do with it?"
Jon Jones's Manager Continues to be enabler
One of the constant figures in Jon Jones's life has been his manager, Malki Kawa.  Kawa is … not liked by some people.  Off the record comments have said that he contributes to Jones's reckless lifestyle (note: those comments are shit I read on a message board).  Here's what he had to say about Jones coming back:
"Were working that out with UFC right now. Personally, I think in a perfect world, New York gets approved and he comes back April 23 at Madison Square Garden. I mean that's in a perfect world. If the stars align for UFC, the state of New York, and for Jon to come back and win his belt in front of his home crowd. That would be pretty cool."
"I don't think 'DC' has any choice in that at all, to be honest with you. Everybody knows who the champion is. And I hate to sound that way, but the reality of it is that this fight is very important for 'DC.' If he's the opponent, whatever day it is, you have to think that he needs this fight just as much as anybody. I see what everybody's saying and thinks about him. Yes, he beat Gustafsson, Anthony Johnson, and congratulations to him, he's a phenomenal fighter. But, he still didn't beat Jon Jones. No one took that belt from him and at the end of the day, him parading around saying he's the true champion this and that and the other, it doesn't really sit well with me. It's just me talking personally from my perspective. With that being said, to me it's an important fight to 'DC,' so if Jon wants to fight him in February, March, April or May or June, July or whenever, I think 'DC' should just step up and take the fight."
And you thought Jones was the douchiest person in his entourage.
Kawa also said:
"The only word that can really describe Jon right now is 'focused…I've never seen him this focused. He's super focused. He's more focused than he's ever been before. Everybody's got their opinions. He did this, he did that, whatever. That's all fine and dandy. He's still the greatest fighter we've ever seen, right. I'm watching him through many different camps, and the coaches have told me how he does many different things through many different camps. This is the first time that he doesn't have a fight scheduled, he's in Albuquerque, and he's actually training. Most of the time when he doesn't have a fight, he doesn't train at all. There's no weightlifting, there's no jiu-jitsu practice, there's no boxing, there isn't anything. So, this is the first time we can sit here, all of us, and say he's actually putting in some work. And he's really putting in some work."
Belfort ducks … Helwani?
Ariel Helwani is a journalist.  You've probably head of him.  He's good, solid people.  I don't think he's like a lion out there, trying to be a dick when he interviews people: he's a guy doing a professional job.  He was supposed to interview Vitor Belfort but then Belfort's side requested no questions on drug shit.  Helwani wouldn't agree.  Belfort backed out:
Mr. @vitorbelfort will not be on the show today after all. His rep asked me about an 1 ago to not ask certain qs. I said I couldn't do that…

— Ariel Helwani (@arielhelwani) October 26, 2015
… so they pulled him from the show. Disappointing, considering he was booked on Wednesday and they give this ultimatum now. Ah well. …

— Ariel Helwani (@arielhelwani) October 26, 2015
New SPOOOOOOKY UFC 193 commercial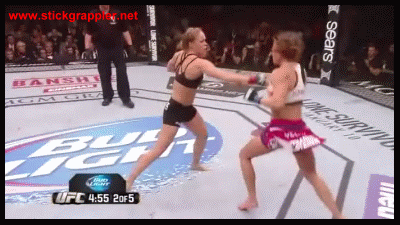 Honestly… oh, whatever, just watch it if you want.  I'd say Ronda has go-away heat but she's gonna have a bajillion viewers and I'll be one of them.