You been wondering what Chris Weidman and Gegard Mousasi have been up to?  Now you know: they're preparing to fight each other.
The two men will do battle at UFC 210, coming to you and me from Buffalo, NY, a real place.  The PPV takes place on April 8, 2017.
Last we saw Weidman, this happened to him in his home town: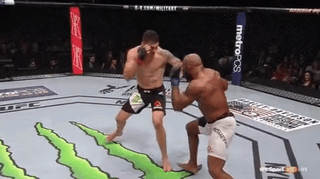 Mousasi, however, is riding a four fight week streak (he had a really good 2016).  He avenged a defeat to Urijah Hall and Vitor Belfort.  Good for him.
This is a must-win for Weidman, as he's got the Romero KO loss and the loss of his title to Luke Rockhold haunting him at the moment.  And that's all there is to say right now.