Odd day in the world of MMA, so let's make it odder by making fun of it.  I mean reporting it.  No.  I was right the first time.  And make sure to vote for me in the Canadian elections today.
BUY CHRIS WEIDMAN SHOES FROM REEBOK (never have sex again)
Yup.  Chris Weidman has "signed an endorsement deal" with Reebok – you know, one separate from the gun-to-the-head deal everyone already has.  As part of this deal?  CHRIS WEIDMAN SHOES are available.  SHOES!  Mother fucking shoes.  He's excited about having shoes.
"It's just an honor to be part of an apparel brand like Reebok. I never even imagined having my own shoe. There's no words to explain, it's amazing. Ridiculous. I'm never taking these things off. I'll be everywhere with these."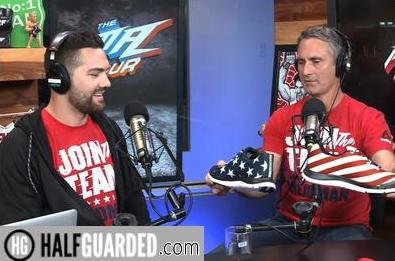 Mind you, these aren't wrestling shoes, just regular old run of the mill boring as basketball/cross-training/gym whatever the fuck shoes.  And: they're, well, very American.  Don't tread on me does not apply to these.
Nicest Man Ever Predicts Dillashaw loss
Fabio Prada is the BJJ coach for Team Alpha Male.  We (me)(I)(Mike) have talked about him a lot on this site.  I've met him a lot, rolled with him, had dinner with him – he's like the nicest human being who ever lived.  I've never seen a guy who smiles as much as he does.  He spoke on TJ recently.  I guarantee he was smiling when he did so.
"Dillashaw left because a new team in Colorado offered him a good salary to train there and be part of the team," Prado told Sherdog. "I understand his point and I can't criticize that, but what I can say is that we have at least 10 talents like him at Team Alpha Male. There are not only fighters here, but great trainers. I'm sure we'll produce another champion soon."

He also thinks the UFC will book TJ vs Urijah.
"I don't see the UFC losing that amazing opportunity to use all this hype to promote such a great clash of champions. Faber didn't want that fight in the past, but now he feels comfortable facing him."
UFC Love Match-Maker Continues
Sage Northcutt, also known as guy who would ironically drive a pick-up truck, ironically drink Pabst, and ironically do basically everything in his life, has been added to the UFC Vegas card.  The one headlined by Paige VanZant which means that the HalfGuarded.com prediction that they're gonna fuck and make a super-MMA-Baby is one step closer.  He squares up against Cody Pfister.  And after will meet up with PVZ to Pfister.
No one wants to fight anymore
Nick Newell, who has as many losses in MMA as he does arms, has retired.  He actually did this on Saturday during WSOF but I was busy ignoring post-fight talking because … I always do.  Here's him in kind of an emotional interview.
Rick Hawn, former Olympian and Bellator dude and every non-UFC promotion dude has also retired.  His mom cared, I'll bet.
You can punch Holly Holm in the face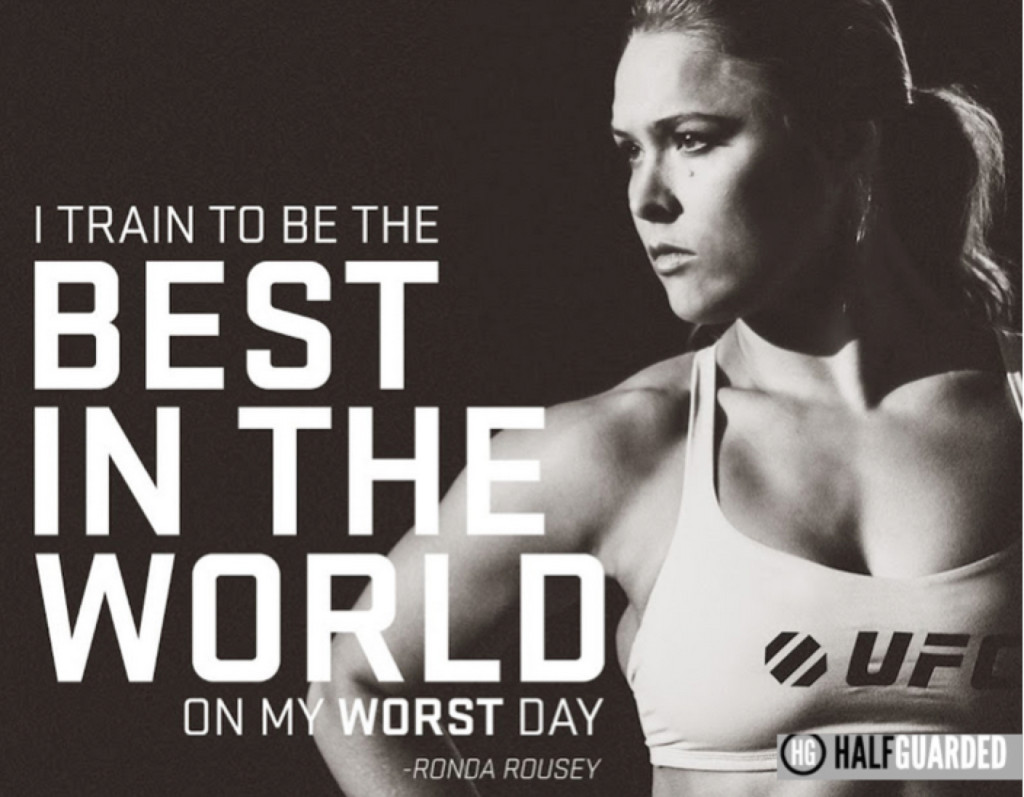 Ronda Rousey – daughter of the greatest woman ever – has apparently had custom made hand wraps for her next fight.  They contain personalized messages from fans.
"My hand wraps mean so much more to me than most fighters out there. Each ball of tape I create after a training session equates to a day of hard work and another step toward achieving my goals as a fighter and human," Rousey told FOX Sports.

"To have the support of my fans printed onto something that means an incredible amount to me is really inspirational and I can't wait to receive the hand wraps during training camp."
Sweet fuck is that pretentious as shit.  "More to me than most fighters."  The fuck?  Fuck off.  I'll bet Reebok tries to sell them too.