It was indeed the year I was born. Apparently the first words I ever spoke were: "Dad, what's that?" To which he replied "Son, that's a cinema."
Not that there would have been any chance of popping into the cinema for a film on that drive home from the hospital. Going to the movies that year were generally not for the faint of heart, with top movies featuring such terrfying moments as little girls vomiting while spinning their heads around, Edward Woodward being burnt alive in a giant whicker man and Jesus being crucified while scantily clad angels sang Andrew Lloyd Weber songs.
The seventies had a rebellious appetite for violence, gore, sex and general seediness. Yet standing out was a popular movie that was almost quaint compared to what else was on offer.
The Sting (Director: George Roy Hill)
A small time pickpocket joins a group of high stakes grifters to pull an elaborate con and gain revenge on a vicious mob boss.
It's curious that at a time when the trend for movies was edgy, gritty and political and changing the art of film making, that the second most successful film of 1973 (beaten only by the Exorcist), was like a homage to the simpler times of the golden days of Hollywood. Although been set in the mid 1930's, The Sting strays from the realities of depression era America and instead embraces the feel romanticism of 30's gangster movies. The film uses uplifting music, charming characters and for it's time a clean cut story to recreate a classic Hollywood style film. Even reuniting major stars Paul Newman and Robert Redford invokes the memories of utilising the star power double bill of say Cagney and Bogart.
The Sting sees Paul Newman as Johnny Hooker a small time grifter, leading a three man crew in a complicated pick pocket scam pays off big when they unknowingly rob a numbers racket collector. Having unwittingly stolen from feared mob boss Doyle Lonnegan (played menacingly by Robert Shaw), Hooker is forced to go into hiding with a price on his head and his partner and mentor Luther murdered. Hooker manages to find a legendary con man Henry Gondorff and convince him to put together an elaborate scam to gain revenge on Lonnegan.
For a 70's film about gangsters, conmen and crooked cops there's a real good natured vibe to The Sting. The vintage aesthetic is helped by using old school methods such as breaking the film into seven acts each with it's own title, wonderfully painted show card and big band score. There are also quaint, Chaplinesque transitions between scenes with the screen wipe circle method. Back in revolutionary 70's cinema this must have tapped into the need for a nostalgic comfortable feel good time.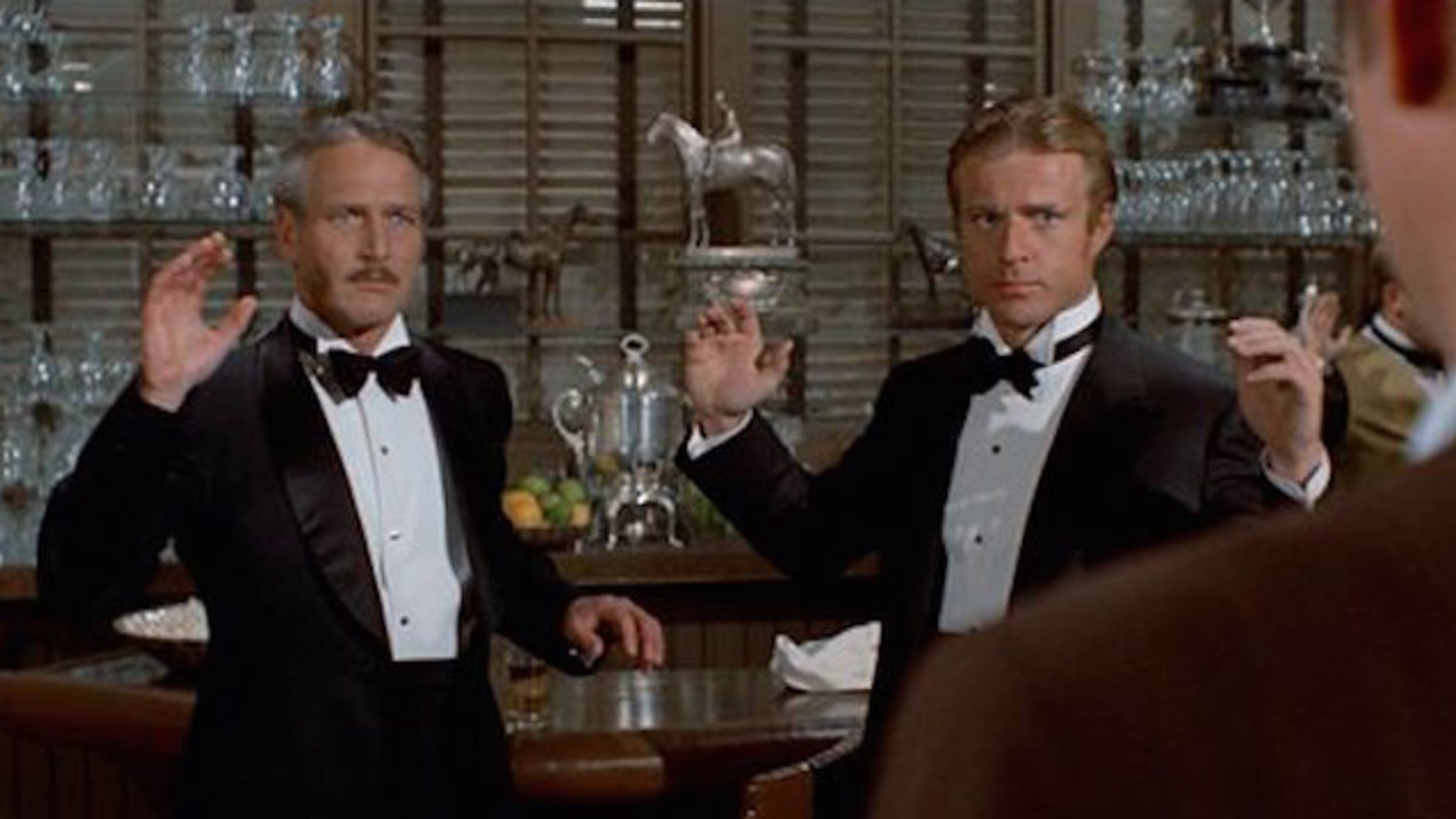 There's a charm throughout the film, particularly with the various scammers and conmen that Henry recruits for his grand scam. Criminals though they are, there is a gentlemen aura around them, their methods non violent and due to the respectability of their motivation to take down the cruel Lonnegan for the death of one of their own come across as heroic. The film heavily relies on the mythology of the honor amongst thieves trope, and a sense of loyalty and brotherhood amongst them. Henry and Johnny don't just become partners in the scam, but a fatherly relationship develops, with the older man looking out for his new ward and secretly assigning a bodyguard to watch over him.
It's in this romanticism that the film departs from the era of the 30's Hollywood that it harken backs to. Self censorship with such acts as The Hays Code would not have looked kindly on a hero who was a boozer, a wanted criminal and who ran a brothel. While the story of The Sting could have been done back in the 30's, any film that featured criminals had to have an underlying morality that clearly messaged that crime ultimately did not pay. Certainly a film where we were rooting for criminals to win would have been problematic.
The Sting is a joy to watch, full of humour (even the menacing Robert Shaw has a funny line "What was I supposed to do – call him for cheating better than me, in front of the others?"), and twists that double cross the viewer. The execution of the long con is also masterful, and you feel a respect for the ingenuity of the gang, especially as they many times have to improvise to allay the suspicions of the dangerously intelligent Lonneghan.
Strangely enough, as out of time it may seem for a 70's movie, it's nostalgic look to a form of movie that had gone out of fashion on release has helped it to date far better than many of the "modern" setting movies that came out in that era. The Sting is a wonderful caper movie, that has a mischievous feel good charm and remains accessible to a range of ages and sensibilities.
Westworld (Director: Michael Crichton)
A holiday park where guests can live out their Wild West fantasies with robots is all fun, until the robots start fighting back.
Can you call a film a ripoff, if the premise it's stealing from was written by the same guy? Dunno, but it's not a bad way to intro this segment.
Years before he wrote a book about a theme park featuring man made dinosaurs running amok and attacking the guests, Michael Crichton wrote and directed this film where the malfunctioning exhibits killing holiday makers were medieval knights, Romans and cowboys. In Westworld, a futuristic resort welcomes rich vacationers to visit the recreations of Medieval England, Ancient Rome and the Wild West, populated by androids taking the roles of local archetypes.
Like much of 70's sci-fi, Westworld has a smattering of social commentary, with the guests getting to indulge in some decidedly nerdy fantasies, such as pretending to be a knight or a cowboy. With the visitors mainly being men the fantasies invariably involve pursuing the masculine pursuits of killing and fucking, at the expense of the supposedly emotionless androids.
It's at the Westworld portion of the park that we follow the escapades of two men, spending their time frequenting the wild west brothels and engaging in duels with a local gunfighter, an android that is programmed to loose and return the next day for another shootout. Problems begin to arise as some of the androids start to malfunction, their behavior not playing alone with scenarios. Starting with young maids rebuffing the advances of horny guests in Medieval world, the problems escalate as knights and gunfighters turn the tables and start to kill the guests.
The hokey premise of Westworld was given a visually iconic boost by securing the services of a working for cheap Yul Bryner. It makes sense that a theme park fulfilling the fantasies of Wild West fans would recreate a familiar star of Western movies, and for this Bryner adopts the look and manner of his role as Chris from the Magnificent Seven. Here he's the villain though hounding the pair of holiday makers into daily gunfights, until one day his malfunction makes him kill one of them and begin to hunt down the other, the game no longer fun when the stakes are real.
Westworld is an interesting mash up, combining the popularity of the downbeat atmosphere of science fiction in the pre Star Wars 70's with the long out of fashion westerns. As well as mocking the entitlement of the wealthy on holiday, Westworld works as a satire on the dangers of science, but more compellingly there is an anti corporation subtext at play.
Throughout the film there are warnings that something is amiss with the park, even the scientists admit that they don't understand exactly how they've managed to make the androids work. Yet the danger signs are ignored, even when the androids begin to act against script the park remains open with profit being put above the safety of the guests. Intriguingly, the source of the malfunction is never truly revealed with allusions to a computer virus (something way ahead of its time) and it's left open if there is a self awareness growing in the androids and what we are witnessing is deliberate rebellion and the massacre of guests fuelled by revenge. There are moments in the parks labs were workers coldly carry out repairs and maintenance on the androids where the camera watches over their blank expressions, and it invites the question on if they are awake and aware of their mistreatment.
Sadly, the potential of Westworld on such matters is lost in the final act that becomes simply a horror movie, as the last survivor is hunted through the worlds by the unstoppable robot killer. The implications hinted at in the film were explored much further in the television show version of Westworld. Yet while ambitious in it's storytelling, I've found three seasons of convoluted world building, metaphysics, virtual spirituality and layers of incredibly hard to follow motivations and story frankly overwhelming for my tired little brain.
Instead I have a fondness for the simplicity of West World the film, and the way it leaves the film open to viewer as to what may be going on in the mind of spooky Yul Bryner.
Mean Streets (Director: Martin Scorsese)
A young man's promising rise in a New York Mafia family is hindered by his loyalty to an out of control childhood friend.
For me, Mean Streets was a rites of passage in my burgeoning movie obsession. As a life long film watcher I was naturally familiar with the famous works of Scorsese, De Niro and admittedly to a lesser extent Harvey Keitel (it was Reservoir Dogs I really became aware of him). At a time when I was wanting to branch out and actually proactively discover lesser known classics, I became aware of this earlier work of Scorsese that not only put him on the map, but also his two leads Keitel and De Niro.
It's amazing to think that movie goers and reviewers who were wowed by this gritty, layered, personal drama of life on the at the time uncompromisingly rough streets of New York, had no way of knowing the greatness of the three careers they were witnessing getting their big breaks here. Looking back it's easy to see.
Keitel and De Niro are just mountains of charisma, revelling in the opposite personalities that causes the clash in their relationship as longtime friends. The chemistry that the two play off each other is evident in an entertaining scene early in the film, as Keitel's Charlie confronts De Niro's Johnny Boy about a debt he owes another of the circle the loan shark Michael. It's a scene that's funny in it's banter but also lets you in on everything in their friendship. Johnny Boy goes into a long rambling story about a card game gone wrong as an excuse as to why he doesn't have the money, flippantly taking off any blame for not having the money. And while Charlie verbally takes him to task for his predicament and tries to make him face up to it, ultimately Johnny Boy charms his way around the admonishment.
While Charlie is impressing his uncle and a local Mafia group, it becomes clear that Johnny Boy is his achilles heel, as his friend's wild behaviour is dragging him down. Charlie has one foot in his promising future, but is seemingly unready to cast off his friends on the rough streets and seedy bars where they have grown together. Complicating matters is Charlie having a secret relationship with Johnny's sister Teresa who has epilepsy which sees her ostracised by her family and wider community.
While technically his third film, this is the first opportunity for Scorsese to confidently embrace his talent and eye for scenes. His obvious confidence in his players allows them to seemingly ab lib scenes and exchanges, creating a natural and documentary style feel. There are wonderful uses of colour with Charlie's business dealings taking place in the bright lit environment of churches and offices, yet when he's with Johnny Boy and his friends it's in the dark, claustrophobic confines of bars, often overly drenched in blood red, like a vision of hell.
Hell, is an apt metaphor for the seedy underworld that Charlie feels drawn to, as Scorsese was heavily concerned with religious matters in writing the film. As a devout Catholic, the idea of sin and atonement was a key in Scorsese's story, as was guilt which Charlie has to contend with throughout Mean Streets. From the opening voiceover line "You don't make up for your sins in Church, you do it in the streets," you get a sense of the conflict in Charlie, living in a world of criminals and mindful of the effect on his soul. At one point we see him after confession and receiving a penance of Hail Marys put his own hand into the Church's eternal flame as if punishing himself further.
It's interesting to learn Scoreses's motivation and key concerns that went into the making of the Mean Streets, although these aren't the themes that necessarily reach out to me. I'm much more interested in the pull of loyalties Charlie has between his old life on the streets and his bright future and the conflict at maturing and putting aside his loyalties and friendships especially with Johnny Boy.
Futhermore it's just fascinating watching the raw, hungry creativity that Scorsese indulges in with Mean Streets. The cold, wintry veneer of life on the New York Streets, with such incredibly chaotic pool hall fight scene (all stemming from the lines of dialogue about"Mooks," honestly can you watch this film and not repeating a Mook line in an Italian accent at least once?) and the bizarre, hand held shot of a drunk and disoriented Charlie.
Mean Streets may not have the recognisable name value of Taxi Driver, Goodfellas, Casino and Raging Bull, but it's essential viewing to see the unrestrained enthusiasm and beginnings of a legendary career.
WTF? They let us watch Schlock at a kid's party?
Ok, so I was about eleven, and one of my friends for his birthday had decided he wanted a movie day instead of a kid's party. For this occasion his parents allowed him to rent three video tapes of his choosing (on a Phillips 2000, which was even more short lived a machine than the Betamax that my family had chosen as our first video recorder. His choice weird to say the least, starting with a kid's cartoon Dot and the Kangaroo, then the decidedly adult comedy sketch film Kentucky Friend movie. And if the sickest but also hilarious comedy sketch ever made (if you've seen it you know the one, hint: dead little boy in the swimming pool) and the explicit sex scene at the end of that film hadn't warped our fragile minds, the best was yet to come.
SCHLOCK!!!!!!!! was the first film by John Landis (who would of course go on to make some of my favourite movies like The Blues Brothers, American Werewolf in London, Trading Places but would then forever be a scumbag after dropping a helicopter on his lead actor and two poor Vietnamese children in the Twilight Zone), filmed on a small $60,000 budget and featured the director in a gorilla suit as Schlock a neanderthal creature who finds himself in 20th century and proceeds to go on a killing spree.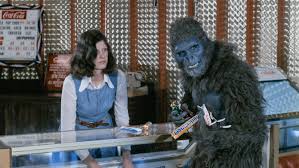 I think we were expecting a King Kong style monster movie as we sat around finishing off the birthday cake, but when in the opening scene we greeted to a a news report on the scene of a massacre at a schoolyard (the victims of the Banana killer) and during which the audience was invited to enter a competition to guess how many dismembered body parts had been collected into several bin bags, we knew we had lucked onto something special.
Having been brought up on Monty Python and already been a fan of the Airplane movies, I had a taste for surreal comedy movies and Schlock definitely delivered on that. The gags in the film ranged from the silly slapstick to deliciously bad taste (a blind girl constantly walking into walls for example), to a variety of killings that we as kids found hilarious, especially when Schlock tears off a news reporters arm and an inept police inspector attempts to handcuff him with it.
It's a short movie, only 80 mins long and is the right amount to tell Schlock's adventures as he comes across a variety of non too bright locals. There are spoofs of obviously King Kong, teenage flicks and in my favourite a 2001: Space odyssey homage as Schlock discovers a jaw bone and uses it to break the window of a shop to steal bananas.
Schlock switches from being a savage killer one scene and then showing a tender side in others. In what looks an improvised scene Schlock is taught by a little girl to feed ducks, in another he learns to play piano with a blind man and even goes to the cinema and ends up escorting a young boy to the bathroom.
Schlock is a completely bizarre movie that we as kids absolutely loved and managed to totally get on board with it's humour. Many decades later I stumbled across the film again and enjoyed it thoroughly a second time, managing to pick up on gags and subtleties that no doubt went over my head the first time.
It's a great little cult worthy movie, that I'm sure I would never have discovered if it wasn't for my friend's parents and their lax attitudes on what was appropriate viewing for an 11 year old's birthday party.
See you next time for as I look at films in the year that I was conceived, that being 1972.
Dazza