1997 will forever be remembered as the year a wrestling match didn't end the way one of the wrestlers was told it was going to. That is honestly all I have as an intro today because as I write this it's FA Cup final day and Eurovision Song contest later so you can chuffing taken what you're given.
Same as always, I pick three movies from the year that have an endearing impact on my life lived in cinemas and one weird "WTF?" moment.
Face Off (director: John Woo)
After FBI Agent Sean Archer (John Travolta) puts arch nemesis Castor Troy (Nicholas Cage) into coma, he's forced to adopt the terrorist's face and appearance to find and stop his final bomb from going off. But when Troy awakes he in turn adopts Archer's face and wackiness ensures.
Face/Off is a film that plays havoc with my head whenever I start to think about it for more than five seconds. Aside from the oddball genius of the title (the double meaning of referencing the "Faceoff" confrontation between Archer and Troy and the act of cutting off faces must have had some smart arse smiling smugly), I'm sucked into the film without even questioning the ridiculous plot of Travolta and Cage not just swapping faces but also having their entire bodies modified to disguise themselves as each other.
That you can just shrug at the exposition heavy surgical scene and think "yeah, I can run with this," (accepting that Travolta can have his "Love handles" removed to become like Cage's body and more baffling that Cage can somehow gain said "love handles" to become like Travolta) is a credit to the two actors convincingly adopting each other's characters and spending the majority of the film being technically who they are not (told you this would become a head scratcher).
Cage has to go from playing the over the top, flamboyantly psychotic Troy to the morose and emotionally troubled Archer who while Cage is playing him is trying to pretend to be the psychotic Troy (yeah, I'm confusing myself here). The complexity of this is evident in the prison scene (a wonderfully outrageous off the grid stockade on an abandoned oilrig) where Cage has to convincingly portray Archer's character mimicking Troy's crazy. In a sense, Cage has to pretend to be someone pretending to be Cage but not doing as good a job, as Archer (as Troy, oh bloody hell I should have wrote about Con Air instead) is shown to be breaking down in tears as he's trying to celebrate beating a prisoner to a pulp as Castor Troy would have.
Travolta appears to be having a blast, going from Archer broken hearted over the death of his son (killed accidentally by Troy when trying to assassinate Archer) to the villainous, wild eyed, scene chewing nutcase established by Cage. While revelling in abusing Archer's FBI position, he's obviously disgusted by having to live his enemy's suburban home and family life which is at odds with his playboy lifestyle. Ironically Troy does manage to connect with Archer's daughter Janey, more successfully than the real Archer (after an uncomfortable scene where Troy as Archer is ogling his "daughter" in her underwear), especially after he saves her from being raped by going all Troy and beating the shit out of her date and forcing him to apologise.
There's also a great scene where Troy (as Archer, oh bloody hell) has to take his (Archer's) wife Eve to a graveside vigil on the anniversary of Archer's son's death at his hands. There's a genuine uncomfortable look on Travolta's face, maybe even guilt and for a moment he genuinely seem's to be attempting to comfort Eve. It's a very emotionally complex moment, especially when you consider that she is unknowingly sleeping with the man who killed her son.
As well as messing with my head the more I think about the acting, Face/Off also leaves an impression on me for being the shining jewel of director John Woo's rather mixed American stint. After the OK B-movie vibe of Hard Target and the frankly bland Broken Arrow, John Woo was finally able to unleash the splendid artistry of his action scenes that fans of his Honk Kong movies had salivated over.
In Face/Off we get to see the trademark stylish slow motions (Cage's entrance at the airport with the long coat, sunglasses and two, of course two, golden handguns just oozes John Woo cool), the fierce gunplay and acrobatic duelling. Woo also has fun with the switched identities with a memorable scene where the two face off with a mirror between them and are seen to be essentially pointing a gun at their own reflection which is actually the face of their foe (I'm telling you this is getting really complicated).
The standout scene is the gunfight at the apartment of one of Troy's allies, where Archer (as Troy) is forced to fight along side the criminals against a SWAT team sent by Troy (as Archer).
It's an amazing scene and unmistakably John Woo, with loud gunshots tearing apart furniture and bodies alike, with acrobatics and choreography that would pave the way for the most loved John Wick films of today. There's a touch of Hardboiled as Archer is forced to look after Troy's young son in all the chaos. It's through the boy we get the most striking moment of the film as he watches his family battling the police while listening to his headphones, the violence he sees accompanied by the innocent childhood song "Somewhere, over the rainbow!"
Face/Off is one of my favourite action films of the 90's. The feud between Archer and Troy is epic and personal, both suffer heartache because of it (there's even a moment where Troy looks about to commit suicide when Archer kills his brother) and it tears apart the women in both of their lives. Ironically both Archer and Troy end up getting physical with each other's spouses.
One thing that always leaves me troubled is the ending (aside from the decision to end the film with a speedboat chase, which never really work out well), where after killing Troy and getting his face and life back, Archer adopts and welcomes Troy's young son into their family. Troy's son is the same age as Archer's son was when killed by Troy. The two boys look very much alike, and while the gesture is supposed to be sweet that Archer is looking after the now orphaned boy, it kinda comes across as creepy in that he's replacing his lost boy with the son of the man who took him away from him.
That niggle aside, this is a blast of a movie that stands out in an era where Hollywood rediscovered it's knack for great action movies.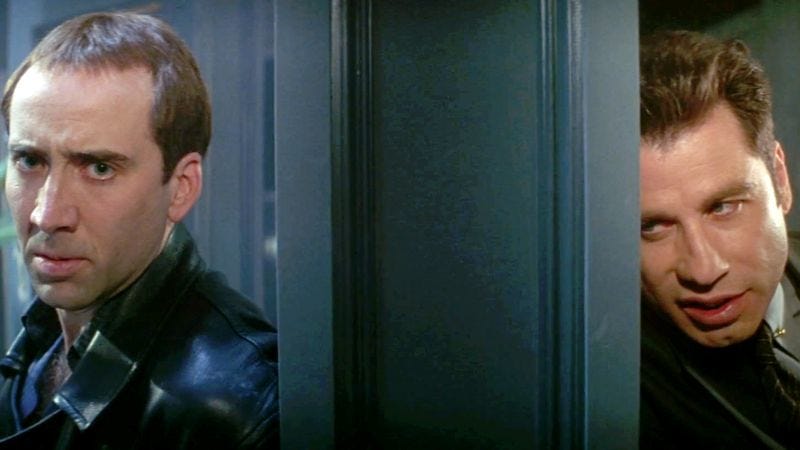 As Good As It Gets (Director: James L Brookes)
Melvin Udall (Jack Nicholson) is a self obsessed writer, devoid of empathy and treats others with only scorn and rudeness. Circumstances force him to connect with his waitress and neighbour, driving him to be a better person.
Controversial take: Jack Nicholson is a very good actor. But while he continued to steal movies throughout the 90's, many times his most famous roles were in support such as Batman, A few Good men, Mars Attacks. It was rare we got to see Nicholson in a film focused all around him. Naturally when we did get it in As Good As It Gets the results were electric, as Nicholson's charisma manages to make us root for a guy who we really should detest.
At the start of the film Melvin Udall is a rude, cruel individual who in the first scene we see dropping the dog that belongs to his neighbour (an affable, gay artist) down a garbage chute. He has no empathy for others, his rare acts of kindness early on, such as paying for his waitress son's medical bills is purely to keep his daily routine intact for his OCD (amongst other things, he has to have the same meal in the same restaurant at the same table everyday and he has an obsession with locking his door).
Life however starts to change when his neighbour is attacked and put in the hospital and Melvin is forced to like after his dog. Melvin starts to bond with the incredibly cute animal, even starting to break his routine to look after the little mite. When the time comes for the animal to return to his owner, there's a truly surprising and moving moment that Nicholson plays with beautiful understatement as Melvin gets upset as they part ways.
Ironically where Nicholson has outshone so many of his leads from his supporting roles, he is given a run for his money here from Helen Hunt as his waitress Carol and Greg Kinnear as his neighbour Simon. Helen Hunt is incredible as the single mother to a severely asthmatic son, who is also the one person who doesn't put up with Melvin's shit. Kinnear is also charming and as a result heartrendingly tragic, his assault tearing apart his finances and his desire to paint and at rock bottom he realises his dog now likes Melvin better than him.
The resulting roadtrip the three end up taking (to Simon's parents to ask for help with his medical bills), is fraught with bickering and antagonism (there's a hilarious moment where Melvin asserts that people aren't angry about how bad their lives are but that others have it so good, which Carol rejects but Simon has a look on his face that suggests he may reluctantly agree with this), but start to find what they need from each other.
Cynics may call it saccharine, but I truly find this movie heartwarming in how the three connect in very different ways. Carol and Simon bond affectionately and rekindle his passion for painting. Simon's plight when he loses his home draws out the good in Melvin who takes him in, going so far as to recreate the artist's bedroom to make him feel at home. Naturally, though unlikely as it seems Melvin and Carol fall in love which causes the line that defines the movie "You make me want to be a better person."
There are two other moments that find lovely in this film. One is where Simon, awestruck by what Melvin has done for him tells him he loves him. Melvin, who has made homophobic jibes at Simon for much of the movie (and who doesn't look 100% comfortable with Simon's declaration) responds as best he can with "I'd be the luckiest guy alive if that did it for me!"
The other moment is where Melvin goes to leave his apartment to get Carol and realises he left the door unlocked. Simon doesn't get the significance, but to Melvin it's a sign that the experiences have loosened his OCD somewhat.
As Good as it Gets was a massive Box office hit (350 million against a 50 million budget) and scored major in key Oscar nominations. It went up against a little film where Kate Winslett wouldn't budge her arse over so Leonardo Dicaprio could join her on a raft. While Titanic won the night, Nicholson and Hunt came away with Oscars for their performances and Kinnear earned a best supporting actor nomination.
Grosse Point Blank (Director: George Armitage)
Hitman Martin Blank (John Cusack) returns to his hometown on a job on the week of his high school reunion. Taking the opportunity to reconcile with his high school sweetheart Debi (Minnie Driver) who he ditched on prom night, Blank has to contend with rival assassins and corrupt FBI men.
As a youngster I was a massive fan of John Cuzack and his teen comedies, but even though I was expecting him to grow into great things, I never could have expected that he would have the starring role in the coolest and one of my favourite crime/action films of the 90's. An ultra cool figure in a suave, black suit I could not have imagined this when I watched his lovable loser persona in"One Crazy Summer" and "Better off Dead." However he proves perfect for the role, as not only is he able to pull off the charismatic charm, but calls on his hyperactive comedy of the past to instil in his character the neurosis of a troubled hitman. While so many of Cuzack's films were about him growing from being a lovable dork and achieving his potential as a winner, this film works in the opposite with him wanting to shred off the cold facade he's made for himself and go back to reclaim the old him.
Grosse Point Blank is a great modern noir crime story, following a gun for a hire who after a series of jobs gone wrong has to make amends by accepting a hit that just happens to be in his hometown. A place he hasn't been to since running out on his girlfriend on prom night many years go. Ironically the hit is to take place the week of his high school reunion, which plays havoc with Blank's already fragile state of mind, reconnecting with his former classmates, most notably his ex Debi who he ends up taking as his date.
There's a hint of Elmore Leonard in the story, as aside from the inevitable gunplay and warring assassins, there's a host of colourful characters. Hunting Blank are a couple of corrupt NSA agents, a psychotic rival hitman Grocer (played with surprising screwball menace by Dan Ackroyd) who is intent on forming a union of assassins and another coldhearted hitman with a contract on Blank after he accidentally killed a millionaire's prize dog (sound familiar at all).
There are memorable moments from characters with only brief screentime. Cuzacks's real life sister Joan is wonderful as his eccentric and loyal secretary. Alan Arkin is Blank's terrified psychologist, trying fruitlessly to get rid of him as a patient once he finds out what he does for a living. The reunion is like a gauntlet of weird and whacky characters, former jocks, nerds, weirdos and bullies from Blank's past that he transverses with a look of stress and horror on his face. As someone who gets severe anxiety at the prospect of social occasions, (going with a large group to dinner is a prospect that brings me out in nerves so his pain and unease is something that really resonates with me).
Grosse Point Blank is one of my favourite action films. It's non stop, entertaining dialogue and dry banter. Also it has a strong theme of trying to find yourself, Blank (as his name suggests) has created a facade of a nameless hitman and struggles to find out who he really is. Blank's story is one of going back to address a wrong (running out on his true love), but rather than a journey of redemption, this is him bringing the real Martin out, drawn by revisiting his old town friends.
While there is a lot of humour, when the action comes in Grosse Point Blank it delivers with violence and a killer soundtrack. A blistering shootout between Blank and Felix in a convenience store is accompanied by Motorhead's Ace of Spades. A hand to hand fight to the death rematch between the two takes place at the reunion with "Mirror in the bathroom" by English Beat playing in the disco and when Debi walks in on Blank and the dead Felix "99 Red Balloons" begins to play ("It's not me," he says, another instance of the battle between the real Blank and the Hitman Blank). Tying in with the nostalgia of reunions makes for a great 80's soundtrack, my favourite bit is where the Guns and Roses version of Live and Let Die plays as Blank with a look of shock finds his childhood home is gone and a convenience store in it's place.
For all the characters and action, the film rests on the relationship between Blank and Debi. The chemistry between Cuzack and Driver feels natural (possibly drawing on their once realife relationship) and you really believe that Blank would put his life and contract at risk to try rekindling the romance and that Debi while still holding a grudge would want to forgive him. There's a playful scene in Debi's bedroom, where the two frolic around so easily, with Blank giving her a Airplane ride (it's really hard to describe but it's cute) and the two seem to break out in laughter for real in moments that seem very off the cuff.
I can't recommend this film enough. It's got the sensibilities of a Hong Kong heroic bloodshed movie, with wit, romance and just bloody see it….
WTF????? Con Air and it's shitty geography of Las Vegas
Disclaimer: anyone who doesn't like nitpicking (I normally don't) and doesn't care about geographical accuracy in their blockbusters may want to skip this one.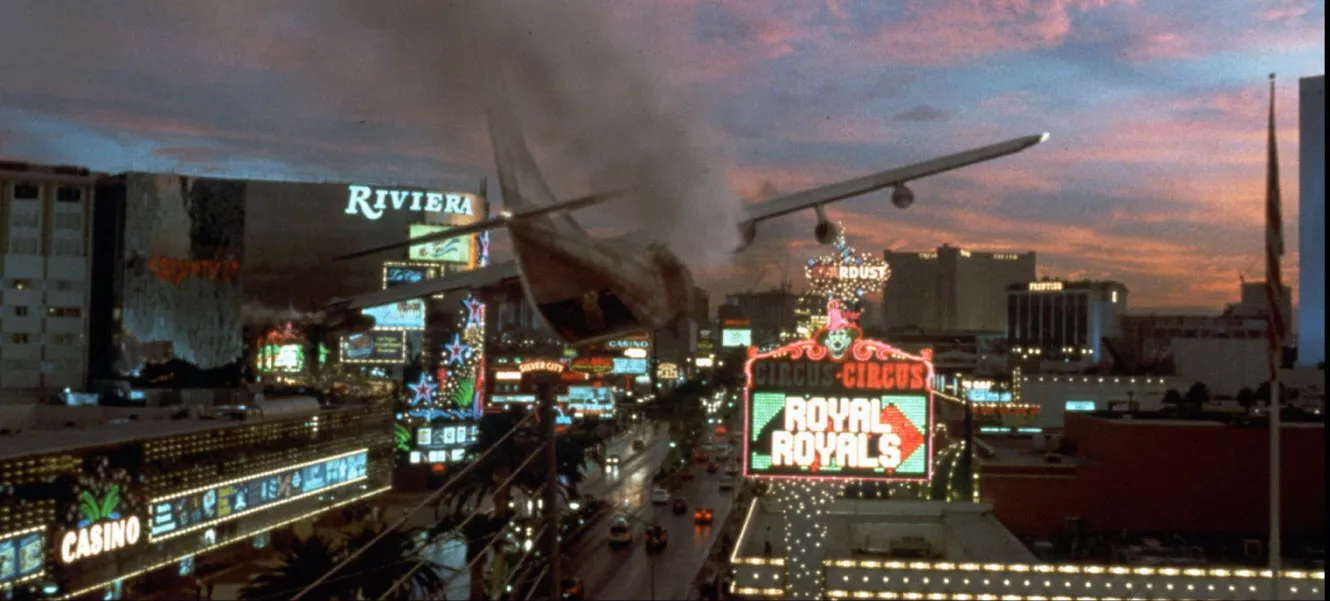 Yes 1997 was a year of action films and another of my favourites (featuring again Cuzack and Cage) Con Air came out this year. But since this is a "WTF" entry I'm not going to talk about the wonderful over the top rogue's gallery of villains, but instead I'm going to have an entitled moan about it's half arsed treatment of my spiritual home, Las Vegas.
The problems start as we reach the film's finale as the hijacked by criminals plane approaches night time Las Vegas (although seconds earlier it was broad daylight). Hero Nicholas Cage who has taken control of the plane is told to land the plane at Mccarren Airport at the other end of the strip (the plane is approaching from the North via the Stratosphere, which is a hotel you should never stay in despite it been cheap as it's in a really dodgy area and a long way from the rest of the strip). However the plane is damaged, low on fuel and according to the pilot won't make it there and he's going to crash it on the strip.
So the plane starts to descend, past stratosphere and crashes through the icon guitar sign of the Hardrock Hotel. This makes zero sense as the Hardrock is way, way south of the stratosphere and is not even on the strip but to the West of it, it's a whole two and a half miles away from where it's actually places. Not only that, the Hardrock is really close to Mccarran airport, so from here the pilot could easily have made it there or to the miles of empty land just to the west. It's almost as if they altered the layout of the strip to just get a cool shot of the Hardrock in.
Seconds later we're all the way up a mile back at the North Strip, bearing down on Circus Circus and the Rivera. We actually pass the Rivera twice, as we do the Circus Circus which somehow the second time we see it has managed to move to the other side of the road. Anyway the plane crashes in the entrance of the now demolished Sands.
From there we get a chase scene with the surviving convicts stealing a fire truck and despite the small army of police which have arrived, it's up to Cuzack and Cage to go after them on police motorcycles. The chase takes us from the Sands and taking a corner right onto Freemont Street (which is a really cool place to visit, bit gritter and old school than the strip and has great live bands).
The only trouble is Freemont street is very North of the strip and some five miles away from where the plane is meant to have crashed. Incidentally this route to get to Freemont passes through some very dodgy areas and you really should not walk any part of it, especially at night. I was convinced to walk from Freemont to the Las Vegas Neon Sign museum (which is a really cool place and you should visit, but take a cab or uber) and I was really fucking terrified and amazed we weren't mugged but that's a rant for another time. Honestly even Cyrus the Virus would not want to be caught there.
After passing through Freemont the chase goes into a long underground tunnel. I spent ages looking on Vegas maps to see where this tunnel was in relation to Freemont and could not find it for the life of me. That's because Vegas doesn't have a tunnel like that, the scene was actually shot in a LA tunnel. So where does this long underground fictional tunnel come out? Well, bizzarely right back on Freemont Street, at least that's where the chase comes to an end. So either this is the most pointless tunnel ever (or never in truth) built that goes in a complete circle, or these are the worst escaped convicts ever backtracking on themselves.
I mean if you can't get accuracy and realism from a film where the most notorious psychopaths, terrorists, drug tsars, rapists and serial killers are put on the same prison plane and ending up hijacking it, where can you get it from?
That's all from me
See you next time for 1998.
Dazza