As we reach the end of 2019 it's time for one of my most enjoyable traditions of the year, as I look through the list of all the films I saw at the cinema and try to work out my favourites. A cracking 113 films did I go out and see this year (and more in the comfort of my home due to the joys of streaming), and now it's time to condense them into my personal top 11. Other lists only go up to 10, mine go up to 11, making it one louder.
Before I start I should point out out that this list is based on films which were released in UK cinemas in 2019. Many Oscar contenders which get a US release at the end of a year to qualify sometimes don't appear in the UK until the quieter cinema months of January to March.
Also, this list is based on what were my personal favourite movies of the year. This is in no way what I consider the "best" or should judged by me claiming the quality of any one film over that of another. These are strictly the films I enjoyed the most.
While I'm happy with the list I've come up with, it's also frustrating that invariably there are films that I considered slam dunks when I first saw them, have found themselves squeezed out of my 11. Films like Good Boys, which was the funniest film I saw all year, the hypnotic Out of the Blue and inspiring feel good Blinded by the Light, all I had to leave out of my list on the virtue of their not been enough numbers between 1 and 11 (screw you maths). Likewise I surprised myself by not including Joker and I'm still unsure about not finding a spot for Jojo Rabbit, especially as it contained the single most shocking moment of the year for me.
Which is where after credits bonus comes in. Stay til the end of this article to enjoy the wall of movie posters, featuring more films that I enjoyed in 2019.
My cheeky, slightly cheating honourable mentions as it were.
11. The Shiny Shrimps (Directors: Maxime Govare, Cédric Le Gallo )
Shiny Shrimps is a French comedy that I was delighted to catch on it's one week in UK cinemas and one that deserves a lot more love. It's the story of a Olympic swimmer who makes a homophobic remark in a bad tempered TV interview and has to make amends by coaching an underachieving national water polo team in the Gay Games.
Naturally the film relies on familiar tropes. The Shrimps are a joke as a team, but coach Matthias manages to instil pride in them and achieve their true worth, while naturally he learns to confront his prejudices by getting to know them. Predictable? yes, but the film is so good hearted in it's intentions that it's easy to overlook this.
There are genuinely funny moments, with Matthias been a fish out of water on the road with the flamboyant Shrimps, while a qualifying match with a tough lesbian team is hysterical. The Shrimps themselves are endearingly fun loving, although their make up of characters try to tick the boxes of gay caricatures. Still, a scene where Matthias discovers some of their struggling back story is quite enlightening.
Shiny Shrimps is a lively little film, with a positive vibe that I found funny and charming.
10. Crawl (director: Alexandre Aja)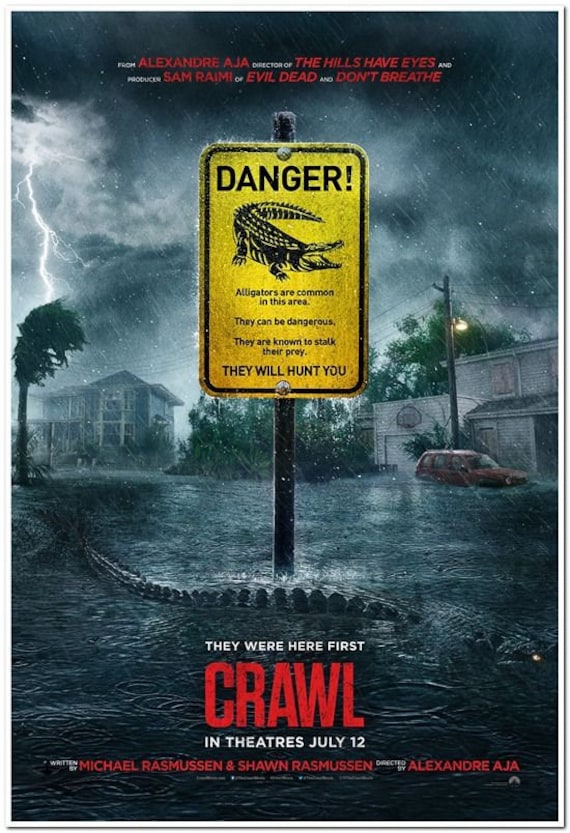 I saw Crawl at a surprise screening (where you only find out the film with the appearance of the certificate screen), and quite apt as Crawl with it's B-movie premise turned out to be one of the big surprises of the year.
Crawl keeps it's story simple, with a young woman trying to reach her father in the midst of an approaching hurricane. When she gets there she finds he is trapped in his fast flooding home, worse still they are under siege by alligators. There is an effective handling of the standoff, with great tension coming from the problem of remaining in safe spots that are fast becoming flooded against taking their chances against the patrolling predators.
This film provides everything you need from a horror film of this type. Effective jump scares (the first appearance of an alligator made everyone around me jump back a row), some really great gore moments, and some dark humour (a bunch of looters coming a cropper has a grim satisfaction to it) and toe curling tense cat and mouse chases.
Crawl was a snappy, delightfully fun movie.
9: Dolomite is my name (director: Craig Brewer)
The first Netflix movie to make it on any of my favourites lists, it does feel a shame that the lush style of the blaxploitation era wasn't readily available to be seen on more big screens. I'd also hope that Eddie Murphy's performance of Rudy Ray Moore gets fair consideration come awards time.
Dolemite is My Name is the true story of Moore's underground record career and his venture into the world of blaxploitation movies, setting himself as the star of his Dolemite movies. Murphy captures the essence of the passionate but deluded Moore, who's ambition and confidence outweigh his talent. Yet you still root for him, his charisma making him more of an Ed Wood figure than a Tommy Wiseau.
The exploits of the guerrilla style filmakers putting the first Dolomite film together are hilarious, with Wesley Snipes putting in a great turn as a bemused director who believes himself above all the nonsense. This is an entertaining comedy, that I found weirdly uplifting.
8: Wild Rose (Director: Tom Harper)
Presenting the film you probably never bothered to go to see in 2019, but would have loved if you did. Wild Rose is the story of a young woman following her dreams of leaving her rough background behind her to be big music star.
Ok, so not inspiring with regards originality, but Wild Rose has a real edge thanks to the performance of Jessie Buckley as the Glasgow lass Rose-Lynn with eyes on going to Nashville to become a country and western star. Rose-Lynn is fresh out of a year in jail, trying to reconnect her relationship with her two kids and despite her passion and obvious talent is a hot headed screw up and at times her own worst enemy.
Buckley is brilliant, giving a layered performance that makes you want to cheer for her passion while wishing you could strangle her for her irresponsibility. Just as powerful is Julie Walters as Rose-Lynn's mother who wants her to be realistic and do what's right for her children, providing one of the films most moving moments when she realises she's been asking Rose to give up on her dreams.
Wild Rose is a wonderful story of following a dream even when you don't know how to get there. It has a raw and gritty edge, with some infectiously passionate original songs that will steal your heart.
7. Hustlers (Director: Lorene Scafaria)
For some reason certain film reviewers questioned the morality on display in Hustlers, thinking it glorified women drugging men and raiding their bank accounts (funny how they never had a problem with the awful things Scarface, the Godfather and Goodfellas were doing). Personally I ain't gonna cry a river if strip club punters find themselves waking up and wondering where all their money went.
From me seeing the trailer for the same time Hustlers became one of my most anticipated movies. Yes, Jennifer Lopez, Constance Wu and Betty Cooper from Riverdale dancing on a pole was always going to be appealing (and yes this movie is sexy as hell), but the idea of them running scams to rip off rich bankers and grab some of the good life looked a blast.
Hustlers was a great ride, full of laughs when the money was coming in, but also tension as things started to go out of control and inevitably all come crashing down around them. What I loved most was the family that developed amongst the strippers, Lopez's feisty "Ramona" being a touching mother figure to the younger girls. There was a real sisterhood amongst them, supporting each other and taking a proactive move to turn the tables on the punters and bosses who sought to exploit them.
I'd argue Hustlers is one of the most subversive movies of the year, with a titillating premise that below the surface is a story of powerful women who won't be pushed around by the whims of men (the effects of the wall street crash and it's effect on their livelihood) is a particular driving force behind their actions), and strive to take some back for themselves. With he amount of women in the audience if the showing I went to, it hits the mark as a modern day, edgy chick flick.
6: US (Director: Jordan Peele)
I have a weakness for films that you can really get your teeth into regarding interpreting meanings (because it makes me feel intelligent and clever you see). And so US, easily had to make my top eleven for providing more opportunity for metaphorical analysis than a big analytically metaphorical thingy . Even the title can be taken two ways for Christ sake.
US is entertaining and solid enough as a horror movie, with a twist on the home invasion genre. A family find themselves attacked and held hostage by another family who are seemingly their psychotic doppelgangers. Even worse, it appears that their predicament is not an isolated incident.
Just like Get Out, US is heavy on social commentary and satire. The red uniformed doppelgangers, represent the lower classes of society and the film's themes deal with the lottery of life, how there is essentially little difference between the privileged and disadvantaged. Circumstances you're born into and environment (the doppelgangers are stranded to live in an sparse underground) are huge determinations on your chances in life according to the narrative here.
Rewatching US is a rewarding experience as there is a lot to spot a second time around. The film also takes on extra meanings if you know at least a little on the background of Hands across America.
5: Rocketman (Director: Dexter Fletcher)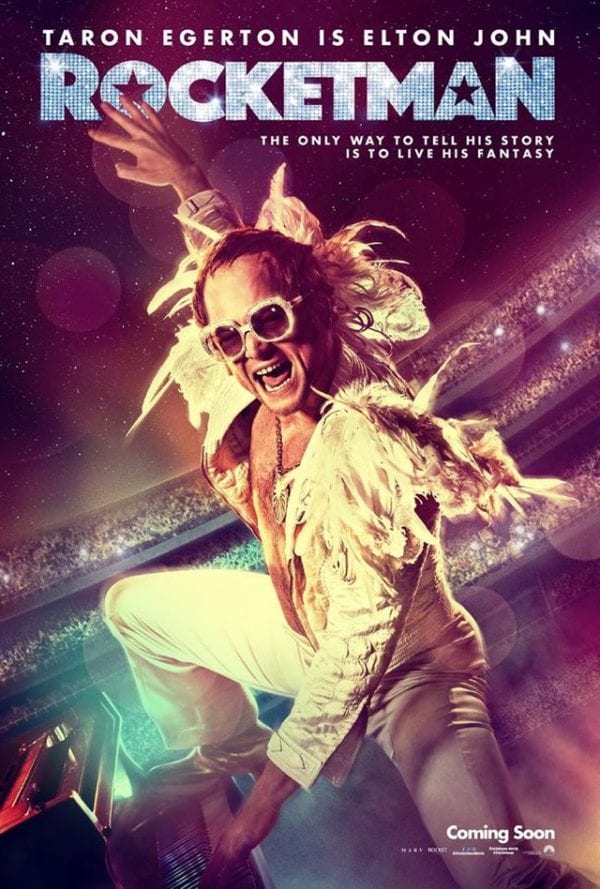 I was naturally expecting music in the biopic of Elton John, but I was expecting the Bohemian Rhapsody style of recreating live performances. I was stunned instead to find Elton John's appearance at a AA meeting (looking splendid in an orange dragon stage outfit) explode into a musical rendition of The Bitch is Back, with Elton running down a street from his youth surrounded by dancers.
Rocketman being a full on musical thrilled me, because I love musicals and they are so few and far between. It was a great decision, as for a life as flamboyant as surreally out of control as Elton's, it takes a weird fantasy vibe to truly do it justice. The visuals and costumes are stunning, full of glossy colour and become even more so when they slip into the fantasy, dreamlike routines.
Away from the glitz and the fun of his music, the meat in Rocketman comes from Elton John's drug addiction and self destructive personality. It doesn't shy away from Elton being kind of a dick to be around, but the film does garner him some sympathy with the fractious relationship he had with his father and being manipulated by his manager.
In one of the most daring performances of the year, Taron Eagerton not only brings to life Elton the troubled man, Elton the flamboyant showman he even takes on the unenviable task of singing all of Elton's iconic songs himself. It's an amazing performance all round and compliments a vivid feast for the eyes and ears.
4: Booksmart (Director: Olivia Wilde)
While Good Boys may have been the film that made me laugh the most in 2019, Booksmart was a close second, being hysterical in it's one wild night craziness, but also with a genuine warmth in it's portrayal of friendship. I was also thrilled to see Beanie Feldstein getting a starring role after her wonderful appearance in Ladybird.
Booksmart showed that you can still have intelligent and exciting movies from familiar stories. In this case we have a coming of age movie, featuring two close friends who by dedicating to studying to get into their schools of choice they missed out on the fun and parties (which vexes them more when they find all the other kids got into the same schools as them). The two pledge to have one wild, fun night before their graduation which for the two fishes out of water naturally leads to disaster.
The driving force in Booksmart is the chemistry between Feldstein and Kaitlyn Denver as the two happy to be outsiders friends. There is genuine warmth in their friendship, so close that Denver's parents think they are actually a couple (Lisa Kudrow as the mom is especially funny in this scene).
Booksmart has tons of drug, sex and alcohol gags, with elements of gross out humour, that's complimented with a moving acceptance of the changing nature of friendships which always occurs with growing in life. It also has a positive, progressive vibe that isn't bashing the audience over the head with it and doesn't get in the way of it being raunchy and fun.
That Booksmart didn't become the surprise hit of 2019 is one of the year's miscarriages of cinema justice. Thank the studio for that in not going with the method of starting with a limited release and building up word of mouth. In any case, director Olivia Wilde made a fantastic movie in her debut and deserves to have more opportunity in the future.
3: Ready or Not (Director: Matt Bettinelli-Olpin and Tyler Gillett)
Another horror movie makes it on my list, and while it isn't as clever with it's social commentary as US, it does have a light hearted satire on the super rich that is an absolute blast. A young woman Grace has just married into a wealthy family and on her wedding night has to take part in a game of hide and seek as her initiation in their massive mansion. Unbeknown to her, the rules of the game are if they find her before dawn, they kill her.
Ready or Not is a deliciously dark comedy, full of thrills, scares and gory endings for many of the rich hunters who Grace gets the better of (the unfortunate fate of the maids is a hilarious ongoing gag). Samara Weaving is great as Grace, full of splendor in her wedding dress, going from terrified to determined survivalist to finally just planned pissed off with bullshit rich people.
What makes the premise work for the entirety of it's crisp 90 minutes, is the supporting characters of rich arseholes. With shades of an Agatha Christie line up, we get all the devilish stereotypes of whiny, indulgent, spoilt wealthy people. There's the snobs, the gold diggers, the alcoholics and drug addicts, the wimps and the out of control kids, armed with an array of deadly but archaic weaponry
Ready or Not is a furious ride, full of fun with a stunning unexpected finale.
2: Once Upon a Time in Hollywood (Director: Quentin Tarantino)
Quite simply, the film I'd been waiting for Tarantino to make since Jackie Brown.
When I heard that Tarantino was making a film that would feature Charles Manson and Sharon Tate, (and to be released on the anniversary of the murders in the Polanski home no less) I was frankly terrified of what may be coming our way. Knowing Tarantino's somewhat disturbing treatment of his female characters and his lack of restraint when it comes to good taste.
Fortunately OUATIH hearkened back to the early years Tarantino. Slick and cool with over the top but entertaining exchanges of dialogue, colourful characters and stunning visuals with masterful use of musical score, this is Tarantino at his most self indulgently brilliant. As well as his trademark non-pc humour (the Bruce Lee parody caused controversy, although I admit I personally enjoyed the scene), the director brought a depth of feelings with the struggling washed up Rick Dalton (DiCaprio, absolutely amazing) counterpoised with the rise of a joyful Sharon Tate (Margot Robbie's scene watching the audience enjoying her performance was delightful). Meanwhile Brad Pitt's visit to the Manson family ranch as Cliff Booth was spookily tense.
Some audiences complained that the film was slow, but I just loved hanging out with these characters and been immersed in Hollywood at a pivotal moment of upheaval. Naturally Tarantino rewards his audience with one of the most batshit, crazy endings to a film all year.
1: Avengers: Endgame (directors: Anthony and Joe Russo)
Hardly a surprising choice for my favourite film of the year, but as I said when I made Infinity War my favourite film of 2018, if I'd said anything else it would be pompously disingenuous.
There is so much I could say about Avengers: Endgame. A testament to keeping your cards to your chest when promoting a film. A story that follows up the most intense cliffhanger of all time by tearing apart the psyche of defeated heroes, forcing them to face depression, grief and trauma. A film that logically rewards it's fans with moments it's been making them wait years for.
Concentrating on my own feelings, I can only say this film made me emotional in ways no other "cinema" (and I do use that word), has ever done. From throwing my arms in the air at Cap wielding Thor's hammer, to the goosebumps at the assemble moment, to the heart breaking sacrifice of Tony Stark (the "Love you 3000" and Rhodey crying at the funeral broke me) I ran the gauntlet of emotions. But it was in that final scene, with an elderly Cap revealing he finally got to live his life and have that lost dance that caused me to really lose it.
I cried and got emotional, not just for the moving nature of the scene. Watching it for the first time, it truly struck me how much the Marvel saga has meant to me. For ten years these films have been more than going to see a movie, they have been an event. From manipulating work shifts to get to the earliest showing possible to taking every precaution possible to ensure I didn't accidentally run into a spoiling spewing loudmouth, the MCU became a part of my life. And I realised that this journey that I have loved so much, was all coming to an end.
There will be more MCU movies and now TV series, that I'm sure I will love and enjoy. But nothing will compare to the emotions and excitement that I felt with each part of the saga that came to a close in Endgame. That it ended so beautifully and satisfyingly, only made saying goodbye so much more stirring.
So one last thing before I finish up with my wall of honourable mentions. There is a lot of negativity surrounding movies these days (as there is about anything that should be fun, thanks to social or should that be anti social media), with complaints that it's dominated by sequels, franchises and remakes. While there are accusations that such films are suffocating cinema, I'd like to make mention that all but one (The Irishman) of the 113 films I saw in theatres this year were in the same place, a dreaded multiplex, and less than a quarter could be classed as remakes, sequels or franchises.
My point is, if the blockbusters aren't doing it for you (and frankly a lot of those grossly under delivered this year), there are exciting, fresh, original movies out there, eagerly awaiting your support. I understand I'm in a privileged position of having the time to seek out such films and stick my bum on a seat giving them their day in court, but my hope is that I can at least pass on my enjoyment of my hobby and maybe bring to someone's attention a potential favourite film they never knew about.
And wouldn't it be nice if in 2020, film fans refrained than spending months stamping out feet crying that a film didn't finish off a saga the right way, or that the politics of a film that we haven't even chuffing seen yet isn't to our liking. Instead we tried something positive where we got the word out about a film we'd enjoyed instead of one we hadn't.
Because with all the serious shit that's going on in this world right now, surely we can keep going to the cinema as fun?
That's all from me. Join me here as I start on the final stretch of my year by year movie blog.
Dazza
Dazza's wall of honourable mentions: