On March 23rd 2020, a man with floppy hair called Boris went on TV and said he'd squared it with my bosses that I didn't have to go to work for a couple of months but that I'd still get paid 80% of my wages. The only trick was I wasn't allowed to socialise with anyone, which frankly was fine by me. Sadly he also added I wasn't allowed to go to the cinema and just to make sure shut all them down, and no they couldn't reopen just for Black Widow.
Aside from developing a passion for making clay figures of wrestlers (yes I did this, I actually started a hobby), and writing lots of nerdy "best of…" articles for this site, \I of course watched a lot of movies. As well as taking my mind off the impeding fall of our way of life by comfort watching familiar movies, I ended up taking advantage of special 99p a month offers on Amazon Prime channels such as Shudder, Starz and Arrow. As such spent a lot of time watching cheap horror, straight to video 70's and 80's action films and a few exploration movies and spaghetti westerns.
It was an experience akin to the days of visiting a video rental store, in that I ended up watching a lot of tat, but equally chanced upon some lovely little gems that I otherwise would never have come across. Being surprised by a film that you'd never heard of is one of the true joys of experimenting with movies, so allow me now to share some of my sometimes fucked up lockdown recommendations.
In order to allow you to into these films as blind as possible I won't be going into too deep detailed analysis, just enough to hopefully intrigue you into giving these films a little love.
Last Cut of the Dead (director: Shin'ichirô Ueda 2017)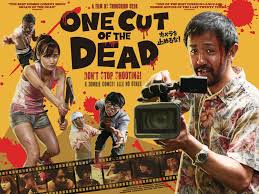 This little Japanese found footage style movie has the simple premise of a director struggling to make a cheap zombie movie, right in the middle of what appears to be an actual zombie outbreak.
Now if like me you're burned out on Zombie movies, don't be put off because this is one of the cleverest and most creative films I've seen in ages. The audience is blind sided constantly and just when you think you have the film figured out, it flips you again with lots of "what was that?" moments and playing around with time and filming techniques to keep you guessing with a multi layered story.
Harpoon (director: Rob Grant, 2019)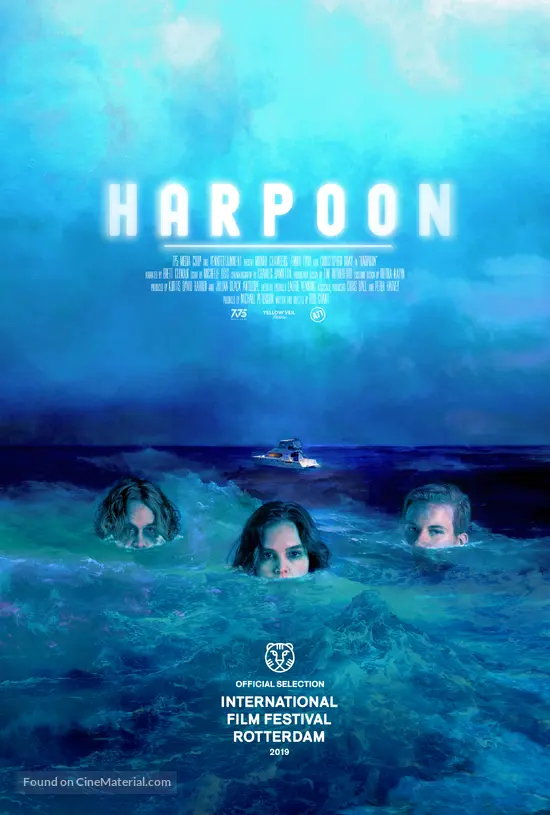 A low buget Canadian movie, following three friends Jonah, Richard and Sasha who have been caught in a weird relationship triangle. Richard's paranoia that Sasha is cheating on him with Jonah threatens the trio's friendship, but to make amends he arranges for them to take a cruise on his yacht.
The seclusion though causes tensions to rise amid revelations that drives wedges between them and causing violence to break out. When they become trapped together in the middle of the ocean, the situation becomes a battle of survival with some nasty, gory consequences.
For a film under 90 minutes there are a few scenes that go on a little too long, but the story keeps you gripped throughout amid secrets and the claustrophobic tensions.
Cheap Thrills (director: E L Katz, 2014)
This 2014 film is what the term "fucked up," was invented for. A guy down on his luck and suddenly out of work has a chance meeting with an old school friend. The two proceed to get drunk and cross paths with a friendly but eccentrically weird couple,Colin and Violet, out on a birthday celebration.
Colin (played by David Koechner, the bald one in Anchorman), offers the pair $50 to whoever can down a drink first, then proceeds to offer more money for increasingly daring and dangerous challenges.
Cheap thrills's comedy premise gets very dark and disturbing and is not for the squeamish. There is a lot of gore and unpleasant manipulation, with the contests bringing out the worst urges in all involved. Worst of all, you won't be able to look away to find out how bad things will really get.
Mayhem (director: Joe Lynch, 2017)
What better time to watch a film all about being trapped in a building with an out of control virus. In this case the virus robs those infected from all inhibitions, leading invariably to riotous behaviour involving lots of rampant sex and violence. When a law office suffers an outbreak the building goes into lockdown and an already disillusioned lawyer (Walking Dead's Steven Yeun) teams with a client (Samatha Weaving showing so much star power potential), to battle through the murderous anarchy.
Lots of chaotic violent action and humour to be enjoyed here, but also a lot of satire aimed at big business lack of ethics and the treacherous politics in offices and workplaces.
Ginger Snaps (director: John Fawcett, 2000)
Since when did Canada have a cool movie scene? Anyway, two decades from it's release and I'd never heard of his horror movie and didn't have high hopes looking at the above poster, but was wonderfully surprised to find myself enjoying the hell out of it.
It's a modern take on the werewolf genre, with two goth sisters obsessed with dying young running afoul of such a beast coinciding with the onset of puberty for the older sibling. After being bitten, the sister becomes increasingly wolf like in her behavior, giving in to violent and sexual urges.
It's very on the nose in it's themes of puberty and teenage coming of age, but it's done so entertainingly with humour and some genuine horror scares and tense chases. It's also a tale of sisterhood and loyalty which at the time earned it a strong female following for it's feminist subtext.
Freeway (director: Matthew Bright, 1996)
Despite this being a breakout role for a young Reese Witherspoon, I'd never heard of this mid 90's grindhouse tinted cheapie. Happy to catch up with it now, as it's the sort of cheap, weird, creative, cultish style movie that I get a thrill out of discovering.
Freeway is an urban retelling of the Little Red Riding Hood fairy tail, where Reese is a streetwise teenager who runs away from social services, attempting to cross South LA to go stay with her Grandmother. On the way she accepts a lift from Kiefer Sullivan (the wolf of the story) who turns out to be a serial killer, preying on young girls.
This film was such a find for me, tying in so many of the elements of the classic story into the trials of the young girl. Wetherspoon shows so much presence and charisma, while Sutherland is as deliciously easy to hate as he is creepy and terrifying. Definitely worth discovering if you haven't already.
Summer of 84 (director: François Simard, Anouk Whissell, Yoann-Karl Whissell , 2018)
There's a very strong Stephen King vibe to Summer of 84, with it's small town setting and built around a bunch of young friends in their clubhouse years. Davey, a fan of conspiracy theories, becomes convinced that is police officer neighbour is responsible for the decades worth of disappearing children. He manages convince his friends (a fat kid, a nerd, a rebel and the hot girl across the street), to help him prove his theory, leading to lots of tense, near miss discoveries and genuine nerve jangling moments.
Summer of 84 is very reminiscent of Stranger Things, but has much more of an edge and is down to earth downbeat in places. Whether by intention or not, I felt wrong footed by the film a few times and there are a lot of scares and jumps along the way.
Bliss (director: Joe Begos, 2019)
There's a real underground feel to this disorienting and sometimes difficult to watch horror film. Dezzy is an obnoxious, out of control artist who during a creative slump takes a mysterious hallucinogenic to inspire her painting. While it initially works, Dezzy becomes addicted and her reality and perceptions start to crumble.
Bliss is very dingy and seedy, not least in the character of Dizzy and the grimy street level art scene she wanders through. It's full of trippy imagery as the artist descends into insanity with it left ambiguous as to what is reality or in her head. Normally I'd be put off by this sort of film (Susperia for example), but found it accessible enough to follow and the imagery slightly intoxicating.
All the boys love Mandy Lane (director: Jonathan Levine, 2006)
Years before kicking the shit out of lover Johnny Depp, Amber Heard starred in this 2006 film that remained unseen in the US for seven years due to complications after it's distribution company went out of business (the film grew a cult following overseas.)
Despite it's misleading, teen romance title, All the Boys Love Mandy Lane is a slasher movie, where Heard as the school hottie is invited to a party at a remote ranch. Naturally the group of young, drunk and horny teens run afoul of a stalker, intent on killing them one by one.
The unoriginal premise and sterotype is compensated with some effective and gory killings along with some great twists and tense chase scenes. Heard has a great aura around her and there is some surprising counters to her role as the seemingly victim character (some of which are unnerving is watched with current revelations in mind).
Why Don't You Just Die (director: Kirill Sokolov, 2018)
Thanks to Covid 2020 looks to be a year sparse with new movie releases. Which means that for those who search it out, Why Don't You Just Die may just make it onto a best of lists come the end of the year. Especially for those with an appetite for the seriously messed up.
This icky toned Russian film starts with a young lad turning up at police officer's apartment, armed with a hammer intending to kill him on the behest of his girlfriend (the daughter of the officer). The apartment becomes the scene of extreme but sometimes comical violence, with the youth finding himself caught in a web of intrigue, double crossing and dirty cops.
Violent as hell and just as funny in places, this feels like a cross between Trainspotting, Delicatessen and one of Tarantino's messing with time narrative movies.
Monster Party (director: Chris Von Hoffman, 2018)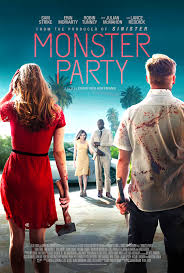 More dark comedy with this little cheapie that sees a group of young thieves infiltrating a wealthy mansion as staff in order to rob it. However things go decidedly sideways when the mansion is playing host to a party for a support group for serial killers.
Though gory in places, Monster Party is more comedy than out and out horror, yet it's a really fun ride which makes you root for villains when facing the mix of colourful and outlandish killers.
Diani & Devine meet the apocalypse (director: Etti Devine, Gabriel Diani 2016)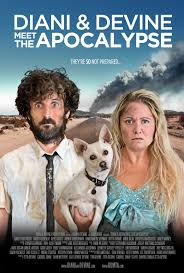 As cheap as this list of recommended films has been so far, we have a genuine kickstarter here with comedy duo Gabriel Diani and Etta Devine starring in their own apocalypse comedy movie. The reasons for the said Apocalypse are never revealed, which is apt because Diani and Devine are completely clueless in what is going on or how to survive in this new lawless, broken down world.
In a genre where we see everyday folks having (and succeeding) to become hunters and warriors to survive, it's refreshing to see a lovable couple wandering aimlessly unable to achieve even the basics of rudimentary survival. Meanwhile all around them, civilisation resorts to acting weird and going on pointless rampages.
A real passion project, where the sheer enjoyment of what they are doing seeps through the screen, this is a wonderfully goofy good time.
Vast of Night (director: Andrew Patterson, 2020)
Finally, I bring you The Vast of Night, an Amazon Prime movie which is not a "fucked up" film like most on this list, but I'm including because I found this one of the true joys of my film watching during lockdown.
With obvious homages to Twilight Zone style tv shows, the film is set in a 50's small town in New Mexico on the night of a big High School Basketball game. A young switchboard operator discoveries a strange sound on the telephone lines which also appears on the broadcast of the local radio station. After receiving a number of strange calls the operator and her local radio host friend set out to investigate the mystery which hints at a spooky and possible supernatural origin.
I loved the Vast of Night. It's paced beautifully with a gripping sense of mystery and is filmed with the illusions of real time and long, uninterrupted scenes. For such a cheap production (said to be $700,000) it has a dark toned but beautifully atmospheric look, with performances from relative unknowns that are endearingly likeable.
It's an exciting, spooky but charming movie full of nostalgia in a positive way. That small films can still show such ambition should give hope in the future of cinema, because it well be movies like this that theatres turn to in the next few years.
That's all from me, go out and discover movies.
Dazza