No matter your stance on "The Donald," you have to admit the guy has made what has until recently been a rather boring Presidential race something extraordinarily entertaining.
A few months ago, the 2016 race was on pace to being one of the least interesting ever. With Hillary Clinton more or less a lock for the Democratic ticket, the most excitement generated thus far was predicting which Republican nominee would wind up getting throttled by her at the ballot box.
The Republican frontrunners were your standard, all-too-vanilla line-up of old Caucasian-ish establishment types, with Ben Carson and Carly Fiorina the only two distinguishable candidates in a gallery of side-by-side mug shots. Ideologically, there might be a smidgeon of a discrepancy or two in the platforms of Rand Paul and Marco Rubio, but by and large, all of them — from Scott Walker to Bobby Jindal to Chris Christie — were (and still are) saying the exact same, boring thing.
(Note from Mike: Rubio is like full on Cuban, Cruz is somehow both Hispanic AND Canadian, Jindal is an Indian somehow from Louisiana, and Christie easily fulfills the underrepresented Fat Guy Demographic.  The GOP is finding its minority stars – like the white guys on a basketball team!)
That's when Donald Trump stormed his way into the tee totaling Grand Old Party, with two kegs underneath his arms and bag of molly in his back pocket. While other candidates strategically pussyfoot their way around issues like education and health care, old Donny boy ran headlong into them like a toupee-sporting tornado.
While his GOP stable mates delicately tried to win over the nation's growing Hispanic voter bloc, Trump went the exact opposite direction, describing half the nation's unauthorized immigrant population as "criminals" and demanding Mexico finance and construct its own southwestern wall to deter border-jumping.
The other Republican candidates — especially Jeb — have taken great strides to distance themselves from the foreign policy decisions of the George W. Administration. Trump, on the other hand, said he wants boots on the ground to combat ISIS and the U.S. to start rebuilding its nuclear arsenal.
As conservative as his stance on Republican planks like abortion, gun control and budget cuts are, he also happens to be implausibly progressive on certain issues. He advocates a one-time 14 percent tax on the wealthy to pay down the National Debt, and to improve the state of public education? Why, what better way to do so than by legalizing and taxing street drugs?
More so than any other candidate, Trump appears to be his own person. You can just tell that there isn't a small throng of handlers and spin-masters trailing him at all times, feeding him sound bites through an earpiece. He says pretty much whatever he wants, and he doesn't care if it offends people or sounds strategically compromising for the rest of the Republican Party.
Amid a consortium of playing-it-safe squares, Trump is the Republican renegade Übermensch tea partiers have been fantasizing about since Rick Santelli's epic on-air, anti-Obama meltdown in 2009. Already absurdly wealthy, he feels as if the D.C. elites are actually beneath him. While other candidates remain wholeheartedly dependent on lobbyist support, Trump could run around tossing out $100 bills like pro wrestler Ted "The Million Dollar Man" DiBiase used to.
And just like a 1980s pro wrestling villain, Trump isn't afraid to go out there and say and do some extremely outlandish things.
He told John McCain he wasn't a "real" war hero because war heroes don't get captured.
He started a Twitter war with the head of  a notorious Mexican drug cartel.
He gave out the home phone number of one of his political rivals at a public speech.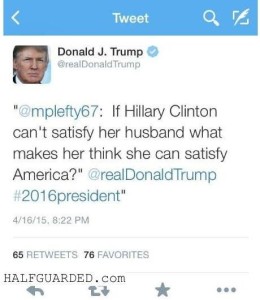 He's uncontrollable, completely immune to the tried-and-true Republican code of conduct. That's why conservative politicians and pundits loathe him, while conservative voters embrace him. He's the first candidate to come out and call the GOP on its own B.S., mopping the floor with all of the RINOs the hardcore tea party base hate just as much as the "legitimate" democrats.
Say what you will about the Democratic Party, but they are much, MUCH better organized than the GOP at the moment. They pretty much have their ideological planks nailed down, with their presumptive presidential challenger unofficially selected already. They don't have to worry about infighting. All they have to do is look at least halfway sincere and serious about their policies, and that's 200 or so electoral points automatically.
While the Dems make no bones about the future direction of their platform — European model Social Democracy-lite, here we come — the Republicans are really a tribe of three disparate groups, bound by little more than their hatred of the political other. The establishment Republicans really don't care about anything other than protecting their corporate interests, and seeing as how the Obama Administration was more than willing to play ball with them when it came to healthcare — as indicated by Steven Brill's excellent tome on the selling of the Affordable Care Act to industry lobbyists, "America's Bitter Pill" — even heavies like the U.S. Chamber of Commerce may not be as dyed in the wool red as they appear. The other two uneasy housemates living under the Republican big top are ideological enemies on every platform except federal regulations — the vestiges of the Tea Party/Sarah Palin contingency and the vestiges of the Libertarian/Ron Paul base.
Considering their mutual resentment of each other's social policies — an animosity egged on by the establishment's inability to choose one over the other as the "correct" conservative response — it's reasonable to assume the gun-loving, abortion-hating, churchgoing Tea Partiers will form their own subgroup independent of the Republican cause at some point, while the weed-smoking, LGBT-supporting, Ayn Rand-worshipping Libertarians will continue to distance themselves from the GOP.
They will try to run their own candidates, but when it becomes obvious their representatives just don't have the general support to win any election, they will inevitably reunite with the establishment at the ballot box to pull the lever for the lesser of two evils. This tripartite Republican party may eventually unite against the Democrats on the federal level, but as a political outfit, they remain in complete disarray. To so many conservatives, Trump is a threat because he directly points out this ideological rift, and rather than downplay it for PR purposes, he goes above and beyond to highlight it for everyone. That spectacular bluntness is what has made Trump so endearing to so many conservative supporters — and is precisely why he's giving all the other candidates such fits in the race to the White House.
Republican voters learned a valuable lesson from Mitt Romney's disappointing showing in 2012. In a post-Obama political landscape, they view Trump as the only candidate with a cult-of-personality large enough to go head-to-head with Hillary and the Democratic Party Wehrmacht. They recall Trump's spat with Rosie O'Donnell, and immediately know this guy is the only dude out there with the huevos con chorizo to really test her in a multimedia war of attrition for the Oval Office. Trump is really a reverse "Dark Knight," in some respects: he's not the candidate the GOP voters deserve, but by golly, he's the candidate the GOP voters want.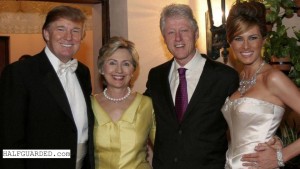 When Lindsey Graham said a Trump nomination would signal the death of the Republican Party as we know it, he's being 100 percent honest. He's the sort of wild hare, hyper-polarizing politician that would send the three-legged Republican base splintering in three separate directions. His hard-line social conservative views will have the Libertarian throng running, while his reluctance to play it straight with Big Business turns off the establishment contingent. Even his views on foreign policy might just drive a wedge between the Tea Party subgroup, which is certainly his biggest supporter at the present. Intentionally or not, putting Trump on the ticket is letting the proverbial bull inside the metaphorical GOP china shop — no matter what happens, there's going to be a lot of wreckage to deal with later.
Of course, that's not to say that Trump will win the presidency. In fact, if I was a betting man, I wouldn't even put money on Trump becoming the Republican nominee for president in '16. Ever the outspoken sort, it's only a matter of time before he says something too outrageous, or some regrettable skeleton from his past comes break dancing out of the closet to derail his campaign. Eventually, the Republican base will see Trump as too much of a wildcard heading into the tilt against Mrs. Clinton, so they'll jump ship to whichever boring old candidate seems LEAST likely to get involved in some kind of scandal before the first Tuesday in November rolls around.
Naturally, I'd imagine this leads to Clinton steamrolling whichever boring, indistinguishable candidate the GOP all decides to throw its weight behind at the last second. Facing their third consecutive loss in 12 years, all the Republicans will be able to do is stare at their hands and wonder what they did wrong this time. Meanwhile, Trump will spend November 3rd gloating, ready to mug it up in front of the cameras. He will tell us exactly why the Republicans lost — they just couldn't find their chutzpah and when a candidate finally emerged that had some, they ran him off like Frankenstein's monster.
And as much as America's conservative bloc will hate it, they will have no choice to admit that — this time, at least — Trump is telling God's honest truth.