Shimmer in Chicago – Day 2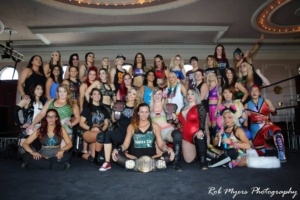 Saturday morning was day two of the Shimmer tapings so I made my way back to Logan Square, but this time I was smart and when I walked through the door and saw the line, I turned around and went and got something to eat instead of standing in the heat like yesterday. I finished, checked again and the line was still there so I joined a couple of members from this site and a few other guys and we stood in the shade until someone waved us in when the line was moving. Did I mention how damn hot it was in there yesterday? I made my way to my front row center seat and we were on our way for day 2, which would feature two DVD tapings.
LuFisto b Vanessa Kraven
Tessa was with Kraven and was being her annoying self on the outside. She really was one of the stars of the shows all weekend. Great match. The two worked very well together. They then set up a match for the next taping when LuFisto will challenge Tessa to a match and demands she has the guts to face her on her own with no Kraven at ringside.
Shayna Baszler b Solo Darling
Yes this match-up was as weird as it sounds. The super serious MMA fighter against the Sugar Creature. Shayna controlled most of the match but was getting very frustrated because Solo's fluffy white tail kept rubbing against her face while putting Solo in submissions so she decided to put the tail in a tail lock, which caused extreme pain to Solo and received monster heat from the crowd.
Viper b Heidi Lovelace
Vipers monster push continued as she beat another top Shimmer star in Lovelace, who was a perfect opponent for Viper as the fighting underdog who wouldn't give up but just couldn't overcome the monster.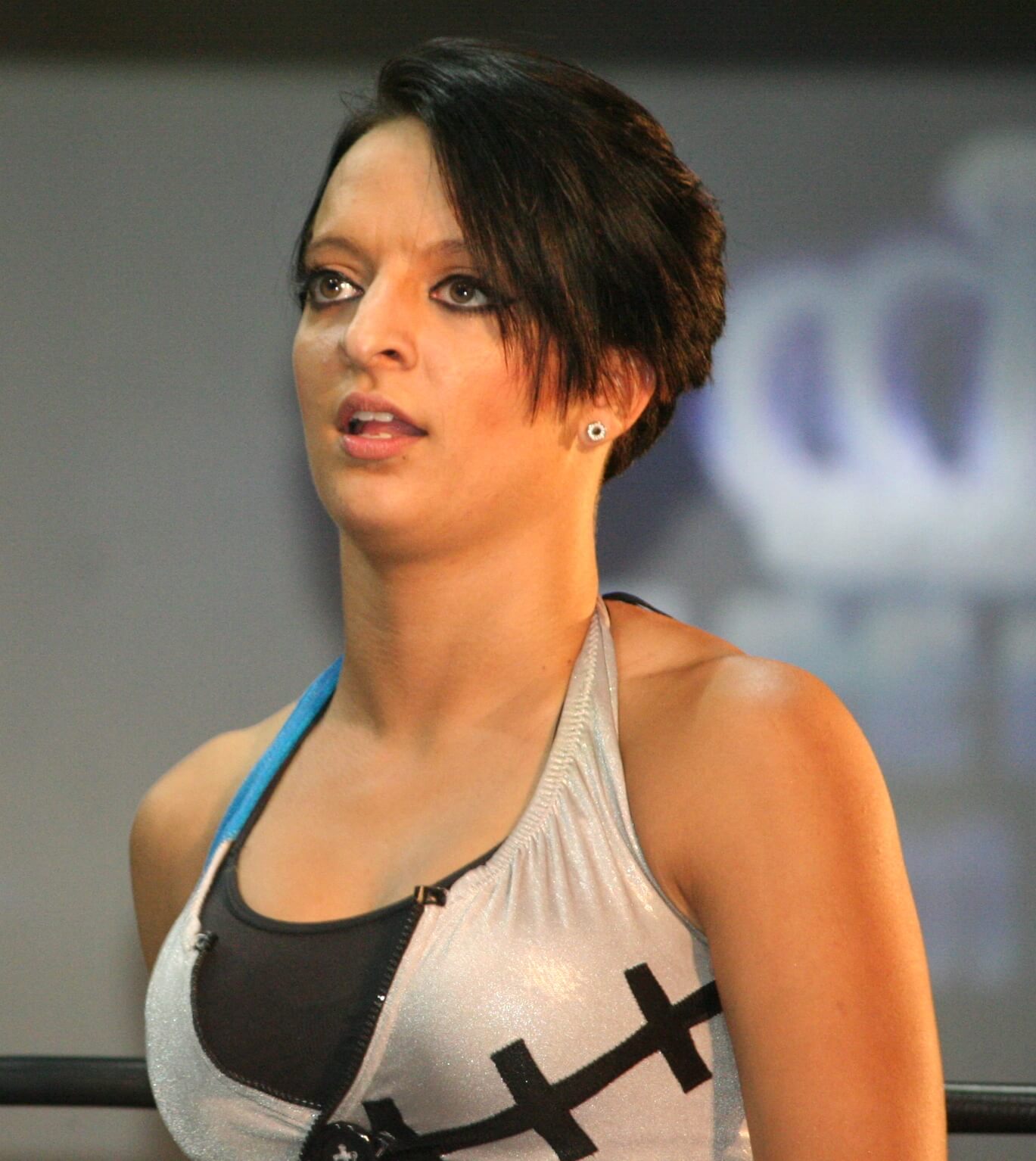 KC Spinelli & Xandra Bale b Crazy Mary Dobson & Samantha Heights
BaleSpin came out to the song from the cartoon TaleSpin and it was stuck in everyone's head the rest of the weekend. I do not know anything about Heights other then she did a good job here. BaleSpin got an upset win and it set them up for a title match at the next tapings. Crazy Mary continues to have a horrible Shimmer win/loss record, but everyone loves her.
Shazza McKenzie b Evie
This was one of my favorite matches of the weekend. They had an excellent match. I could go on and on about these two, and they should both be stars in WWE or NXT right now. Shazza got what I would call a slight upset win.
Nicole Matthews b Nixon Newell
Nicole doing her Leader-Taker gimmick and giving the up-and-comer a chance. Good match and Nixon continued to impress.
Tessa Blanchard b Thunderkitty
They cut great promos on each other and the match was good. Tessa was one of the stars of the weekend.
Kellie Skater b Courtney Rush (Rosemary in TNA)
Skater gets the big win here. By this point I was sure she would be getting a title shot at some point this weekend. It's scary how good Courtney is at playing this Demon character.
Nicole Savoy b Ryo Mizunami to retain the Heart of Shimmer title
I think this is the only match one of the Japanese girls lost clean. Shimmer has a better record against the Japanese than Ring of Honor. Another really good match.
The Kimber Bombs: Cherry Bomb & Kimber Lee b Team WDSS: Kay Lee ray & Mia Yim to retain the Shimmer tag titles
Since Team Slap Happy lost I was hoping We Do Stupid Shit would win the titles. A great freaking match. Easily one of the best of the day. Sadly Yim & Ray were cheated as the Bombs once again used the title belts to win.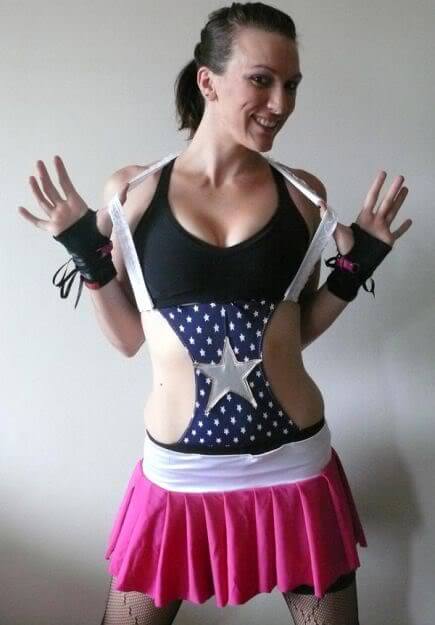 Madison Eagles b Arisa Nakajima-DQ to retain the Shimmer title
It was a really good back and forth match between the two. Eagles looked to have the match won when Viper hit the ring and destroyed Madison setting up the title match for the DVD.
Intermission: I went and bought some more gimmicks from the girls and got to talk to Yim, Evie, Rhia, Solo and KC. When they were trying to wrap up the intermission and get the girls to the back they said last one would be fined and Spinelli rushed thru the crowd saying she cant offered to pay the fine.
Veda Scott b Crazy Mary Dobson
I have a feeling that one day the crowd will actually kill Veda because they hate her so much. Crazy Mary loses again but it makes no difference as she stays over with the crowd.
Heidi Lovelace b Taylor Made
Really good match and Taylor Made continues the be one of the most improved wrestlers in the past couple of years. She is a great worker.
Nicole Matthews b Shazza McKenzie
This time the locker room leader is giving Shazza a chance to prove herself. Shazza was fantastic and Nicole's LeaderTaker gimmick is great.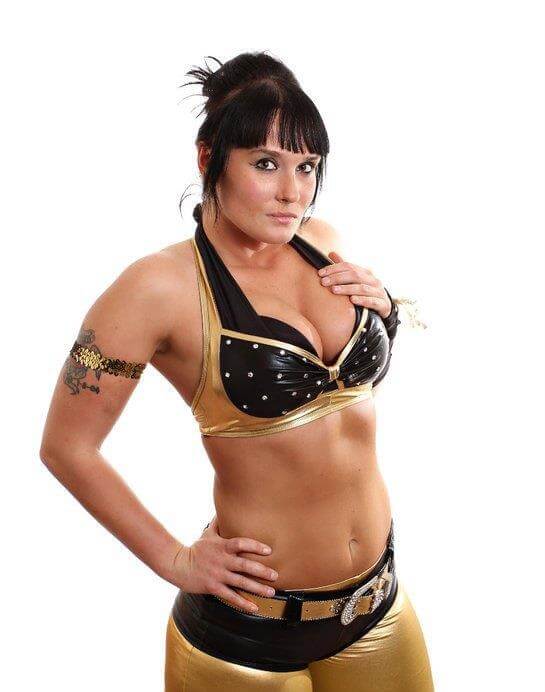 Jessicka Havok over Allysin Kay, Mia Yim and Yumi Ohka
This girls just beat the crap out of each other and Mia got whipped in the face by Yumi. Poor Mia's face took a beating all weekend long. Then she got pinned and I still wanted to do bodily harm to Prazak.
Kay Lee Ray b Rhia O'Reilly
This was awesome. I don't think Kay Lee Ray can have a bad match and Rhia just does all the little things great. In my opinion, of all the Lance Storm students I have seen work, Rhia is the best and with every trip out she gets cheered just a little more.
Tessa Blanchard b Evie
Another fantastic match and Tessa continued her winning (but cheating) ways. With my favorite Evie losing again, I'm starting to think Prazak has some major personal problems with me.
Nicole Savoy b Shayna Baszler to retain the Heart of Shimmer title
This was more of a UFC fight than a wrestling match as both girls traded submissions the whole match. The mat work was outstanding. Shayna had a choke sunk in but her shoulders were on the mat and the ref made a 3-count as Savoy tapped out. Shayna then grabbed the belt and handed it back to Savoy with more to come between the two of them.
Cherry Bomb & Kimber Lee b K.C. Spinelli & Xandra Bale to retain the tag title
So here is what I was thinking: The two teams that you think can win the titles lose so they are going to let the team you think has no chance at all win the titles. It didn't happen as once again the Bombs used a belt shot to win the match, but before they can leave, Team Slap Happy and Team WDSS show up and say that it's bullshit the way they keep winning and that there will be a big 4-way elimination match tomorrow. So I started to not hate Prazak so much, but still didn't trust him.
Kellie Skater b Ryo Mizunami
A really good match and Skater set herself up with a title shot for the next day.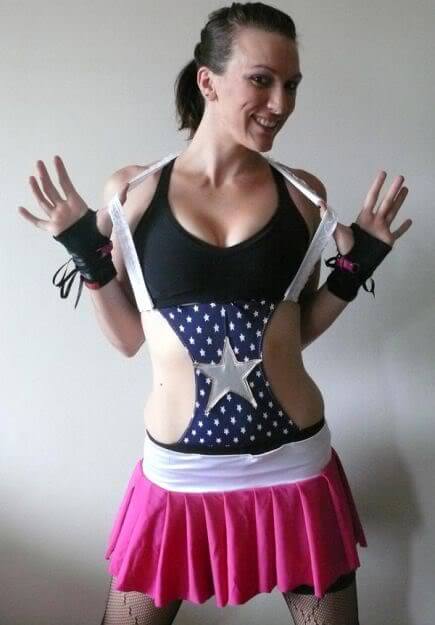 Madison Eagles b Viper to keep the Shimmer title
A great match and it took the champion everything she had to just barely defeat Shimmers new monster.
Summary: This was just a great set of tapings and I left so jacked to see the Tag Title match the next day. I talked to some of the girls some more and then went back to the hotel for one last night of sleep because Sunday was going to be a very busy day.