@MichaelCoughlin
Fedor Emelianenko is returning to the world of mixed-martial-arts as The Last Emperor Fedor officially signs with Not-UFC. He will be returning for a fight on New Year's Eve in Japan, serving many masters at once. Fedor had previously retired in June of 2012, citing a lack of competitive drive and that God told him to (Fedor says a lot of things kind of like that). He will turn 39 September 28th.
Fedor will naturally fight a joke, as the announcement was made with the presence of the guy who sorta ran PRIDE (the front man?  Bag man?  I don't know Yakuza culture).  Anyways.  This will be "part of" Bellator.  Sure.  Whatever.  Fedor will most likely beat up an inexperienced Japanese man.  Note: if you are Japanese and have won a medal in Judo recently, get your will in order. LOL.  J/K  It's Fedor: you're gonna kill him.
Rumors had been circling for some time that Fedor was returning. Said rumors became outright fact when he and his management team (who are in no way criminals nor using Fedor for their own personal advantage) said he was returning. The question was always one of did the UFC want him? If they did, they had the money and prestige to make it happen. If they didn't, Bellator was a theoretical possibility and wildcard promotion OneFC or a Japanese start-up group always lingered as options – low risk, low reward options but options nonetheless.
In the end, he chose Bellator/Japan/All Of The Above, kind of, which tells the entire behind-the-scenes negotiating process better than any press release or public statement ever will. This enables him to fight far far far faaaaaaar lesser competion while making money both in America and Japan. Someone check the price of oil in Russia…
Hes going to fight in Japan, for what is kind of a one-off start up PRIDE revival, but the show will have a Bellator guys on it, and be broadcast in America on Spike, and the announcement was made during a Bellator show, but it is/isn't Bellator. But it is. WELCOME TO DEALING WITH THE RUSSIAN MOB AND JAPANESE YAKUZA AND … Well, Coker probably isn't a mobster. If he was Italian I'd go with that though.
Undefeated spare a cut caught from an illegal blow, the Russian was near universally considered the top heavyweight on earth from 2003 till 2010. After winning a Rings tournament, Fedor debuted in PRIDE in mid 2002. Less than a year later, on March 16, 2003 he thrashed reigning PRIDE Heavyweight Champion Antonio Rogerio Nogueira in winning the heavyweight title. From that day forward, Fedor was considered the undisputed king of the heavyweights.
The legend of Fedor grew as he defeated Nogueira again and walked through a then-surging Mirko CroCop. Sprinkled in were moments where it looked as if Kevin Randleman had legitimately broken Fedor's neck, only for Emelianenko to immediately spring up and win seconds later.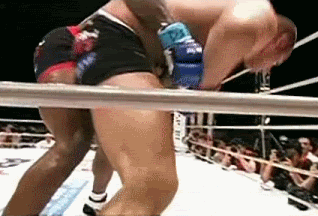 After PRIDE folded, Fedor was signed to a massive monetary deal – believed to be seven figures – with the short-lived Affliction promotion. He fought and won twice, finishing former UFC Heavyweight Champions Andrei Arlovski and Tim Sylvia. Both in the first round.
Following the very predictable collapse of Affliction, Fedor moved to Strikeforce. It is there that his career derailed.
After a gimmie fight against journeyman (at best) Brett Rogers, Fedor squared off with Fabricio Werdum. Werdum tapped Fedor with a triangle in a minute. It took the Brazilian 69 seconds to do what no one had every done: unquestionably beat Fedor.
Seen as a fluke, Fedor was next matched with yet another Brazilian, Bigfoot Silva. What happened was no fluke. For ten minutes, Silva dominated Fedor. Taking him down, controlling him with ease on the mat, and ground and pounding Fedor so badly that the doctor stopped the fight after round two.
Five months later, what was once a sparkling career officially cratered. Fedor faced middleweight Dan Henderson. He was knocked out by a single Henderson punch in the first round. Fedor was done fighting major league competition.
He would have a fight with aged veteran Jeff Monson in November of 2011 that did more harm than good to Fedor's reputation. While he won, the lack luster performance was further evidence that he had faded.
His career then ended unceremoniously as he fought two more times.  Once in Japan, beating an overmatched Satoshi Ishii (in an ironic callback to some of his lesser-fair PRIDE fights). Finally, he knocked out Pedro Rizzo in St. Petersburg, Russia in June of 2012. He retired that night.
How he fares, 5-6 years removed from the last time he was considered great, likely longer than that since he was actually great, and 3 years having not fought at all is the next question.
The answer is probably not one he will be happy learning.