My favorite UFC PPV is still the first one I saw live at the local Irish pub. Having just turned 21, I was looking forward to draining Heineken after Heineken while watching downright antediluvian fighters like Renato Sobral and Chris Lytle carve one another up on the bar's projection screen television. I paid my five bucks for an entry wrist-band, moseyed on over to a table of dudebros and watched such (not-at-all) historic bouts as Rich Franklin vs. Jason McDonald and Martin Kampmann vs. Drew McFedries unfurl. All the while, we shot the breeze about the future of the sport. Just how bad was GSP going to beat up Matt Serra at the next PPV? Just how long before this flash-in-the-pan Anderson Silva guy dropped the belt to a real middleweight fighter, like Nate Marquardt or Yushin Okami? And of course, there were discussions a plenty about how all of the PRIDE FC imports would do in the Octagon: half the table thought Takanori Gomi would submit BJ Penn in under a round, while the other half was convinced that Wanderlei Silva was destined to dominate the UFC Light Heavyweight division for at least half a decade.
But when it came time for the main event, the pub took on an almost eerie, reverential tone. The idle chatter stopped, and every pupil in the house was transfixed on the PPV feed. Just about everybody had the same gut feeling about the match-up. The champion was just too large, too quick, and too dominant for the respected, if not-worshipped, former champ. We all wanted Randy Couture — a man in his mid-40s, who was giving up at least 60 pounds in the bout — to defeat Tim Sylvia, but the logic was working against us. The statistics had convinced us that Sylvia was going to crush Randy, but there was that one percent margin of error that had us mesmerized. It was unlikely, if not entirely irrational, to think Randy would win, but no matter how infinitesimal, he still had a shot. That's why we paid money to watch the show — to say we were there for that one-out-of-100 off chance to occur.
By now, we all now the outcome. Against all conceivable odds, "The Natural," a man who was mercilessly drubbed by a man in a smaller weight class in his "retirement fight" almost two years earlier, literally dropped the giant with one punch just seconds in the first round. For the next twenty-five minutes, we were on the absolute edge of our seats, cheering our hearts out as Couture kept Sylvia at bay. When he secured that final takedown of the fifth round, there were dudes in the bar literally jumping in their chairs. When the final horn sounded, the place exploded in a cacophony of cheers. My palms were red slabs of meat from all the celebratory high-fiving, and my ribs ached from the bear hugs I received from people whose names I will never know.
Yes, we were exhilarated that one of our most beloved fighters won. But much more than that? We were exhilarated that one of our most beloved fighters overcame such fantastic odds to win. The experts said Randy had no chance in hell of winning the fight, that his "comeback" was to be an absolute train wreck. Yet with one over handed jab, Couture proved common sense wrong.
Which brings us to one Fedor Emelianenko.
Say what you will about "The Last Emperor" being overrated and never facing the stiffest competition during his decade-long undefeated streak. The fact of the matter is, he utterly dominated the best at the time in the world's premiere Heavyweight division. Sorry, but I will take a PRIDE FC fray with Cro-Cop, Big Nog, Mark Hunt, Mark Coleman and Kevin Randleman in their primes over a UFC fray with the likes of Andrei Arlovski, Tim Sylvia, Jeff Monsoon and Pedro Rizzo any day of the week. (By the way, Fedor has resounding victories over everybody I just mentioned.)
While Fedor technically ended his career on a three fight winning streak, we all recall the tail-end of his career as a story of back-to-back-to-back consecutive losses. First, there was the "get the hell out of here" surprise submission loss to Fabricio Werdum. Than, there was the standing mauling he received at the oversized hands of Bigfoot Silva. And then, there was his last fight in America, in which he get flatlined by Dan Henderson and a flurry of one-two combinations.
"The Last Emperor," circa 2011, looked old. He looked like he had slowed down considerably, no doubt the effects of hundreds of hundreds of shots to the skull from the likes of Kazuyuki Fajita, Brett Rogers and Heath Herring. At the time, he was 34. Clearly, this was not the Fedor we all grew up admiring, fearing, and cheering for.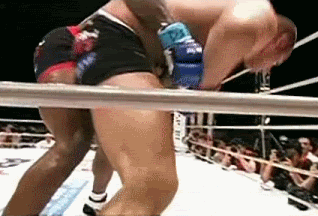 Now comes the announcement that, after three years on the shelf, Fedor will be returning to the cage — this time, for a one-and-done New Year's Eve spectacle thrown by the former PRIDE FC head honcho, against an as-yet-to-be-named opponent. While Bellator will be heavily involved in the show, Fedor isn't technically an employee (well, more like independent contractor) of Bellator just quite yet. Indeed, he's still a free agent, which means the UFC has ample time to snap him up before Bellator backs up the money truck.
In the past, negotiations between Fedor and the UFC have always been sunk by Fedor's handlers. Their unreasonable demands kept Dana White from inking a mega-super-duper bout against Brock Lesnar, which would have undoubtedly shattered PPV buyrate records. I'm not quite sure if Fedor's agents still play that kind of hardball, but I figure Dana would have much more leverage in contract disputes now than even three years ago. That's what a dual Euro-Zone and Pacific Rim economic crisis will do to you, I reckon.
A three-fight-deal with Fedor seems completely reasonable. Believe it or not, Fedor is the same age as Anderson Silva, who remains a perennial top-five Middleweight. You don't have to give Fedor an automatic title fight, either. Indeed, just putting him in the main event card should buff up buyrates regardless of who he is fighting. And right now, Zuffa needs as much help as it can get when it comes to marketing their paper-thin Heavyweight division.
Cain Velasquez is too injury prone. Junior dos Santos, while still a solid fighter, has definitely lost a step or two over the years. Fabricio Werdum is incredibly versatile, but he just doesn't have that heavyweight champion aura to him. The rest of the division is a jumble of reheated veterans — your Mirs, your Arlovskis, your Hunts, etc. — and a gaggle of talented up-and-comers plagued by identity deficiencies (Stipe Miocic, Ruslan Magomedov, etc.) It can be argued that, even as a retiree, Fedor still has more star power than anyone currently residing in the 220-plus UFC title picture.
Of course there is a strong likelihood that Fedor will be a bust, that he gets knocked out by somebody like Alistair Overeem or Roy Nelson in his Octagon debut. Hell, there's actually a strong chance that he will lose all three of his UFC matches, even if he does get bumped down to Light Heavyweight for at least one tilt. In fact, reason seems to dictate that little scenario is far, far likelier than Fedor winning any hypothetical UFC match-up against a top-ranked Heavyweight.
At the same time, however, there remains that microscopic possibility that he'll prove us all wrong. No matter how tiny, there is still that minute chance "The Last Emperor" comes out swinging and takes out a top-ranked Heavyweight. And after that, that he does it again. And after that? The absolutely impossible notion that, in the mid-2010s, Fedor Emelianenko is fighting for the UFC Heavyweight Championship.
All of this is extremely unlikely. In fact, it seems almost absurd. But the remote chance that all of this could happen — that teeny, tiny sliver of a chance — far outweighs the negatives of a couple of snooze-fests or one-sided thrashings.
It's been a long, strange, complex and sometimes bewildering road that's taken us to the point of "The Last Emperor" doing battle in Octagon. With all of that behind us, I just can't imagine the end outcome of the deal resulting in anything unremarkable.
The idea that this 38-year-old has-been can come back and clean house in the UFC is a stretch, but it's not an impossibility. If Randy Couture can come back at 45 and win the UFC title, I'd say today's Fedor at least has an equal chance to do just the same.
If not in an even more awe-inspiring manner, naturally.