I don't like Thanksgiving. I find the colors to be drab. The food is fine but not outstanding – I pretty much eat chicken most of the time, so turkey isn't a big deal to me. And since the NFL has football on Thursdays all the time now, it's not even like seeing football on Thursday is a big deal. (I'm more excited to see Liverpool – greatest club on earth – play a relatively pointless game than I am to spend an hour with my mother and brother eating turkey while trying to shoe away two dogs.)
That's why there's this post, for me to say HI to the rest of the world aka Not-America. I feel like every website around does a "these are the things we are thankful for" post and then concludes with, "and most of all, you, our readers." If you fuckers would share more, buy more, and get us more hits, then maybe I'd start thanking you.
But, I'm also not America-centric. Don't get me wrong, my country is better than yours but deep down you already know that. Heck, most of you don't even like your country. Like I said, not totally America-centric and so I know that there are great untold swaths of you out there, bored at work, nothing to do and this is me reaching out and saying Hi. Don't worry, your boss isn't looking and really doesn't care.
I could explain Thanksgiving, I guess, but I think the world mostly knows. The world knows about all of America's traditions. Because: AMERICA! Most Americans couldn't tell you thing one about France's traditions. Now, to be fair, some of that is because they involve fish and taking off the month of August. I'm not sure what Italians do.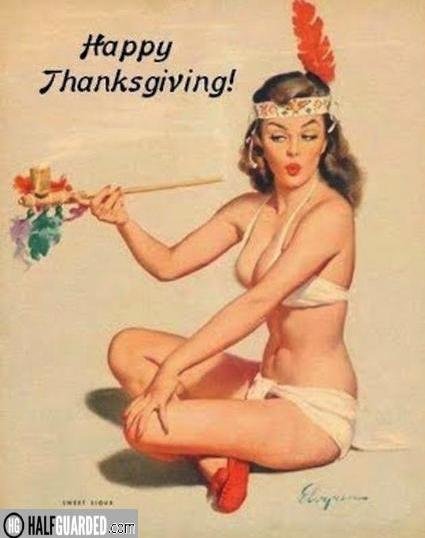 Hi, to the United Kingdom. This is one of our many holidays we celebrate that is primarily based around getting away from you. I feel like England has inspired more holidays around the world than any other country. All those countries with independence days, all because of England!
This isn't bad though. England made, all things considered, a pretty good contribution to the world. Especially relative to the rest of Europe. Look at the former English colonies: America – awesome; Canada – not as awesome but pretty good; Hong Kong – awesome and the envy of a billion Chinese; India – pretty awesome, though I think they still have some issues with the caste system – better than its neighbors though so that's a win; South Africa – the most functioning country on an entire continent and pretty cool, from what I hear, as long as you're not dating one-legged runners … and didn't suffer through that apartheid thing; Australia – awesome and really tough with cool animals. You can probably give England credit for Ireland too, if you want.
That's a lot of awesome stuff to come from a little island full of inbreds.
Look at France? What fucking former French colonies are doing well? None of them. Look what Russia did last century – shit in the Eastern Bloc still sucks balls. Spain? Portugal? HA! They just pillaged South America a lot and left. England? Oh, sure, it pillaged too, but it also left behind like all of the good democracies on earth. You don't see any Swedish colonies doing well, do you?
Yes, England may have been kinda sorta maybe responsible for randomly carving up the Middle East but no one's perfect. Plus, we can just blame Germany for that. Germany has kindly decided to take the blame for everything that went wrong in the 1900s.
Yeah, yeah, yeah. "Oh, you guys landed and eventually slaughtered the native peoples." Not really. I mean, we did sometimes, but sometimes we didn't. And it's not like they were born here either. They all traveled from Asia and such. And they also weren't all peaceful. They killed each other, started little wars, all kinds of shit like that. If you think otherwise you're a racist because you believe an entire group of people wouldn't act like every other group of people: nice, mean, evil, good. So, all Americans did was just be better at the conquering part. PLUS!!!!! A lot of it was on accident. We didn't know the blankets were bad. We tried to be nice, really!
Anyways. That's all for now. Didn't want the world to think we'd ignored it. And, what the hell, let's do a thankful for list:
Science Fiction Movies
Naked Men
Pizza
Alcohol
All drugs
Magnetism – because it's pure fucking magic
Dogs – especially puggles
Heated car seats
Football (non American variety)
Baseball
Cars
Dick jokes (see #18)
Taking a good shit
Power bottoms
Gay jokes
Good natured gay people who like our gay jokes
People who read lists
Condoms
Cowboy movies
Spinning wheels
And most of all, you, our readers.