Conor McGregor is many things to many people. Hero. Villain. Showboat. Loudmouth. Champion. Choke artist. Overrated. Under appreciated. However, above all, he is one thing: Fighter.
He may promote a lavish lifestyle, make a series of ill-advised tweets that come across like he's a Prima Donna who can't be bothered to show up on time for press conferences, and run his mouth like his life depends on how many syllables per second he can spit – but the man fights.
Combat sports are often compared to chess.  While a bit strong, given that boxing and MMA are ultimately just grown men in underwear punching each other, there's a larger picture wherein that is true.  Fighters duck one opponent, hand-pick another, seek the biggest payday, and really seem more interested in not-losing than they are actually fighting.  Everything has to be perfect for most to step inside the cage; there can't have been a week or two missed during camp because of a bum knee, they have to know the ins and outs of whomever they're fighting, they want to fight in some states and not others, they prefer this referee to that one.  McGregor is different.
At that time, UFC 189 was to be headlined by McGregor and Jose Aldo.  It was the UFC's biggest show of the year, the biggest featherweight fight in the sport's history, and was the first PPV McGregor would headline.  Those are pretty big stakes.  The story is known: Aldo got hurt and on less than two weeks notice Chad Mendes stepped in.  Mendes, a powerful wrestler with heavy hands, almost the exact type of fighter people had predicted would be McGregor's eventual downfall.
McGregor didn't hesitate to take the fight.  As Sinead O'Connor sang, he walked to the cage, not just carrying the weight of the world on his shoulders but having demanded it be foisted upon him, and fought the toughest fight possible.
McGregor won.
UFC 196.  History gets lazy and repeats itself.  McGregor spends months preparing for Rafael dos Anjos, physically and mentally getting ready to become the first man to ever hold two world titles simultaneously in the UFC.  Déjà vu, all over again.  dos Anjos gets injured and in steps Nate Diaz.
Diaz, who had fought competitively at 170 lbs, had an abnormal reach – the kinda physical gift that fighters have to specifically prepare for – and McGregor took the fight, almost gleefully.  Here he was, a man now coming off headlining two of the biggest shows in UFC history, with absolutely nothing to gain from beating a guy generally considered a very good but not elite lightweight/welterweight.  And instead of fighting at 155 lbs – already a jump in weight for the UFC Featherweight Champion – he would now be moving to 170 lbs.
McGregor lost.
These things happen in MMA.  One of the beautiful things about the sport is that "anything can happen."  Heavy favorites regularly make bookies cringe and there's no sense that a fighter is protected by a promoter.  Further, fans understand that fighters lose and don't hold it against them.  In fact, most fighters become even bigger stars in losing, particularly if they go out on their shield.  McGregor definitely went out on his shield.
It's at this point where McGregor faced a choice.  He could have returned to 145 lbs and faced Jose Aldo again.  It would be a fight guaranteed to make McGregor millions on top of millions of dollars and was against a man he'd beaten in 13 seconds with one punch.  Moreover, a return to 145 would allow for the possibility that Diaz fights in the interim, loses, and then McGregor can declare that there's no point in a rematch with "a bum" who just lost.  A lot of fighters would've chosen that path.  It's safer.  Not McGregor.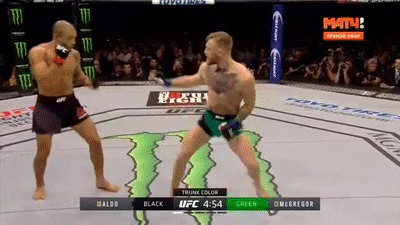 Instead he stumps for a rematch with Diaz.  And not just any rematch, he demands the conditions be exactly the same: five rounds, 170 lbs, with the only difference that Diaz now has a full camp to prepare.  Nate can make 155 lbs and a fight at that weight would in theory help McGregor: Nate would have to cut more weight and come into the fight lighter and possibly possessing less power.  But Conor insisted on identical circumstances. Well, identical except for the part where Diaz gets to improve his chances of winning.
Come Saturday night, McGregor is a man going out of his way to not just take the path less traveled but rather the path marked treacherous.  He has little to gain for doing so besides personal pride.  The public wouldn't have cared if the fight was at lightweight.  The public would've turned out in droves if he defended his belt instead.  He could have fought anyone at any weight, made likely the same money, and risked less.
It's easy for up and coming fighters to fight anyone, anywhere, at anytime.  What do they have to lose?  McGregor isn't just a star, he's a rare breed of star that truly does transcend his sport.  His fights are events simply because he's fighting.  UFC 200 was a big event because it was "UFC 200!"  UFC 202 is a big event because "Conor McGregor is fighting." There is no title on the line and both men will make millions more in the future, win or lose, but McGregor's presence alone elevates UFC 202 to Must See TV.
But he is a man who could realistically fight out his contract and promote his own fights and make money. More money than anyone in MMA history. Every fight is a step closer to his doing something no man has done before.  If McGregor ever were able to remain an undeniable star and promote shows on his own – an "if" that strains under the weight involved – then he could change the nature of MMA promoting.  He could go from 8 figure paydays to possibly 9 figures. That is what is at stake with every punch, with every sprawl, with every step inside the cage.
And yet he puts all of that at risk by putting himself at a disadvantage going into what is now the biggest fight of his life.  Would anyone ever expect Mayweather Jr. to fight someone 25 lbs heavier, who had physical challenges to overcome, all on ten days notice?  And if he lost, would Floyd stipulate the rematch be exactly the same?  Or would he fight a no-name whilst ducking the better fighters in his division?
When people write that there is no one like the Irishman, they're more right than they realize.  He may handle his affairs like a businessman, he may talk trash like a pro wrestler, he may dress like a movie star and drive cars like a rock star, while spending money like a king, but make no mistake, when they clean the Octagon of the blood stains, and the arena is an empty memory of defeating roars, there is one, final truth: Conor McGregor is a fighter.
"If you can make one heap of all your winnings
And risk it on one turn of pitch-and-toss,
And lose, and start again at your beginnings
And never breathe a word about your loss;
…
"Yours is the Earth and everything that's in it,
And – which is more – you'll be a Man, my son!"
Rudyard Kipling, If –