There seems to be some confusion here.
Conor McGregor, even in defeat, is his own solar system. He's gotten to where he is for a reason, even if it isn't entirely to do with what he's done inside the cage. Not that it matters, after all. I mean, champions come a dime a dozen. What's rare is a guy who is talented enough, charismatic enough, with balls big enough to become the biggest star in all of fighting in the span of seven fights and less than three years. Even Floyd Mayweather toiled for a decade in relative obscurity before giving himself a personality makeover and being given an over-the-hill Oscar De La Hoya to build his star upon. Alas, his string of 17 straight wins in world title fights didn't mean shit in terms of making money or fans, but adopting a loudmouth persona and defeating boxing's biggest star made him what he would become. For Conor, it only took a handful of fights against carefully selected opposition to earn a title shot and after he torpedoed the long-reigning champ, it was off into the stratosphere. He punched his way, talked his away, forced his way to where he is, and he did it faster and harder than anyone before him.
That's Conor. He's 1 of 1, man. It isn't an accident, this stardom of his. Whether or not he's actually a fighter whose talent is comensurate with his standing is not only irrelevant, it's part of his charm in the first place.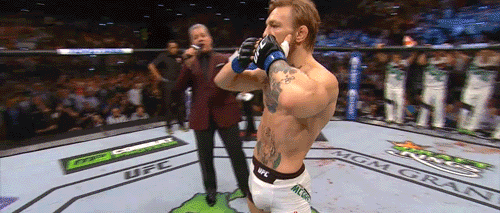 After all, if he had been made to fight Frankie Edgar two years ago, or an in shape, full training camp Chad Mendes, he might have lost a lot sooner than he did, depriving us of this most absurdly fun, non stop erotic cabaret of bluster, pomp and yes, Complete and thorough destruction. Boy, am I glad that didn't happen. MMA needs a Conor McGregor. The World needs him. Not a dozen imitations of him, either. The real thing.
Yes, Conor can punch. Of course, he can run his mouth. More than anything though, that sonofabitch believes. And he made us believe. That's his real gift.
That's the thing, though. That which makes you, etc.
And so it was that McGregor decided, after an eleventh hour injury to Rafael Dos Anjos forced Dos Anjos to pull out of their 155 lb title fight,  to fight Nate Diaz at 170 lbs, a full two weight classes above where he'd campigned for his entire UFC tenure. Shit, he asked for Diaz specifically. Conor's confidence was such that he imagined he'd take care of Diaz the same way he had guys who were a lot smaller. They all ended up on the business end of his fists full o' dynamite. And they all fell. Diaz would, too. He had to.
There's confidence and there is arrogance. Confidence is believing you can whup any man in your division. Arrogance is believing you can beat any man, period.
That's Conor, though. He didn't just think he could beat, no, knock out cold, a man who was much larger than anyone he faced. He thought he'd do it easily. Worse than that, he thought he could do it in the same fashion he always had. Stand flatfooted and go toe to toe with the guy until he dropped. Didn't matter that the guy was much larger, or that he had shown a granite chin for his entire career. So what? He'd get him out of there, like he always did.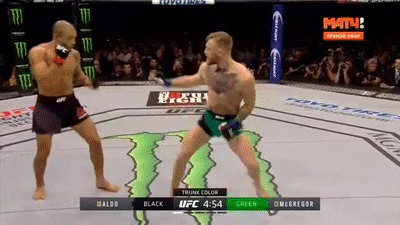 By the time he realized what was wrong, he was lying face down, Diaz's arm wrapped around his neck. The same bravado, the same supreme confidence he always carried into a fight was now an albatross, wrapped around his neck. Literally, as it turned out. Without it, he might have thought to conserve his energy. To not spend the entire 9 minutes of the fight trying to free Diaz's head from the rest of his body. He might have boxed and moved and stayed a step ahead. Had he done that, it probably would have been an easy night.
That's Conor, though. He wasn't gonna fight any other way until someone made him.
To his credit, he was contrite in the aftermath of his first UFC loss. Philosophical, even. He knew what he'd done wrong and he swore he'd learn from it. Chances are, he will. Make no mistake about it though. His arrogance, his lack of humility, was his undoing. He's not invicible, after all. Nobody is.
So yeah, let's be clear about this. Despite his claim that he was "humble in defeat as well as victory", he was nothing of the sort. Humble is about the last word you'd use to describe Conor McGregor, bless his litttle heart.
Humbled is more like it. He thought he was unbeatable. He learned the hard way that this was not the case. Even if, in the moments after the fight he realized precisely what he had done wrong, he needed an asskicking like the one Nate Diaz handed him to understand the true error of his ways.
It's alright, though. He's a helluva fighter and first class entertainer, and I suspect he's a dogged enough competitor to want to get right back in the cage as soon as possible. He'll be better for off, having gone through this. After all, he was bound to learn this lesson sooner or later. He'll be back.
It might end up being the best thing that could have happened to him.
-John Hathwell