Ok, as I write this I'm still recovering from jetlag, self induced sleep deprevation and post vacation blues caused by two weeks in Las Vegas. Knackered and crabby as I am at the moment I refuse to end my streak of Invicta previews for the fine website that is Halfguarded.com. Just lower you expectations even further for this one.
While the fans of Boxing, MMA and pro wrestling are still engage in a bicker war to claim victory from last weekend's mega fight, with all the dignity of two hairy sweatys arguing which Starship Enterprise Captain was the greatest, it's time for fun loving fans to bask in the positivity of Invica FC.
As we near the 25th show of Shannon Knapp's promotion it's fitting that it comes in the week that the latest Ultimate Fighter season starts, which will crown the UFC's first Women's Flyweight champion. A good chunk of those competitors have come from the ranks of Invicta. Even over in Bellator two of the fighters on last weekend's card gain valuable exposure from the Kansas based promotion, that being Colleen Schinder and Amanda Bell. Meanwhile on the same night LFA on AXS TV saw Christine Stanley gut through a first round leg injury to take Kelly Kobold to a draw.
Invicta continues to help make names of fighters, giving new professionals a place to start and experienced hands a way to rebuild. It's a positive promotion that has a solid place in the world of MMA.
Bantamweight Title: Raquel Pa'aluhi (6-5) vs. Yana Kunitskaya (9-3, 1 NC)
With Tonya Evinger finally getting her deserved shot in the UFC, the Bantamweight title is now vacant. But only temporally as a new champion will be decided here in Invicta 25's main event.
Yana Kunitskaya will no doubt be glad to see the back of Evinger and be given the opportunity to start her own legacy outside of the bizarre feud that erupted between the twp . Kuniitskaya got to have a one night stand with the Invicta belt, thinking she had submitted Evinger to earn the right to call herself champion at Invicta 20. However the comission ruled that a referee gaff had aided that win and so the fight was declared null and void. In the heavily anticipated rematch at Invicta 22 Kunitskaya again was able to catch Evinger in several armbars but Evinger made light work of escaping them and made the Russian submit to a choke in the final seconds of the second round.
Evinger was a big step up in competition for Yana and despite everything did acquit herself admirably and being able to catch the veteran at all shows she is a dangerous wrestler. Should she emerge with the title here she will have defeated a great warrior to do so.
It's hard to imagine who has had to persevere and work as hard as Raquel Pa'aluhi to turn around her career. Her first six fights saw her attain a 2-4 record having lost fights to some hot rising stars Sarah D'Aleilo, Raquel Pennington, Amanda Nunnes and Sarah Mcmann. In order to turn around a three match losing streak she went back to reassess her game and returned to win three on the bounce and find herself in an Invicta title eliminator with Colleen Schinder. It was a brave performance as Raquel had her eye busted up early and drew on her warrior spirit to repeatedly go for takedowns but Schinder was able to keep the fight standing and outpoint her to win the shot at the title.
Once again Raquel pulled herself up and in her next fight absolutely blitzed through Pannie Kianzad in January of this year with a choke victory in the first round.
Raquel Pa'aluhi is well named as The Lionheart, having been involved in some absolutely brutal wars in Invicta such as her victories over Kaitlan Young and Ediane Gomes. Raquel would have made a worthy challenge to Tonya Evinger, in fact it could have been one of the greatest titles fights in Invicta history (and who knows it could still happen one day). If the fight gets rough and violent and It comes down to heart the Hawaiian may well be walking out the new and worthy custodian of the crown jewel of the promotion.
Strawweight: Livia Renata Souza (10-1) vs. Janaisa Morandin (9-0)
Janaisa Morandin originally was to have made her invicta debut at atomweight against Jing Yu Frey back at Invicta 22. However the fight was scrapped when she arrived in the US way over the weight limit. Hopefully she won't have trouble at the larger weightclass for this fight despite coming in as a late replacement for Jodie Esquibel. Morandin comes in with a degree of hype, with an exciting style and the glamorous looks that right or wrong get promoters excited thinking they may have found the NEXT RONDA ROUSEY. The Brazillian has attained a perfect 9-0 record (although she did suffer a loss in her lone boxing match last year) although it should be noted the majority of her victories were against fighters who have never had a win in MMA.
Morandin's unbeaten run means she is a step up from the average athletes that tries out MMA but she has a real step up in competition against the impressive Livia Renata Souza (I still say her name to the tune of a Ricky Martin song).
Livia Renata Souzaone's professional defeat was her decision loss to a refocused and on a tear Angela Hill which saw her lose her Straweight title. Souza has to be the favourite to reclaim the vacant title at some point (the original fight for this show was going to be for that vacant belt). The exciting Souza has a justified submission specialist reputation with seven of her ten victories coming via a variety of chokes and armbars. However recently she's shown herself a devastating striking, wiping out Anna DeBennett and in her last bout destroying the atomweight champion Ayaka Hamaski in under two minutes.
Of all the fighters on the current Invicta roster Souza has to be considered the one with the potential to be bound for UFC or Bellator. As well as her undeniable cage skills she also has a engaging, confident gangster style personality and would be a dream match up with one Joanna Jedrzejczyk down the line.
Bantamweight: Alexa Conners (4-1) vs. Katharina Lehner (5-0)
Alexa Connors has had quite the Invicta run and a lot of bad luck when it comes to officiating. Despite showing sharp striking skills, her pro debut at Invicta 17 saw her lose to Laura Howarth in a very controversial decision (translation the judges screwed up). Then in her second match at Invicta 20 she had Stephanine Egger in trouble and looked close to knocking her out when the referee (Mike England on the day he probably forever wishes he'd phoned in sick) stepped in not to stop the fight but to allow the staggering Egger to put her gumshield back in (rules state referees are supposed to wait for a break in the action to do this). Howarth still won but was robbed of an impressive stoppage in a really tasty match.
While that was the last time we saw her in Invicta Connors has been busy in other promotions, fighting three times already in 2017.
She turned in a classy striking performance by defeating Annie DeCrescente on points (where a dumbass commentator made the comment "women aren't supposed to throw punches like this, what's happening? They're hitting each other like men"….wanker) ,and also knocked out Mariah Prussia inside of a round. Then more weirdness occurred in her most recent fight for LFA when she beat Callie Cutler, a fight notable for a bloody and battered Cutler thinking the 10 second warning was actually the end of the round. As Cutler turned her back and headed for the corner a confused Connors looked to the ref who kinda shrugged and indicated she should keep fighting so Connors continued to run after her and beat the crap out of her.
This will be Connors sixth pro fight in just over 12 months and with such a work ethic and the solid skills she has shown in the cage make her a definite prospect to keep an eye on.
Katharina Lehner comes to Invicta 25 to fight for the very first time outisde of her home country of Germany. Lehner has earned a degree of celebrity in Germany being touted as Germany's number one female fighter, and has marketed herself well with the media having appeared in a sexy photoshoot in a popular tabloid and signing her Invicta contract surrounded by sunglass wearing naked men.
2017 has been a frustrating year for Lehner as she's been struggling to find fights having taken out the best of what Germany has to offer and has had two fights cancelled at the last minute already this year. Her last fight was in April 2016 and was her fifth victory to go the distance.
In the only fight I could find of Lehner in full (her 2015 victory over Alexandra Busch) she appeared solid and tough on her feet, although her attacks showed little variety and not much in the way of head movement which if typical of hers could be a big problem when faced with Connors strong striking. This will be an interesting clash of young lions and a much needed step up in quality for the German.
Strawweight: Sharon Jacobson (4-1) vs. Kali Robbins (4-0)
When last we saw Sharon Jacobson in an MMA cage it was at Invicta 14 where she gained her second fight of the night award for the company while beating current UFC fighter Jamie Moyle and creating the memorable spectacle of a cool spinning skirt which you'd never seen in Reebok clone land. That was two years ago and Jacobson has since been concentrating on her first love of wrestling as well as learning physical therapy while serving her country in the US military.
Fans should be thrilled to see her back in the cage as she's an exciting, fast paced fighter to watch and as well as being an accomplished wrestling she bangs like a tornado. Her two Invicta contests have been amongst the most entertaining in the company's history with her debut win against Delaney Owen having come despite a massive war that saw Jacobson's right eye practically closed due to a massive swelling.
I'm personally thrilled that she's back in Invicta.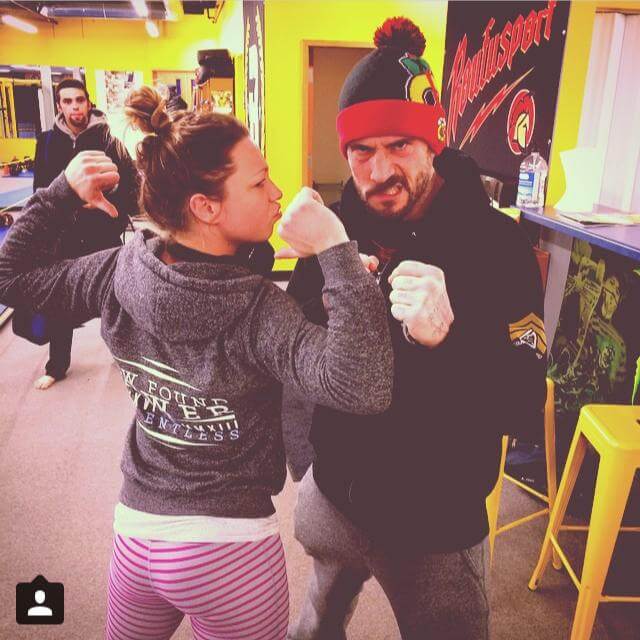 Kali Robbins should have made her debut back at Invicta 21 when she was to act as a late replacement to fight Jodie Esquibel. Sadly she couldn't cut the weight in time. Kali Robbins. "The pop tart" (so called because she likes eating pop tarts and why not?) fell into combat sports while visiting a gym and seeing Jiu jitsui training and wondering who those guys in pyjamas were wrestling on the floor. Her pro debut against Corrie Ward gained a lot of attention and she used her grappling to win with a rear naked choke in the second round. Her following fights all ended in the first round with two submissions and an eight second knockout.
Robbins is another exciting fighter who will rush out from the bell and tenaciously try to tear her opponent down. And for fuck's sake Sherdog give this lass a photo on her profile page you muppets.
With these two exciting styles I'm picking this as my potential fight of the night.
Atomweight: Shino VanHoose (5-5) vs. Alyse Anderson (3-0)
Despite being only 22 Shino Vanhoose has had ten pro fights with a 5-5 record. She did appear at Invicta 15 as a late replacement to face Amber Brown and was dispatched within the first round. Since then she lost her next fight by decision but then scored a win last Decemeber against Sarah Lagerstorm (who has lost every one of her 5 pro fights).
Alyse Anderson makes her Invicta debut with three pro wins to her name. Anderson looks the real deal. She has a solid grappler style, and is extremely agile as well as having fast hands all of which she showed off well in her last fight, a back and forth affair with Tushara Veerella which she won by decision. She's got great ground skills, being able to work her way out of submission attempts with her flexibility and goes to town viciously with punches and elbows.
Of all the newcomers Anderson is the one I'm most looking forward to seeing on the bigger stage.
Bantamweight: Amberlynn Orr (0-1) vs. Sarah Kleczka (0-0)
Amberlynn Orr had a tough time when making her Invicta debut just over a year ago at Invicta 18. Despite an impressive amateur record she fell to a vicious Sijara Eubanks (an entrant in the Ultimate Fighter Straw weight tournament) ground and pound in the first round. Eubanks was a massive step up in competiton to the fighters she'd scored wins before becoming pro (few of who had gone on to the pros and even as amateurs were sketchy at best), however Orr has shown some impressive striking and grappling skills. Her biggest scalp was probably her V3 title win over Jamie Mianowski which she won with a first round armbar.
Sarah Kleczka comes to make her Invicta debut with a 7-0 amateur record against opposition with decent records at that level. She's split her wins with decision victories and three by submission.
Featherweight: Yaya Rincón (1-0) vs. Courtney King (1-0)
Shaianna Rincon made good on the exciting potential shown on her amateur adventures by beating Brooksie Baynard in May at Invicta 23. It was an exciting scrap with Rincon's crisper striking winning the day on points. Despite the win and turning some heads Rincon was disappointed that she didn't get a stoppage win so expect a spirited explosive determined performance. Despite finishing college with a Psychology degree Rincon has put all over career thoughts to one side to devote her time completely to MMA.
Colbey Northcutt thought it may be a good idea to follow her brother Sage into professional MMA by fighting on an LFA card on AXS.TV. Courtney King though thought it may be a better idea to kick her some Northcutt ass in front of all the press and cameras here to see the the new star in town. King let the "star" her have fun with her karate style before introducing her to real MMA by taking her down with a guillotine and working her way to take the back and rain down with peppering blows to the head in the second round.
By spoiling Northcutt's hyped debut King managed to show her wares with many eyeballs watching and has been rewarded by this late notice fight, replacing Stepphanie Eggers who pulled out just a few weeks ago.
Flyweight: Cheri Muraski (3-0) vs. Tracy Cortez (0-0)
Cheri Muraski made the perfect impression in her first ever fight back in 2013, storming into the fight with an all business attitude with a takedown and vicious ground and pound and capping it off a cherry on top choke finish all in under a minute. Since then her 3-0 pro and 6-1 amateur fights she's won by a variety of submissions and knockouts and is absolutely vicious when she rains down punches from the mount. In her last match she beat former Invicta fighter Shannon Sinn wit a second round submission.
Tracy Cortez announced she was making her Pro debut with Invicta in an emotional youtube video that came across like this opportunity is like a dream come true. After attaining a 6-0 amateur record and in her last fight beat experienced Amanda Jones to take The TUFF Flyweight title where she pressured her opponent onto the ground all night. Cortez from what I've seen looks a tenacious fighter and mixed with some quick KO's on her record will be an exciting prospect on the Pros.
Atomweight: Ashley Medina (0-0) vs. Jillian DeCoursey (0-0)
Two women pop their Pro MMA cherry to kick off the show.
Ashley Medina comes in with a 4-1 amateur record and had a victory just a few months ago in a top of the card Title win against Irene White in a fourth round submission. This was a high octane performance from the smiley scrapper (my description not an official nickname) as she punched, high kicked and kneed her way to a hard earned win.
Jillian Decoursey has an 8-1 amateur record during which time she picked up ACC and GFF titles. Her one loss being to Sarah Click who has since gone pro also. Decoursey is an experienced BJJ practioner and looks a sound all rounder with a clinical boxing standup style.
Invicta 25 takes place on the unusual day of Thursday the 31st. Stay tuned as at Halfguarded we'll be covering the show with respect and wackiness. And if you have work the next day, don't worry I'll write you a note.
Now if you'll excuse me there is a bed around here I need to die on.
Til next time
Dazza