And this is what happened today while you were spending 20 minutes every hour "taking a shit."
Jason Miller in jail; sees shadow
Jason Miller was involved in a three sum and the results were predictable: confusion, anger, and jail time.  The OC (don't call it that) police department says there was an "altercation " between Miller and two females. A phone call later and the stand off began!! Miller allegedly used a giant metal pole and fire extinguisher on cops. The cops then tazed him (bro) – only for the fight to go on for another eight minutes.
I would expect this story to be repeated again in another 18-24 months,
Brendan Schaub sells t-shirts; brags
Schaub has a podcast – he doesn't have a UFC career because he sucks and wasn't good at fighting. He also once participated in a grappling match with Cyborg Abreu at a Metamoris event and proceeded to literally not engage for 20 minutes so he could get a "draw." He also also once claimed that he made like $100k PER FIGHT in sponsors. I can't remember the exact reaction from Dana White but it probably was some variation of "fucking liar."
Schaub just sat down with MMA Junkie and said …
"As far as UFC fight kits sold, I'm willing to bet we sold more t-shirts this year than the UFC has sold 'fight kits.'
"I'm not going to give the number out, but we're doing well. You don't want to brag about that kind of stuff. Is that really a compliment? Saying that we outsold UFC fight kits? Those things are terrible."
He's just a tall internet keyboard warrior now. He has a huge dick, big house, hot girlfriend, and makes $200/hour using one simple trick and so can you!
Conor McGregor helps the poor in Ireland – 6 million turn out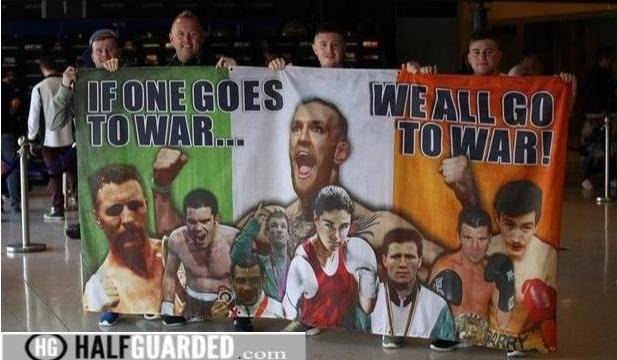 There are poor people in Ireland and Conor McGregor is going to try to help them. Poor and Irish is still redundant in case you were wondering. He's doing this by appearing at places and probably signing shit and drinking a lot.
"Upcoming appearances in aid of the homeless crisis in Ireland. Tonight I will be in The Foundry in Waterford…."
Somehow this ends with 6000 people insulting Jose Aldo.
Johny Hendricks pregnant – wife may be also
Well, at least he looked pregnant last we saw him. Hendricks is having a boy and found out the way a guy who embarrassingly missed weight would: inside a menu at a restaurant. "ADORABLE" video shows it all.