Hey, welcome to the recap of the day post.  We aren't looking for any of your feedback so don't leave it.  DO leave small, unmarked bills though.  And drugs.  Always drugs. (The fun ones.)  Here's the news that wasn't fit to print on it's own.
Bambi's revenge: Johny Hendricks blames deer meat for fatness

The official position of HalfGuarded.com is that hunting is for small-dicked morons.  Johny Hendricks has confirmed this as he's now blaming the fact that he got so fat he couldn't make weight on his eating too much deer meat.  Yes.  Bambi finally got revenge.  Good for you, small woodland creature who scare easily.
"That's what sucks more than anything, is that you work so hard to showcase what you have, and all of a sudden the diet that we were on backfires," Hendricks said. "Which sucks, but I've learned after we did this, we did a lot of research, and I was eating a lot of deer meat and a lot of high-protein animal protein, which, that's the leading cause of kidney stones and your intestines failing you.

"I had no idea, because I usually eat a lot of fish and a lot of chicken. I wanted to eat more protein, a lot of cleaner protein, so we focused more on that and it ended up backfiring. I think that if I would've eaten more chicken and salmon, I wouldn't have been in this situation."
Loser.
Georges St. Pierre will return, likely with bong in hand
After supporting Nick Diaz's right to party yesterday, GSP is now kind of maybe but yeah telling people he's coming back:
"I'm starting to get the feeling, more and more, to come back," St-Pierre told Montreal's Reseau de sports "I watch the fights to see what's going on in my division, and I'm staying in shape. It's like a knife that I have to keep sharp just in case I ever decide to jump back in the mix. It's most likely not going to happen in 2015, but I don't know, yet."
I mean, that's a yes, we all know it.  GSP returns is a formality in the sense that … no, that's it: it's a formality.
Fedor to be found in river without hands or feet soon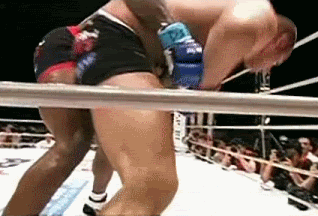 Seems that Fedor isn't using his longtime manager Vadim Finkelchtein.  Said Vadim, who famously managed to get Fedor into Strikeforce where his career was destroyed and kept him away from the UFC:
"Fedor makes all the decisions by himself now. In our past, all troubles and accusations used to befall on me. They said that I was the reason that Fedor didn't fight in UFC. But now I say officially: I don't have any relations to this one. Nothing. My professional opinion: all they do now is some kind of shady enterprise. That's clear they have such kind of draw as Fedor. But you can't ride on his back forever. You don't play cards with the Ace only, right? If they manage to get a decent team… But they need to entice more fighters, and pay huge money. I have a great fighters in M-1 and the only problem is that they're being enticed by UFC. Where does Japan get top fighters? I don't know. Maybe some of them will be provided by Bellator or KSW. Still, I don't know any fighter of top level in KSW, except Mamed Khalidov. As for Jaideep Singh, I think he is no match to Fedor Emelianenko. Too weak opposition for him."
We repeat: all they do now is some kind of shady enterprise, all they do now is some kind of shady enterprise, all they do now is some kind of shady enterprise, all they do now is some kind of shady enterprise…all they do now is some kind of shady enterprise!!!!!!!!!!!!!!!!!
That may be the quote of the year.
So you want to spent a shit ton of money to wear the world's fifth most popular brand?
The UFC apparently – already – has new FIGHT KITS.  See below for the commercial.  You too can look like Ronda, just remember: hands up, chin down…
Ronda Rousey's Mom is a fucking HERO!
It's not a secret that Rousey's mom is a badass.  World Champion in Judo; PhD in like math and other smart things; and she just looks like she regularly goes to truck stops, kicks guys in the cock, and dares them to do something about it.  And now: she hates Ronda's trainer.  Edmond.  Who is Armenian.  In case you didn't know, Armenian's are basically scum.  They may be single handily responsible for Axe Body Spray still being profitable.
RoufuSport Fighter Replaces Pat Curran
Emmanuel Sanchez, who just looked pretty good in his last fight for Bellator is coming back as he'll step in and replace the injured Pat Curran next month at Bellator 145. (Seriously, 145 of them?  Fuck me.)  He'll take on Justin Lawrence.  Big opportunity for a prospect to make a big name on a (not at all) big stage.
TICKETS ON SALE SOON TO SEE DONALD CERRONE BE GREAT
It's not our job to promote shit for the UFC.  It's THEIR job to give me free content that you then watch that makes me money.  But, the tickets for the amazing moment when Donald Cerrone beats the shit out of Rafael dos Anjos are going on sale this Friday.  The details are below, as is a video.  Because I like videos.
This shit here?  From their press release:
Tickets for UFC FIGHT NIGHT: DOS ANJOS vs. COWBOY 2 go on sale Friday, October 16 at 10 a.m. ET and are priced at $250, $175, $125, $90, $75 and $50 (prices do not include applicable service charges and handling fees). Tickets are available for purchase online at www.ticketmaster.com and by phone at (800) 745-3000. Tickets will also be available at amwaycenter.com, and Chase Box Office at Amway Center. Ticket sales are limited to eight (8) per person.

UFC Fight Club members will have the opportunity to purchase tickets Wednesday, October 14 at 10 a.m. ET via the website www.ufcfightclub.com. A special Internet ticket pre-sale will be available to UFC newsletter subscribers Thursday, October 15 starting at 10 a.m. ET. To access this presale, users must register for the UFC newsletter through UFC.com.

UFC FIGHT NIGHT: DOS ANJOS vs. COWBOY 2 will air live on FOX at 8 p.m. ET/5 p.m. PT on Saturday, December 19, with the prelims kicking off the evening on FS1 at 5 p.m. ET/2 p.m. PT.