@chris_najdek
Chris_najdek IG
Cnajdek27@gmail.com
Coney Island, NY-
Controversy has fallen on the beloved Nathan's Hot Dog Eating Competition this 4th of July Weekend. Legendary wiener eater Joey Chestnut has been barred from competing as he's tested positive for marijuana.
Marijuana is a performance enhancing drug in competitive eating and may be why Chestnut has performed at such a high level for the last decade.
Many are protesting his suspension by claiming weed does not help you eat more.
"It's not like he's going to run the 100 meter dash at the Olympics! I can understand if he was running fast, but eating? Weed doesn't help you! And if anyone understands running, it's me." Said one fat guy smoking weed on a Segway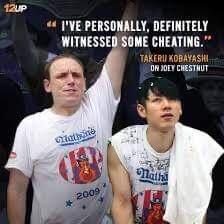 Joey Chestnut has issued an apology:
"On behalf of all my fans I'd like to apologize and take full responsibility. While the weed doesn't help me eat more, it calms the anxiety I have before I have shove a bunch of wieners in my mouth. I learned this trick from Jenna Jameson's biography. To all those I've let down, I am ashamed. I will be back next year if they will have me."
We here at Halfguarded support Joey Chestnut and know he will be back shoving wieners in his mouth next year like the American man he is. In the meantime, I'll watch Mike Coughlin do it.