The Drug Store
Jeezuz, this one feels good.
Jon Jones failed his UFC 214 drug test.  He has been stripped of his UFC Light Heavyweight Championship.  This is approximately the 13th time he's been caught for drugs and the 32nd time he's done something stupid.
I distinctly remember watching the interview he did vis a vis Daniel Cormier the week before they fought.  He wasn't taunting Cormier like usual and his entire demeanor seemed off.  I remarked to all who would listen, "He looks like a man who knows he's failed his drug test and is fucked no matter what."  I've never been so right before in my life.
This has happened before in the UFC, most notably when Josh Barnett beat Randy Couture at UFC 34 for the heavyweight championship.  I'd say that history is precedent for what the company does next but I seriously have no idea.  Maybe they'll create two interim champions and have them fight in a year or something.
(Fuck me, I wrote that, read some shit, and learned that TMZ says Cormier will get the belt back but Dana has told ESPN they haven't decided yet. I love this company.)
If the test is confirmed via the B Sample, this would have to be the end of Jones's career.  A second drug failure should carry with it a suspension of … actually, I don't know that either.  The UFC's weird drug policy isn't always clear on these things.  You'd think it should be 3 years, at least.  I mean, I know it isn't the same or anything, but Nevada was willing to suspend Nick Diaz for life over weed, so Jones should get a bit of time.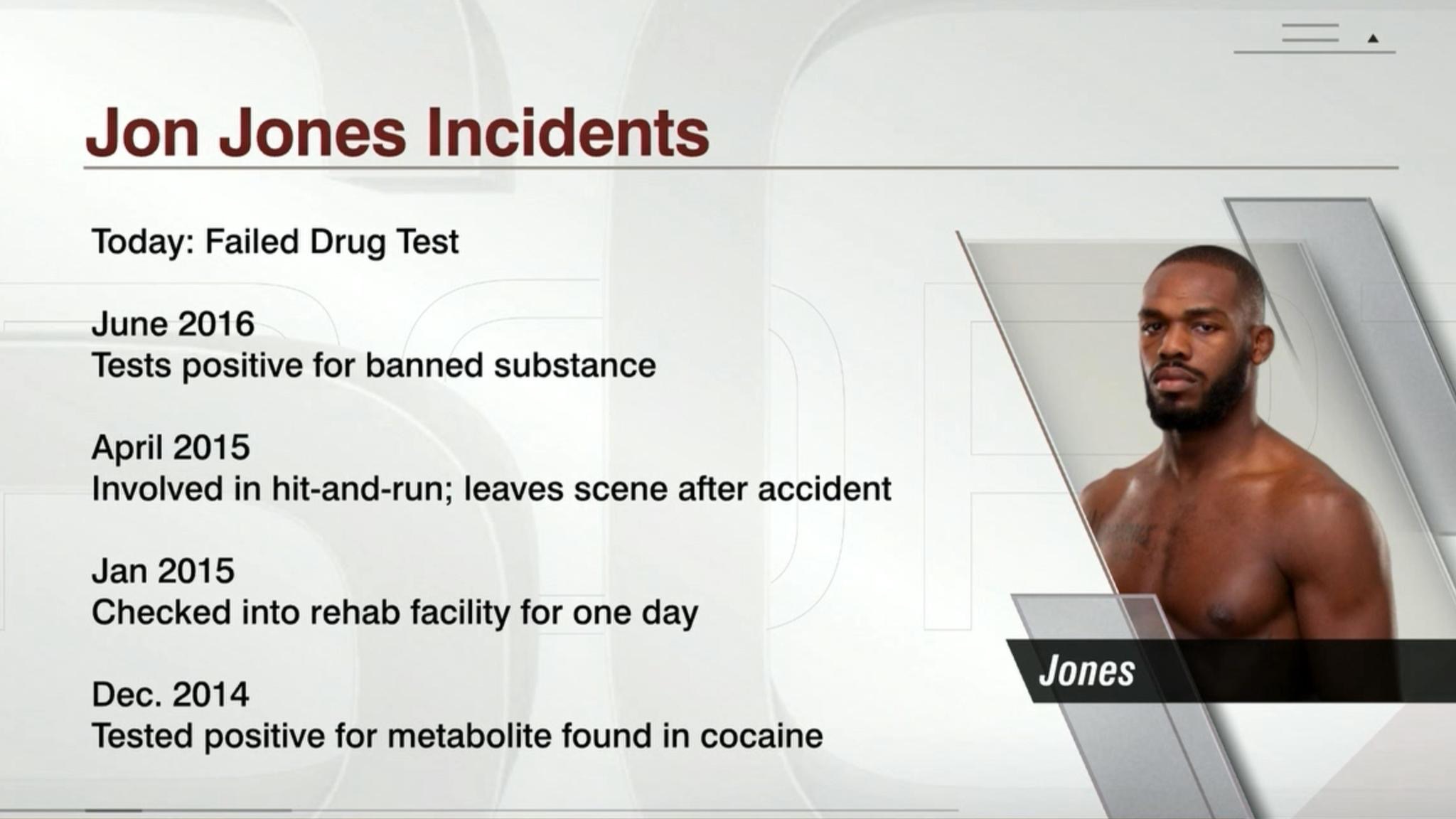 What a waste of talent and potential.  Even with all he's accomplished, all he's done, every record set, the amazing wins, the idiot couldn't get out of his own way.  Jon, as a man with a lot of talent myself, have you considered drinking and blogging?  It's a great way to die slowly.
The UFC released the following statement:
The UFC organization was notified today that the U.S. Anti-Doping Agency (USADA) has informed Jon Jones of a potential Anti-Doping Policy violation stemming from an in-competition sample collected following his weigh-in on July 28, 2017.

USADA, the independent administrator of the UFC Anti-Doping Policy, will handle the results management and appropriate adjudication of this case involving Jones, as it relates to the UFC Anti-Doping Policy and future UFC participation. Under the UFC Anti-Doping Policy, there is a full and fair legal process that is afforded to all athletes before any sanctions are imposed. The California State Athletic Commission (CSAC) also retains jurisdiction over this matter as the sample collection was performed the day before Jones' bout at UFC 214 in Anaheim, CA, and USADA will work to ensure that the CSAC has the necessary information to determine its proper judgment of Jones' potential anti-doping violation.

Additional information will be provided at the appropriate time as the process moves forward.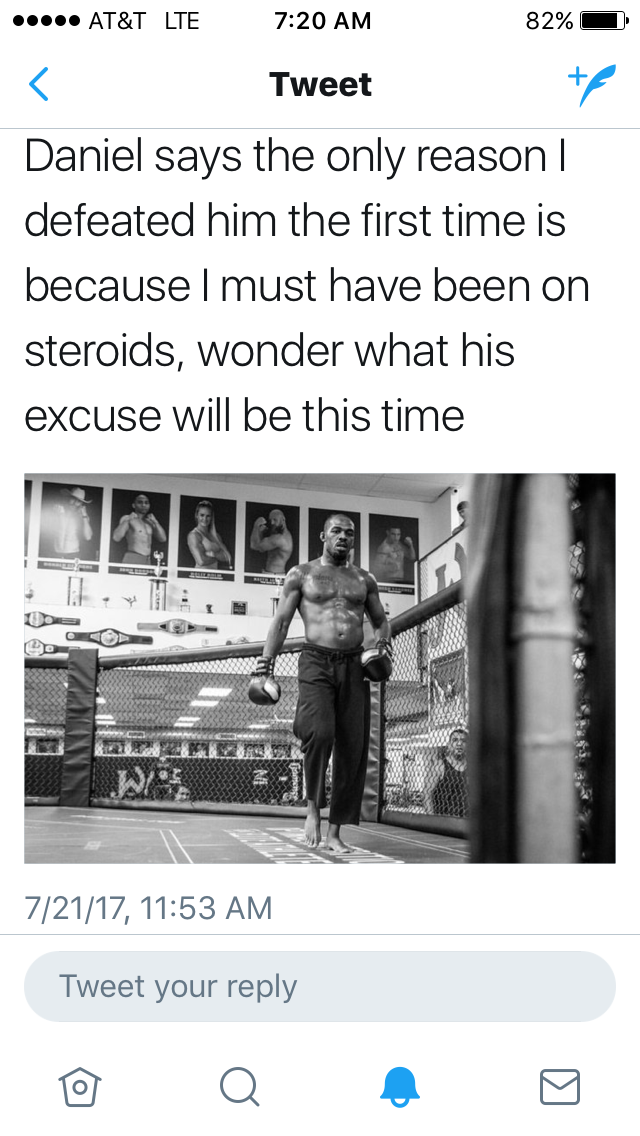 The California State Athletic Commission said the following to MMA Fighting:
"The California State Athletic Commission has been made aware of Jon Jones' test results and is looking into the matter.  The Commission takes these matters very seriously and will take any appropriate actions necessary after a thorough review of the situation. As with all fighters, Mr. Jones is entitled to due process and the Commission will work with the United States Anti-Doping Agency (USADA) to get all of the proper information."
Daniel Cormier is having a good week at least.