Washington D.C.-
With the NFL season around the corner, Washington Redskins owner Daniel Snyder is firmly in the center of yet another controversial decision. Going against what many NFL owners have vowed, Snyder welcomes his players to kneel during the national anthem.
"I think they have a right to protest the racial injustice in their communities. I just won't allow any of them to gamble at an Indian Casino and give those people any money." Snyder stated
"I'm serious. No buying cigarettes or fucking trinkets at a reservation either. And God help me if I catch one of them donating money to these Cowboy killers charities."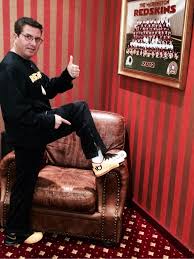 When asked why he feels the need to offend Native Americans and impede any growth in their community Snyder responded "JOHN WAYNE!"
It'll be interesting to see how the league and fans respond to this decision.