@chris_najdek
Cnajdek27@gmail.com
Savannah GA-
World renown yet controversial television chef Paula Deen is in hot water with just a pinch of salt again as a slip of the tongue has sparked another racial problem for the Georgia native.
While going over a recipe for pulled pork during a taping of her hit show "Positively Paula" she used the word Vinegar on air which was too close to the infamous racial slur for the station's taste.
There was an attempt to edit it out before it aired but footage leaked of the segment from someone filming with their phone on set.
Deen could not be reached for comment at press time but did tweet out the following: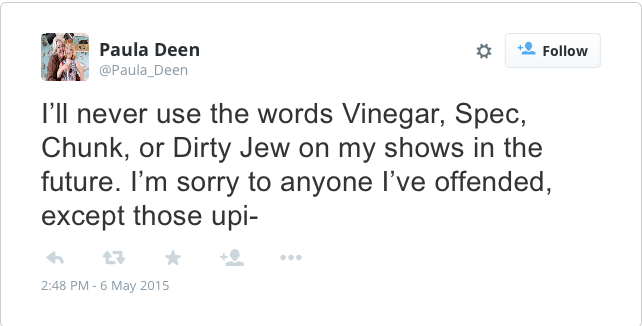 "I'll never use the words Vinegar, Spec, Chunk, or Dirty Jew on my shows in the future. I'm sorry to anyone I've offended, except those upitty blacks. #RIPxxxtentacion"
More on this story when I think of more shit to make up.