Washington D.C.-
President Trump is under even more scrutiny after canceling a scheduled trip with environmental experts to rainforests in Brazil to discuss funding for a save the rainforest campaign.
Trump announced he would not be attending the meetings after hearing that there's rain inside the forests. As always he took to Twitter:
"Won't be attending visit to Rain Forests in Brazil. Too much rain. Always raining in those forests. California could learn something from the Brazilians. Beautiful country. Not like that shithole France #RIPxxxTentacion."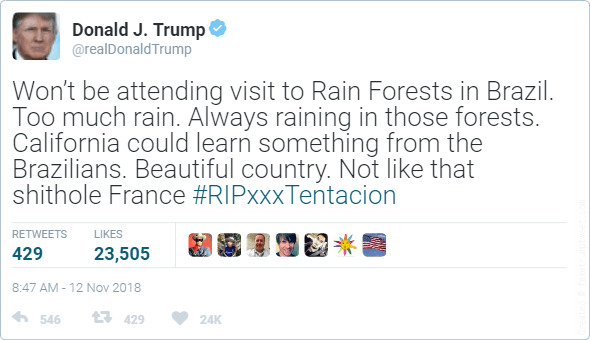 The President elaborated in a press briefing later in the day.
"I'm not going to the rain forests, get over it. I'm planning on bigger things. While discussing how much rain the rainforests get with these tree huggers, I had the most smart idea from my brain, which is huge by the way, and I've come to an agreement with President Temer of Brazil to buy their rain forests and plant them in California, no more fires, that rain will make the forests so tremendously wet and watered that they'll be no more fires.
When reporters asked how exactly that would work, Trump cut them off and continued:
"We buy the rain forests and plant them. Basic science. I don't expect you to understand it but it's being handled by the best science people on the world. They have beakers and white coats and everything."
When asked how much the deal would cost The United States Trump clarified:
"Nothing, Mexico's going to pay for it. California should be thanking me any minute. If that phone doesn't ring within an hour I'm selling California to Brazil, giving their electoral votes to Texas, and Mexico's paying for it."