@chris_najdek
Cnajdek27@gmail.com
Washington D.C.-
It seems Donald Trump is in hot water again, this time for allegedly asking Ukrainian President Volodymyr Zelenskiy to investigate Joe Biden Jr.'s business dealings with his country.
Zelenskiy (a former comedian who just won office) was apparently pressured by Trump (a current joke who won office 3 years ago) to look into Biden's business dealings by Trump lawyer Rudy Giuliani in order to help Trump
win the 2020 election.
Chris Cuomo asked Giuliani about the phone call, here's the transcript of that discussion seen on CNN:
"Did you ask him to investigate Biden Jr.?" -Cuomo
"No I did not." – Giuliani
"Are you sure Rudy?"-CC
"No, of course I asked him."-RG
"Then why didn't you just say yes?"-CC
"Because I didn't ask him!"-RG
"You just said you did!"-CC
"Did not!"- RG
"Did too!"-CC
"Did not!"-RG
"Did not!"-CC
"Did too!"-RG
"HA GOTCHA!!!"-CC
"NO FAIR! I didn't!! Double stamp no backsies!!!"-RG
"Well I triple stamp your double stamp Rudy!!"-CC
"NAH UH!!! YOU CAN'T TRIPLE STAMP A DOUBLE STAMP!!! YOU CAN'T TRIPLE
STAMP A DOUBLE STAMP CHRIS!!"-RG
This went on for hours until Rudy called Chris "Fredo" to which Chris responded by punching a camera man in the mouth.
As it turns out Trump was very reasonable on his defense of the accusations when he took to Twitter to say:
"Yeah I'd never ask the President of Ukraine to help me win an election. I'd just ask Putin to help again, DUH!"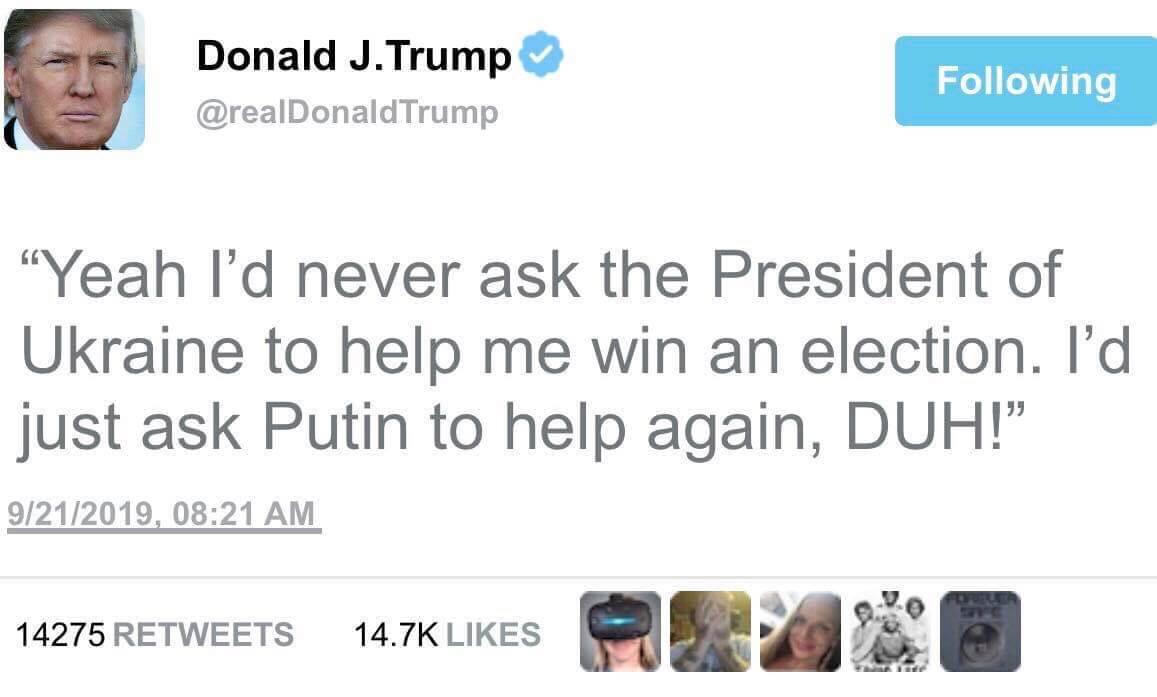 It's hard to argue with that logic.