Washington D.C.-
It seems all is not well in the Trump household. President Trump and Melania apparently got into a huge argument that led to The President telling Melania to "Get out and go back where you came from!" Reports are Melania never looked happier as she grabbed two already packed suitcases from the closet and headed for the door.
Never to be shown up, Trump responded to her enthusiasm with, "Not so fast! The booby tits are mine. I paid for them in this country, they're my boobs, they're American, I made them great again, they stay."
Melania reportedly walked up to Donald, squeezed his chest and said "Feels like you don't need mine."
A furious Trump immediately started bragging about the size of his penis until he realized who he was talking to and abruptly stopped unbuckling his belt and muttered a faint "Never mind."
Many close to the White House hope the first couple can work things out. Donnie is reportedly regretting his words and having a hard time sleeping in his bed alone. Luckily, his loving daughter Ivanka has volunteered to keep her father company at night until he starts to feel better. She was excited to find out he'd already bought her several outfits for the occasion.
We were able to reach his sons Donald Jr. and Eric for comment, but hung up on them half way through the stupid shit they were saying.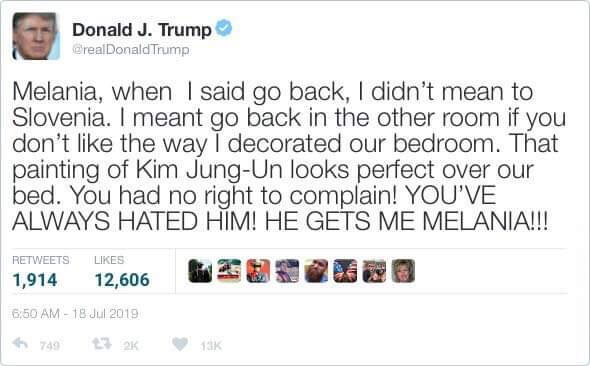 Or course a distraught President Trump took to Twitter to tell his side of the story:
"Melania, when I said go back, I didn't mean to Slovenia. I meant go back in the other room if you don't like the way I decorated our bedroom. That painting of Kim Jung-Un looks perfect over our bed. You had no right to complain! YOU'VE ALWAYS HATED HIM! HE GETS ME MELANIA!!!"