Invicta shows are coming thick and fast this year which is fine, because thick and fast reminds me of Ben and Jerry's strawberry cheesecake ice cream which is colourful, delicious and leaves me feeling totally blissfully satisfied, just like Invicta itself.
I know I go on about my love for Invicta FC, but in a week when the biggest fight of the year fell apart over a sodding commercial and an empty chair at a press conference stole the show, isn't it nice to talk about a fun, pure MMA show? A show where fighter's creativity and individuality isn't stifled by everyone wearing the same, corporate uniforms. A show where everyone is fighting with a purpose and not just faceless filler that you'll forget about by the next fight.
Invicta is MMA how I like it, loud, passionate, colourful and with that rebellious, alternative, counter culture vibe. Once again it's a card full of potentially great fights and awesome personalites with intriguing background stories and here's why you should be watching.
Tonya Evinger vs Colleen Schneider
Bantamweight title time and this could be one of the most exciting main events that Invicta has ever put together. If you want evidence of that, check out the radio show that Invicta produced to build up this fight. It is one of the best radio shows on MMA I have heard in a long time. Incredibly honest and open interviews with both women this is one you should go out of your way to listen to.
Invicta is not built around a single star, it's a platform with an ever rotating roster designed to showcase women's MMA at all levels. But if there is a figurehead right now it should be the Bantamweight champion Tonya Evinger.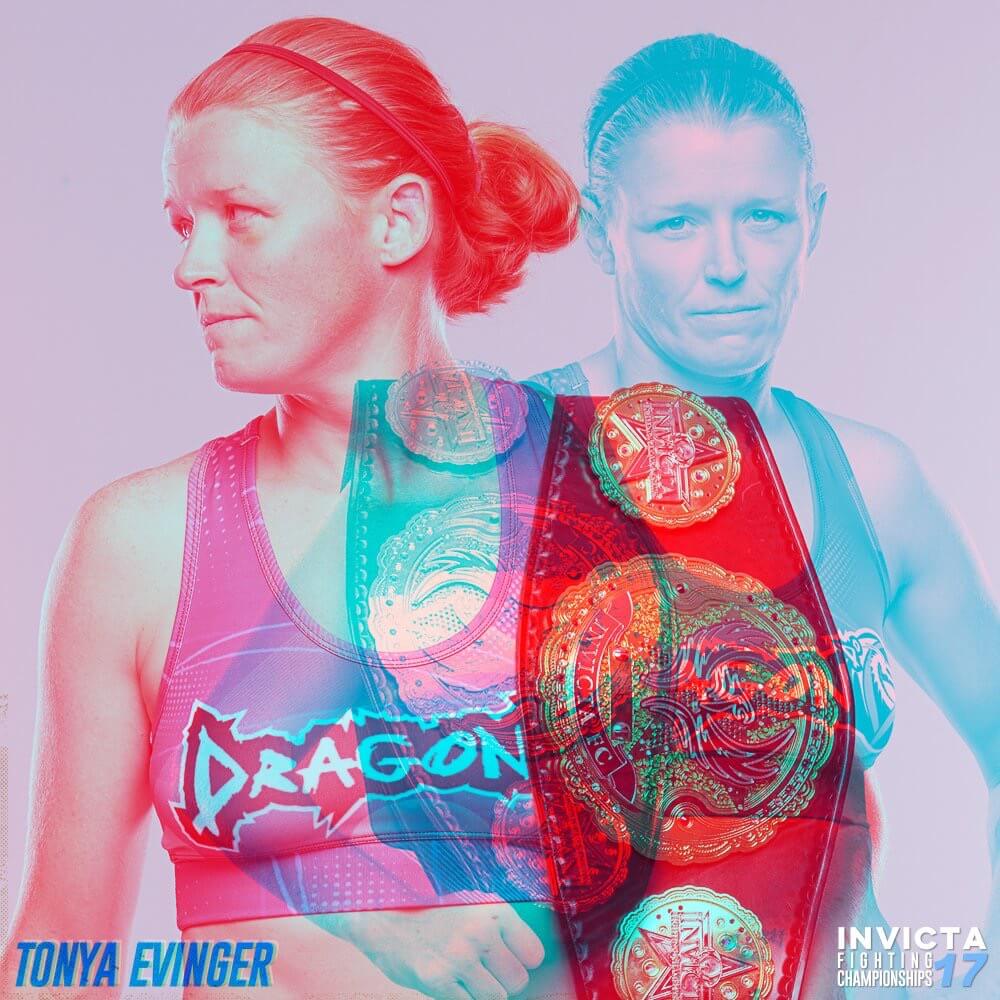 We here at Halfguarded love Tonya Evinger! She's been fighting in MMA for over a decade, starting at a time when a women getting a fight anywhere on a show was a struggle in itself and years before Dana White even felt the need to state the only women he'd allow near a cage were ones blowing kisses while carrying a giant sign with a number on it.
Tonya's dominance in Invicta (she's undefeated in Invicta and this will be her sixth fight for the promotion) and road to the title has been nothing short of a Cinderella story (if Cinderella said "fuck this ball shit", beat the shit out of the ugly sisters and went to bar for the night) finally getting her due respect and place as a main eventer. Her performances have been phenomenal, totally dominant against all her Invicta opponents, taking fighters down at will and relentlessly staying on offense at a blistering pace the entire fight. If a UFC champion had dominated their opponents as overwhelmingly as Tonya has  then experts would be proclaiming that fighter as world class. As well as her fighting ability she's also got tons of down to earth charisma and is one of the most entertaining no nonsense interviews in the entire sport, absolutely hilarious and brimming with no fucks given attitude.
Challenger Colleen Schneider had been on a MMA tour of the world, picking up titles in China and Mexico before landing back in Invicta in January with a technically sound striking display against Rachel Pa'aluhi to win her shot at Evinger. She's on a winning streak herself, but Tonya is a big step up in class from those she's recently beaten.
This is an intriguing fight with both fighters currently in the prime of their careers, looking sharper than they ever have ever done and hoping to continue on with their win streaks (you'd have to look to 2011 and nine fights ago to find Evinger's last defeat).
Livia Renata Souza vs Angela Hill
More title goodness comes in the Straw weight division with a tasty encounter between Champion Livia Renata Souza and Angela Hill. Hill has quickly become an Invicta favourite with her quick blistering knockouts and her seeming desire to fight on every single show in 2016. This crazy girl's title shot will be her third fight in three months and no doubt if she comes away with the gold she'll be defending it in Vegas at the end of June.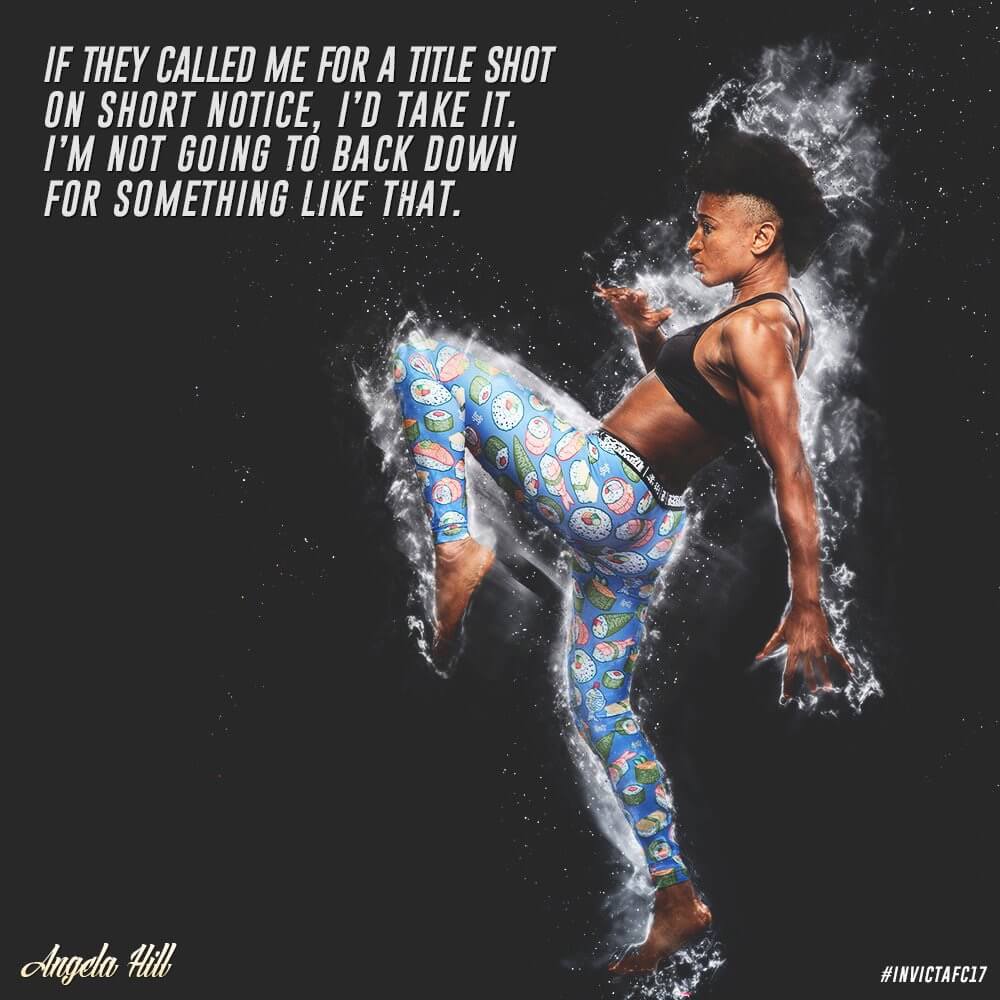 Souza though is establishing herself as a real force in the straw weight, being undefeated in nine fights and enjoying bending arms and squeezing necks to cement her rep as a killer when it comes to submissions. There's a lot of hype around Souza and she's openly stated that her eyes are on ultimately on UFC and there is something special about her as a fighter and a personality with her "little gangster" persona that reeks of a star in the making.
Fast heavy hitter vs lightening quick and wiry submission trapper, this has all the hallmarks of the kind of fight that makes the straw weights such an exciting division.
Mizuki vs Aline Serio
Aline Serio is making her Invicta debut and has not fought for two years, why? Don't know, this is a lass that the internet appears to have forgot, no interviews, no profiles, no twitter, nothing! Just her 9-5 record. Maybe Chael Sonnen was right to be astonished they have computers in Brazil.
What I can tell you after watching a number of her fights is this women likes to swing. Big clubbing, swinging blows to the head all match long and while purists who actually understand MMA technique may baulk at this approach, to someone as dumb as me it looks wild and entertaining as hell.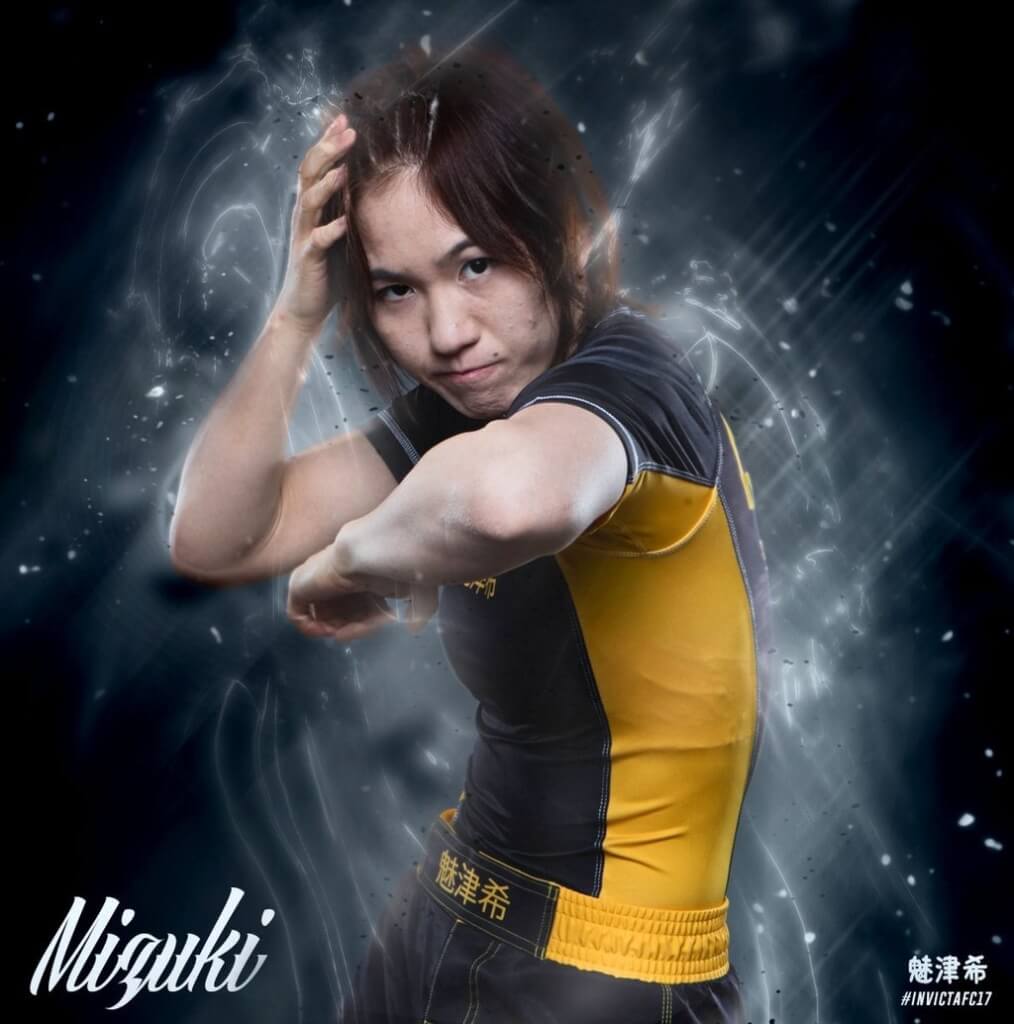 Facing her is Mizuki Inoue who is another crowd pleaser and a long standing Invicta attraction. She splits her time between here and the all women's Jewels promotion in Japan. This already her third fight this year (her coach wants her to fight seven times), having beaten Lacey Shuckleman in January and getting a first round submission win in Japan in March albeit against a 17 year old only having her second fight (seriously I worry about stuff that goes on in the Japanese MMA scene).
And if you're not hyped for this fight consider this, on Tapology's list of greatest Female Straw weight fights of all time, Mizuki has been in two of the top four.
Well wouldn't you bloody know it, I get all smug and relaxed because I manage to finish my Invicta preview a week in advance and yep someone has to pull out. Mizuki is off the card but not to worry because her replacement is an absolute badass. Kaline Medeiros if you've never seen her will be the one with the coloured mohawk (could be green, could be red, could be blue, who knows) and if that's not fearsome enough for you check out her one punch knockout of Stephanie Eggink which is absolutely brutal, knocking the lass out cold. She also had a preliminary  fight on a Bellator card last year where she proceeded to  kimura the fuck out of  Sarah Payant inside of a round.
Kaline is fun to watch, throwing hands freely and slamming opponents to the ground and unleashing some vicious poundings to anyone unfortunate enough to find themselves under her or pinned to the cage. She may be a replacement but I'm hyped to be seeing her Invicta debut.
Latoya Walker vs Charmaine Tweet
If rankings in MMA can be believed this featherweight encounter is a big one as both are ranked in the top five according to Tapology.
After a steady start to her professional career on the lower regional levels Latoya "Black Mamba" Walker made a great first impression in Invicta by out boxing TUF contender Peggy Morgan last April. Confident in her strong stand up Latoya will be looking for a good victory over Charmaine Tweet to put her in line for a Featherweight title shot, whether that means the unenviable task of facing Cyborg or not.
Charmaine already fought Cyborg last year and it went the same way as most Cyborg fights, ending by knock out in the first round. Judging her by this fight is unfair, she has a ton of experience, has picked up two victories since then and has a history of first round finishes by rear naked chokes. This is an intriguing fight of a striker against some one strong on the ground and experience versus potential and just ask Andrea Lee after the last Invicta show how dangerous an experience fighter hungry for a comeback can be.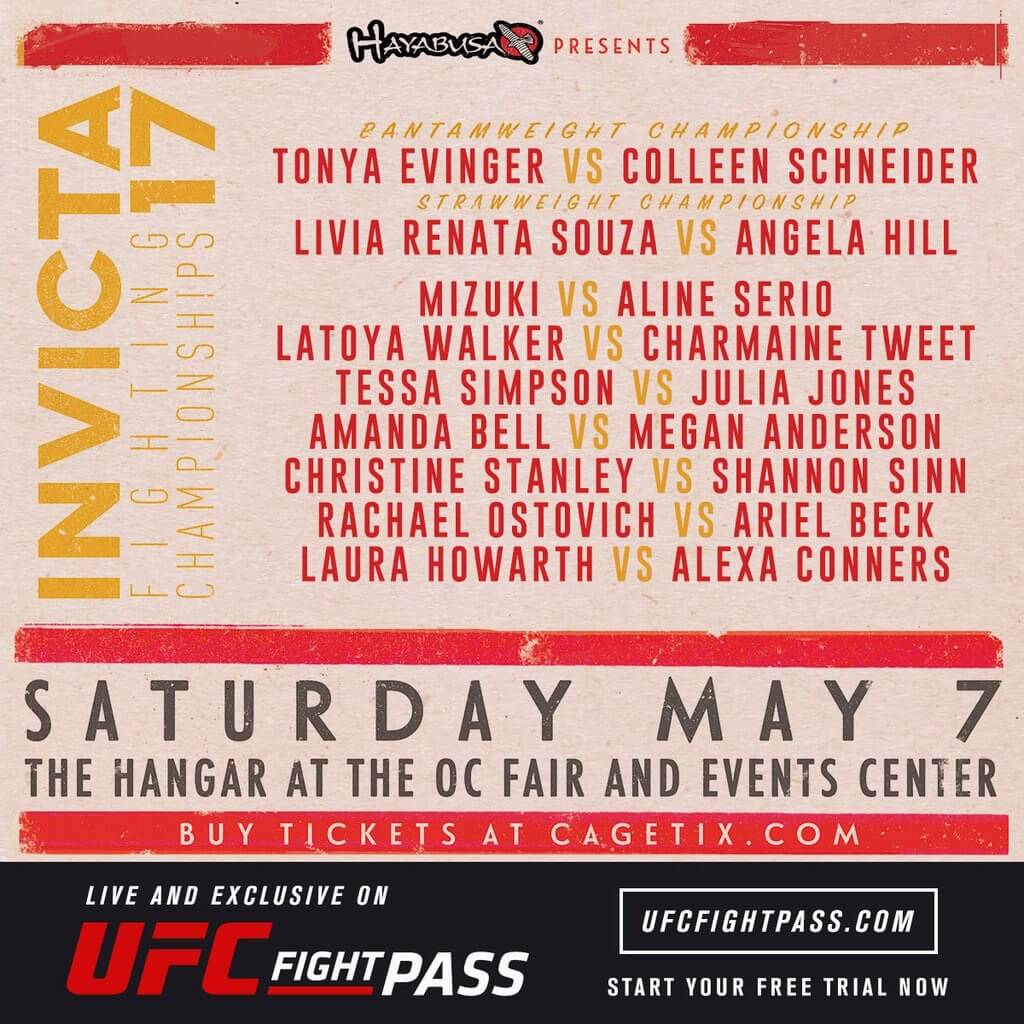 Tessa Simpson vs Julia Jones
Julia Jones comes to Invicta with the kind of inspirational story that make the fighters in this sport such amazing people. Growing up in a Russian orphange and using that experience as a source of motivation and dedication to training and discpline, she's started her pro career with four wins on the lower levels. Her hard work has paid off with a shot in Invicta after one of Shannon Knapp's shopping sprees for promising talent.
Tessa Simpson's record of 4-1 sees long stretches in between fights with a four year gap before her 2013 victory over Paulina Granados (who Jones also beat) and another two and a half years before her win in March of this year over Santomi Takano. Simpson spent much of the time inbetween finishing school and setting up a gym but never gave up training. She was tenacious and dominating in a fast paced performance against Granado and her triangle keylock submission over Takano was highlight reel worthy. Two fights in one year hopefully means we'll be seeing a lot more of her in the cage.
Invicta's atomweight division always brings the fun, like watching regular fights except on fast forward, and this fight could see a new fan favourite crowned.
Amanda Bell vs Megan Anderson
When I saw this fight had been signed my response resembled the Ultimate Warrior promo at the start of the 1989 Survivor Series when he yelled "IT IS GOING TO BE A WAR!!!!!" Go check it out on the WWE network, that's what I was like, shirt off and facepaint and everything. Why so excited? These two women are relentless in their devotion to beating the hell out of their opponents.
We lost out on a potential war at Invicta 15 when Bell's opponent Ediane Gomes couldn't fight after weight cutting induced sickness and with the fight cancellation lost out on her awesome ring entrance as she stomps towards the cage, screaming with the intensity of Godzilla rampaging on Tokyo and you sense she can't wait to start throwing bombs.
Bell has been a dedicated student of martial arts since her teens and was actually competing in MMA on an amateur level as early as 2008, purely for fun and at a time when the possibility of women making a professional career in the sport seemed an unlikely dream. After a strong amateur run, culminating by beating Jessamye Duke for the AAMMA featherweight title she turned professional and practically ambushed the Marina Sharif hype train, not just derailing it but blowing it apart with dynamite by knocking Ronda's buddy out cold and then pounding the daylights of the cagefloor in victory. Amanda is fun to watch, absolutely ferocious whether standing or pounding her opponents on the ground and she really seems to relish fighting and after the devastating disappointment of her January fight being cancelled so close to fight day it's great to see her back in a key fight perhaps with an eye of getting rematches with Faith Van Duin and Charmaine Tweet.
After a shaky start to her Invicta career Megan Anderson is seemingly back on track after a dominant win over Amber Leibrock in January showing the heavy hitting style that made her a promising talent in her native Australia through some crowd pleasing all action affairs. Anderson's improvement since the Invicta 15 fight has been credited in part to her move to the States full time to immerse herself in her training and sharing a house with other fighters.
One of Invicta's strengths is it's dedication to give a home to every element of women's MMA and this includes the featherweights which so far goes unrepresented in the UFC. The striking of featherweights is of a higher impact style than you'll see in the lighter weight classes and builds to a higher rate of flash knockouts. Invicta's commitment to this division with two key fights on the show promise an interesting year, especially with Cyborg's status as champion in flux. On this stacked card this is the fight I'm most hyped for and if the intensity shown in their previous fights is anything to go by a possible contender for match of the night.
Christine Stanley vs Shannon Sinn
The world was robbed of another stand up war at Invicta 15 when this fight failed to materialise due to an injury to Shannon Sinn. Well it's back on for 17 and once again I urge you all to put aside five seconds in your day and go watch the amazing flying, spinning kick knockout that made Christine Stanley a youtube sensation and compels anyone who sees it to go "Holy, fucking shit!" It's that awesome. Almost as impressive was her absolute mugging of Laura Salazar at Invicta 11 taking her to 4-1 record (her one loss is to Judith Kish). Let's face it when a woman gives herself the nickname "Knuckles" you know she's going to be dangerous and not surprising as she began training martial arts in Tai-Wan where apparently the way coaches got her to correct her fighting stance was to hit her limbs with sticks. Brutal it may be but the pay off is Stanley has gained all four of her victories with first round knockouts.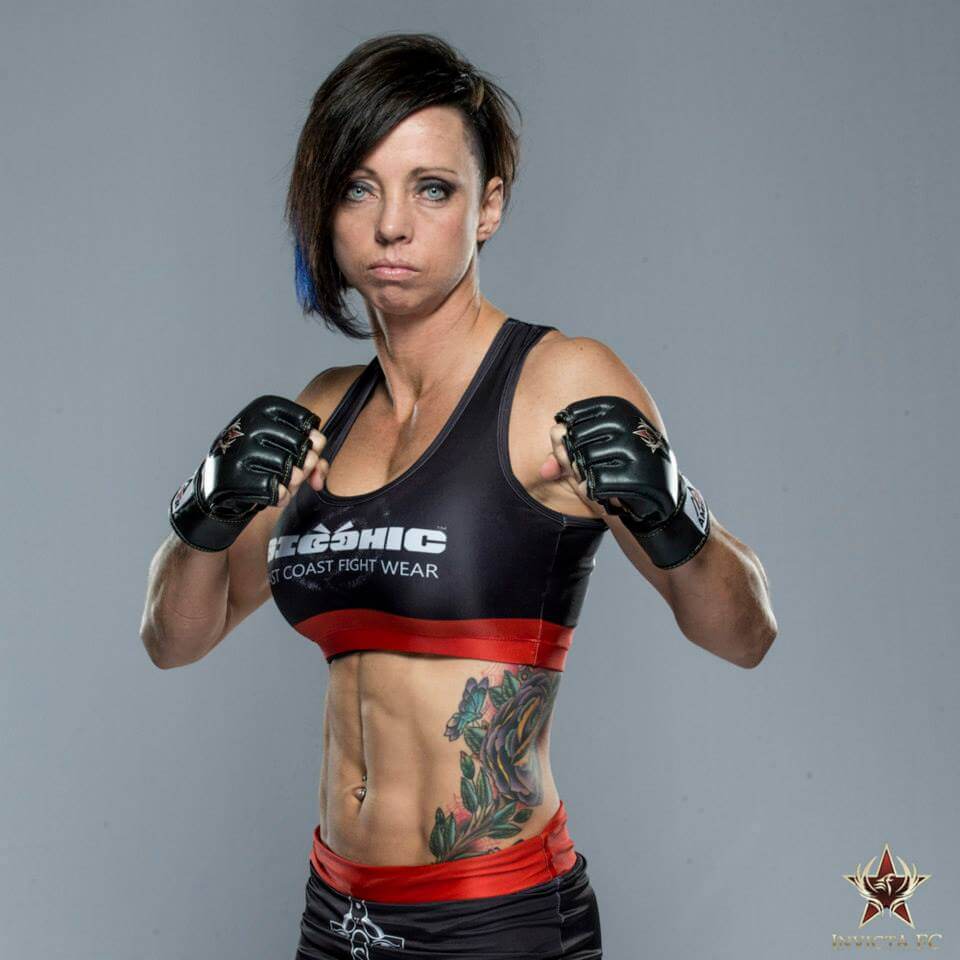 Shannon Sinn's record is 2-2 up to now professionally where both her losses coming from decisions and one of those against Andrea Lee where she lasted the distance despite taking a wicked first round shot that almost took her out. She does have a good chin on her and her last victory, (a grudge match against a former friend Maureen Riodon) was a heated all standup battle. An upset win against Stanley would get her professional career on the right track.
Rachael Ostovich vs Ariel Beck
Ariel Beck is a fucking warrior! In her last fight for Legacy in December Andrea Lee, elbowed the hell out of her and twisted and bent her body in ways that nature never intended. Beck didn't just survive she fought her way out of submission after submission attempt, so sickeningly tight that commentators Michael Schiavello and Pat Miletch were screaming in horror and almost couldn't bear to watch. Beck's courage and resilience on this night was nothing short of incredible and if she brings that heart to Invicta as well as her vicious boxing style which has totally blitzed opponents into oblivion, us fans are in for an awesome match.
Rachel Ostovich is also looking to rebound from a loss to Andrea Lee in another gutsy performance that was a fight of the night. She's a spectacular wrestler, quick, agile and entertaining as hell to watch and with a long background in the amateur ranks is a lot more experienced than a 2-2 record would suggest. Of course she also catches eyes with her wonder woman style attire, another example of how much more colourful a MMA show can be if fighters are allowed to express themselves creatively. One more time everyone, fuck you Reebok.
Laura Howarth vs Alexa Connor
Opening this card will be Alexa Connor making her professional debut after turning heads with some impressive performances in the amateur ranks. Want to see the potential of this lady, just check out the video of her knocking the lights out of Allison Ainley in stunning fashion.
Laura Howarth is only the second fighter from England to appear in an Invicta cage, a feat that the Queen herself has ordered a day of national celebrations for. Laura has been training with Tonya Evinger's camp for this fight and has long being campaigning for a shot with Shannon Knapp's promotion. So on behalf of my wacky nation I want to express my personal good luck and in the immortal words of Noel Coward in the Italian Job " if you don't come back with the goods, Nellie here will turn in her grave, and, likely as not, jump right out of it and kick your teeth in."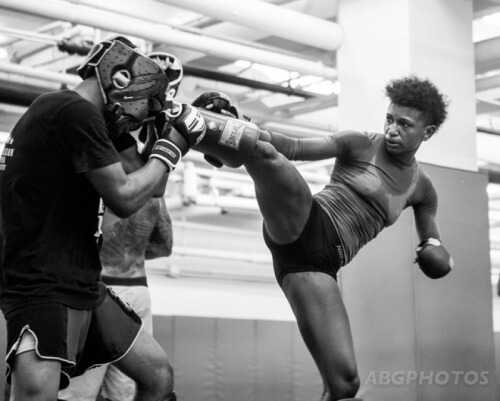 As I write this Invicta has made it to it's fourth Anniversary and all the credit in the world should go to Shannon Knapp who recognised the need for an all women promotion to act as a platform for this corner of MMA. Invicta has had a positive impact on MMA. Without Invicta I doubt we would have a Straw weight division in the UFC, without Invicta to aim towards many women would struggle to make the step from amateur to professional, lost in the wilderness of local level MMA shows.
Some have been critical of the promotions business goals, citing that when ever a key fighter achieves a level of stardom the leaves for the UFC it shows a lack of ambition on Invicta's part and ultimately will restrict the chances of making it big and forever remaining as a stepping stone to the UFC. Such talk really misses the point of the philosophy driving Invicta, as the regular indicators of judging the success of a business shouldn't apply here. The goal isn't to compete with larger promotions, it's to expand through live shows in more locations and attract healthy crowds of people who enjoy and want to support women's MMA.
When a star fighter leaves Invicta she isn't hurting the promotion but rather opening up a spot for another hungry fighter whether it be a youngster learning her trade or an experienced fighter revitalising their career and making Invicta their home. Invicta has successfully furthered the cause of women's MMA in the last four years in so many ways and at a time when the talk around MMA is overtly money orientated, that achievement by Knapp, Kedzie and everyone behind the scene is one they should all be proud of.
Enjoy the show!
Dazza