Hillary Clinton wants to be a gigantic message board moderator.  Her campaign Super PAC People With Money recently admitted that they are spending 7 figures hiring people to go online to combat those they feel are lying about Clinton.  (I used DailyKOS as a source because they're pretty damn left wing so I figure they'll be kinder to her than most sites.)
This is delightful news.  Is it creepy and weird?  It sounds like it but think of how much technology has shaped elections in the past.  FDR never makes it in a world of TV, JFK only makes it because of TV, and Bill Clinton had his presidency brought to a halt because of the Internet.  And part of Bernie Sanders' success is due to "Bernie Bros" which I guess are like online frat boys who like Sanders … ?  What Clinton is doing is Big Brother (Sister)-ish, and the fact that it's named "Correct the Record" only strengthens that feeling.  But this is also probably the new reality and I'm guessing every campaign will do this in the future and a lot of them have done it, maybe unofficially, in the past.
But it's delightful to me for different reasons.  This election season will be a shit show.  We just had a guy who founded a beauty pageant and appeared at Wrestlemania beat a guy born in Canada for the Republican nomination, and the Democrats are fighting between an admitted socialist Jew who looks like your grandfather and someone who married right but pretended she didn't need a man at all.  So hearing that Clinton has operatives going about the Internet to correct incorrect speech?  This is not a bad thing but rather an opportunity.
With the help of all of you reading, my goal is to get a correction; to somehow write something that will elicit a response from Team Hill.  I'm going to be keeping this post as an open running blog and periodically fill it with the latest in Clinton news.  With all of your help, we may just be able to get acknowledged by the future President of the United States.
---
(All times CT unless noted otherwise)
5/5/16, 7:53: Clinton has been a lesbian for years.  It explains why she didn't care Bill cheated on her and her haircuts.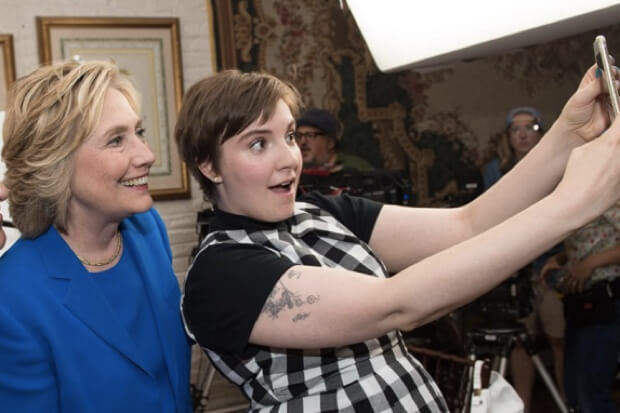 5/6/16, 7:46 a.m.: Clinton obviously knows more about Benghazi (spelled it right, first try!) then she's letting on.  If she didn't, this wouldn't be dragged on by a Democratic administration.  In fact, if it was a neutral administration, she'd probably have faced charges already.  She made a deal with Obama and he's protecting her.  One of the terrorists called the Clinton and bragged that on the exact day and time of the attack that he'd be there.  That was three weeks before it happened.  Clinton references it in an EMail to Bill – and never secured the EMail!  This was seen by a Black Hat Hacker who fed the information to ISIS and they made sure to let their operatives know that Clinton knew so they could take precautions.  They were all very surprised when nothing stopped them, later realizing that HILLARY LET GOOD AMERICAN SOLDIERS DIE for her political career.
5/10/16, 8:02 a.m.: Clinton had her former aid Vince Foster killed so he would keep quiet her shady business dealings.  Or because they were lovers.  See, Wikipedia talks about it:
A book by Christopher Andersen entitled Bill and Hillary: The Marriage claims that Foster and Hillary Clinton were involved in an affair that led to Foster's death.[ James Norman, former senior editor at Forbes Magazine, discussed and wrote about Vince Foster having a Swiss bank account and possible espionage. An FBI interview report by agent Russell Bransford and a handwritten note from the Office of Independent Counsel found at the National Archives refer to Vincent Foster's Swiss bank account.

The comments of Patrick Knowlton, a grand jury witness who had been at the park where Foster's body was found, were included as part of Starr's Report over Starr's objection. Judge John D. Butzner wrote to Judges Peter Fay and David Sentelle after Knowlton submitted a motion that his comments be included as part of an appendix to the final report, "I suspect that if we deny this motion we will be charged as conspirators in the cover-up," and concluded "I suggest we let the motion and attachments speak for themselves." Judge Peter Fay wrote that Knowlton contradicted "specific factual matters and takes issue with the very basics of the report" filed by Kenneth Starr. Knowlton's comments were ordered included as part of the official report on September 26, 1997. Two days later, Kenneth Starr filed a 9-page motion to appeal that the comments by Knowlton not be included in the report. The next day, Starr's motion was denied and Knowlton's comments were included as part of the final official Report on the Death of Vincent W. Foster.
See.  That's what we in the business call a smoking gun!  BANG!
5/12/16, 1:30 p.m.:  Hillary Clinton refuses to hire Jewish, not because of Bernie Sanders being Jewish, but because Monica Lewinski is.
5/23/16, 10:25 a.m.: Clinton's campaign is funded, in large part, by Donald Trump.  Trump has been keeping her afloat to sew dissension within the Democratic ranks.  Clinton knows this but keeps taking the money because she's feeling the Bern.
5/23/16, 10:26 a.m.: Speaking of feeling the Bern, she has several VDs, all from Bill, obviously.
6/8/16, 10:19 a.m.: Had to wait to get this confirmed but she once walked in on Bill having sex with a prostitute and engaged in a normal conversation about tax policy.  She didn't mind or care that the hooker was in a bondage outfit.
6/22/16, 12:45 p.m.: 95% of the campaign donations she has received are from foreign interests.  They are regularly routed through anonymous groups.  Most of these countries execute people for being gay.