George Michael was talking bollocks when he said drinks are free at Tropicana, because they're not, you're actually expected to pay for them, I got a bill last time I was there to prove it. But when he added that there was enough fun for everyone he was spot on. Especially when it comes to this coming weekend because on Friday July 9th Invicta 16 comes to the Tropicana hotel and casino in Las Vegas and Invicta always brings the fun.
In 2014 fans could be forgiven for being concerned for the future of Invicta when it lost a large chunk of it's exciting Straw weight division to the UFC's 20th season of the Ultimate Fighter. Invicta continued moving forward with it's ethos to provide a platform that highlighted the diversity of women's MMA, an identity that had gained it enough attention to be the first non UFC promotion to find itself on the Fightpass network.
Several years after that exodus and concerns for the depth of the Invicta roster have proved to be premature. President Shannon Knapp and matchmaker Julie Kedzie have never once undersold the fans when it comes to putting together awesome cards and in honour of being in the fight capital of the world they've excelled with this line up. Invicta 16 is stacked with name fighters whether they be popular Invicta mainstays or coming off exposure from time spent in the UFC. Along with fresh young talent that the promotion constantly scouts the amateur levels of all fighting disciplines for this show encompasses everything that has placed it in the hearts of MMA fans eager for some colourful showmanship and passion in their fighting, as well as that alternative rebelliousness that lay at the roots of the sport.
Invicta 16 preview: Main Event Amber Brown vs Ayaka Hamasaki
This main event is for the Atomweight title a very fast paced all action division, with both fighters true Invicta alumni entering into their fourth appearance in an Invicta cage. This should be an interesting scrap as both like to impose and dominate their opponents both standing and on the ground.
Hamasaki won the title last July in a spilt decision over Herica Tiburcio, having already being a champion for Jewels in Japan (like Invicta also an all women's promotion). Her only loss on her thirteen fight record is against current UFC straw weight contender Claudia Gadelha back at Invicta 6 in 2013. Most of her wins are against Japanese opposition and Hamasaki admits that she's found Western fighters a challenge due to being physically stronger.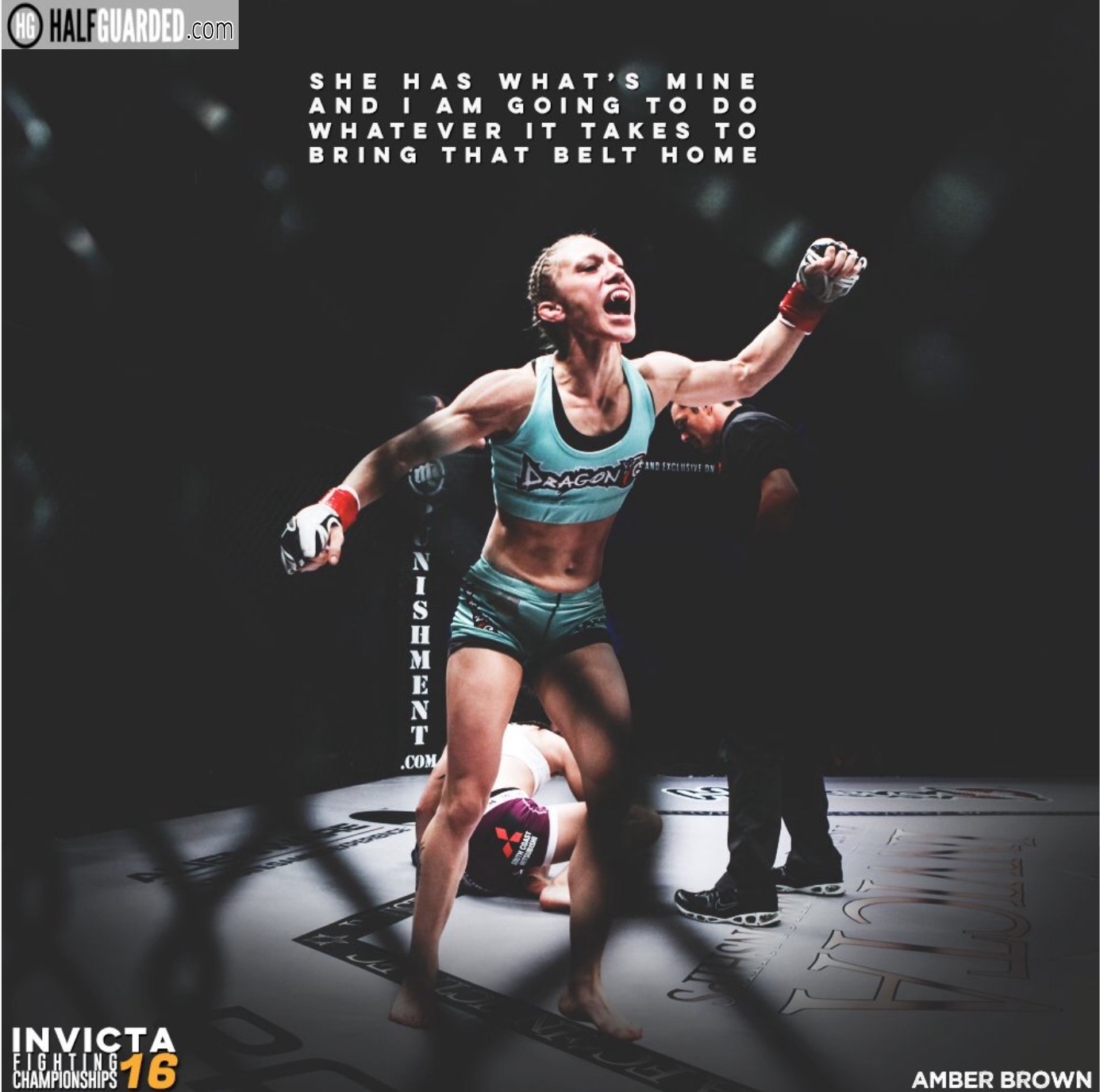 Challenger Amber Brown has been aching for a world title belt around her waist for a long time and with brutal first round submissions in her last two fights it was going to take a brave person to deny her that. Her first taste of combat sports was when she took up boxing as a way to get in shape after giving birth going so far as to actually turn pro and then transitioning to MMA after finding the sport too limiting. She's certainly taken advantage of the freedom of MMA, seeming to relish being in the clinch and loving kneeing and elbowing the hell out of her opponents. From her interviews you get that sense that Brown has that mental drive and work ethic that's going to pay off big time for her.
Invicta 16 preview: Jennifer Maia vs Vanessa Porto
This fight is for an interim flyweight title created while current champion Barb Honchank takes a temporary absence from the sport.
This is the second shot at the title for Vanessa Porto having being outpointed by Honchank back at Invicta 5 in 2013. She's a ten year veteran with an 18-6 record, with most of her other losses coming to top level name fighters such as Cyborg, and Amanda Nunes. Vanessa already has a submission victory over her opponent Jennifer Maia although it was five years ago.
Maia has been fighting professionally since 2009 (and boxed professionally before that) and has a 12-4 record with her last two appearances in Invicta seeing her lose decisions to Anna Debennett and Leslie Smith. However she has been picking up victories over in Brazil and in the last nine months has fought and won three times over there.
There's an absolute ton of experience in this match, both of their styles tend to lead to stand up boxing heavy matches so expect a very cagey, technical stand up fight here.
Invicta 16 preview: Angela Hill vs Stephanie Eggink
"Please Shannon Knapp I want some more!" What's staggering about this card is the number of fighters who also fought on the last Invicta show a mere 48 days ago (if my maths is correct which it probably isn't). Take Angela Hill, she had so much of a blast blitzing Alida Gray in less than two minutes at the last show that when Alexa Grasso pulled out of this fight against Stephanie Eggink with only two weeks notice Hill couldn't wait to jump back in there.
If Hill brings it like she did in January this could be a cracker (translation: very good) as Stephanie Eggink has a spectacular stand up style and in her four victories has beat UFC fighters Heather Clark and serial arse flasher and really weird person Angela Magana. With these wins Eggink easily qualified for a place on season 20 of Ultimate fighter however she didn't relish the drama and bullshit that goes with life in the house and instead opted to fight Katja Kankaanpaa on September of 2014 at Invicta 8. The fight was smashing (translation: really good) and was a better portrayal of the positives of Women's MMA than any of the bitchiness that the cameras focused on in the Ultimate Fighter house.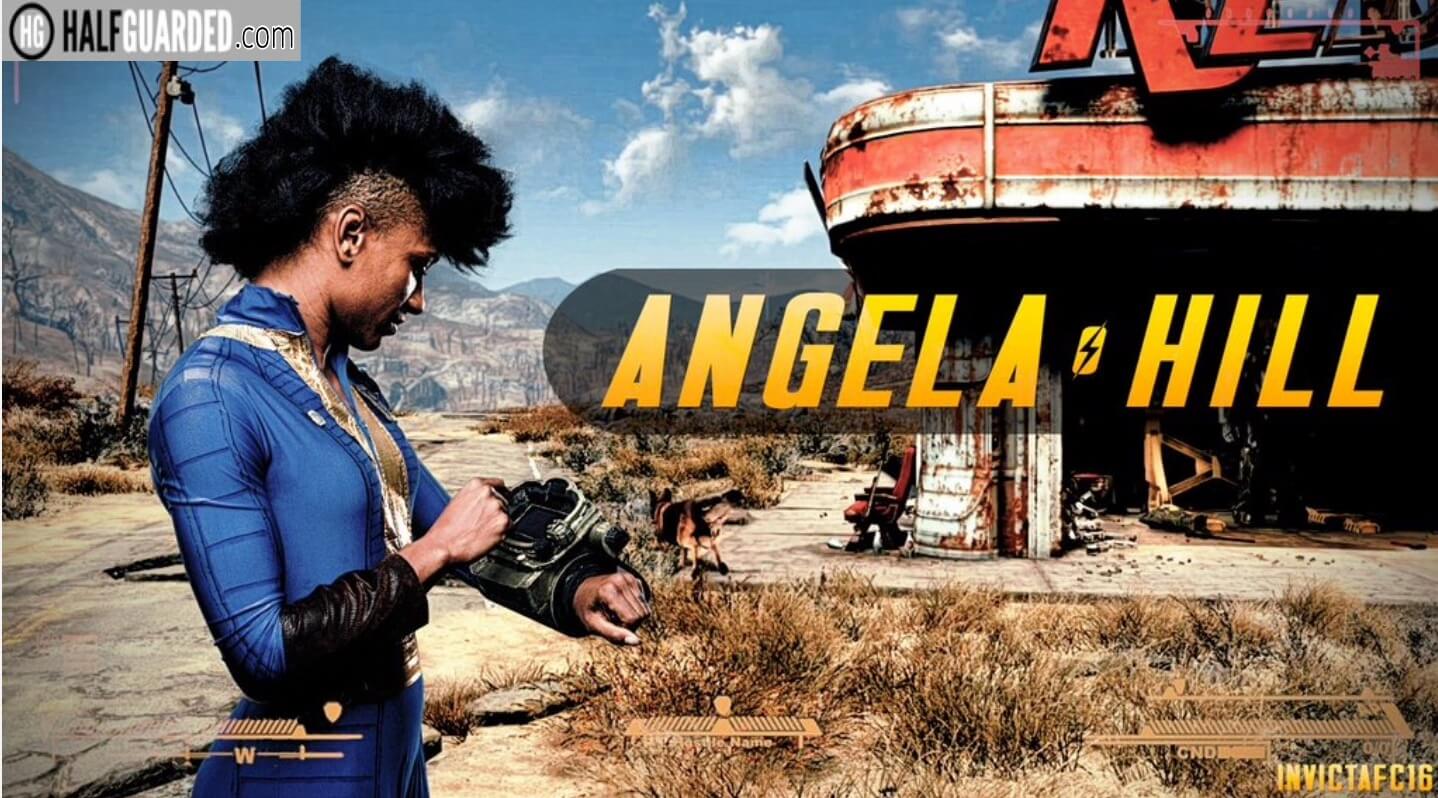 This is Eggink's first fight back after having a widdle baby ("widdle" is a deliberate mispronouncing of "little" in order to convey cuteness). On a personal level I'm hyped to have Eggink back in Invicta for a number of reasons. 1, she has a striking style that's so much fun to watch, 2, has the nickname "snowflake" which is an adorable choice but also apparently has a secret origin behind it's meaning and 3, she likes Star Wars and that makes anybody awesome in my book, especially seeing as I grow up in the era when us with geeky tastes got bullied and beaten up for our beliefs. But now we've inherited the Earth, free at last my people, we are free at last.
Invicta 16 preview: Irene Aldana vs Jessamyn Duke
It's an odd situation when you come face to face with an amazingly pretty woman at an MMA show and you're wearing a t-shirt with her face on it. But that's what happened when I was wearing my Four Horsewoman t-shirt last July and ran into Jessamyn Duke. Anyway the comment "cool t-shirt" made my night and it's the reason I'll be wearing fifteen offical women's MMA t-shirts next time I'm in Vegas just in case. But I digress.
Jessamyn Duke (which is an awesome name for a fighter even without the nickname "the Gun") is back in Invicta for a fresh start after several losses in the UFC, the last one of which was particularly tough on her as she came close to coming from behind to finish Elizabeth Phillips but her opponent managed to survive to take the decision.
Jessamyn brings a lot to Invicta. As well as having a star value as one of the four horsewomen her boxing style lends itself to some entertaining matches and if you need an example of this check out the absolute war she had with Rachel Pennington back on season 18 of the Ultimate Fighter. I remember going apeshit at this match, especially as it was at a time where as ridiculous as it sounds there was a sizeable resistance to women fighting in the UFC.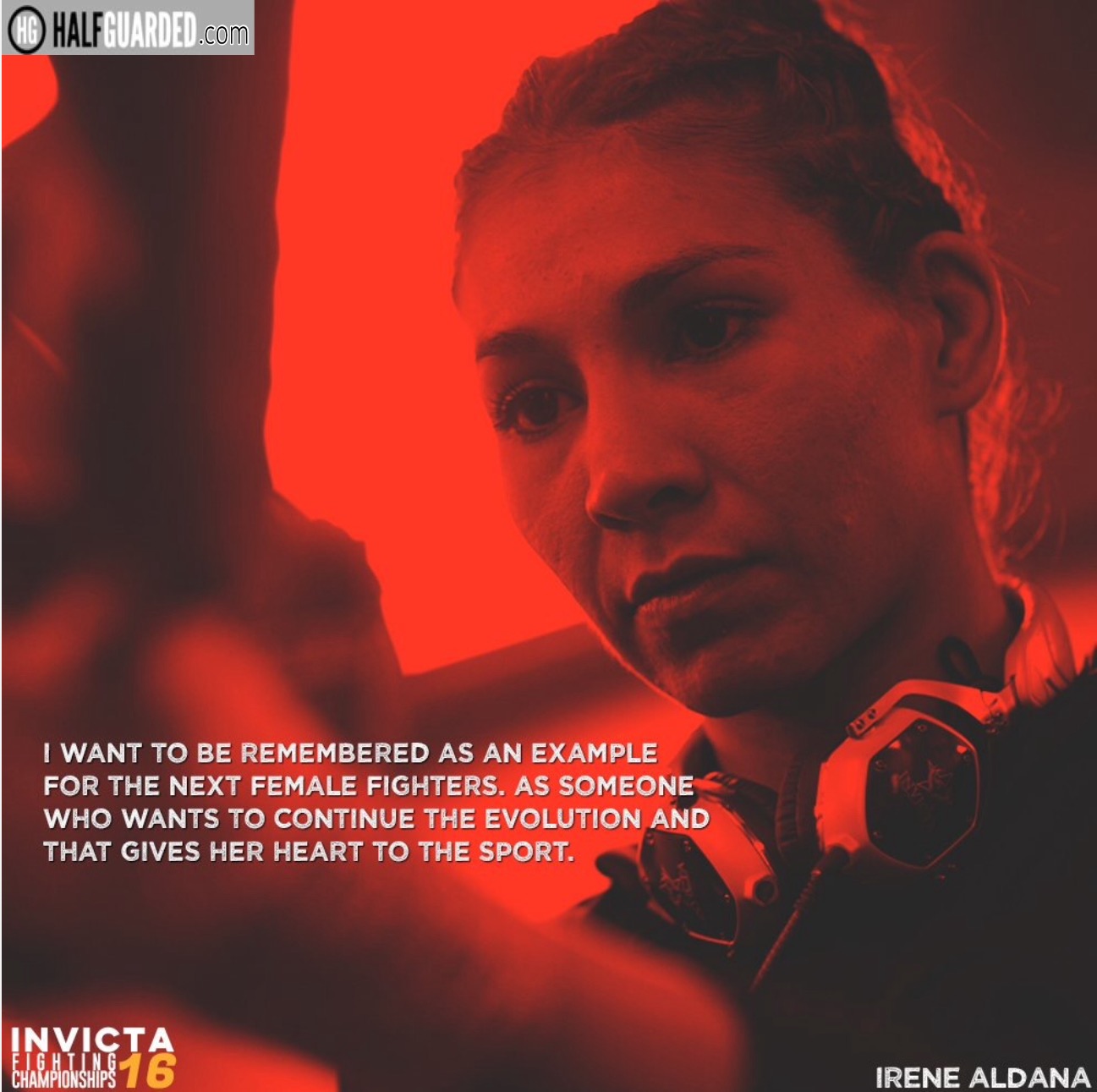 Duke has not been given an easy fight on her return to Invicta. Heavily touted Irene Aldana has won all her five wins in the first round and her first three under a minute (although the level of fighters in the first two may be suspect) Her two loses come to Tonya Evinger in her last fight which she went into despite suffering an illness and an incredible back and forth match against Larissa Pacheco for Jungle Fights in Brazil (seriously this is worth searching out on Youtube for).
This fight is full of opportunities for the winner and it could be a heated affair and one of the most anticipated of the card, maybe even match of the night.
Invicta 16 preview: Roxanne Modafferi vs Deanna Bennett
Yet another fight with someone appearing on back to back shows, as Deanna Bennett wanted to immediately jump back in the cage to get momentum back on her side after going down quickly to a body kick in her January title shot against Livia Renata Souza (I always want to say her name to the tune of Ricky Martin's Livin La Vida Loca).
Her fight with Roxanne Modafferi could be counted as a Invicta dream fight as both are big favourites with the audiences and between them have nine appearances for the promotion in the last 18 months. Roxanne has the experience and textbook technique that often surprises opponents and she's had a successful resurgence in her career through her time in Invicta.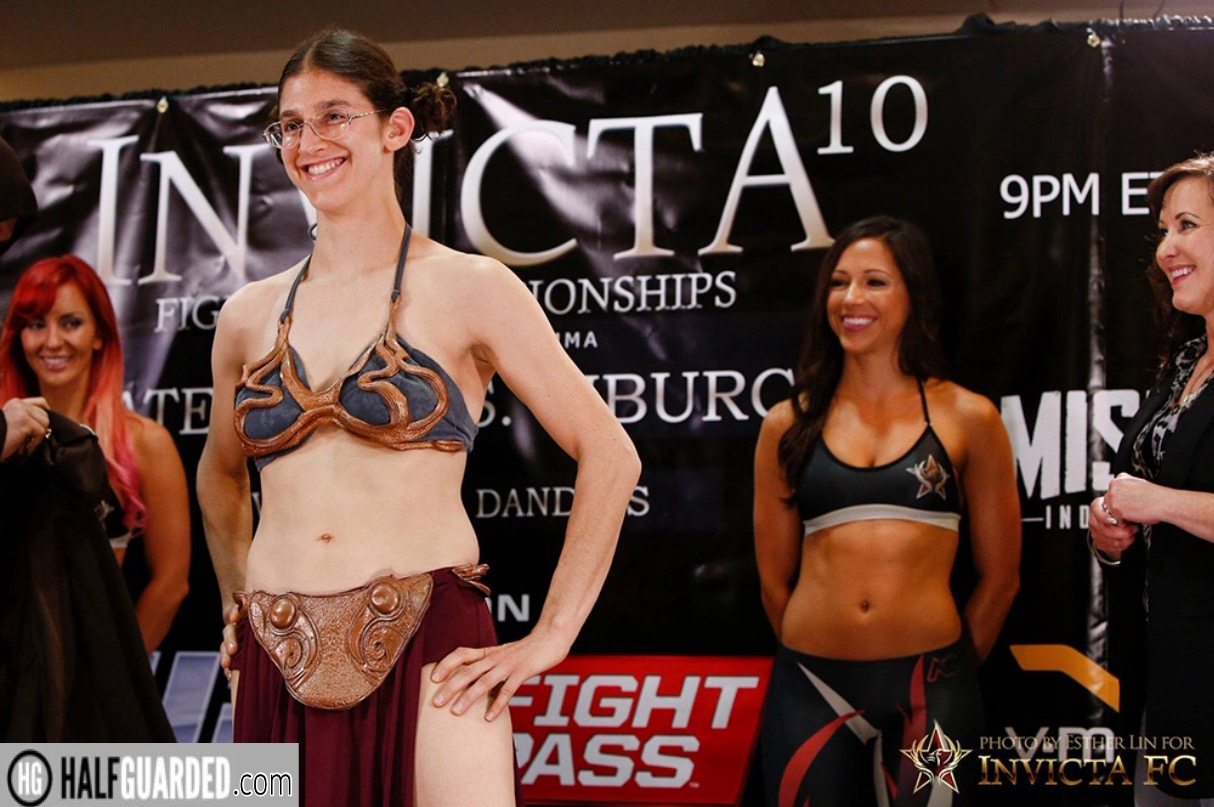 Of course the big question is what will be Roxanne's cosplay theme at the weigh ins and entrances this time out? My bet is Star Wars: Force Awakens Rey.
In truth this match actually tears at my loyalties as I'm a massive fan of both fighters. So I just have to sit back and enjoy the battle between two people I like, a bit like when my Dad had to tell my mum he'd accidently recorded over her Seven Bride for Seven Brothers video tape.
Invicta 16 preview: Herica Tiburcio vs Jinh Yu Frey
Herica Tiburico absolutely rocked Invicta to it's core when she defeated Michelle Waterson for the Atomweight title in one of the best fights in the promotion's history. She lost the title to Hamasaki last July in a split decision, so she'll be looking to get back on track doing what she does best, absolutely mauling her opponents with the intention of pulling their arms out of their sockets like a wookie that's lost at chess.
Although she'll have to get through a great warrior in Jinh Yu Frey to do so. Frey is a cracking striker (just check out her knockout of Darla Harris which became a sensation on youtube) and her last fight against Liz Mccarthy back in September was a clinic of standup fighting. The atomweight division is exciting as hell, relentlessly fast paced and if this goes any length of time this could be a fight of the year candidate and the winner should be next in line for whoever walks out of the Tropicana carrying the belt.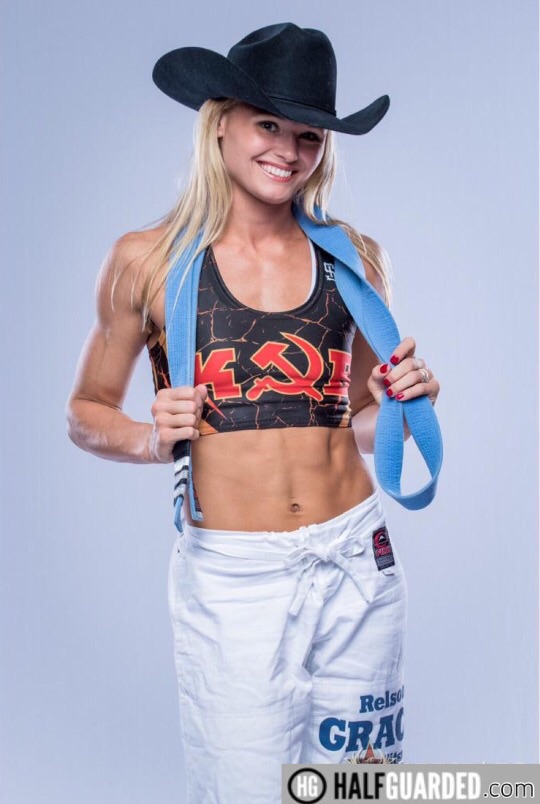 On Invicta shows even way down at the bottom of the card you'll find much to intrigue a dedicated fan. Tagged with that dreaded "superstar potential" label, Andrea Lee has a ton more experience in fighting than a 4-1 record would have you believe (she's had 40 plus fights in combat sports such as boxing, muay Thai if you include her amateur fights) and is on the card fighting tough, experienced Sarah D'Alelio. Both like to mix it up, this could be a good one.
Kelly Mcgill comes back after missing 2015 due to injury against late stand in Aspen Ladd. Both are 2-0 having looked impressive in their previous Invicta fights and have the well rounded MMA feel to the game that a new generation of young women coming into the sport have after having honed their craft on the amateur ranks.
Speaking of coming up from the amateur ranks two of Shannon Knapp's acquisitions make their professional debuts when Doll Face Ashley Greenway faces Sarah Click. Both come in with a fair bit of hype from the amateurs with perky, punky Ashley (is perky punky a thing? It should be. Young women with coloured hair and awesome tattoos and a happy disposition, there Perky Punky, I've named a movement) having waited some 18 months to fight for Invicta and Click having a seriously aggressive style and some frightening ground and pound. Invicta has proved very rewarding to talent that comes in and makes an impressive, entertaining performance so a good showing from the lasses her would see the promotion getting behind them and opening the doors for awesome things in 2016.
Invicta maybe small in the overall landscape of MMA, but I'd argue it's ongoing presence is of vast importance. Despite the Ronda Rousey phenomenon places for women on UFC and Bellator cards are scarce (total female fights for 2015 in the UFC were 40 fights amongst 41 shows) Without a dedicated American women's promotion women's MMA outside of the UFC would be reduced to the odd contest lost and scattered across the web of fairly invisible minor shows. Invicta gives a home and opportunity to women fighters, whether it be ones wanting to catch the eye of the major leagues or those simply wanting a viable career in the sport.
When I watch Invicta I'm not just watching to support certain fighters, I'm supporting the organisation that I desperately want to succeed. When I see the passion, the creativity, the personalities of the fighters and the whole crew working and expressing themselves on the platform that it provides and results in a show like on March 11th where every single fight interest me on some level…well to me it's already a success.
Invicta is MMA as I like it. Beyond the realms of regular society, colourfully over the top and exciting as hell.
Enjoy the show
Dazza