Dazza nailed the preview; we showed the half naked weigh ins; and so now it is time for the live show!  Invicta FC 17 is going to be awesome.  From Ostovich to Sinn to Anderson to Evinger to Hill to OMG THERE IS SO MUCH GOOD FUN!!!!!
Very classy opening with Invicta FC paying tribute to the sad passing of Jordan Parsons.
The cage announcer seems to know nothing about MMA. Just a feeling. Time for fights.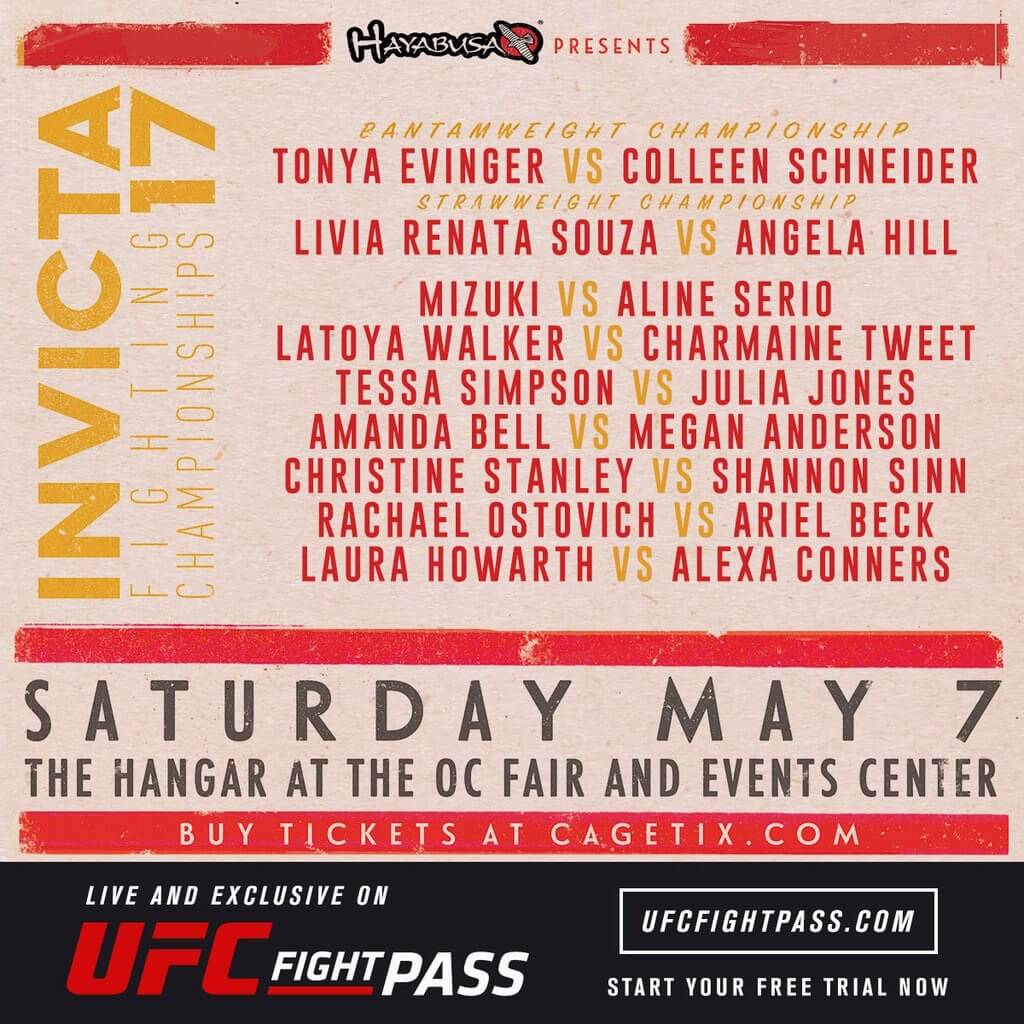 Invicta FC 17 FREE LIVE STREAM of consciousness RESULTS & RECAP – 9/8/7/6
Laura Howarth (2-1) vs. Alexa Conners (0-0) – Bantamweight
What Happened
ZZ Top is the ref.
Howarth is British so thus she cannot wrestle.
Howarth bouncing on her feet early, looking more comfortable striking. Conners is trying to cut her off but is mostly following through 2 minutes.
Conners traps Howarth against the cage a bit now. She certainly has the Brit a bit on her back foot. Howarth's trying to circle but Conners is walking her down.
That all said, Howarth is landing leg kicks even while playing defense.
Conners landa a straight down the pipe that may have been the best strike of round one.
Time for round two. Kicks can hurt "more later in the fifth." Professional speakers, folks.
Both basically throwing kicks to the body or legs in isolation. Yeah, it's just as exciting as it sounds …
Conners lands some punches. The Brit tries a takedown but … she's English so of course it failed.
Conners definitely getting the better now as she's cutting off the cage better and letting her hands go more.
BTW. Do not misunderstand: this is boring and sucks.
Conners sneaks through an uppercut and stuffs a TD from Howarth.
Howarth lands a spinning backfist. Crowd was all "oooooh!"
Same as before with Conners pressing and trying to cut off the cage. Howarth has adjusted a bit in that at least she's throwing random spinning things. She's still losing.
Conners with some kicks to the legs. They aren't turning things purple but rather "rug burn red."
That ladt joke sounds more sexist than I intended but I'm ok if you wanna go w whichever version makes you laugh.
Circle. Trap. Little punches. Repeat. Yawn. Thank goodness I didn't take any Ambien yet.
Winner: Conners, dec.
Should You Watch
No. Just … Never. It sucked.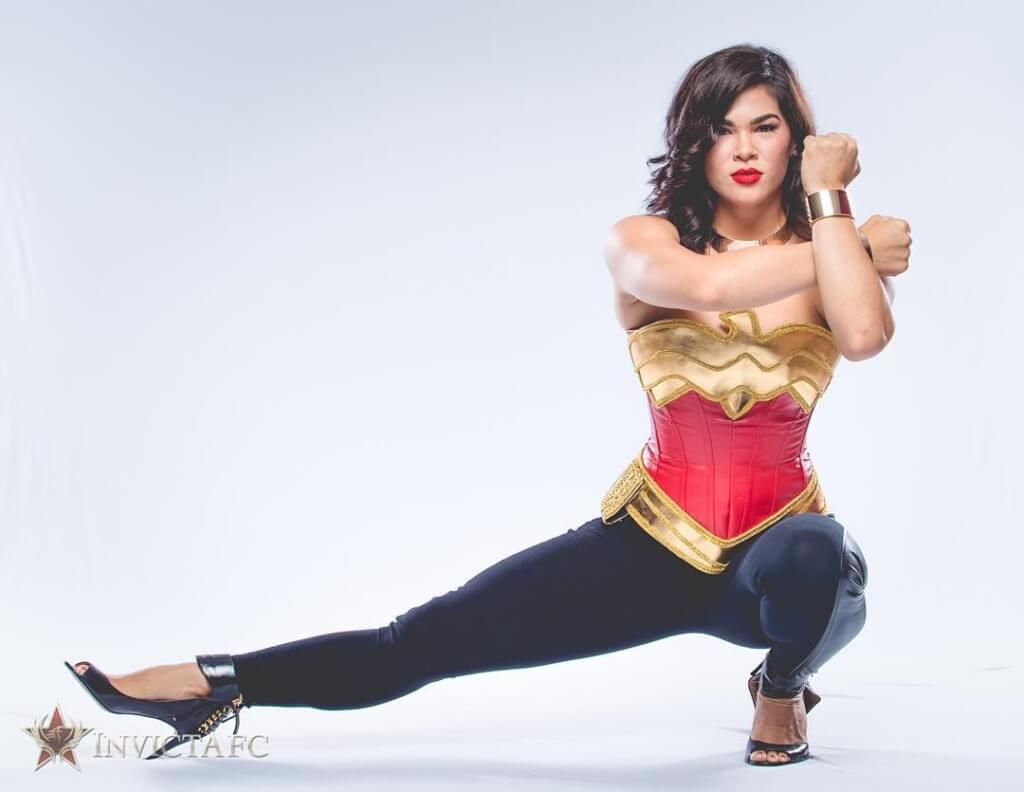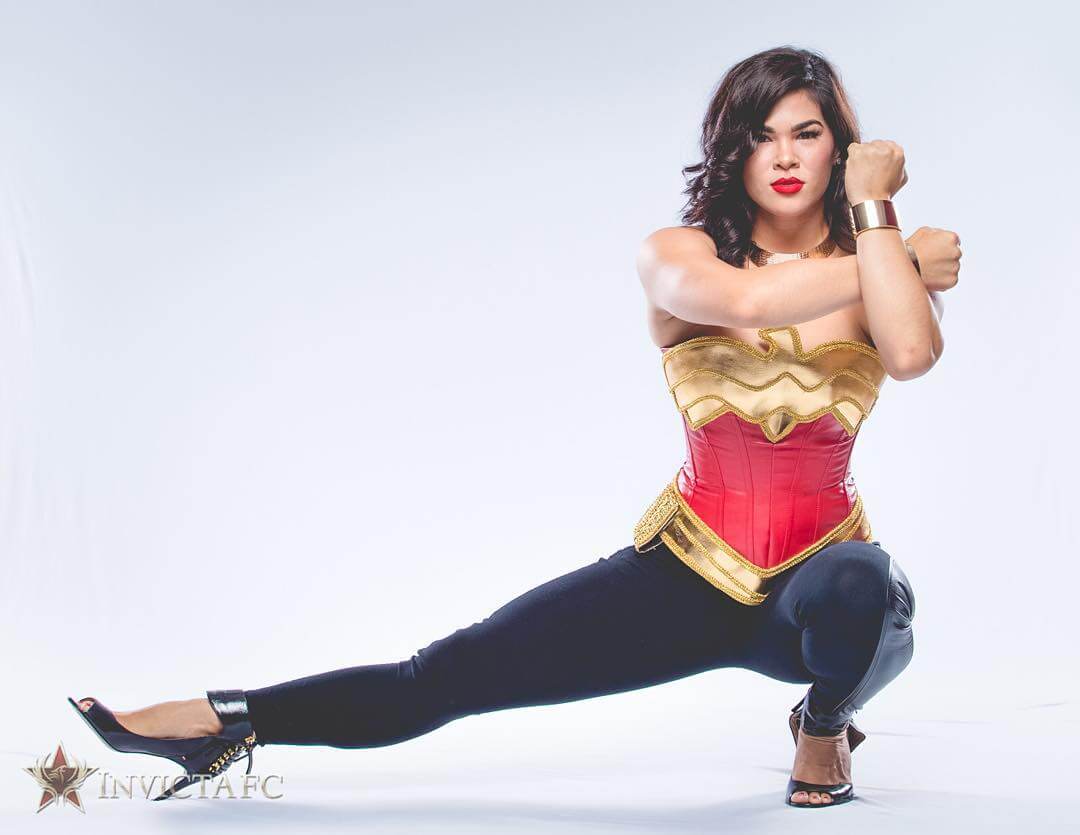 Rachael Ostovich (2-2) vs. Ariel Beck (3-2) – Flyweight
What Happened
Pount striking early.
Beck lands a strike and it hurts Ostovich. Ostovich responds by clinching to buy time.
Beck with a punch that hurts near the end of the round.
Ostovich really wants this on the ground – her strength – but can't get it so far.
Wonder Woman goes for a Judo throw. It is stuffed. She transitions to a heel hook but Beck stuffs it.
Beck feeling comfortable on top in halfguard(ed.com). Pounding.
They stand.
Diana (get nerdy or don't understand this shit) with a TD and Beck is on her back defending.
Ostovich passes to side control, then takes the back in a scramble. She has 90 seconds.
Choke? It's close. Closer. No. Wait… No!!! Crank! Ouch. Beck is tougher than you. Ostovich thinking armbar now. Belly down. Round almost over and… Beck survives!
Good round.
Beck lands a BIG left hand and hurts Wonder Woman. Ostovich tries to pull guard but Beck backs away.
Knee to the clay belly hurts.
Ostovich on her back ala Belfort vs Saku.
Half a round to go and this will decide it all!!!!!!!! DRAMA!!!!!!….!!!!!
Ostovich just punched Beck in … the vag? Looked like it.
90 seconds to go and Ostovich gets a TD. That is HYYYYYYYUGE!!!!
She passes right to crucifix position. Keylock??? No.
Beck stands but Ostovich grabs an arm in guillotine. It's closer than … Nope. Beck is out. Punches raining like a summer rain on a nice day.
Good fight.
Winner: Ostoving, split dec.
That was a surprise but not a robbery or whatever.
Should You Watch
Actually, yes. Last two rounds were very entertaining and round three in particular was good stuff.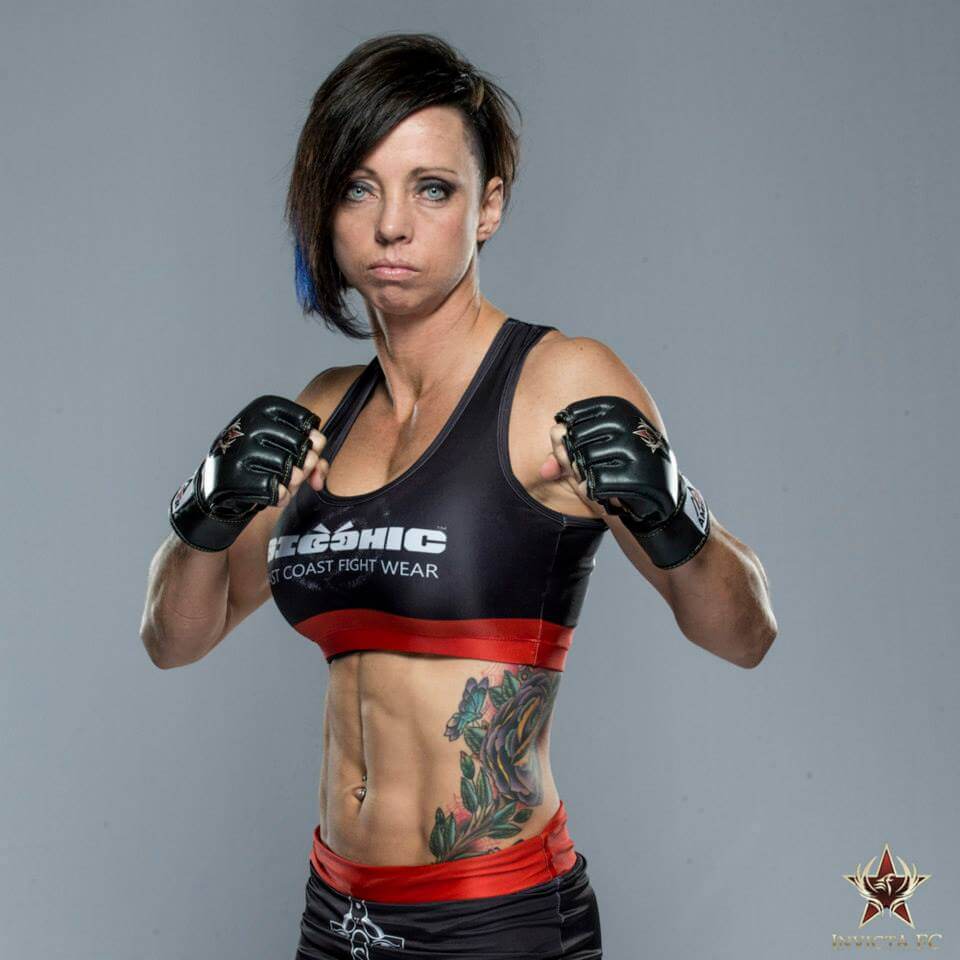 Christine Stanley (4-1) vs. Shannon Sinn (2-2) – Flyweight
I confess, and this isn't professional (but neither am I), I have a thing for Sinn. 1. I generally like chicks with her "look,"; 2. Her eyes are mesmerizing. They might be contacts but you see them and you're like "WTF?!?" … Wait. Sinn shaved off all her hair?!? Eh. Still does it for me. 
What Happened
Both are 35+. That's kinda cool bc you know they fight bc they love it bc they're probably not gonna make millions. (But we all obv hope they do.)(sure…)
How can Sinn bc an actual real last name? That MUST be made up. Or else she's the descendant of people burned at the stake.
Oh. Sinn's hair is NOT shaved. It was just the camera angle.  WHEW!!!
Stanley lands a Chuck Liddell like over hand right and that hurt.
Sinn clinches and tries a TD against the cage but no dice.
Stanley w a Spinny Kick.
Sinn has her right hand HIGH and Stanley has her hands low and chin high. Hmm…
Right hand, left kick by Stanley. She had Sinn on Sinn's back foot.
There's a joke about Salam but I can't think of it. (Sinn….)
Stanley is in her bicycle but she's still landing more, harder, and better. (How's THAT for analysis?)
Sigh. Just kicks and punches here and there but nothing big. One of my dogs sneezing a lot was more exciting.
Then Stanley "lands" a kick to the head. A kick to the head should hurt someone. That kick did not appear to hurt anyone.
I'm not typing anymore until something actually happens.
…
Well… THAT WAS ROUND THREE!!!
Winner: Stanley, dec.
Should You Watch
NO NO NO.
…
NO.
Watching my dogs eat bones was 100x more exciting.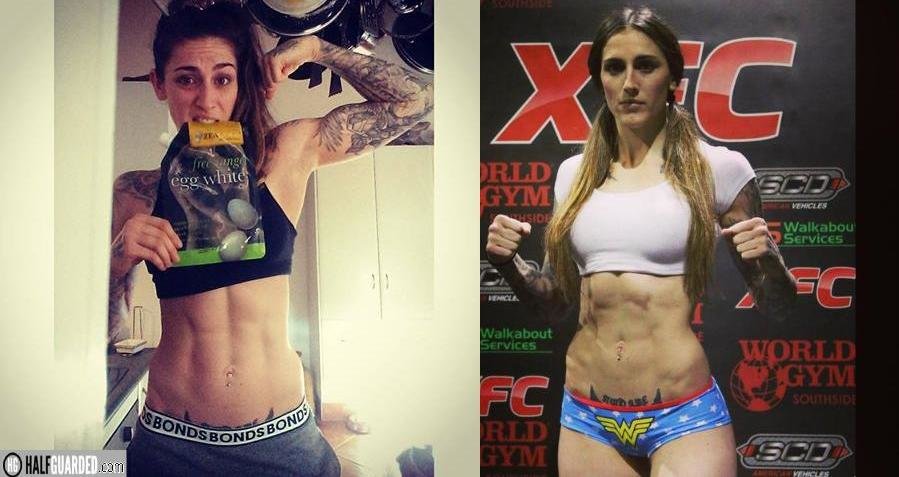 Amanda Bell (3-3) vs. Megan Anderson (5-2) – Featherweight
What Happened
I heart Megan, btw.
Anderson lands BIG early. Bell is in trouble. Might we finally see a finish?!?
Anderson stuffs a TD w ease. Knees,
Bell with a throw and ends up taking the back.
Bell has slowed things here.
Anderson escapes. She's on top. Her corner wants her to stand.
 Bell is rolling up her hips for submission attempts but they are not very serious. This leads to a brief scramble and they are both on their feet.
 Anderson with very solid double under hooks and she is defending the take down very well.
 Anderson is using her reach well and punching and throwing knees with ease. She is the clearly superior fighter on the feet.
Thank you, Siri for writing all this for me.
Anderson with a series of strikes. Kick to the head. Less than a second remaining and Bell is down!!! Herb Dean stops it!!!!
Winner: Anderson, R1, KO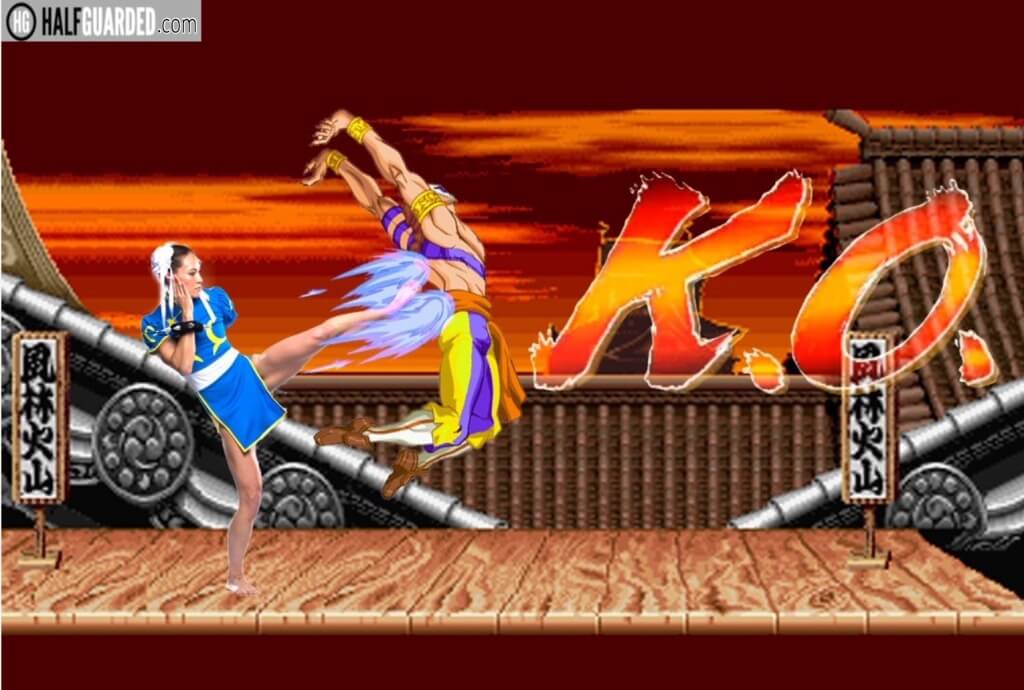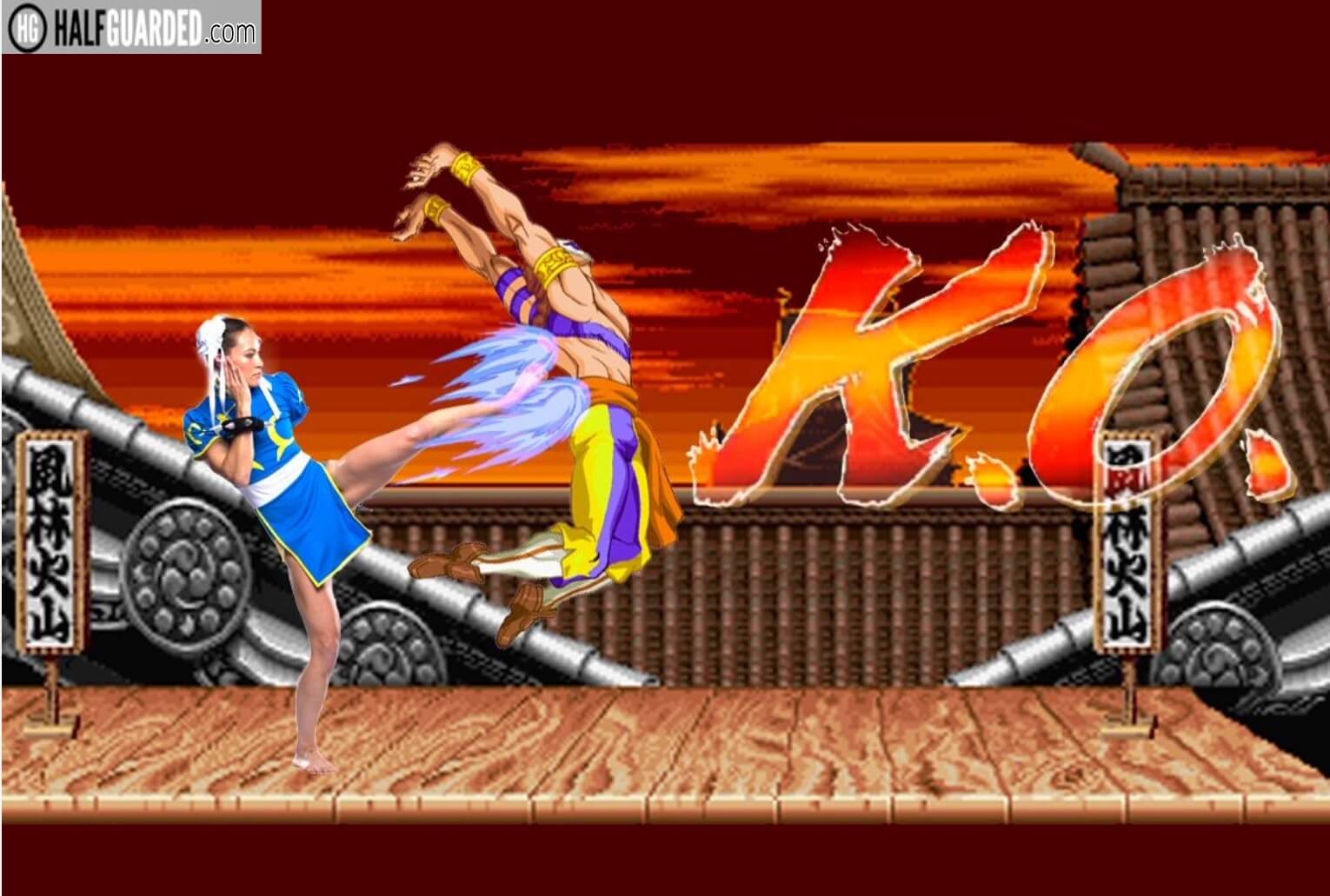 Should You Watch
First finish of the night says: yes! (Though it wasn't THAT good,  tbh.)
Aline Serio (9-5) vs. Kaline Medeiros (6-4) – Strawweight
What Happened
Kaline uses a keg kick to transition to a BIG takedown. Nicely done, girl who I don't know.
Kaline tries another TD as Serio stands. But Sterio threatens a guillotine. No go.
Kaline fakes and changes levels to secure a power double leg TD.
Serio stands. So we're back to … nothing happening.
Kaline with another TD attempt buuuuuut: it's stuffed.
Hey, Kaline with another TD. Who'd have thunk it?!?
Serio ea to to stand. Guillotine? No. They're up.
Kaline with a big right hand. Then a TD.
GnP. Right to the liver too. Ugh. More GnP. Serio is only barely defending.
Kaline being patient with her strikes, as she's in 1/4 guard.
Ref stips it after some more GnP.
A fair stoppage.
Winner: Kaline Medeiros, R2, TKO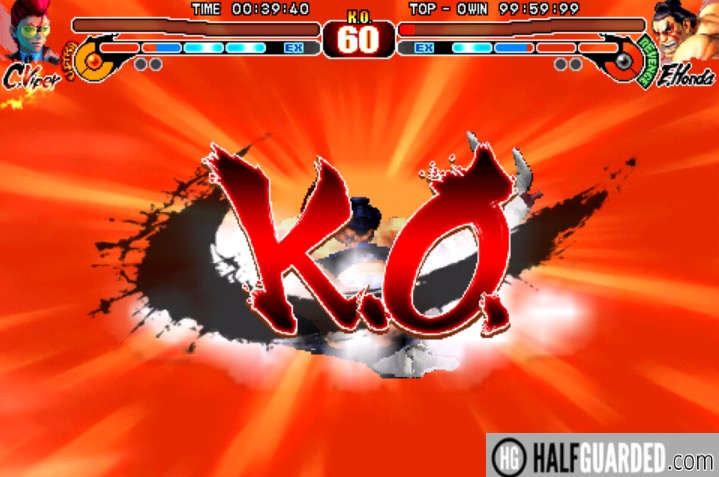 Should You Watch
It wasn't horrible but it wasn't great. If you watch it you won't be sad but if you don't you also won't be sad.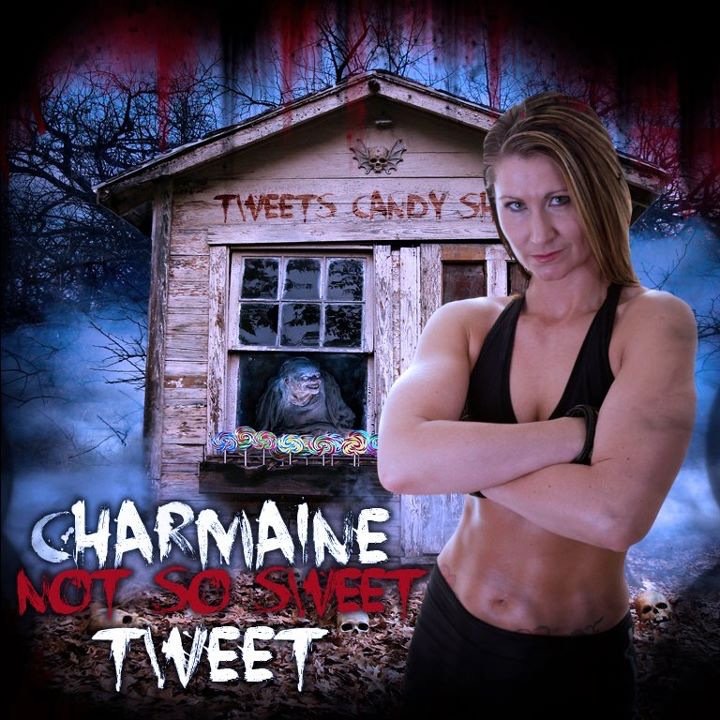 Latoya Walker (5-0) vs. Charmaine Tweet (8-5) – Featherweight
What Happened
There's another hot black chick w the name "Latoya Walker." If you look her up on Twitter there's many, many pictures of her ass in fitness competitions.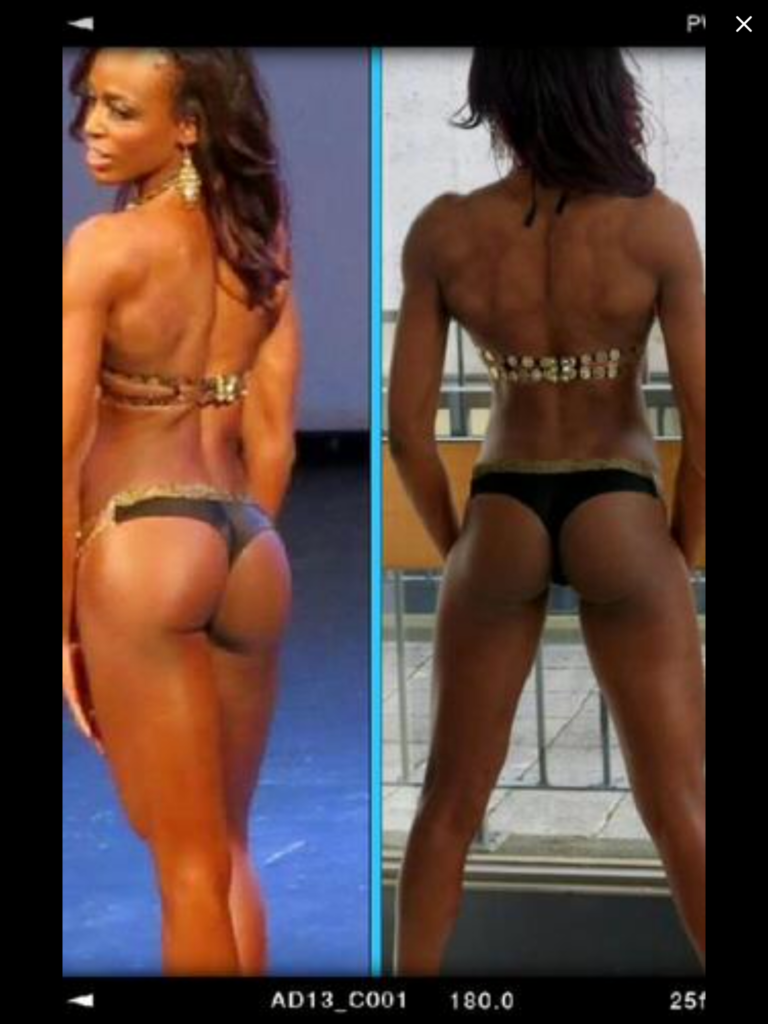 Walker gets the mount for a second. She doesn't wanna mess around with Tweet's ground game, I guess, as she stands up.
Tweet has a bloody nose. Not much else to say.
OMG!!!!!! TWEET LANDS A SPINNING BACKFIST OF DEATH!!!!!!!
Winner: Tweet, Ko…OF DEATH!!!!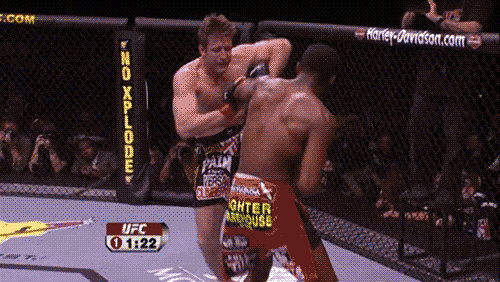 Should You Watch
Fuck yeah!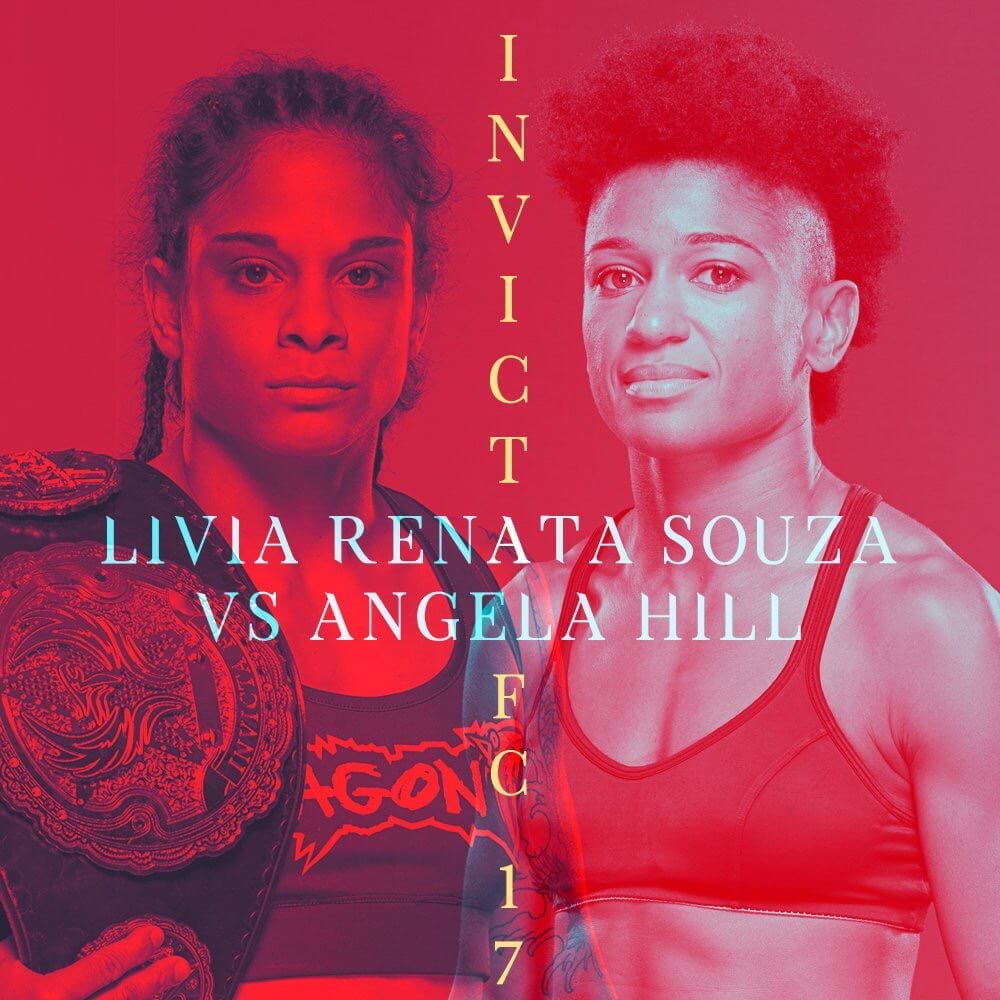 Livia Renata Souza (9-0) vs. Angela Hill (4-2) for the Invicta FC strawweight title
What Happened
Souza w an early TD. Easily. Side control.
Hill skips her hips to full guard.
Hill tries to stand in a scramble, but Souza grabs a guillotine. It's close but …. No.
They stand.
Souza w a TD attempt. Hill sprawls but Souza dives on a leg.
Hill tries to take the back but Souza won't let go of the leg. Round. Ends.
R2…
Souza opens w a VERY easy TD. Hill might be fucked here.
Souza w a DEEEEEEEEP arm in guillotine. Nope!
Dog has to piss, BRB.
Back and forth. Hill used her jab to mostly win on Souza.
Hill now picking apart Souza w strikes.
Souza with a nice TD. Hill gives her back as she attempts to stand but Souza stuffs it and Hill pulls to half guard(Ed.com).
Hill stands up.
Souza jabbing to the body. Hill looking for a solid punch but she's being hit harder tbh.
Hill lands a knee. That seemed to hurt the Brazilian.
close round.
 One minute in and no one has done anything significant. Just throwing isolated punches and kicks.
Hill  is slipping the wild punches and countering. It is not super devastating but it is still effective.
 The announcers are acting like a champion is down three rounds to nothing but I'm not really that should work. As far as I can tell this is a very even fight and Souza could be up 3-0.
Hill  is definitely in control. She is landing punches and kicks at will and has the Brazilian champion in trouble. But the round ends. Cloooooose.
Hill controlling w her jab.
 Mostly it is the Challenger doing something but not a ton. If you want to impress me then go out and dominate. Otherwise she is basically throwing 1-2 combinations and hoping to control rounds and thus the fight.
Souza shoots. Hill scrambles. Guillotine by the champ. NO!!! Armbar from Souza… No!!! Bell sounds the end of the fight.
Winner: Hill, split dec.
Should You Watch
Not terrible but if you never see it you'll die without regret.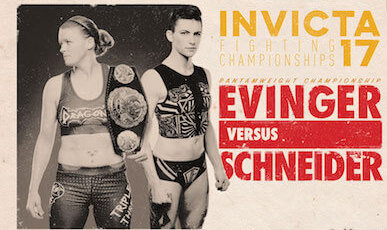 Tonya Evinger (17-5) vs. Colleen Schneider (10-6) for the Invicta FC bantamweight title
What Happened
Collen has some sorta symbol in her crotch that just screams "VAGINA!!!"
Tonya accidentally poked in the eye. I hope she's hurt bc this feels like it's going 25 and I don't wanna sit through that.
Tonya drops Colleeen w a jab and the jumps on the back. Hooks are in deeeeeeeep.
Punches. Colleeen isn't answering.
Moooooooore punches. Elbows. The champ is an animal here!
R2.
Evinger doesn't care to stand and trade so she gets a trip TD off a clinch.
GnP. Buuuuut Colleeen scrambles to get on top. She's hovering but not asking for a stand up.
Colleeen w brief GnP.
Tonya manages Day One BJJ sweep to start a scramble. But Tonya gets a TD off a scramble.
R3.
Colleen circling but seems unable to judge distance and actually land effective strikes.
Tonya shoots. Colleen pretends to go for a choke. Nothing happens.
This. Sucks.
R4.
Tonya content to grind away. THANKS FOR BORING US ALL!!!!
Evinger has the back, barely.
Fine. I'll post a picture of a hot chick (half the chicks on this show will like it)(stereotype joke):
R5.
They both refuse to go all out and fight and thus disappoint me. Thanks, ladies, for not putting your health on the line for 5 minutes of my joy.
They just stand at range & throw strikes here and there and then nothing,
i hate them both.
Winner: Tonya Evinger, dec.
Should You Watch
Noooooooooooooooo.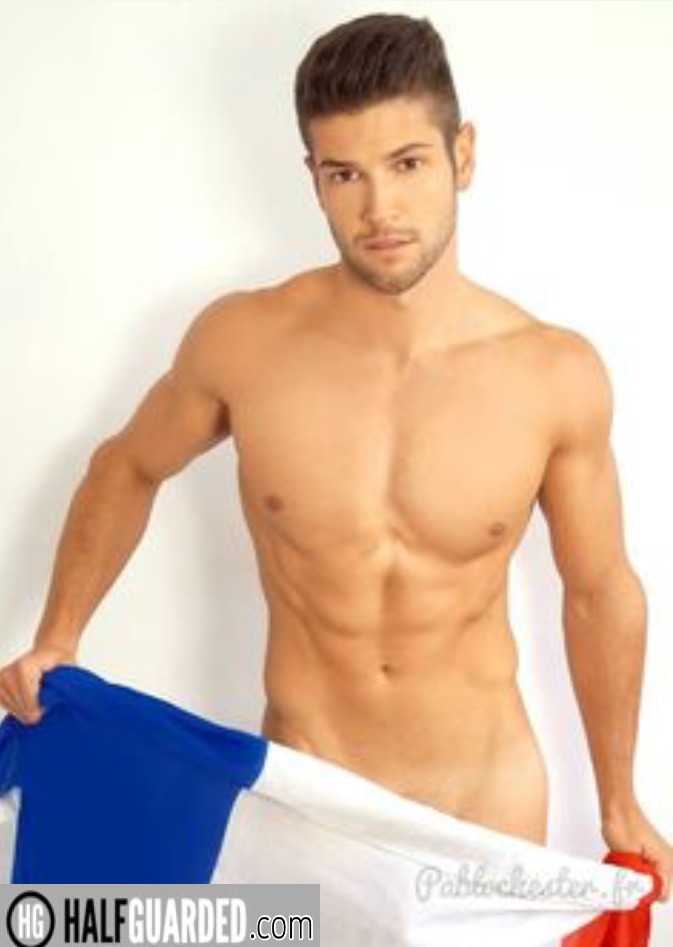 Quick & Dirty Invicta FC 17 FREE LIVE STREAM of consciousness RESULTS & RECAP – 9/8/7/6
(Winners in bold)
Laura Howarth (2-1) vs. Alexa Conners (0-0) – Bantamweight
Rachael Ostovich (2-2) vs. Ariel Beck (3-2) – Flyweight
Christine Stanley (4-1) vs. Shannon Sinn (2-2) – Flyweight
Amanda Bell (3-3) vs. Megan Anderson (5-2) – Featherweight
Aline Serio (9-5) vs. Kaline Medeiros (6-4) – Strawweight
Latoya Walker (5-0) vs. Charmaine Tweet (8-5) – Featherweight
Livia Renata Souza (9-0) vs. Angela Hill (4-2) wins the Invicta FC strawweight title
Tonya Evinger (17-5) vs. Colleen Schneider (10-6) for the Invicta FC bantamweight title