While UFC 211 is undoubtedly a stacked card, its timing is awfully inconvenient. Arriving just weeks after one of the best heavyweight boxing championship bouts in decades, the Stipe Miocic/Junior dos Santos rematch this Saturday feels … well, kinda' underwhelming.
It's not that either Miocic or dos Santos are unappealing fighters. Nor is their second tilt necessarily an unappealing matchup, considering their first fight (which dos Santos won by unanimous decision in late 2014) was a pretty decent throwdown. No, the problem is that – for a bout to determine the best heavyweight fighter in MMA – it just doesn't feel big enough.
Of course Miocic and dos Santos are great fighters. Alas, neither are household names and even hardcore MMA fans don't consider them candidates for best pound-for-pound fighter on the planet. These are not Brock Lesnar or Fedor Emelianenko-type box office draws. Hell, they're not even Randy Couture-level draws, for that matter. And quite frankly, the general sports world doesn't care who wins the upcoming title fight. That's because – as painful as it sounds – the UFC Heavyweight Championship is practically meaningless these days.
To be fair, heavyweight MMA – with the lone exception of the 2008-2011 Brock boom and maybe the 2003-2005 heyday of Pride – has always been pretty lackluster. For years and years there was NO star power in the UFC's heaviest weight class, with virtually unmarketable lugs like Tim Sylvia, Andrei Arlovski and Frank Mir swapping the belt back and forth for the better part of the 2000s. The saving grace in all of this (and perhaps the thing that ultimately made Brock Lesnar such a colossal commodity) was that, as bad as the heavyweight fray in the UFC may have been, heavyweight boxing was even crappier.
Anybody remember such all-time studs as Lamon Brewster, Corrie Sanders and Eddie Chambers? How about all those five-star classics Wladimir Klitschko had against such illustrious pugilists as Samuel Peter, Calvin Brock and THE Eliseo Castillo? After the 2002 Lennox Lewis/Mike Tyson bout, heavyweight boxing became about as lucrative as bootleg Demetrious Johnson merchandise; not only was it a joke, it was something much, much worse … it was completely irrelevant.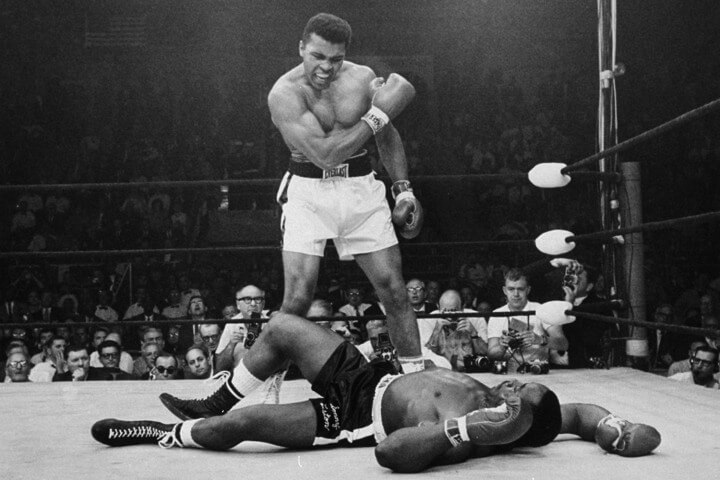 Up until the early 2000s, the heavyweight title in boxing meant something. Whoever held it was considered the "baddest man on the planet," and it was pretty much a given the man who wore that strap around his waist could punch the living shit out of virtually every other human being on the planet. THAT is what gave heavyweight boxing its prestige and made guys like Muhammad Ali, Joe Frazier, George Foreman, Evander Holyfield and Riddick Bowe among the most feared and revered athletes on the planet. Watching them apply their trade for that honor made each and every championship clash must-see television and bona fide pop cultural events.
But not even hardcore MMA fans are considering this weekend's Heavyweight Championship shindig that big of a deal. Virtually nobody out there believes Miocic or dos Santos are truly the toughest men in MMA, nor the most talented. Oh, it's been fun watching Miocic land noggin-knockers on Overeem and Werdum, and we've all got fond memories of dos Santos knocking Gabriel Gonzaga and Stefan Struve goofy. But this isn't the same thing as watching, say Jon Jones and Daniel Cormier tussle, or even Michael Bisping and Yoel Romero go at it. And it sure as hell ain't a bout of the same caliber as Wladimir Klitschko vs. Anthony Joshua – you know, that meaningless heavyweight boxing match a couple of weeks back that only sold out a paltry 90,000-seat stadium in London.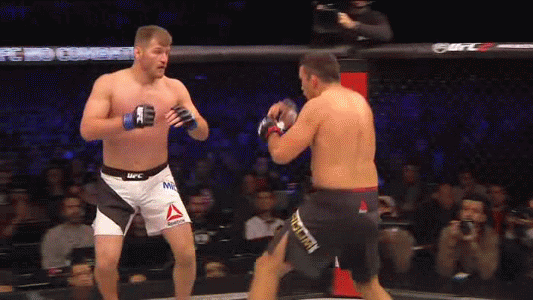 Taking a look at the UFC heavyweight contender lineup and the heavyweight boxing contender lineup, it isn't even close. Factoring out the always-injured Cain Velasquez, beyond dos Santos and Miocic the UFC has precious little to work with. Fabricio Werdum? Past their primes Mark Hunt and Reem? That both Andrei Arlovski and Travis Browne remain top ten fighters tells you how paper thin the division is. Right now, the closest things the UFC has to "heavyweight prospects" are Derrick Lewis and Francis Nganou – decent fighters, to be sure, but hardly the kinds of athletes you'd consider breakout superstar material.
Meanwhile, boxing has Anthony Joshua, Deontay Wilder, Tyson Fury, Wladimir Klitschko (who still has another five years left in him, at the absolute least), Luis Ortiz, Joseph Parker and a resurgent Kubrat Pulev all mixed up in the World Heavyweight Championship title hunt. Practically any combination thereof is worthy of a PPV headliner, whereas the UFC's Heavyweight Championship contingent is barely capable of headlining a free show on Fox.
Of the five main card matchups at UFC 211, how odd it is that the main event – for the company's biggest title – is perhaps the least intriguing and the least relevant. Tis a pity, considering Miocic and dos Santos are certainly capable of putting on a barnburner. But no matter who walks away with the strap Saturday night, there's hardly any interest in what the next championship scrap is going to be. Miocic vs. Lewis? Dos Santos vs. Nganou? Does anybody out there really get excited at the prospect of Miocic/Overeem 2, or Hunt vs. dos Santos 2 or Hunt/JDS vs. Werdum?
If Velasquez can remain healthy, maybe Junior/Cain IV would be worthy of PPV money, and it would be interesting to see if Miocic's granite chin could survive an onslaught from a returning Brock Lesnar (although that scenario seems about as likely as C.M. Punk challenging for the Welterweight title.) Really, the fate of the UFC Heavyweight division hinges on whether or not it can successfully absorb a few Light Heavyweight stalwarts for the sake of refreshing matchups – who wouldn't want to see Daniel Cormier, Jon Jones and Alexander Gustafsson move up a few pounds to test their mettle against the great 220-pound gatekeepers?
But such hardly seems realistic. Rather, it looks like we're going to be stuck with the same old, uneventful heavyweight skirmishes for the foreseeable future. Unlike boxing, the UFC hasn't been able to create new heavyweight stars, and with no up-and-coming fighters to hand the baton to, what's the point of watching a bunch of Pride left-overs duking it out with Bellator castoffs for a title less valuable than the 145 women's gold?
On the heels of Joshua/Klitschko, I'd like to say Miocic/dos Santos has a lot to live up to. Unfortunately, not even the UFC itself has much faith in the viability of its biggest weight class anymore – and how sad it is that MMA's most larger than life figures no longer cast much of a shadow on the Octagon canvas.