---

Loading ...
---
Stipe Miocic is the UFC Heavyweight Champion of the World.  He won said belt on Saturday after knocking out Fabricio Werdum half way through the first round.  That's a pretty good claim to being the best heavyweight on earth.  But is he?
Winning one fight does not necessarily make someone the best on earth.  It might get someone a shiny belt but to actually be the best is different.  Jon Jones didn't technically have the UFC Light Heavyweight Championship but did anyone think he wasn't the best?  When Matt Serra KO'd Georges St. Pierre, he may have been champion, but was there a soul that seriously thought he was the best welterweight on earth?  Of course not, in both cases.  The belt is nice, and as a general rule it does signify that someone is the best.  Is that the case with Miocic?
He has two losses in 17 fights, which is pretty damn impressive in a division where one punch generally ends a fight.  The loss to Junior dos Santos was an incredible war and one which either man could've won – but it was still a loss.  The Stefan Struve loss is more difficult to ignore, because he was flat out finished.  Still, that was almost four years ago and Struve is a tricky fighter to deal with due to his abnormal proportions.
It's Miocic's most recent work that naturally makes his strongest case.  He finished Mark Hunt and then beat both a surging Andrei Arlovski and Werdum, both with one-punch KOs.  Add in professional wins over Roy Nelson and Gabriel Gonzaga and you have the markings of a guy who can claim to be the best.
The other heavyweight contenders
Miocic isn't alone on top of the mountain, or at least isn't the only one who can maybe stand on the peak.
Alistair Overeem.  Four wins in a row, three by KO/TKO.  Struve, Nelson, dos Santos, and Arlovski is a good run of guys.  The knock on Overeem isn't really what he's done now, it's how he faltered upon arriving in the UFC.  After years of hype that a new 'Reem existed due to PED use, he immediately shit the bed and went 2-3 in his first five Octagon appearances.  Nonetheless, he's reinvented himself lately, is less reckless, and the proof is in the winning streak pudding.
Junios dos Santos.  Hey, he has a win over the last three men to be champion, having the previously noted W against Miocic, and first round KOs of both Werdum and Cain Velasquez.  Of course, he also has a recent KO loss to Overeem and two losses to Cain.  Though a recent five round walk through of Ben Rothwell has helped his stock a great deal.  It's tough to not give credit to the last man to beat Miocic, even though he likely doesn't have a solid claim to being best in the world otherwise as the decisive nature of the Cain fights will always linger.
Cain Velasquez.  Injury.  That's all you need to say.   He was without doubt the king of the world before he ran into Werdum, beating everyone he'd ever faced, avenging his only loss.  If there's a knock on Cain that isn't injury related it's that for five years he basically only fight JDS or Bigfoot Silva.  Sure, one was a classic trilogy but it's still half a decade beating up two guys.  The Werdum loss is *maybe* explained by the elevation of Mexico City.  Of course, a guy who is legendary for his cardio losing because he couldn't fight for even ten minutes is embarrassing.  The fight with Browne at UFC 200 will be huge.  That and if he's invested in a stem cell research.
Ben Rothwell.  I couldn't believe it, due to a lifetime of never believing someone actually paid him $250,000.00 to fight for Affliction (Trump…), but a four fight win streak, with KOs of Overeem and Josh Barnett had him maybe one win away from a title shot.  But he didn't get that one win, as JDS just owned him for 25 minutes.  He isn't the best.  Whew.
I'd like to say Mark Hunt but he realistically isn't here.  Good, fun, could've almost been champion but he's lost lately and seems destined for bride's maid status: which is a big improvement over previously when the world had written him off as forever irrelevant.
Stefan Struve?  He's come up a lot in this so far but he's an easy Nope.  2-3 in his last five, with the wins being over Old Man Nog and Bigfoot Silva.  The win over Miocic is a feather in his cap but it's the only one, with losses to 'Reem, Hunt, and Jared Rosholt (who the UFC cut roughly 6 months after he beat Struve) keep him down.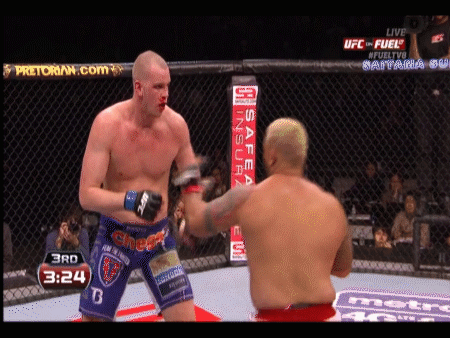 Travis Browne.  I'll save Ronda's boy toy for last.  Is he number 1?  No.  Recently, he's slid.  2-2 in his last four, solid losses to Werdum and Arlovski, with the wins being Brendan Schaub and Matt Mitrione; not exactly the best of the best.  But for a time, Browne had three in a row over Gonzaga, Overeem, and Barnett.  Like Cain, he has a lot running on UFC 200.
So, who is the best?  Miocic has earned his title and isn't an insult as champion.  But he still has work to do in order to truly solidify himself as the undisputed best in the world.  An upcoming fight against Overeem, maybe in NYC, would remove all doubt.  For now, maybe there's some doubt as to the legitimacy of his reign but he who wears the crown gets to call himself king.