For decades, the term "the baddest man on the planet" has been used to describe boxing's world heavyweight champion. It means precisely what it states – whoever has that strap around his waist is supposed to be able beat the snot out of anybody else walking God's green earth.
Sure, the lighter competitors may be faster, more athletic, more technical and showier, but none of that pound-for-pound greatness can match the sheer power of the heavyweight. Roman Gonzalez may be the most dominant fighter in his division right now, but we all know that if he had to scrap against Vladimir Klitschko, one punch from the Russian would send El Chocolatito into a vegetative state.
The roll call of men who could rightly lay claim to being the absolute baddest is an impressive list, indeed. Jack Dempsey. Joe Lewis. Rocky Marciano. Muhammad Ali. Mike Tyson. Evander Holyfield. Lennox Lewis. All master craftsmen of violence, whose indelible stamp on humanity is verifying Newton's Second Law of Motion in the most brutal ways possible.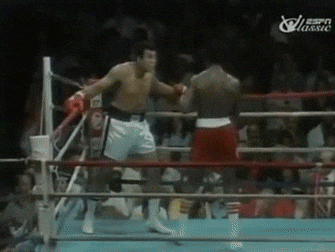 Up until recently, the distinction meant more than being the best among your peers. It meant you were the absolute best period, a superlative honor unrivaled by any other accolade in sports. Now – after a good 15 years of divisional stagnation – the boxing world eagerly awaits the most important heavyweight boxing match since Tyson vs. Lewis in 2002 – an inevitable clash between undefeated American slugger Deontay Wilder and outspoken British brawler Tyson Fury. You know, assuming it doesn't take half a decade to happen like Mayweather vs. Pacquiao.
Alas, while the heavyweight fray in boxing is looking up nowadays, the 220 pound-plus picture in MMA is a different story. Mixed martial arts fans, reporters and, well, mixed martial artists themselves, seem to agree the current heavyweight division is the sport's least entertaining. While scores of fresh matchups add intrigue to the middleweight and welterweight title pictures, there is a considerable dearth of interesting bouts to go around in the heavyweight division. And making things worse, unlike the lower weight classes – which are filled to the brim with established and emerging crossover superstars – the heavyweight world remains without a marketable face.
Without question, Fabricio Werdum vs. Stipe Miocic – as talented they may be – is not the marquee heavyweight matchup the UFC wants. Unfortunately, that's the path fate – and quite frankly, flat out bad luck – has (almost) taken us.
Historically, the UFC heavyweight picture has always been a mixed bag. Its first year in existence, 1997, the belt changed hands three times, and it went an entire year and half before being defended again. The division had to wait until 2000 before it had its first long-term champion, Randy Couture, who in turn dropped the belt to a man who tested positive for the 'roids (and believe it or not, he's still on the active roster today.) The next five years, the belt was passed around like a hot potato, with long time divisional stalwarts Andrei Arlovski, Frank Mir and Tim Sylvia all getting their hands on the strap. Meanwhile, Fedor Emelianenko dominated PRIDE FC, despite fierce competition from Big Nog, Mirko Cro Cop and, uh …. well, that's about it.
The big turning point, of course, was when Brock Lesnar won the UFC Heavyweight Championship in Nov. 2008. For a time, at least, he was the biggest MMA star in the world, headlining the top grossing UFC PPV of all-time. And with talented up-and-comers like Junior dos Santos and Cain Velasquez – plus imports like Alistair Overeem – waiting in the wings, it seemed like we were destined for years of entertaining, competitive and highly desirable monster mashes.
And then, everything started to collapse. Shane Carwin retired amid rumors of performance enhancing substance abuse. Todd Duffee – once considered a Lesnar-sized prospect, believe it or not – fizzled out. Brock Lesnar got embarrassed by Cain Velasquez, and the UFC as a whole got embarrassed when their primetime TV debut bout concluded with Junior do Santos KO'ing Velasquez in barely a minute. Then Lesnar said he was done dealing with MMA altogether, and the UFC was forced to book mismatches like Velasquez vs. Antonio Silva and dos Santos vs. Mir, with all roads eventually leading to yet another underwhelming Velasquez vs. dos Santos tilt. Fedor never came to the UFC, and he started losing fights galore, Overeem got exposed (so much for the "new" face of the division) and due to remarkable divisional atrophy, lower-tier guys like Mark Hunt, Ben Rothwell and Roy Nelson all found themselves at least one fight away from competing for the belt.
Today, the MMA heavyweight landscape looks incredibly barren. Of the 36 fighters currently on the UFC's divisional roster, approximately a third of them have losing records under the Zuffa banner and half of them have five or less fights under their belt (with five having yet to make their company debut.) Its roster is comprised of veterans who, after experiencing a spate of recurring injuries, are now mere shells of themselves – proud, former champions like dos Santos, Velasquez, Mir, Arlovski and Overeem are all well past their primes at this point. Fighters like Stefan Struve, Travis Browne, Matt Mitrione are gatekeepers at best, and "up-and-comers" like Jared Rosholt, Derrick Lewis and Ruslan Magomedov hardly seem like stars-in-the-making … or for that matter, even long-term championship threats. And folks, you don't even want to know how bad it looks over in Bellator. You don't even.
The real tragedy of UFC 196 is that, for all intents and purposes, Werdum and Miocic indeed represented the two best heavyweight fighters in the world right now. That is no slight against them, of course – Werdum is arguably the last of the truly great "old school" heavyweights left and Miocic is certainly the most explosive of the division's "new wave." That said, the numbers game is hard to overlook here; the reigning champion is 38-years-old – the oldest champion in the UFC – and the "up-and-coming" challenger is 33. Save Holly Holm, there isn't a champion 155 pounds and lighter older than 31.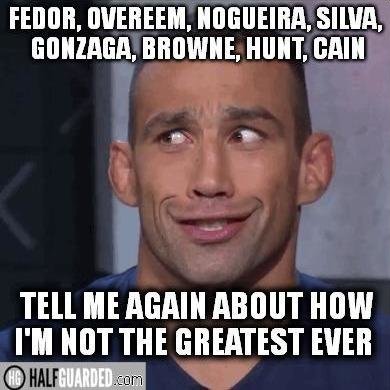 Sure, there is the offhand chance that Light Heavyweights like Daniel Cormier and Jon Jones get an urge to try out the division. And yes, while the UFC is investing quite a bit in international prospects, it is hard to imagine fighters like Marcin Tybura, Bilyal Makhov and Damian Grabowski ever becoming household names – and no, it's not just because they are really hard to pronounce, either.
That the UFC has to raid the Eurasian circuits for gatekeeper fodder indicates the bigger problem – that, for whatever reason, the sport simply isn't cultivating enough heavyweight competitors, especially in the U.S. market.
It's a pity that Werdum/Miocic scrap got cancelled. Even more pitiful? That's probably the best matchup we'll be seeing out of the division for the foreseeable future.