Serenity 2 is the sequel, we all hope, to the legendary Serenity movie, itself tied into the even more legendary TV series, Firefly.
Poll: Are you interested in Serenity 2?

Loading ...
Serenity 2 Plot
Serenity ended the way it began: the crew are a bunch of space pirates on the run from the Alliance.  It's important to note that, no matter what happens, this will always be the case.  Nathan Fillion's "Mal" is simply always going to want to exist on the outskirts of society.  That's his raison d'etre.  The Alliance isn't necessarily inherently evil so much as it is restrictive.  Mal lives to simply live.  He's going to be against whatever is next, not because he's petty but because he knows there is value in boundaries being skirted.
As Serenity ended, Mal and River are out on the lamb, more or less, as the Alliance has been weakened but hardly destroyed and The Reavers still exist as an ever present threat.  This is a universe so dense with possibilities that a TV show really is the best way to move forward.  Firefly held on as long as it could but Serenity was its eulogy.
For the story to continue, whether TV or movie, one suspects that River will take a much larger role.  She's obviously special in a way none of the other humans are.  Her psychic powers and ability to single handily kill Reavers makes her an outlier.  But the theme of Serenity/Firefly has always been the power of the outliers; the necessity of freaks in the world.  And how better to finalize that point than for River herself to be the one to bring about the end of the Reaver threat?
Because that's where things go in the end.  The Alliance, again, is a massive collection of humans.  It isn't The Empire, afterall, it's "The Alliance" a somewhat benevolent term.  Its formation is more out of necessity than anything.  It is no more evil or good than those in control of it.  And with the Reavers still existing, there can never be peace.  The Reavers are a threat that must be dealt with.
I would also expect Chiwetel Ejiofor as The Operative to return.  He's become a bigger star since but still feels like he's always on the cusp of truly breaking out.  His redemption story, from hunter to messenger to maybe finally becoming a Shepherd would be fulfilling.
The first Serenity just set the stage.  Don't forget: the goal was to send a message to the people at large.  It was a cry to change, to unite, to be better than the status quo.  But why be better?  The Reavers, duh.  As Serenity ended, the Alliance was getting its first wake-up call.  With the call answered now is the time for the Reavers to be eliminated.
And River is the one to do so.  I'd expect no less from a Whedon film, as he's always been a proponent of strong females.  Mal may be the funny, charming leader of the rag tag heroes but River is the ultimate hero.  Her abilities make her unique capable of defeating the Reavers.  Serenity 2 will see her do just that.
Serenity 2 Director
Obviously Joss Whedon directs Serenity 2.  At one time, maybe that would've been a pipe dream but now that he has established his credentials as Hollywood's Uber Action Director with the Avengers franchise, he can do whatever he wants.  And this is a world that means everything to him.  He fought tooth and nail to get the first Serenity filmed and he clearly has more stories to tell.
Serenity 2 Writers
And those stories are only going to be told by Whedon himself as he writes Serenity 2.  Oh, he may bring in his brother to help but make no mistake: Serenity is his baby.  Buffy the Vampire Slayer was his interpretation of a previous work as was Avengers.  This is his universe; this is his Star Wars.
Serenity 2 Posters & Pictures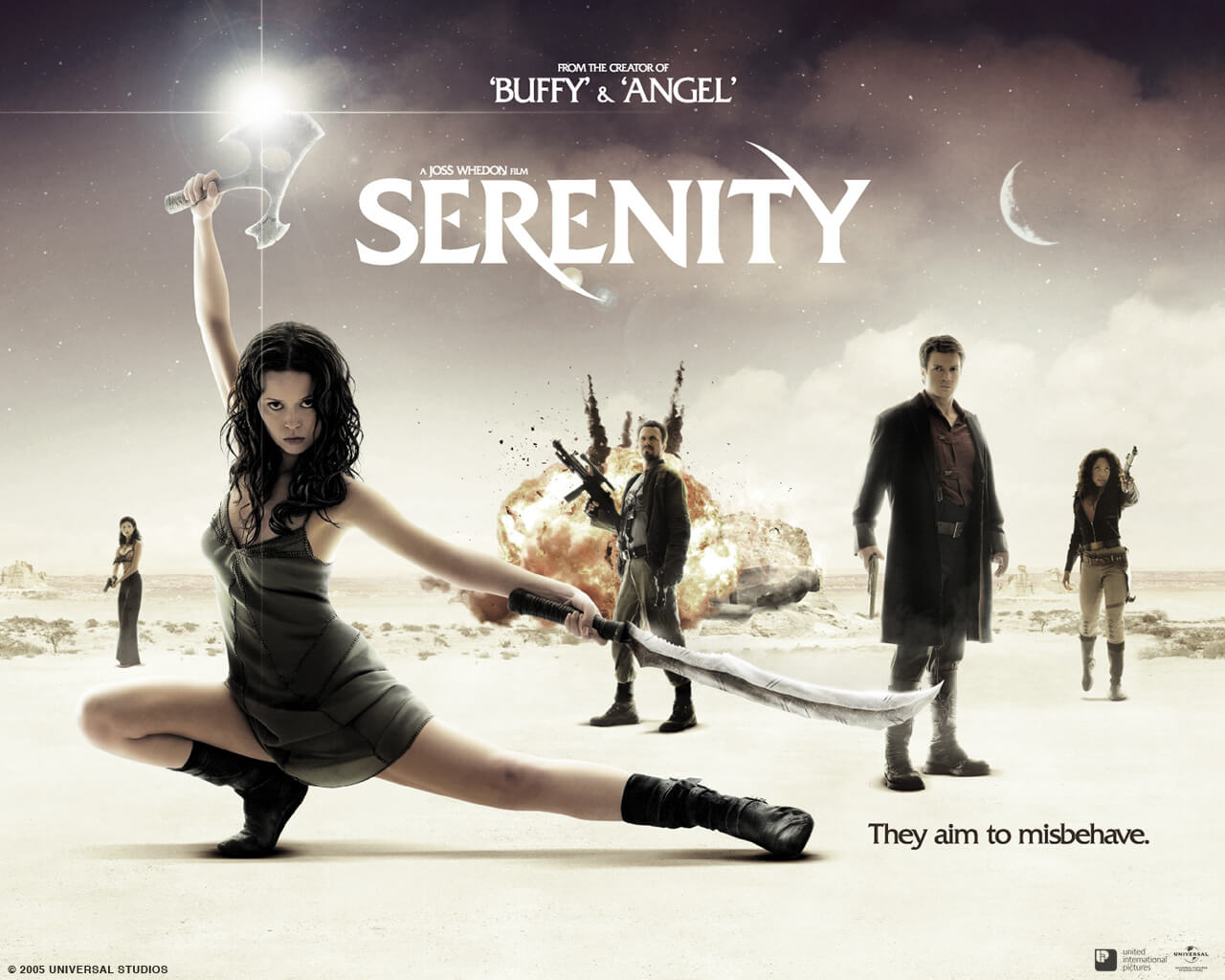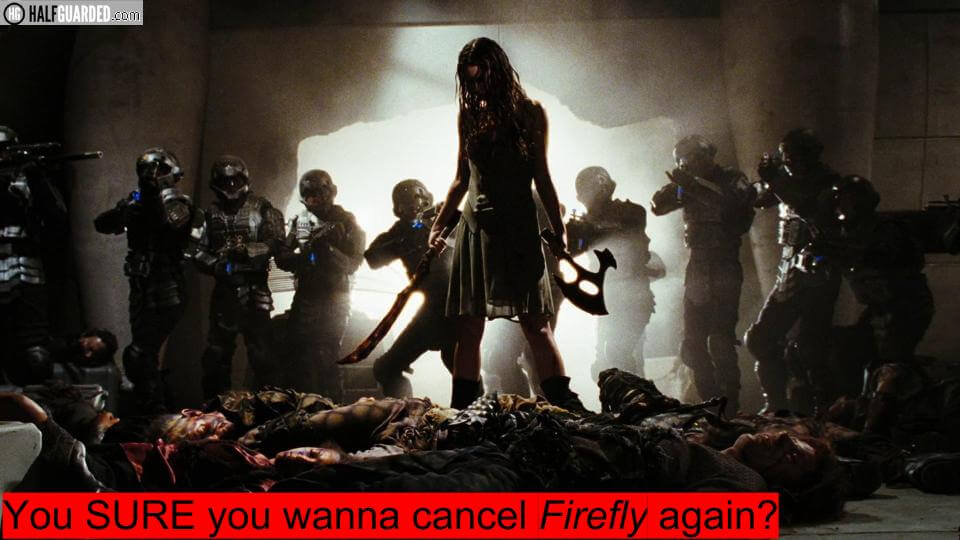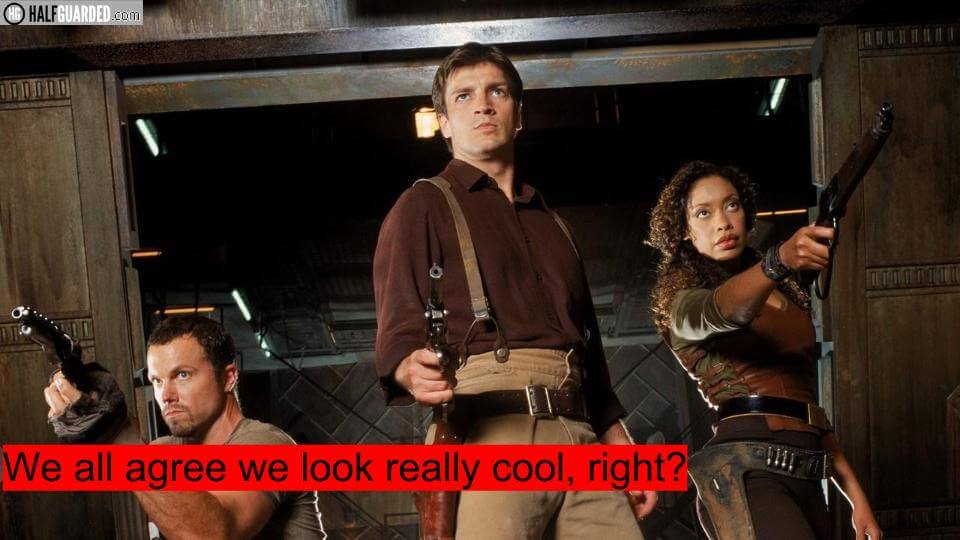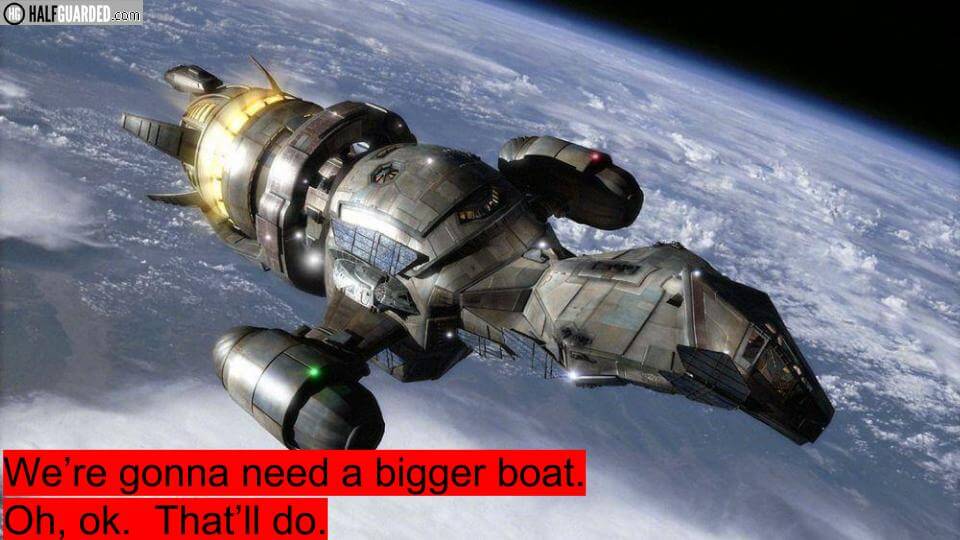 Serenity 2 Trailer
Serenity 2 trailer hasn't been released obviously, so you'll have to relive it all through the first Serenity. Imagine it's like this, but with a more epic feel. So you'll have that to look forward to when the Serenity 2 trailer is actually released. And we'll post it right away, right here!
Serenity Sequel Release Date
The Serenity 2 release date is October 2018.  Whedon will take his time. He has another project, in theory, lined up but hasn't directed nor been formally attached to anything since Avengers: Age of Ultron was released.  He openly talked about burn out and so what better way to find his groove and love again than returning to his most treasured creation?
Serenity 2 Cast & Stars
Nathan Fillion as Mal
Summer Glau as River
Morena Baccarin as Inara Serra
Adam Baldwin as Jayne Cobb
Jewel Staite as Kaywinnet Lee "Kaylee" Frye
Sean Maher as Simon Tam
Chiwetel Ejiofor as The Operative
Charles Dance played a vampire in Dracula Untold. He won't be one here but instead play a new rogue picked up.
Best Actor/Actress in Serenity 2
Chiwetel Ejiofor as The Operative.  Fillion gets great lines.  Glau is gorgeous.  But he's just on a different level.  An Oscar-winning level actor, with a potentially meaty role he could take things to a new level here.
Worst Actor/Actress in Serenity 2
No one.  Damn thing is awesome as is.
Potential Serenity 2 Titles
Serenity Now
Give me Liberty, Give me Death, Give me Serenity
Serenity 2: Alive and Loving it (wait… that's a title variant I used for Blade 4!)
I Am Serene (dang it, that's just like I Am Legend 2)
Serenity 2: Into the Sea of Tranquility
Serenity's Treasure (it's kinda like a space version of National Treasure 3… right?)
Will Serenity 2 Be Worth Seeing?
Of. Bloody. Course.
Serenity 2 Box Office Forecast
The first film didn't do great.  The TV show didn't do great.  But they also have such a cult following.  And history only makes these things bigger.  Plus, Whedon's stock is SO high that his name alone will propel it to a $50m opening weekend.  A $150m total wouldn't be a surprise at all.  Plus, plus!  This is the Age of Guardians of the Galaxy!  Serenity/Firefly was GOTG before Starlord ever made his way on screen.
Will there be a Serenity 2 Online Release?
Serenity 2 will be online pretty quickly I'd say. You'll have access through Netflix, iTunes and what not in practically no time. I could even see it following the recent formula of being rushed online quickly.  The movie theater experience is changing and this is a film begging for mutli-screen watching experiences.
Final Thoughts on Serenity 2
I wake up every day hoping for this to happen.  It will.  It must.
Like this Serenity 2 Preview? Check These Out!
Products Related to Serenity 2