2016 was a pretty crazy year. On Jan. 1, who would've thought Michael Bisping, Stipe Miocic, Tyron Woodley and Amanda Nunes would finish up the year with championship belts wrapped around their waists? Even for a sport built upon unpredictable outcomes, the year that was definitely threw us plenty of curveballs.
Which, naturally, begs the question – what sort of crazy stuff should we anticipate emerging from the wild and woolly world of mixed martial arts in 2017? Using our state of the art prognosticating software that deduced GSP starting an MMA union a year in advance (and picked the Cowboys and Raiders in Super Bowl LI back in August), we decided to guesstimate what the near future held for mixed martial arts.
And to put it mildly? 2017 is going to be a crazy year to be an MMA fan, for sure…
2017 MMA Prediction One
Conor McGregor will fight only once … and he will lose.
Stripped of the Featherweight title, McGregor will remain at 155 and forego any excursions into welterweight territory. He will be set to defend his Lightweight Championship against Khabib Nurmagomedov at the UFC's annual Memorial Day card, but a week before the contest, the Russian challenger will pull out with an injury. On just seven day's notice, Donald Cerrone will step up as a replacement challenger, and before a jam-packed T-Mobile Arena crowd, he will shock the world by dropping Conor McGregor cold in the second round with one of the most incredible overhand rights in MMA history. Contractual disputes and a nagging knee injury will keep the UFC's top cash cow sidelined for the remainder of 2017.
2017 MMA Prediction Two
Ronda Rousey will retire after getting obliterated by Cris Cyborg.
Even after being finished by Amanda Nunes at UFC 207, Rousey will be given an automatic crack at the newly minted Women's Featherweight Championship against Cris Cyborg at the big Fourth of July weekend card. Although Cyborg struggles to make weight, the Brazilian brawler nonetheless manages to make short work of the UFC money magnet, dropping her early in the first round and pounding her out in less than three minutes. A teary Rousey will then announce her retirement from the sport, as WME's stocks take a gargantuan nosedive the following Monday.
2017 MMA Prediction Three
Jon Jones WILL have a UFC match in 2017.
With his suspension lifted, Jon Jones will make his "triumphant" return to the UFC at a huge MSG show in November. Originally set to do battle with Alexander Gustafsson for the interim 205 pound strap, he will instead face Jimi Manuwa after his Swedish foe pulls out with a leg injury. A noticeable slower Jones, however, will have no problem beating Manuwa, as he grinds out a fairly facile five-round decision victory at Madison Square Garden … which will be overturned three weeks later when Jones' urine sample tests positive for PEDs.
2017 MMA Prediction Four
Daniel Cormier will win the UFC Heavyweight Championship.
In one of the stranger UFC developments of the year, Daniel Cormier will pull a Conor McGregor and become the second fighter in company history to own championship belts in two separate weight classes concurrently. After number one contender Cain Velasquez pulls out of his heavily anticipated championship tilt with Stipe Miocic, Cormier (who already beat Anthony Johnson in a rematch at UFC 209)  will step up to the plate for a PPV headliner scheduled in June. There, he will submit Miocic late in the fourth round. Given the option of keeping the Light Heavyweight or Heavyweight title, Cormier will opt for the HW strap and vacate the 205 pound title, and he will wrap up the year by beating Derrick Lewis by first round TKO in an early December PPV.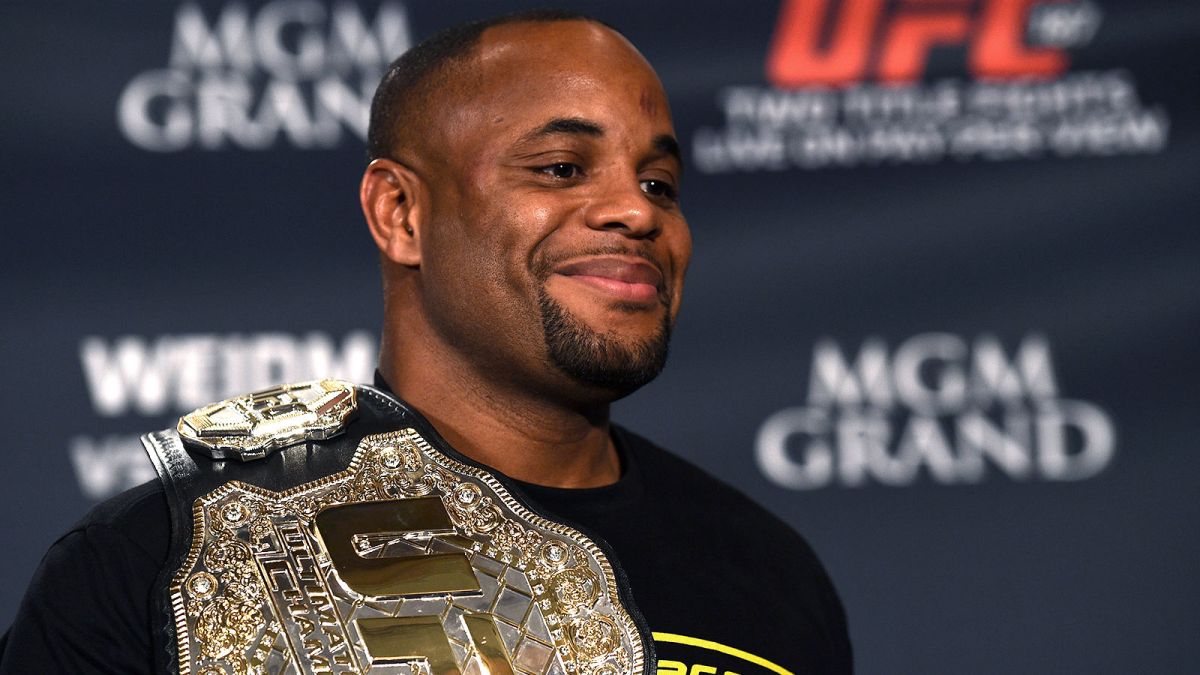 2017 MMA Prediction Five
GSP will come out of retirement … for Bellator.
After half a year of legal battles, St-Pierre will finally be able to terminate his existing contract with the UFC around July. Days later, he will shock the MMA world by announcing he has signed a three fight contract with Bellator for an undisclosed (but downright astronomical) sum. Even ballsier, Bellator will air GSP's first fight – a middleweight contest against Chael Sonnen – for free on Spike TV the same night as UFC's second MSG PPV … and the overnight numbers will be surprisingly high.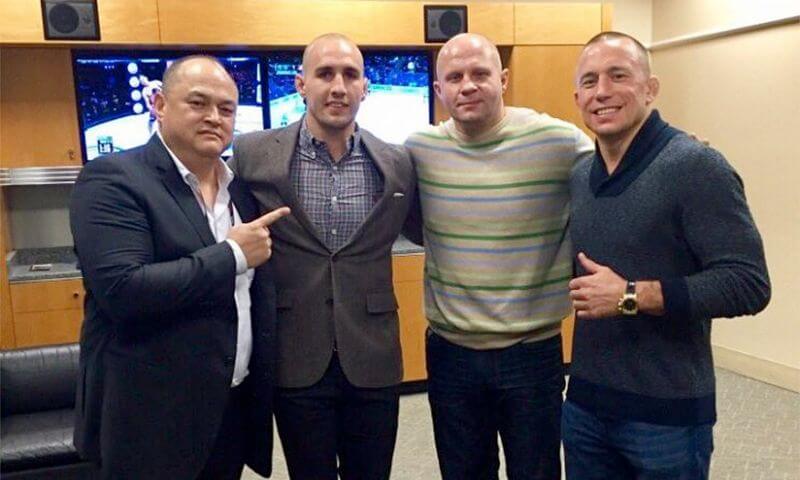 2017 MMA Prediction Six
Disney will outbid Fox for the UFC television rights.
ABC Television Group – a subsidiary of Disney and parent company of ESPN – will successfully wrangle the broadcast rights for the UFC away from Fox around May, promising WME about $900 million from 2018 to 2026. One of the biggest changes under the TV deal will be a provision barring the UFC from running anymore PPV broadcasts, which in turn, will be replaced by about 10 three-hour live events on ABC each year. Smaller shows will be smattered around the litany of ESPN networks, with live shows running roughly once a week – with the network attempting, and failing, to run multiple concurrent cards a'la the Sunday NFL Ticket during its inaugural broadcasting year.
2017 MMA Prediction Seven
Floyd Mayweather will start his own MMA organization.
In a huge "eff you" to UFC and Bellator, Mayweather Promotions will announce the founding of an all new MMA promotion on Cinco de Mayo. Without a network TV deal, the promotion will run cards solely through the traditional PPV format. Several big name stars – including Eddie Alvarez, Anthony Pettis and Robbie Lawler – will be among the early signees, but the organization will experience great difficulties getting their inaugural card together. A planned September card (headlined by Anthony Johnson vs. Ryan Bader) will be abruptly cancelled and rescheduled for the week after the UFC's big MSG show – and the PPV buyrates, as expected, will be horrendous.
2017 MMA Prediction Eight
Fedor Emelianenko will fight Bobby Lashley on PPV.
For years, people have wondered when – not if – Bellator would attempt to enter the PPV market. The answer? Oct. 2017, when they broadcast a heavily touted Heavyweight Championship bout between Fedor Emelianenko and Bobby Lashley (a bout Lashley wins by split decision, by the way.) The buyrates won't be very high, but they will beat at least two UFC PPV numbers from the same fiscal year.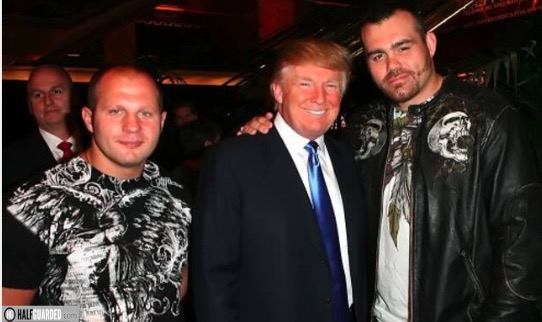 2017 MMA Prediction Nine
CM Punk will have another fight in the UFC.
Yes, CM Punk hasn't had his last UFC match yet. He will get another crack at the Octagon business at the Fourth of July PPV, where he will go toe-to-toe with first time professional fighter Anthony Newton – a New York lightweight whose name was literally drawn out of a hat. Unfortunately, Punk will somehow fare even worse than he did against Mickey Gall, getting KTFO in just six seconds.
2017 MMA Prediction Ten
Anderson Silva will regain the UFC Middleweight Championship.
And what would a year in MMA be without at least one against-all-odds return to glory? After Yoel Romero knocks out Michael Bisping at UFC 210, Ronaldo Souza is immediately penciled in as the next challenger. However, Souza pulls out of the bout about two weeks before it is scheduled to go down in August. With Bisping, Rockhold and Weidman all on the shelf, Anderson Silva is chosen as a last-second replacement. Despite being a huge underdog, Silva takes care of business in the bout, finishing Romero by second round head kick to reclaim the 185-pound belt he held for almost seven years. And to make things even better? He will finish Bisping in a rematch at the 2017 New Year's Eve card, too.