First things first: I love that Quentin Tarantino's 8th film is The Hateful 8.  Obviously this was done on purpose, but it tickles me fancy (me used on purpose to show my Irish heritage).
Second, the film looks awesome, and I can't wait to see what Tarantino has in store for his second Western.
The Hateful 8 Comic Con Poster!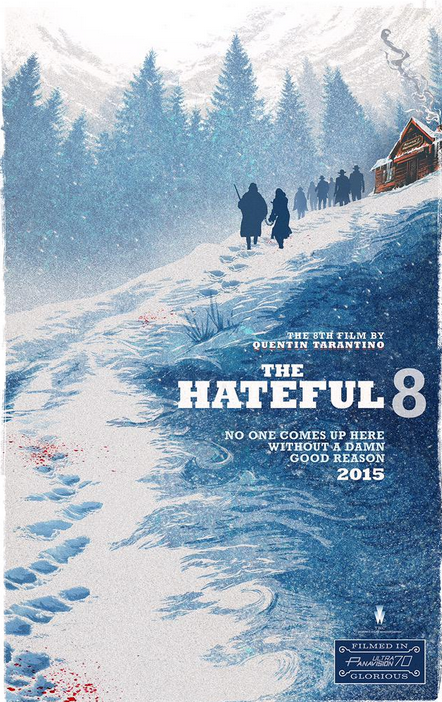 The tag line could be used for my bathroom: No one comes up here without a damn good reason.
That's kinda the way I feel about Canada.  Never been there.  Cause I don't have a damn good reason.  Maybe I'll get sick someday though.  Then I can go get me some free health care.
Is the poster cool?  Yes.  Is it amazing?  Not really.  But it gets me excited for the film.  I love that while Tarantino gets quality actors, he doesn't necessarily go with the biggest names.  Kurt Russell is awesome, but not exactly current.  That said, the man can rock out with his mustache out in a western.  For example:

But he really needs some Val Kilmer to make it truly work.  Tim Roth can make anything work, but I'm actually really curious to see Michael Madsen in a Western.  He's just too cool in a modern sense.  And Jennifer Jason Leigh still makes my pants tight.  Is she 53?  Hell yeah.  But she still lives in my heart as the lady from Single White Female and Fast Times at Ridgemont High:
Anyways, The Hateful Eight looks like it'll be one of the better films when it releases later this year.  Learn about being vengeance and the night.
Wait, that's Batman.  They should make a Batman Western!