Batman is going to fight Superman. This is not new news. We have known about the movie for a while. There was already a trailer once before. Now: there is a NEW BATMAN V SUPERMAN TRAILER.
It. Is. Good. Very good. I have a few minor quibbles and am going to be full on nerd breaking down this thing. When I first saw it came out I'm pretty sure I accounted for half the views at one time.
Brief Overview
The new Batman v Superman trailer gives much, much more background on the movie. Long and short: after Superman fought Zod there was a lot of destruction. Batman had buildings of his destroyed and employees of his killed. He's pissed. He can wipe out the entire world, I paraphrase, I have to stop him.
Frank Miller's Dark Knight returns more or less set the tone for the character forever.  The Snyder stuff is just awesome.
Superman. Batman. Wonder Woman. Lex Luthor.
We also see Wonder Woman in full costume and Lex Luthor being totally Lex Luthor. There is ZERO reason to not rewatch the new Batman v Superman trailer over and over again. And, yeah, check back real soon because I'm doing full on nerd with this thing. (I mean, you're talking a guy whose first tattoo was Superman's logo. His second … not Batman but I have beat the shit out of a lot of clowns in my day.)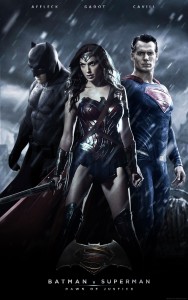 Anywho. Director Zach Snyder has me a bit excited. Ben Affleck looks very good as Batman. Henry Cavill continues to be the best non-Reeves Superman. March 15, 2016 I know where I'll be. (If I'm not dead in a ditch.)
(No, seriously though, All-Star Superman is maybe my favorite comic book ever – not just Superman, but comic: PERIOD.)