Ken Shamrock hasn't retired yet. One hopes he retires soon, because most men on the wrong side of 35 have trouble fighting, let alone those on the wrong side of 50. Who knows what damage has been done to his body and brain from years of real and fake fighting, but it's a safe bet that his twilight years won't be pretty.
But today isn't about Shamrock's entire career. Pieces have been written about his influence on MMA, how he helped the UFC hit it big – twice. Today is about just how many really weird things have happened during Shamrock's career.
Sure, a man who has spent 20+ years fighting inside of cages is bound to have the occasional odd moment, but Shamrock has a truly impressive resume of out of the norm. You know the most recent, with Royce Gracie kneeing him in the balls, so we'll start from the beginning. If it's good enough for The Bible it's good enough for us.
UFC 1: Ken Insists He Lost
When I said the beginning I mean it. UFC 1 was a confusing mess for a number of reasons. No one knew what the rules were and some dude on his back kept winning.
Shamrock was inevitably better equipped for UFC 1 than most Bc he'd at least done a little bit of shooting in Japan. Still, after a failed leg lock, Royce Gracie locked in a choke using his Gi. Ken tapped. It was over.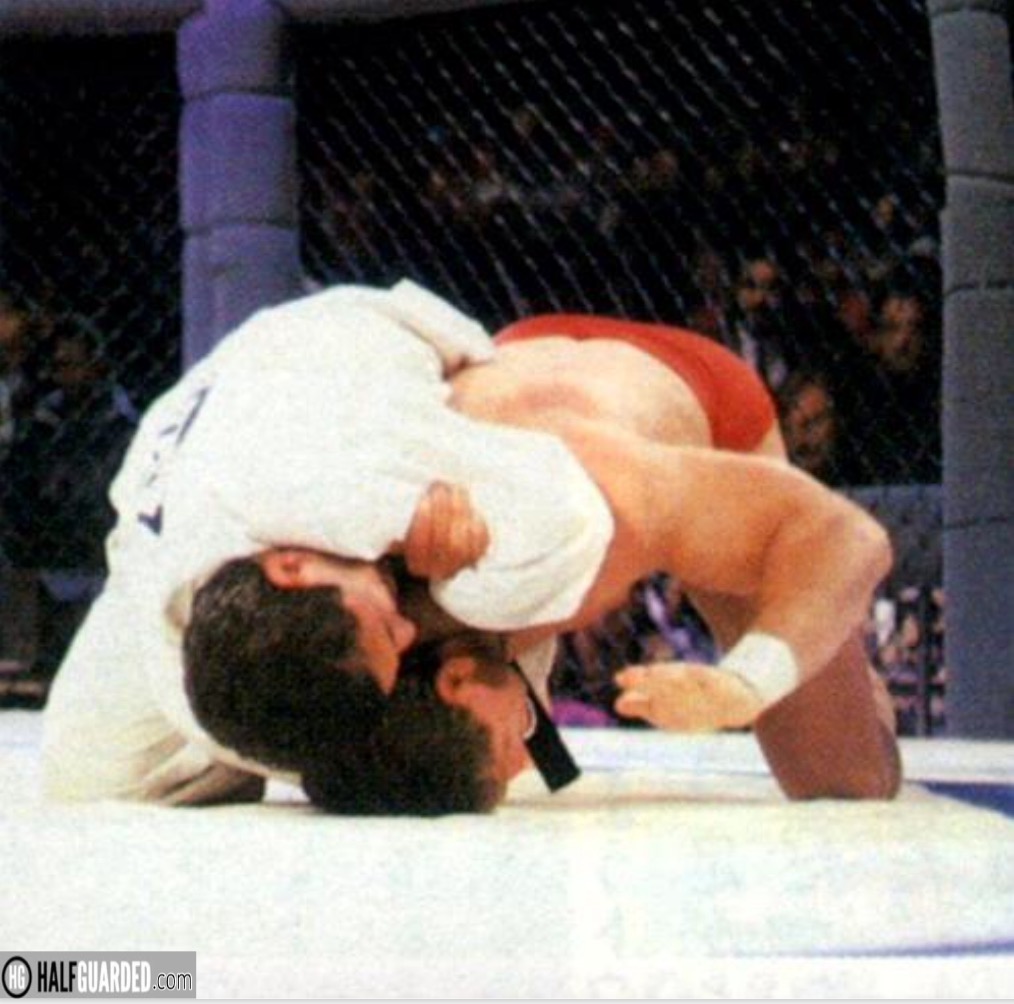 Except the ref didn't know it was over. Either he missed the tap or didn't know what a tap was (both plausible). For a few seconds both Royce and Ken had to essentially argue with the ref that it was over. In other words: Ken had to convince a ref he lost the most high profile fight of his life.
Shamrock just doesn't fight: UFC 3
UFC 3 was designed to rematch Shamrock and Gracie, following the latters win over the former at UFC1. In the first round of the tournament, they both did their job. Royce beat Kimo; Ken beat Christophe Leininger. In the second round, Ken easily tapped out Felix Mitchell (an alternate who didn't even fight in the first round because the early days were weird). But Royce didn't fight again. Due to exhaustion from the Kimo bout, Gracie chose to withdraw from the tournament. Then Shamrock did too. He claimed an injury but in all reality what he wanted was Gracie and only Gracie.
Ken Shamrock vs Royce Gracie: UFC 5
In what was the biggest match in UFC history at the time, the unbeaten Gracie faced Shamrock in the main-event. There was no tournament this time, making this the first fight in UFC history to not be contested under tournament rules. Not only that, but the winner would become the first ever "UFC SuperFight Champion," the company's attempt at creating a non-tournament title.
The fight sucked. Ken was inside Royce's guard and did nothing. Nothing. He threw approximately one punch to the face. And it kept going on and on. Until that point, the longest fight in UFC history had been 15 minutes, when Gracie tapped out Dan Severn. When that fight happened, people were in awe at seeing someone fight for so long. Because MMA was so new, the fights had always ended quickly, so the public figured that was what happened in a real fight.
Gracie and Shamrock ended up fighting for thirty-six minutes. Originally, the fight was supposed to have a 30 minute time limit. For some reason, it went 31 minutes. Again: MMA was really weird back then. Out of nowhere, it was decided to there would be an additional 5 minutes. No, there was no rule stating there would be an overtime, everyone just agreed to one then and there.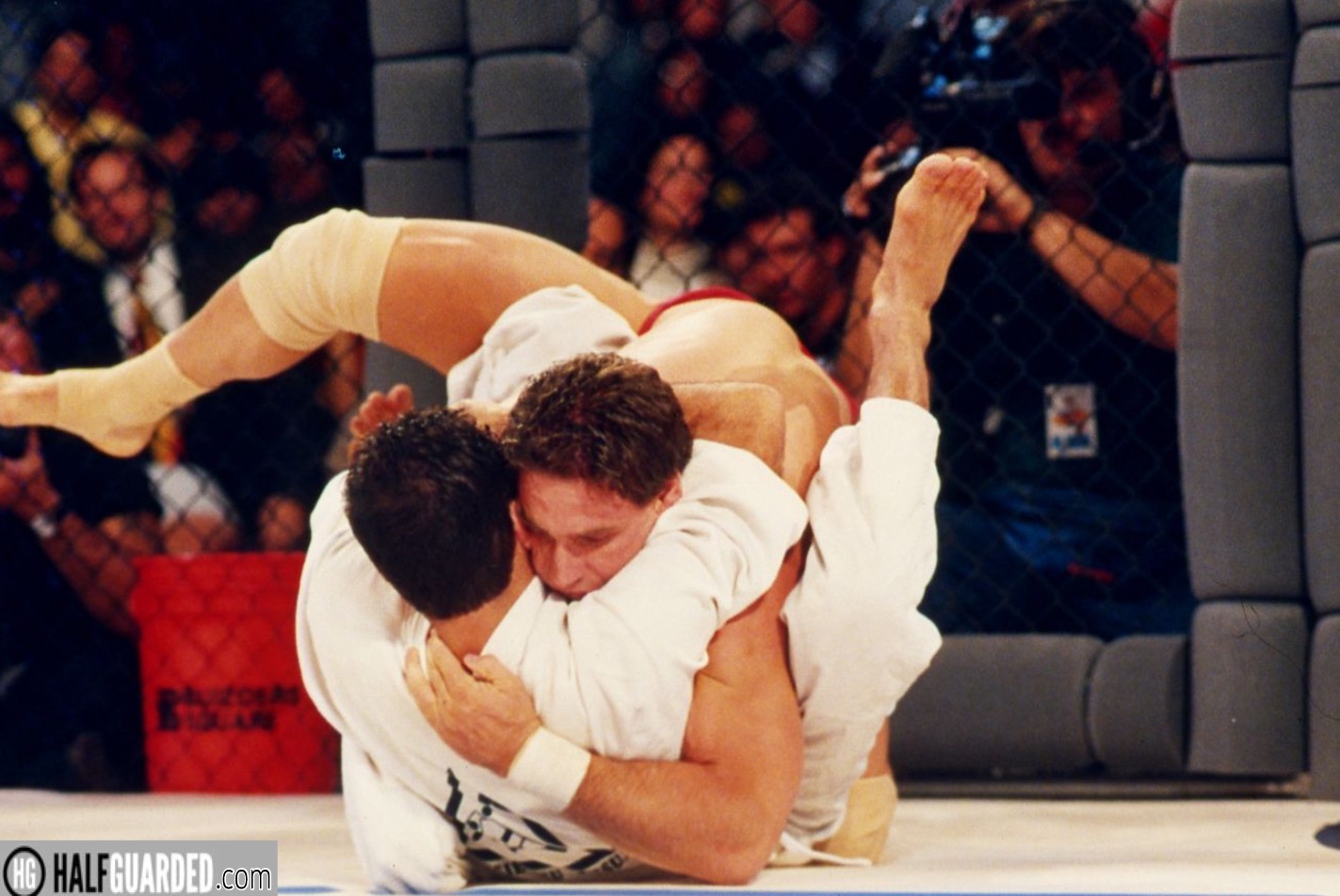 Nothing happened for those 5 minutes either. The first ever non-tournament fight in company history, the fight to crown a SuperFight Champion, was a draw. It was the first draw in UFC history and at 36 minutes it was – and still is – the longest fight in UFC history.
Quick: Japan!
By the way, while Shamrock was doing all of this in America, he was also competing as one of the pioneers of Pancrase. The Japanese promotion was real, but had a lot of worked fight as well. The World's Most Dangerous Man was throwing fights while becoming a star in the United States.
UFC 9: Nothing
UFC 9 was another Shamrock rematch, this time against Dan Severn. Months after the Royce fight, Ken fought Severn for the first time, tapping him out, and finally becoming the first ever UFC SuperFight Champion. Slated to defend the belt in Detroit, it all went very weird, very quickly.
By this time, the UFC was in hot water. The early marketing of the sport as a possible fight to the death was catching up with it and states were beginning to take a stronger look at what was going on. The afternoon of the show itself, just a few hours before it was to begin, the UFC was actually in court trying to get permission to run. The end result was that there would be a prohibition against headbutts and closed fists to the head.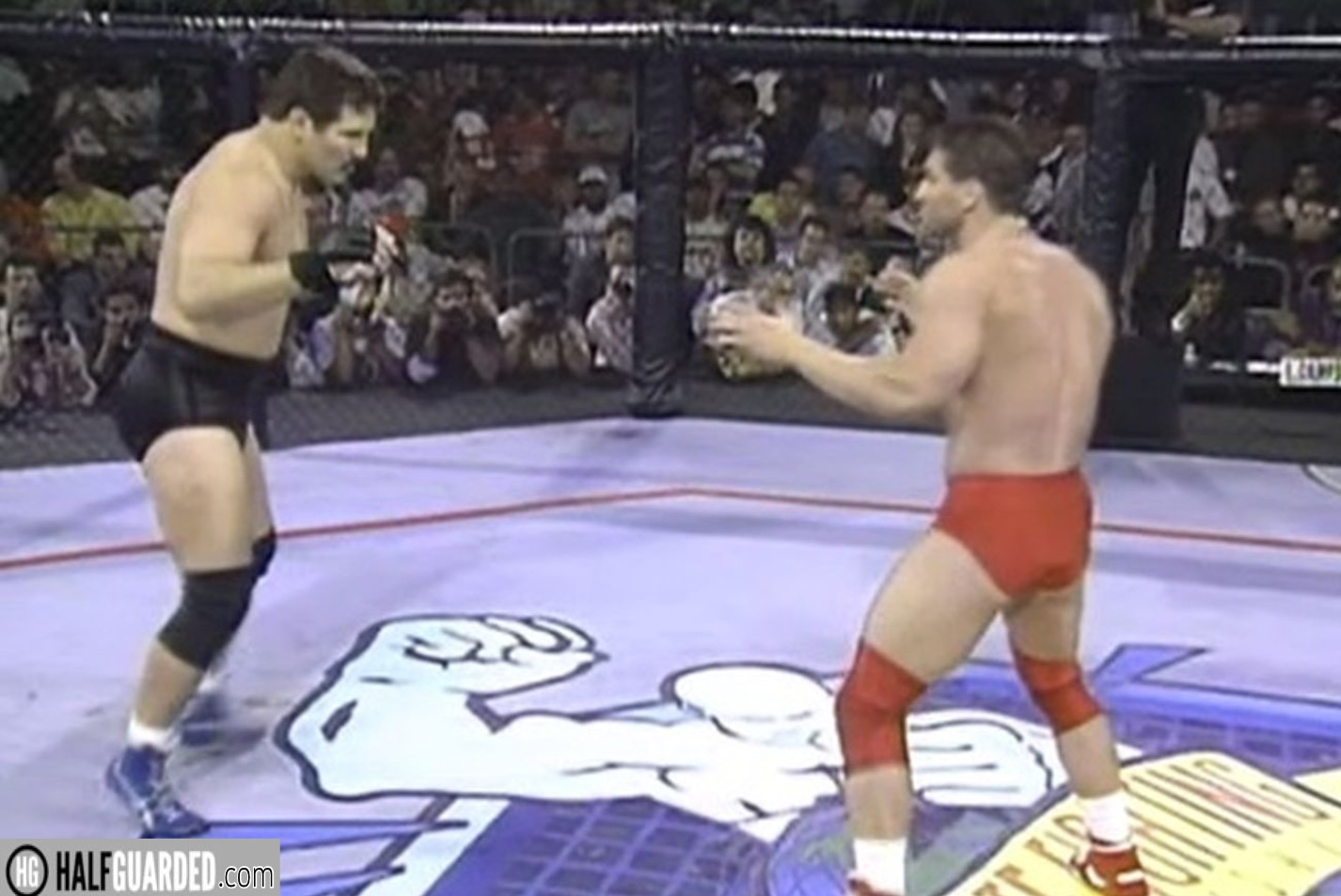 Yup: Ken Shamrock main-evented the first UFC to not let you punch someone in the head. Most of the fighters on the card didn't give a shit and did it anyways. They'd been told if they did they'd be arrested but no one ever was because … c'mon. To date, the show even features what I personally consider the most brutal fight in UFC history, when Don Frye proceeded to not just beat BJJ ace Amaury Bitetti, he did it with thudding elbows to the back of the head. UFC 9: no punching but elbowing a man's spinal cord is ok.
Still, Shamrock and Severn didn't fuck around and neither threw a closed fist to the head. They figured if anyone would get arrested, it was them. This lead to a 30 minute fight where the two simply slapped at each other. Severn was afraid to shoot on Ken, because he knew he had a weakness for submissions. Shamrock wasn't a good enough wrestler to take Severn to the ground. So they circled and pawed at each other like very un-intimidating bears. Severn won by split decision. It was the first split decision in UFC history.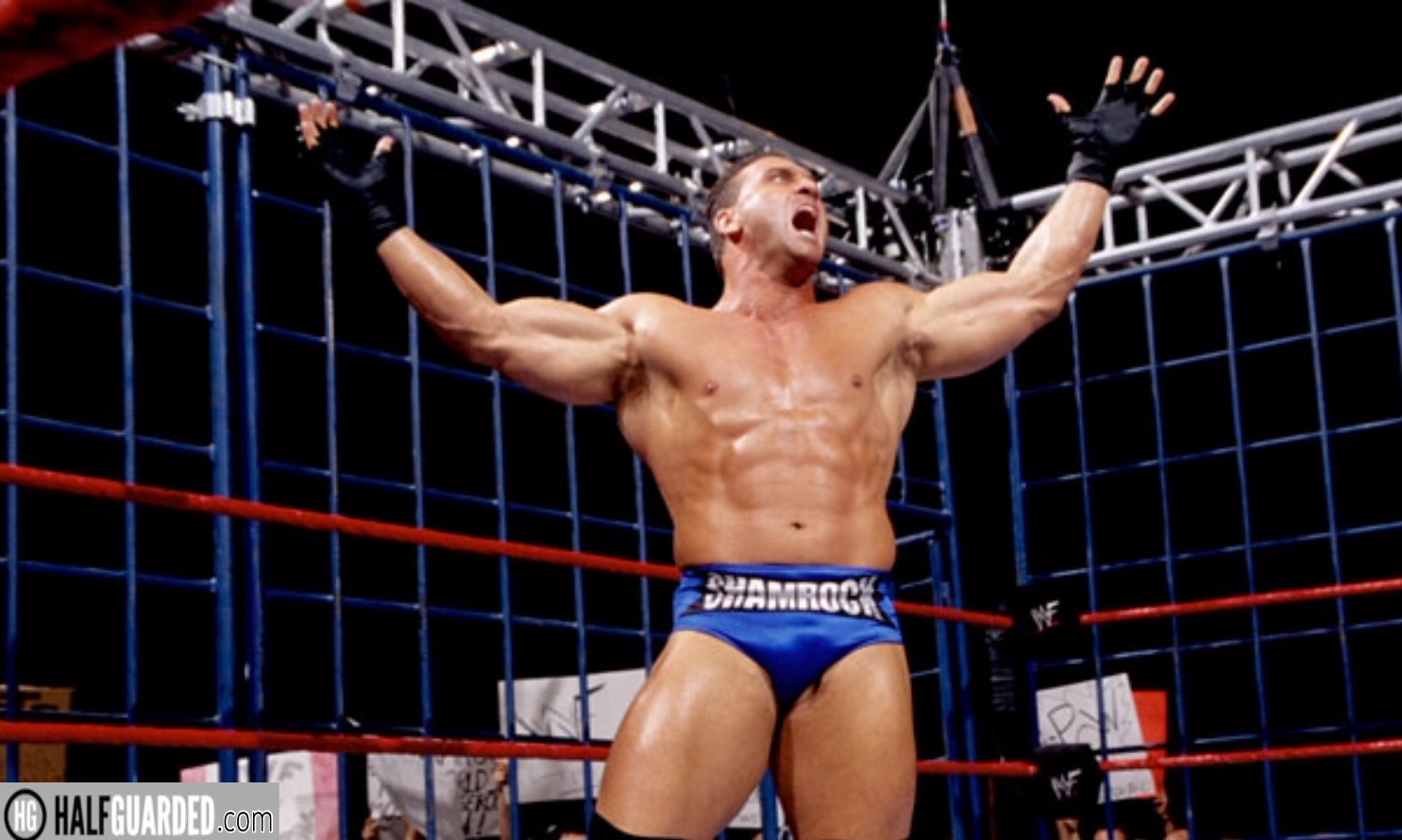 Back to Japan
After a few years as a professional wrestler for the then-WWF, Shamrock was back! In his second fight for PRIDE FC, Shamrock fought Kazuyuki Fujita. Fujita had five professional fights at this point but had already become famous for having the hardest skull in the sport. No one could take a strike like he could. Oh, and this was the first ever PRIDE show marketed towards America, so another first for Ken.
He beat the shit out of Fujita. He outstruck him at will and was looking good against the world's most mobile punching bag. Then, he quit. As the two were clinched against the ropes, Shamrock yells to his corner man, Petey Williams, "Petey! Petey! My heart, Petey!" and instructed the towel to be thrown in. The man quit because he thought he was having a heart attack. He wasn't.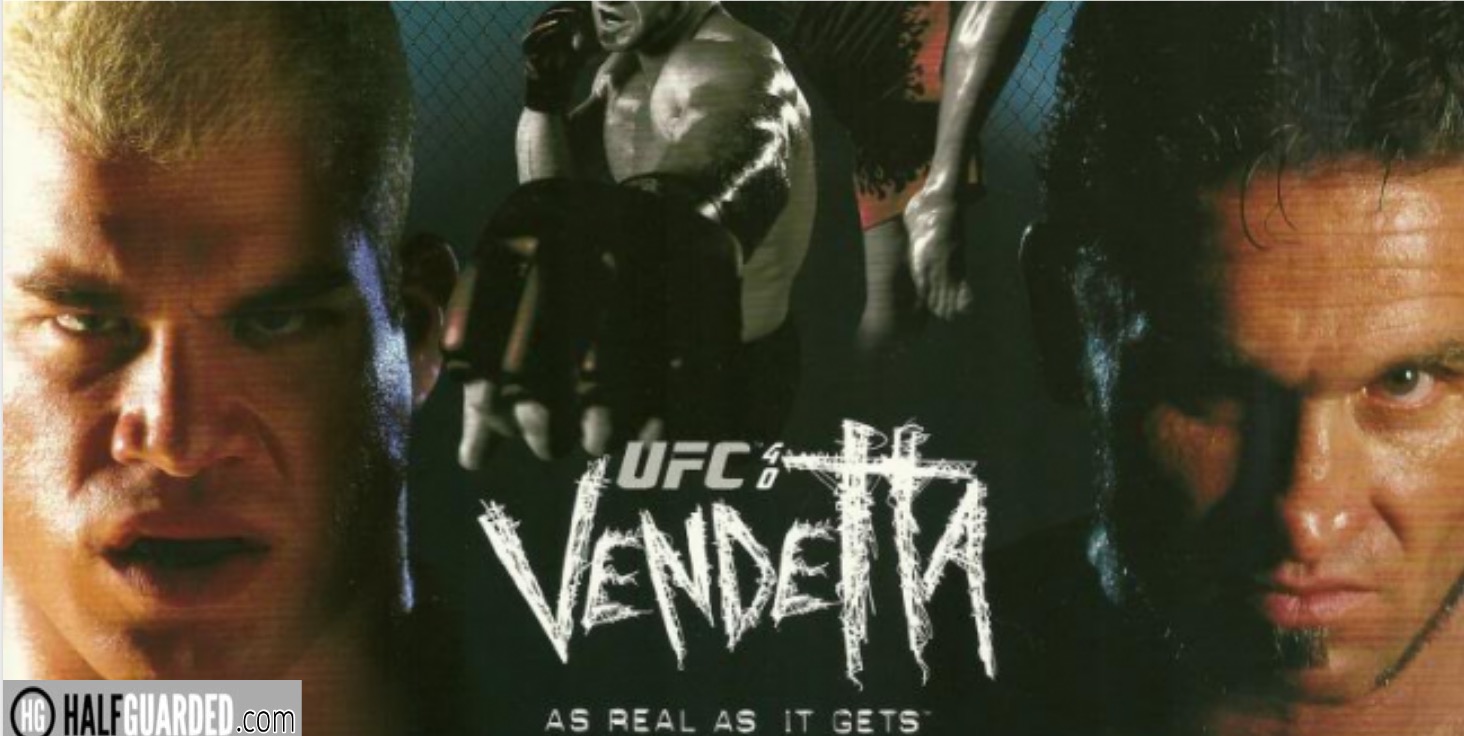 That time Shameock took a dive but it wasn't one
Yada, yada, The Ultimate Fighter helped take the sport into new territory and was the show that launched a thousand fighters and all that. The finale is known now for Forrest Griffin and Stephan Bonnar having what is still an incredible war but the main-event was Shamrock vs Rich Franklin. Franklin won, because duh, but it wasn't without weird shit. On an early punch from Franklin, Shamrock simply fell. It looked like a dive, because no one knew what else it could be because the only other explanation was the Octagon suddenly developing ice.
Again, at this point, Ken Shamrock sucked and Franklin would win the UFC Middleweight Championship in his next fight, starting a very successful run with the belt. Yet, Shamrock did manage to grab an ankle lock, one that Franklin later admitted did legitimate damage. Another fight from Ken, another night that no one would've imagined.
Hi, again, Tito
After UFC 40, where the weirdest thing that happened was Ken lasting more than five minutes, Shamrock and Ortiz resumed their rivalry as the two coached the third season of The Ultimate Fighter. It was a huge hit. The ratings were massive and the build up between the two was great. (Highlighted by Shamrock hustling Ortiz at pool!) They fought at UFC 61 and at the time it was the biggest PPV in UFC history (yes, another first). Said fight ended in a minute, when Shamrock took some elbows from Ortiz. Kudos to the referee, who understood that the fight was a farce and there was no need to let Shamrock take punishment but to the average fan it looked incredibly premature. The biggest fight in company history was a farce as far as 750,000 PPV buyers were concerned.
Back to the Tito well. Again.
Well, a weird finish in a Shamrock fight just cannot stand and so the two fought a third time, this time on free TV as Dana White basically told everyone, "I think you were ripped off and should now get the fight for free." The October 2005 fight last another minute longer, with Shamrock losing badly and there being no question it was a good stoppage.
Oh, and it drew what was then the highest ratings in UFC history. Yes, another first.
The time Ken Shamrock killed Elite XC
One time, Ken Shamrock inadvertently killed an entire MMA promotion. Elite XC had sprung to life and somehow finagled a contract with CBS, becoming the first MMA on US network TV ever. It had early success, gave the world Gina Carano, and became the first vehicle for Kimbo Slice.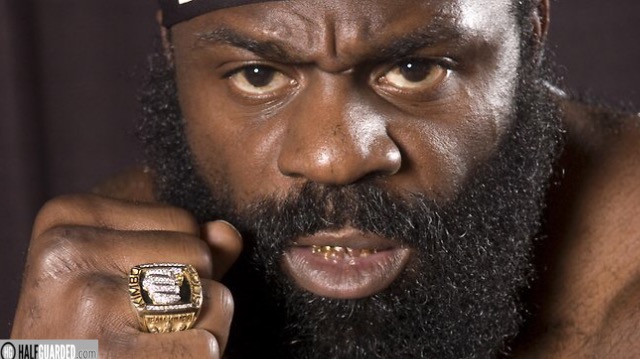 On October 4, 2008, Shamrock and Slice were to go at it in the main-event of what would've been the biggest show in EXC history. Just hours before the show started, Shamrock got hurt. While warming up, he accidentally clashed heads with a training partner and developed a significant cut. It was bad enough that the commission wouldn't let the fight go on.
Instead, Kimbo fought Seth Petruzelli, got knocked out in seconds, and Elite XC never ran a show again.
The Ken Shamrock fight with Kimbo
After a couple of years of farting around and losing to nobodies on shows no one saw, Shamrock looked done with MMA. Then, last year it was announced he would fight Kimbo, this time for Bellator.
Luckily for Bellator, the fight actually happened. And afterwards, everyone thought it was a work, that's how weird it was. Shamrock someone how took Slice down and had a rear naked choke in. It looked deep and say what you will about Ken, the man has been training submissions for a couple of decades.
It didn't work.
They got up and immediately Slice dropped Ken with a punch and that was that.
Finally, Ken vs Royce 3
And then there was just a few weeks ago. The most watched fight in Bellator history (Hey, another first), the rematch two decades in the making. Sure, Ken and Royce were both old and had no business probably going rock climbing, let alone cage fighting, but old fighters don't retire, they get beaten into the mat until they're no more.
They circle. They clinch. Royce knees Ken in the balls, throws another knee that grazes Ken's temple, Shamrock drops, it's over. Now, Ken's chin, nose, forehead, temple, ribs, ears, and other body parts are gone. Stiff breezes make him break out smelling salts. Still, the replay made it very clear that Ken went down because of the shot to the groin. It's easily the highest profile fight ever lost by illegal nut shot.
In all likelihood, the result will be overturned (maybe, we're talking the Texas commission here).  Meaning that the Shamrock-Gracie feud will officially stand at one win, one draw, and one no contest.
Only Ken.
Epilogue: Ken failed his drug test for the third Gracie fight. In addition to steroids he was also using methadone –  a drug usually used to help recovering heroin addicts.