After using cannabis for the entirety of his 16-year mixed martial arts career, legend and former UFC middleweight champion Frank Shamrock has entered the industry. The 44-year-old half-brother of Hall of Fame member Ken Shamrock co-hosts "The BakeOut Show" with celebrity nutritionist Robert Ferguson.
Shamrock recently appeared on Bellator fighter Chael Sonnen's "You're Welcome" podcast and clarified that the exclusively web-based program, which aired its first episode on January 25, primarily focuses on cannabis products known as "edibles"— a wide range of cannabis-based food products—along with other segments.
Of the two episodes currently available on the show's website, the first featured "the Julia Child of weed" Jeff "The 420 Chef" (the chef does not give out his last name in interviews currently accessible.) Also on the program was a previous victim of liver cancer and cannabis user.
The second episode served as a lead into the Super Bowl with the duo speaking to former Chicago Bears offensive lineman, Eben Britton, about his use during his playing career. The potential removal of cannabis from the Nevada State Athletic Commission's (NSACs) banned substances list was also a hot topic.
On a similar note, after failing his third career test due to cannabis UFC 183 in 2015, longtime user Nick Diaz was initially given a five-year suspension and $165,000. Public backlash and a petition with 100,000 signatures calling for action (that even received a response from the White House led to a reduction to 18 months and $100,000. The suspension has ended although he has yet to fight again.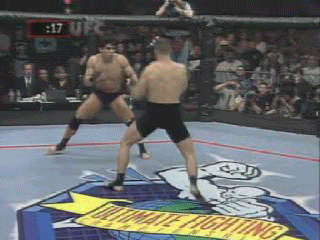 The primary reason for removal is because while it is banned, the substance is not a performance-enhancer. It is also legal for recreational use in Nevada. The commission held its meeting on January 13 and is moving forward although it has not yet been removed from the list.
Shamrock, who retired from MMA with a 16-10 record and left the UFC after submitting Tito Ortiz by way of strikes at UFC 22, fought in the "wild west" days of the organization and overall sport in the 1990s. The UFC has since partnered with the World Anti-Doping Agency, a third party responsible for administering the promotion's drug tests.
"The BakeOut Show" premiered on Wednesday, April 25 and airs weekly according to the site' official Facebook page. Have thoughts on cannabis and MMA or both in general? Speak your mind in the comment section below!
H/T Gangapreneuer.com