When you hear the term "U.S. Congress," people punching each other in the face really, really hard inside an eight-sided steel mesh cage usually isn't the first thing that comes to mind. But when you think about it, there really isn't that much of a difference between the world of congressional politics and mixed martial arts. I mean, both involve lots and lots of scraping and clawing and trying to take people down, not to mention getting others to submit to you. Which, naturally, raises the question: of those currently sitting on the 114th Congress, who among the 535 voting members would – theoretically – perform the best had they become Ultimate Fighters instead of legislators?
Well, after some exhaustive research (read: an afternoon on Wikipedia), I've determined that the following 10 congresspeople would have made the best mixed martial artists, had they chosen to pursue that as a career path instead of the much, much more respectable occupation of being people who get paid $174,000 to squabble endlessly on C-SPAN and not get Jack Squat done despite only having to work half the year.
Ready to step outside of the rotunda and into the Octagon? It's time to filibuster some skulls as we celebrate the toughest men and women on Capitol Hill…
10. Sen. Mazie Hirono (D-Hawaii)
At the age of 68, Hirono may seem like an unorthodox selection for the list. Alas, even though you can teach somebody to be a better striker, grappler or submission specialist, the one thing you can't learn in training is how to be naturally tough, and Hirono here no doubt knows how to take a spinning elbow in the face from life itself and shake it off like she was fighting Ray Sefo. Born in Fukushima, Japan, Hirono and her mother fled to Hawaii because her alcoholic dad wouldn't stop beating them. Not knowing a lick of English, she took a job as an elementary school cafeteria cashier and worked her way through the University Of Hawaii and Georgetown's law school, volunteering for mental hospitals and working alongside at-risk youths at summer camps in her free time. Over a nearly 40-year political career, she was a lieutenant governor and a U.S. rep before becoming the first Asian woman (and the first Buddhist!) ever elected to the U.S. Senate in 2012. She may not be able to go toe-to-toe with Amanda Nunes at her current age, but something tells me Hirono probably would've been one feisty competitor in the cage back in her 20s.
09. Tim Scott (R-South Carolina)
Like Hirono, Scott – the only black Republican in the Senate – grew up mired in poverty, which as we all know by now, toughens you up mentally, emotionally and physically. However, he also has plenty of brains to accompany the brawn, having attended Presbyterian College on a football scholarship before graduating from Charleston Southern and opening up his own insurance agency and financial advisement firm. You can tell just by his mannerisms speaking on the House floor [https://www.youtube.com/watch?v=OKgYgqGfeIE] that he has a lot of kinesthetic intelligence, and his stout-but-athletic build suggests he would make a great close-range striker a' la Anthony Johnson. Had he dedicated himself to MMA earlier in his youth, there's no doubt in my mind he really would have put the "GOP" back in "ground and pound."
08. Rep. Andre Carson (D-Indiana)
Even though his grandmother was a congresswoman herself, Andre Carson (only the second Muslim ever elected to Congress) had it pretty rough growing up in Indianapolis' toughest neighborhoods. Having witnessed the intersectionality of poverty and violent crime firsthand, Carson resolved himself to get an education and get involved in the criminal justice system. After earning a bachelor's degree from Concordia Wisconsin and a MBM from Indiana Wesleyan, he spent nine years as an Indiana State Excise Police investigator before working his way up to a position in the Department of Homeland Security as an anti-terrorism unit supervisor. He parlayed his success in that field into public office, taking over his deceased grandma's spot as Indiana's 7th District representative in 2008. Factor in all those durability-forming experiences along with his thick upper body build (not to mention his large, perfect-for-hammerfisting hands), and you've got a dude who could definitely find a way to knock somebody out if he had to.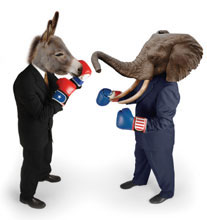 07. Rep. Jon Tester (R-Iowa)
With his crop topped and stocky build, Tester is of the same "meat and potatoes" mold that gave us ground and pound specialists Brock Lesnar and Cole Konrad (and Olympic wrestling champ Ruland Gardner, who as an aside, is probably one of the toughest people who has ever lived ] https://en.wikipedia.org/wiki/Rulon_Gardner#Personal_tragedies].) Although the Montana Democrat's career as a music teacher may not send shivers down would-be foes' spines, the fact that he spent a quarter century as a farmer and butcher means the guy probably knows how to throw his weight (as well as the weight of others) around. And when it comes to pain thresholds, it's going to be mighty difficult to find anybody in Congress with better submission defense: after all, this is the same guy who shook off having three off his fingers chewed off in a meat grinder accident … at the age of nine. [http://missoulian.com/news/local/gop-attack-ad-shows-five-fingered-tester-shaking-obama-s/article_45cb3456-eae7-11e0-aca2-001cc4c03286.html]
06. Rep. Steven Palazzo (R-Mississippi)
Some dudes are just built for combat sports. You take a look at Big Steve Palazzo, and his upper body reminds you of a tube of Crest with all of the toothpaste bulging up near the cap. Thick neck, humongous head, broad shoulders, hands the sizes of toasters – even without a day of training, he's probably got enough genetic credentials to fight in Bellator already. Don't mistake him for another meathead, though, because his bio definitely demonstrates his smarts: he's got a MPA from Southern Mississippi, is a member of the same fraternity that produced Mike Ditka and is recognized as a certified public accountant. And when it comes to literal combat experience, he's definitely got some cred: not only did he serve in the 3rd Force Reconnaissance Company as a member of the Marine Corps during the First Gulf War, he remains a member of the Mississippi Army National Guard to this very day.
05. Rep. Brian Babin (R-Texas)
You may not agree with Babin's Tea Party-tempered politics, but you'd have to be a plumb fool to say the dude ain't one tough son of a gun you wouldn't want on your side in a saloon fight. For starters, he managed to ascend to the rank of US Air Force Captain while earning a B.S. in biology from Lamar University – in 1975, before "online classes" were even a thing. While still serving a high status position in the armed forces, he accumulated a D.D.S. degree, paying off his educational expenses while working as a janitor, postman and country music singer. Again, while serving as U.S. Air Force Captain at the same guldarn time. While that may or may not say anything about Babin's cardio, it certainly speaks volumes about his resolve, and something tells me you'd have to break this dude's arm like, twice, before he even mulled tapping out. Furthermore, he gets bonus points for not shying away from inter-branch battles (the political equivalent of moving up a weight class, naturally) at one point drafting a bill that would have forced Supreme Court Justices to get their health care through the Affordable Care Act exchanges so as to better grasp the concerns of the common man. At the ripe old age of 68, his fighting days are long behind him, but you and I both know this dude was kicking all kinds of ass back in his salad days. And let's face it, he could still kick yours, too, if you gave him a reason to.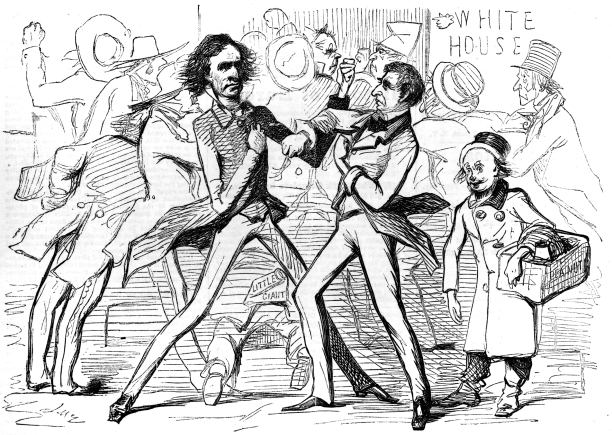 04. Rep. Mark Takai (D-Hawaii)
Anybody who has watched any amount of K1 has probably observed that there seems to be a disproportionate number of Pacific Islanders who excel at the sport of kicking and punching each other in the head really, really hard. Although I have no clue how good Mark Takai is at elbowing people in the face and being able to withstand patella sandwiches, I'd venture to guess that the stocky Hawaiian is probably pretty good at both. For starters, there is no question the guy has excellent cardio, him being an all-conference champion swimmer in college and whatnot. And as far as toughness goes, the dude was a base officer in Operation Iraqi Freedom, serving as commander of both a medical unit and a brigade support battalion for nearly two years (which means, at one point, he served as both a combat surgeon and an active duty soldier.) And he's a lieutenant colonel in the Hawaii Army National Guard to this day, so that means they've at least got him running around and doing drills and stuff on a regular basis. Following a pancreatic cancer diagnosis, Takai recently announced he wouldn't run for reelection. Regardless, and though cancer recently got the better of Takai, his fight against the disease was inspirational nonetheless.  All joking aside, best to his family.
03. Rep. John Conyers (D-Michigan)
What Dan Henderson is to the UFC, John Conyers is to Congress. First elected to the U.S. House in 1964, the now 87-year-old has represented half of Detroit in D.C. for more than 50 years. That a dude that can keep trucking along like that for as long as he has yet still look younger than Lionel Ritchie in and of itself indicates Conyers is no mere mortal, but to demonstrate his inherent manliness, you've got to delve into the dude's military history. Right out of high school he joined the Michigan National Guard, then spent four years in the U.S. Army (including a year-long stint in the Korean War, where his valor on the battlefield earned him several combat and merit citations.) He then followed that up with a three year stint in the U.S. Army Reserves, ultimately giving him a good decade worth of military experience before he even thought about seeking public office. Seeing as how the man could probably still land a knockout punch at age 90, one can only fathom how much damage Conyers would have wrought in the cage in his late 20s.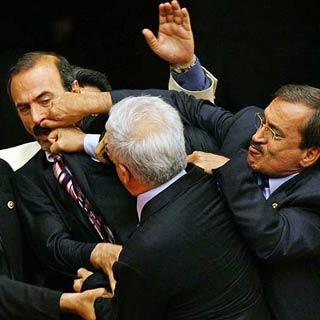 02. Sen. Joni Ernst (R-Iowa)
There's just something about growing up on a farm that seems to make people intrinsically tough. Maybe it's having to wrestle down the steers or carry hundred pound bags of grain up ladders or knowing that if you don't have a good crop, you don't get to eat. The other tried-and-true toughness-building construct, of course, is the military; and in the case of Iowa Senator Joni Ernst, her background features plenty of experiences on the tilling field and the battlefield. And when I say "military experience," I don't just mean a year or two, I mean 23 years in the Army and National Guard, with a 14-month stay in Kuwait as a commander at the height of the Second Iraq War. And completing the trifecta of toughness, one of her biggest hobbies is riding motorcycles [http://redalertpolitics.com/2015/06/07/scott-walker-mounts-harley-davidson-joni-ernsts-roast-ride/]. Like, real ones, and hanging out with big burly dudes with beards named Hacksaw and Eightball. With all that taken into consideration, she's already got more legitimacy as a "tough guy" than Chuck Liddell. If she has even mediocre takedown skills, she's probably worthy of an Invicta title shot right this moment.
01. Ryan Zinke (R-Montana)
And when it comes to determining just who the toughest hombre is in Congress, the ultimate answer was never in doubt. Simply put, Ryan Zinke isn't just the toughest dude in either the U.S. House or Senate, he's probably one of the toughest men to ever hold any kind of office on the federal level. To begin, the dude was a bona fide athlete in his heyday, earning All Pac-10 honors as a lineman for the University of Oregon. From there, he did the only thing manlier than playing football, which is becoming a genuine U.S. Navy SEAL … which he was for 22 years. You know what, I'm just going to list his resume in full, because a.) it's easier that way, and b.) holy crap, did this dude get a lot of stuff done:
He served on SEAL TEAM ONE as an underwater demolition specialist for two years.
He served as an officer for the United States Naval Special Warfare Development Group for two years, took a brief detour as an officer for CINCUSNAVEUR (when an acronym is that long, you know whatever it is has to be pretty dang intimidating) and then served another three years with USNSWDG.
He served three years as the Naval Special Warfare Center executive officer.
He served as the commander of a combined joint special operations task force in 2004, where he led 3,500 special ops in Iraq. For his service in combat, he received the following: two Bronze Stars, four Meritorious Service Medals, two Joint Service Commendation Medals, two Defense Meritorious Service Medals and an Army commendation Medal.
And even after all of that, he went on to found the Naval Special Warfare Advanced Training Command, where he served as dean of its graduate school until the Army told him he had to retire because he was just being too awesome at his job and making everybody else look like slouches.
And like all truly tough people, when he isn't staring at people in Congress so hard they get scared and start signing stuff out of mortal fear, he resides way out in the boondocks of Montana, where he presumably stands in front of his driveway all day just waiting for bears to show up so he can body slam them into submission. Forget "could" be an Ultimate Fighter: the only thing keeping Zinke out of the Octagon this very moment is its lack of serious competition.